Austin Butler and Baz Luhrmann on the story behind 'Elvis'
As 'Elvis' hits cinemas, Austin Butler and Baz Luhrmann tell Rolling Stone UK how they brought the music icon's story to the big screen
By Nick Reilly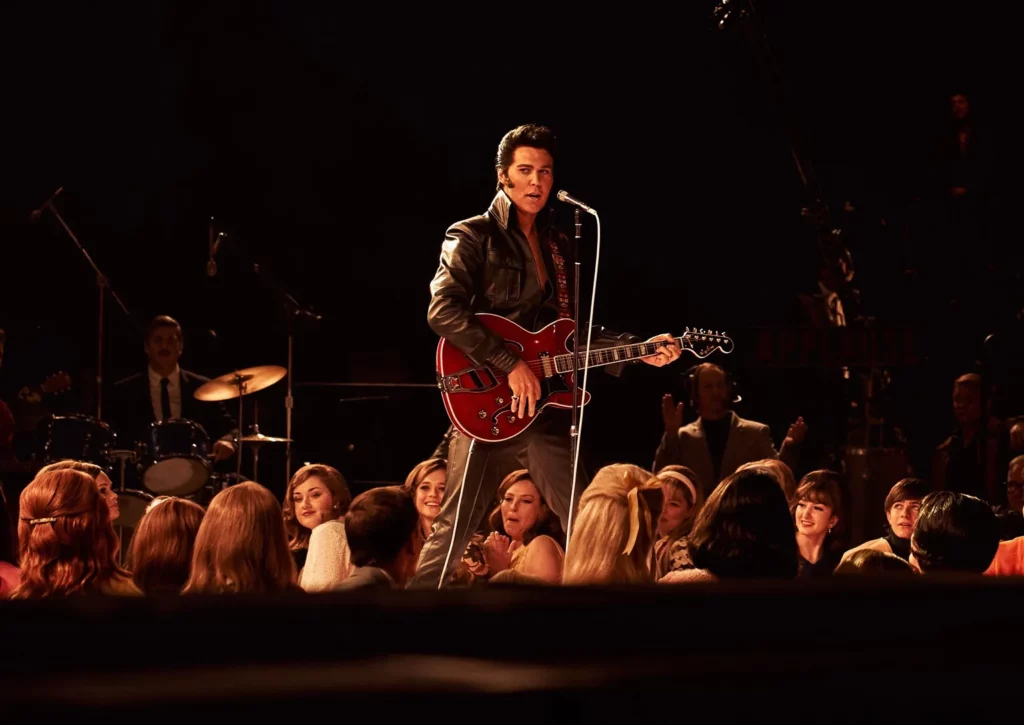 When Austin Butler was cast as The King in Baz Luhrmann's Elvis biopic, the US actor took a deep dive into the most influential man in modern American culture as he sought to find the humanity that existed within him.
After months, days of scouring through countless books and documentaries, that personal connection eventually came when he learned that their experiences of grief were unbelievably similar.
"I was trying to find keys in his humanity and part of that was learning his mom passed away when he was 23," he tells Rolling Stone UK. "That was the same age I was when my mom died, and that was just one of the most personal things I could connect with. It was the biggest grief I had experienced and I knew it was for him as well. It really humanised him for me. I knew how he felt when alone in that room, because you constantly have a void inside after something like that."
That levelling, you sense, helped Butler in his quest to deliver a performance for the ages. As Elvis he is uncanny, mining every depth of his mannerisms for an awards-worthy portrayal that allows the audience, at times, to forget they're watching Butler.
He's effortless portraying the young blue-eyed boy who irrevocably shook up American society, but even better at showing the vulnerability and eventual personal struggles that led to his death.
But the true highlight comes during the scenes which see Elvis in full flight during his Las Vegas residency. Butler proves so convincing that you feel like you're almost there. It also doesn't hurt that the exaggerated excess of Sin City is presented by Baz Luhrmann, a man hardly known for directorial subtlety.
Butler's long journey to securing the role began when he recorded an audition tape for Luhrmann which saw him delivering a performance of 'Unchained Melody'.
"I sent Baz this tape of me performing it, and it became a foundation for how I wanted to approach the role. I didn't want to deliver a caricature and get into the tropes, the Halloween costume of him, but to find the man behind it," he says.
A five-month creative collaborative process with Luhrmann followed, as the pair explored the vast possibility of him portraying Elvis, long before it was a done deal.
"He had a real spiritual connection with Elvis," explains Luhrmann. "He lived as him for two years and even when Covid stopped the film, he wouldn't stop with it. I think he has the quality of Elvis' vulnerability too. When you lose your mom at a young age you're always trying to fill that hole. I say with this love because I adore Austin, he's super sensitive."
In securing the role, Butler also beat off competition from one Harry Styles – who Luhrmann was reluctant to cast, due to the potential distraction of his own fame.
"Austin had a real spiritual connection with Elvis"
"I'd walk over cut glass to walk with Harry. He's the modern Elvis in many ways. But we needed someone who, like sugar being poured into milk, couldn't distract the audience for one second. You had to feel like you were with the spirit and the intimacy of the man," he says.
But if Butler is the film's spirit, then Tom Hanks is its moral void. As the film's unreliable narrator, Colonel Tom Parker, he channels the apparent machiavellian spirit of Elvis' notoriously business-minded manager.
"I did the research into Parker and was privy to certain things," says Luhrmann of Hanks' prosthetics-laden portrayal. "A Graceland archivist showed me these tapes and there's the colonel doing funny voices and jokes. There's a carnival weirdness about him."
Butler, too, travelled to Graceland, in order to personally meet Elvis' wife Priscilla. "It was so surreal, standing there and looking into her eyes," he explains. "They were madly in love together and she was the mother of his only child and it was quite unbelievable. She gave me a big hug and said you've got a lot of support. I just soaked it in and it was really profound for me."
In contrast, Luhrmann's relationship with Priscilla wasn't quite straight-forward. He remembers feeling a degree of fear when The King's wife publicly admitted she was "very nervous" about the project and further questioned if Butler could step into Elvis' shoes.
"I didn't feel any negativity, but I got it," he admits of her understandable trepidation.
While schedule clashes meant that Luhrmann was on a flight when Presley first watched the film, he recalls being told how her emotional reaction had in turn prompted tears from a security guard who was present from the screening.
"I just remember landing and my stomach was churning. But Priscilla wrote me an amazing letter and it was an amazing weight to be lifted off one's shoulders."
For Butler too, the role has changed his life forever. As well as being a star-making performance and one with potential to garner an Oscar nod, he now finds his voice permanently emulating the southern drawl of Elvis – something only too apparent during his Rolling Stone interview.
"I knew going in that I was going to be a different person when I came out the other side," he admits. "It was simply because I was having to carry the weight of that responsibility and the terror I experienced every day because I cared so much and didn't want to let him, his family and fan down.
"But on top of that, I got to spend two years with this incredibly magnetic man. There's never been a person I've never met who I've loved more than him. It's not like I was some super fan before, but the more I got to know him, the more I fell in love with the good, bad and ugly. It has impacted my personality and ultimately a lot about me."
His life, you sense, has been all shook up.
Elvis hits cinemas on Friday (June 24).