Robbie Williams teases "blood and guts, 18 rated" biopic
The star spoke to Rolling Stone UK at a launch event for 'XXV', a new record which sees him rework his best-known songs with the Metropole Orkest to mark 25 years as a solo star
By Nick Reilly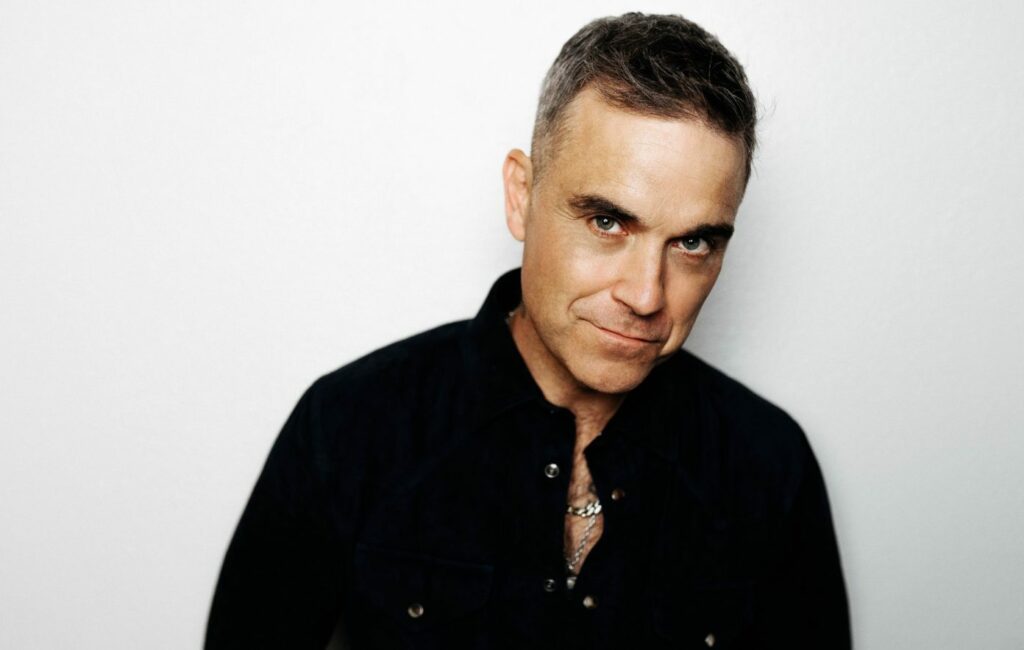 Robbie Williams has teased that his upcoming biopic will be a no-holds barred look at the singer's rollercoaster life.
The singer has travelled to Melbourne in recent months to shoot scenes for upcoming movie Better Man, which is directed by The Greatest Showman's Michael Gracey.
Asked about progress on the project so far, Williams hailed the performance of upcoming British actor Jonno Davies, who portrays his younger self in the project. It is believed that the singer will then portray his older self in later scenes.
"He's absolutely rocking it. They showed me a bit of him doing rehearsals and I was like 'oh wow!' that's it," Williams told Rolling Stone UK and selected press in London yesterday.
Teasing a no-holds barred look at his life, he added: "I haven't actually seen him [Davies] do any of the deep dark stuff in the movie. Because this is an over 18s movie, I think. It's blood & guts and drugs and sex and drink and rock and roll and losing yourself and finding yourself."
Williams also refused to deny reports that the film will, bizarrely, see him depicted as a CGI monkey for sections of it.
Speaking at a Q&A later in the day, he added: "I went to Melbourne to film my bits and it was absolutely incredible. And weird… [like] a glitch in the Matrix. I'm in a make-up room and the guy that's playing my dad's there, the woman that's playing my mum's there and the lady that's playing my grandma's there."
Williams was speaking in central London ahead of the launch of his latest album 'XXV', which marks 25 years of his solo stardom and will arrive on September 9 via Columbia Records. The new album sees the singer teaming up with the Netherlands' Metropole Orkest to deliver new orchestral recordings of his most famous songs – with everything from 'Angels' to 'Rock DJ' receiving a radical re-imagining.
The album also features new track 'Lost', a soul-searching ballad that sees Robbie sing: ""I lost my place in life / I lost my point of view".
Asked about the track's deep themes, he said: "When I used to go on these benders that were high octane and enjoyable and then suddenly hell, I'd quite often used to get on a train at Euston and get picked up by my mum at Stoke station.
"There's one particular time when I remember getting off at Stoke station with just one shoe, I don't know where I'd lost the other shoe. I'd been up for a few days, I was put to bed and my mum feeds me. [The song] is kind of like that desolate place of 'oh my god, everything is completely out of control'. It's sadness and depression."
He quipped: "But I was just saying, my career hasn't been as good since I got happy, so I've had to revisit a bit of sadness and hopefully something will happen!"
Elsewhere, last weekend saw Robbie return to Stoke for a huge coming show to 20,000 fans at Port Vale stadium.
"That show was absolutely immense and it was how an audience used to behaved when we were younger." he added.
"At a certain point when the singer goes 'put your hands in the air', if you're of a certain age now you just go 'Nah! I'm not gonna put my hands in the air. Or they'll do it for a bit and put their hands down.
"This one felt like Knebworth. It was like old me and an old audience that knew every word. They responded to every whim that I had and it's so easy when an audience is like that. It's an old showbiz adage but it's true, I'm only as good as the audience allows me to be. And they allowed me to be epic the other night."
XXV arrives on September 9 via Columbia Records.