Florence + the Machine – 'Dance Fever' review: in unstoppable form
On her fifth album, Florence Welch tackles life's big questions
By El Hunt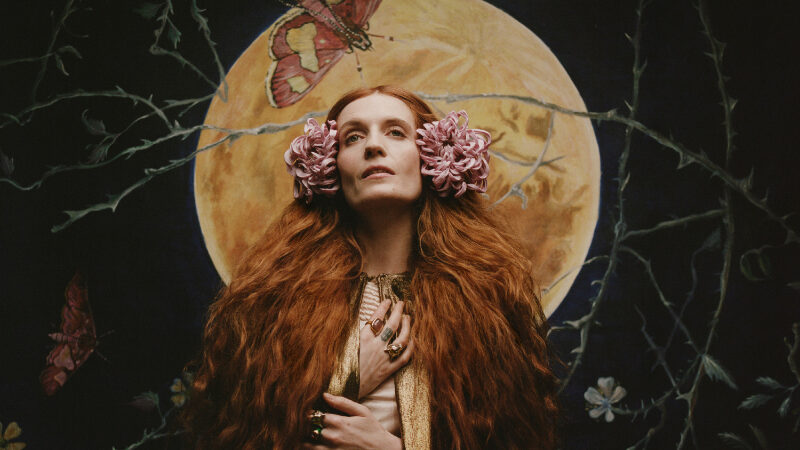 Up until the 17th century, bouts of dance mania – a form of mass hysteria that caused large groups of people to dance themselves into severe exhaustion or even death – struck occasionally across Europe. Attracting thousands of people, who would sometimes turn violent towards onlookers who refused to join in, the cause of these huge outbreaks remains a mystery to this day.
This strange phenomenon is the starting point for Florence + the Machine's fifth album, Dance Fever. With a decade of gruelling world tours under her belt, the Renaissance-era image of being possessed by an involuntary urge to keep moving, faces contorted with pain, resonated somehow with the demands of being an artist. The lure of dancing took on a second significance.
On pulsing highlight 'My Love' – produced by Glass Animals' Dave Bayley – the instrumentation calls out to the very thing that destroyed so many. "Now I find that when I look down," Florence Welsh sings, alluding to a life shut indoors, "every page is empty". On the grandly layered 'King' she paces the kitchen, wrestling with the dual impulses to create bold, brave art and a stable home. "You need to go to war to find material to sing," she intones, struggling to settle.
Although many of Welch's early releases pulled from the fantastical, and are scattered with Greek mythological references, Dance Fever feels more closely aligned with the everyday magic and destruction of 2019's High As Hope. Just as that album rendered a rabble of drunk students as "foals unsteady on their feet", the regal golden crown perched on the crown of 'King' is wrenched out of a tense argument "about whether to have children / About the world ending and the scale of my ambition / And how much is art really worth".
Elsewhere, she succeeds in capturing the quiet comfort of a life stripped back. "It's good to be alive / Crying into cereal at midnight," observes the smouldering 'Girls Against God', drenched in the nostalgia of indie singles from 2006, and vague memories of hanging out in a basement with one of the era's eminent dancepunk musicians, Tom Vek.
Occasionally, the production leaves you wanting more: Bayley's collaborations surprise
and conjure up a kind of eerie lure, but lower-key Jack Antonoff-produced songs like 'Back In Town' share a minimalism with Lana Del Rey's Chemtrails Over The Country Club and it doesn't always suit. Although 'Prayer Factory' and 'Restraint' both work well as interludes, Welch's voice creaking like a wind-wrecked door on the latter, 'Heaven Is Here' is begging to erupt into a full-blown epic that never quite arrives.
Despite its title, Dance Fever is far from Florence + the Machine's disco era. But still, Welch herself is in unstoppable form, and writes some of her most incisive lyrics to date in the process.
Florence + the Machine appears on the cover of the June/July 2022 of Rolling Stone UK. Buy it here.