alt-J on their creative rebirth and transformative new album 'The Dream'
In new album 'The Dream', alt-J have created a masterpiece. They tell Rolling Stone UK how they did it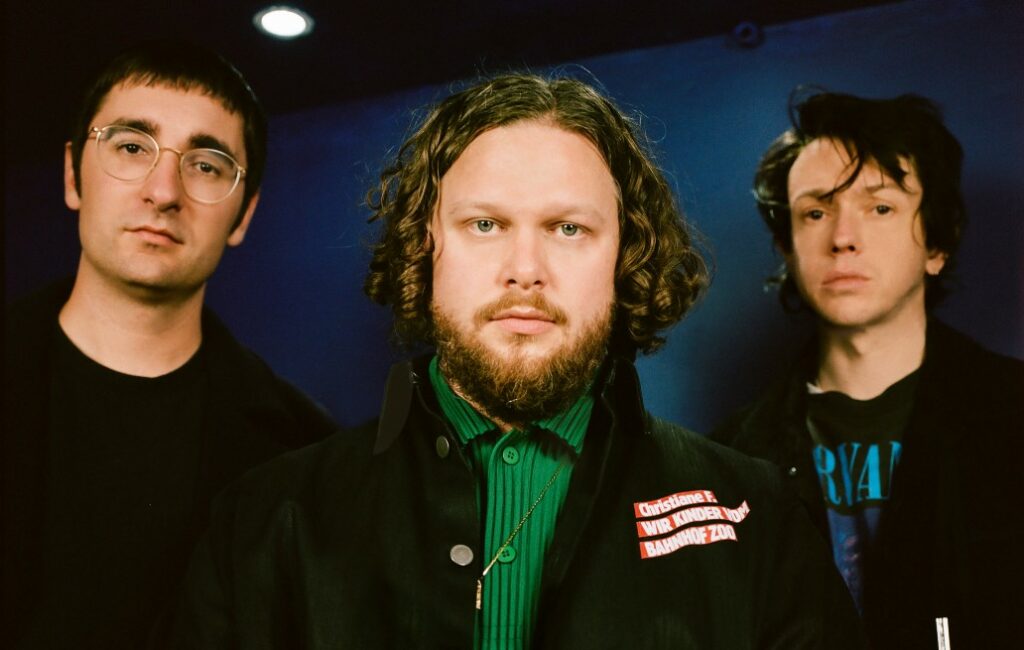 What comes into your head when you think about alt-J? It's OK, you can say it, they know you're thinking it.
Is it something along the lines of "mild-mannered goody-goodies"? That's the description the band themselves define as the biggest misconception about their group. As they emerged from Cambridge a decade ago, these well-spoken, polite young men looked more like environmental lobbyists or trainee surveyors than members of a rock band, but vocalist and guitarist Joe Newman, keyboardist Gus Unger-Hamilton and drummer Thom Sonny Green have gone on to become one of the biggest guitar acts of the past decade. They've had fun over those years, but they can't speak about that because insisting that they're not goody-goodies is exactly the sort of move you'd expect from them.
Or maybe you answered, "Alt who?" Even the group's own manager tells them that they're the biggest band no one's ever heard of. But spend long enough with them in the pub and Unger-Hamilton will say something like, "If you present somebody with the figures on alt-J, it's mental — Madison Square Garden, the O2, Mercury Prize, No. 1 albums, but 99 people out of 100 don't know who we are. It's all about that 1 per cent who love us."
So, who are they to the 1 per cent? They are a modern rock band in the sense that they don't really rock at all, a guitar band with no guitar solos, a group who've sold loads of records without ever having had a hit single, who play huge venues but don't particularly have any songs you can sing along to. At their best, they make lithe, inventive indie-rock — and also at their best, they sound a bit like Radiohead sound-tracking a Monty Python film.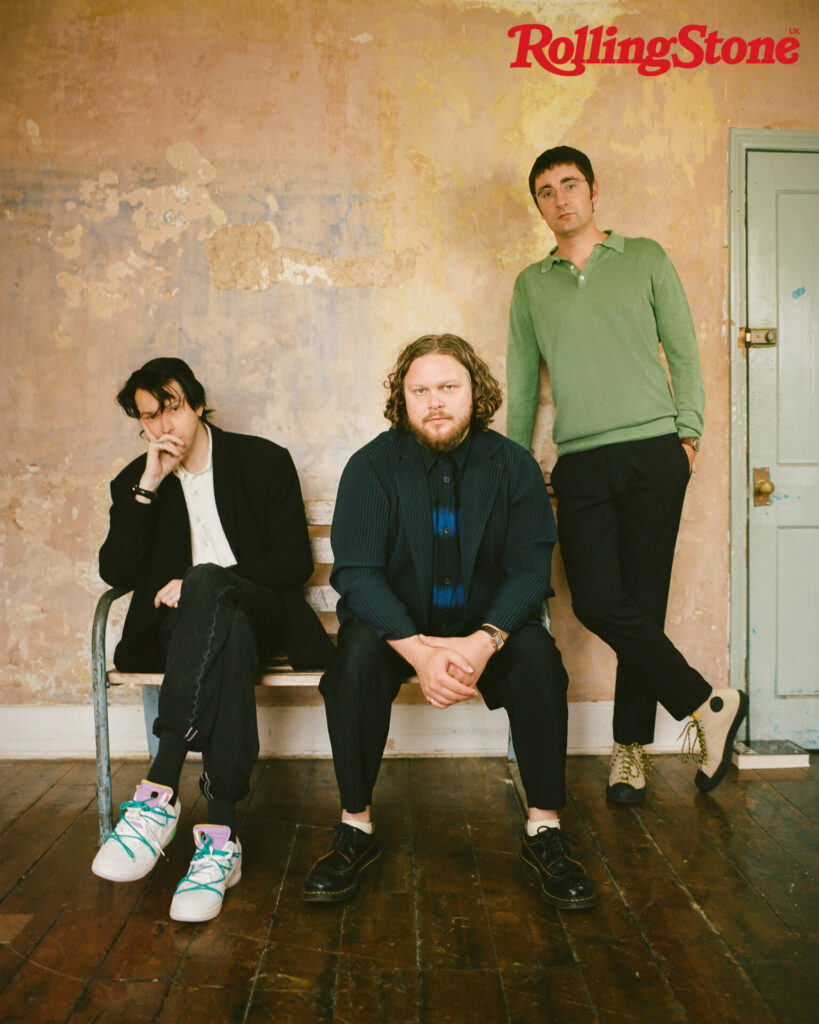 It was back in 2012 that they emerged with the dreamy, electronic folk sound of the Mercury Prize-winning album, An Awesome Wave. They spent the intervening years continually retooling their sound while retaining key constants — Newman's intimate, clipped vocals and the twisty-turny major-minor chord sequences. Their fourth record, The Dream, for release in early 2022, is another transformative tweak. Mixing orchestral flourishes, hypnotic grooves, experimental pop and operatic interludes, it's their best yet. It is, they claim, a creative rebirth for a band who share a brotherly bond. To alt-J, the chemistry is everything.
East London, October 2021. Newman plonks himself down at a table outside the De Beauvoir Arms in Hoxton and orders a pint of continental lager. An upmarket boozer on a lively residential street corner, this is the trio's regular watering hole — all three live nearby; Unger-Hamilton and Green in Dalston and Newman up the road in Stamford Hill. It's midday and the bearded frontman is amicable company, softly spoken with a reassuring laugh. His lyrics might be cryptic and unsettling, but here he is, a happy new father of six months, breezily sipping on a beer.
"I'm someone who is plagued by intrusive thoughts so I've got a very active imagination," he says. "I'm always a bit of a fairy, as in, I'm in the ether, just thinking a lot." It happens at home with his partner, he confides. She will be talking to him and he'll suddenly zone out, Earth-to-Joe, unresponsive. Far from being the tortured artist having a staring contest with his own psyche to get into the creative groove, Newman reveals that he's never more at peace than when he's writing songs.
He describes how he wrote The Dream's standout song 'Philadelphia' — a number that sounds like In Rainbows-era Radiohead, and features an opera singer he hired for no reason other than "why not!" — and it's almost like he didn't have a hand in it at all. His subconscious did all the hard miles. "I had a doodle on the guitar, came up with the chorus, and I just put it to one side. It's its own culture at that moment; it will just grow into something. I came back to it a month later and I had it in my head. I felt like I was unconsciously writing the song."
"When we met at university, we all gave our time to allow these songs to develop to a point where we were, like, 'This is something worth pursuing.' And then we've had a career from that."
Newman thinks that the best thing that ever happened to alt-J is that they met in the first place. It's incredibly unlikely that you're going to find people that can make your own music better, he states, that you all have a chemistry together and create something amazing. That he, Unger-Hamilton, Green and former guitarist Gwil Sainsbury, who departed after their debut, managed to do that astounds him. "When we met at university, we all gave our time to allow these songs to develop to a point where we were, like, 'This is something worth pursuing.' And then we've had a career from that."
The first time he saw Green hanging around the buzzing, city-centre campus at Leeds University, where Newman had enrolled to study fine art, he was intrigued. The drummer was born with a rare genetic disorder called Alport Syndrome and was on a kidney transplant waiting list at the time. "He was having dialysis every other day, so when I met him, he looked like a ghost, very white, very pale, but dressed like a lumberjack — a very ill, very cool-looking guy. He was really gentle and mild-mannered."
Soon after, Newman encountered Unger-Hamilton at a party. "I had this spot on my forehead that I hadn't dealt with," he says. "We met in the kitchen and I remember him just looking at the spot on my head. We were both kind of nervous about a new life in a new city at university."
Those formative days spent hanging out in each other's bedrooms in halls of residence were pivotal for the band, he says. They labelled themselves "cowboy songwriters" because they didn't know how to write songs. Unger-Hamilton is a classically trained pianist, while Newman picked up his guitar skills from his probation officer dad, and somehow this polar energy inspired them to ignore traditional song structures and go with what sounded good to them. "We just listen to each other and our chemistry as a band," Newman shares. "It takes us on a slightly different route."
Soon after university, they decamped to Cambridge to live in a house together and focus on the band. Immediate success followed. As well as winning the Mercury Prize, An Awesome Wave won Album of the Year at the Ivor Novellos and went on to sell over a million copies. It gave Newman the erroneous impression that everyone loved alt-J. He would soon find out that that wasn't the case. Most singers in groups who are four records into their career find a way to become hardened to people called things like @LADitudeFestival456 on Twitter who want to tell you that your new song is worse than your last, but Newman hasn't managed to do that. "It shouldn't bother me that people don't like our music," he says. "But as I've got older, I find it really gets to me, it really upsets me."
The negative reactions have a cumulative effect that deflates him. "I talk to my friends about it, and that's helped," he continues. "You always have to remember, you're not a good band if everyone likes your music and you don't want everyone to like your music."
Sometimes it surprises him who likes their music, too, such as when they were approached a few years ago with an offer to soundtrack a TV ad campaign. "We said no to a Walkers Crisps commercial in 2014," he says. "Gary Lineker in a field eating a new flavour of crisps and they wanted us to write a new song for it. They offered us a lot of money and we were just, like, 'No.'" Rejecting that deal, he states, is one of the wisest decisions they've ever made.
"It shouldn't bother me that people don't like our music. But as I've got older, I find it really gets to me, it really upsets me."
The band have different leaders for each part of the alt-J operation, Newman reveals. The songwriting process falls to him. "I'm the creative welfare officer of writing," he smiles. "Thom is always the closest to the fans, so he's like the liaison officer." As for Unger-Hamilton, he's the man for administrative duties. "Gus has always taken charge," he says. "He's the one that knows all the passwords."
Right on cue, Unger-Hamilton joins us at the table. Tall and broad-shouldered with a geeky smile stretched across his bespectacled face, there's an excitable energy to him. "Cheers!" he says, clinking his pint of Guinness. "Dads out the house!" he says, smiling. He's the latest addition to the alt-J dads — his first child arrived two weeks ago. Unfortunately, he explains, Thom Sonny Green won't be joining us today. He is recovering from Covid and is still having good days and bad days in its wake.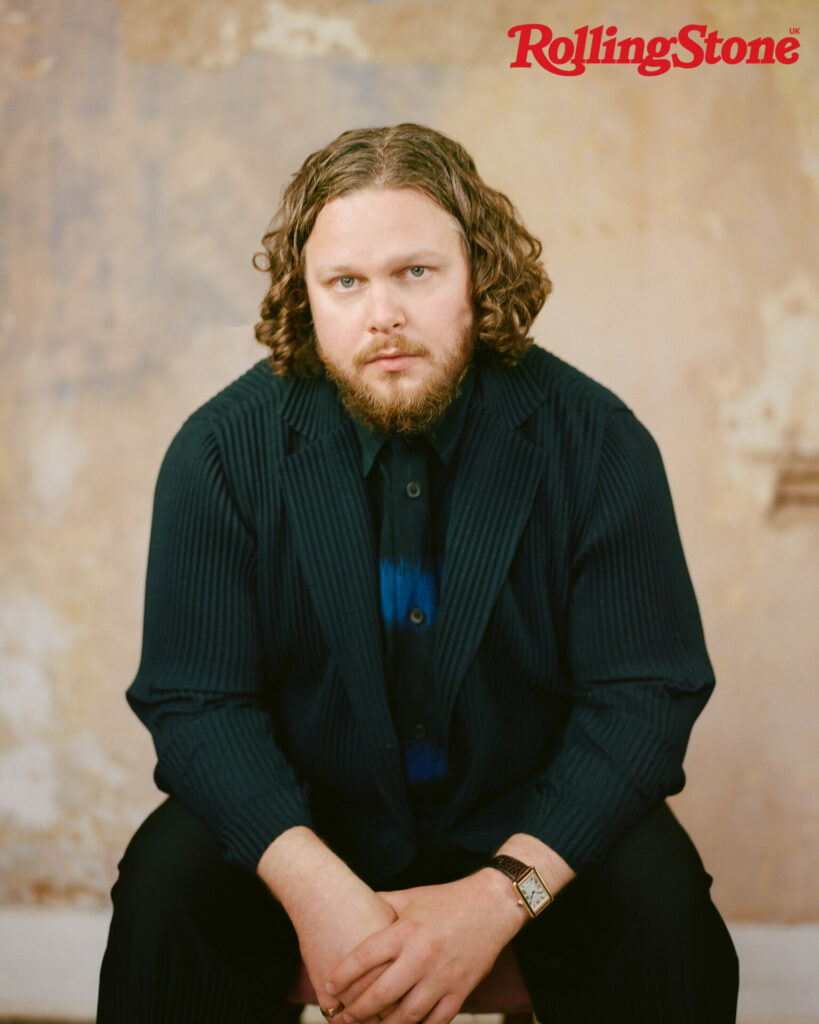 Confirming his role in the group's dynamic ("I'm sometimes known as The Janitor," he says), Unger-Hamilton also avers that Green acts as alt-J's monitor of morals. "He's got strong principles and doesn't give a fuck about saying no to things that he thinks compromise our principles as a band." Recently, the rest of them gave the OK for a campaign with a streaming platform, only for Green to veto it. "I'd only skim-read it," says Unger-Hamilton, "and then was, like, 'Thom's right…'"
The band are realists, he says, and they're happy to license their songs to films and syncs, although they don't say yes to everything. "It's easier since Gwil left the band. He was also very… principled," adds the keyboardist in a deadpan manner.
"Yeah," nods Newman. "He was a socialist."
Unger-Hamilton goes on to say that the experience of making The Dream was "delightful". "I felt like we were just walking through a garden of songs, picking the ripest ones; our basket was just getting fuller and fuller," he states grandly, immediately looking surprised at his elaborate metaphor. "I'm sorry, I haven't drunk a lot recently. I'm a new dad!"
The process was much more free-flowing than creating 2017's Relaxer. On that record, the group had committed to a tight deadline. "I think we were all disenfranchised after Relaxer," says Newman. "It was maybe a bit rushed."
As we order another round of drinks, the gregarious Unger-Hamilton muses on the band's reputation. "I think there's always this misconception that we're a bunch of nerdy guys who go to bed early and stuff. Obviously, you don't want to be explicit about all the stuff you do that goes on behind closed doors," he says, before completely undermining the entire case by adding, "Historically, we have liked a bit of a good old knees-up."
When he looks back to the meteoric rise that characterised their debut, Unger-Hamilton thinks they were saved from their egos becoming inflated by the fact they were on the road the whole time. "If we'd been in London that whole time, we'd probably have been going to shitloads of parties and become awful people, but we were just out on tour, gigging…" he pauses, "and swigging!"
"I think there's always this misconception that we're a bunch of nerdy guys who go to bed early"
Newman has heard enough. "I like this side campaign that you're bringing into the interview that we're giggers and swiggers!"
Come on then, let's hear their best tale.
"We had a very mad one on the first album," recollects Unger-Hamilton, "where we ended up at Robert Pattinson's house with Rami Malek and and Emile Hirsch."
"Emile Hirsch was tiny," interjects Newman.
"It was mental," continues Unger-Hamilton. "At about 9am, I was, like, 'I need to go, we've got a radio session!' and Pattinson went, 'Don't worry, I'll call you an Uber.' I was, like, 'You'll call me a what?' It was the first time I'd ever heard of Uber."
Unger-Hamilton thinks he learned a valuable lesson from hanging with the new Batman. "I'd exchanged numbers with Rob — Rob! — Pattinson and then I started texting him when we were in LA, like, 'Come out, we're going out!' and he'd always be, like, 'Can't make it.' I realised he doesn't want me texting him. Stop texting Rob Pattinson! Don't try and be mates with people just because they're famous actors. That was back in spring 2013."
Have you still got his number?

"Yeah… Who deletes a phone number?!"
Newman opines, "I think there's a rich history of musicians being good friends with actors throughout the years, or so you're led to believe from Getty Images. I think we thought it was par for the course."
"Yeah, like, 'Oh this is the bit where the Hollywood A-Listers come to our gigs!'" laughs Unger-Hamilton.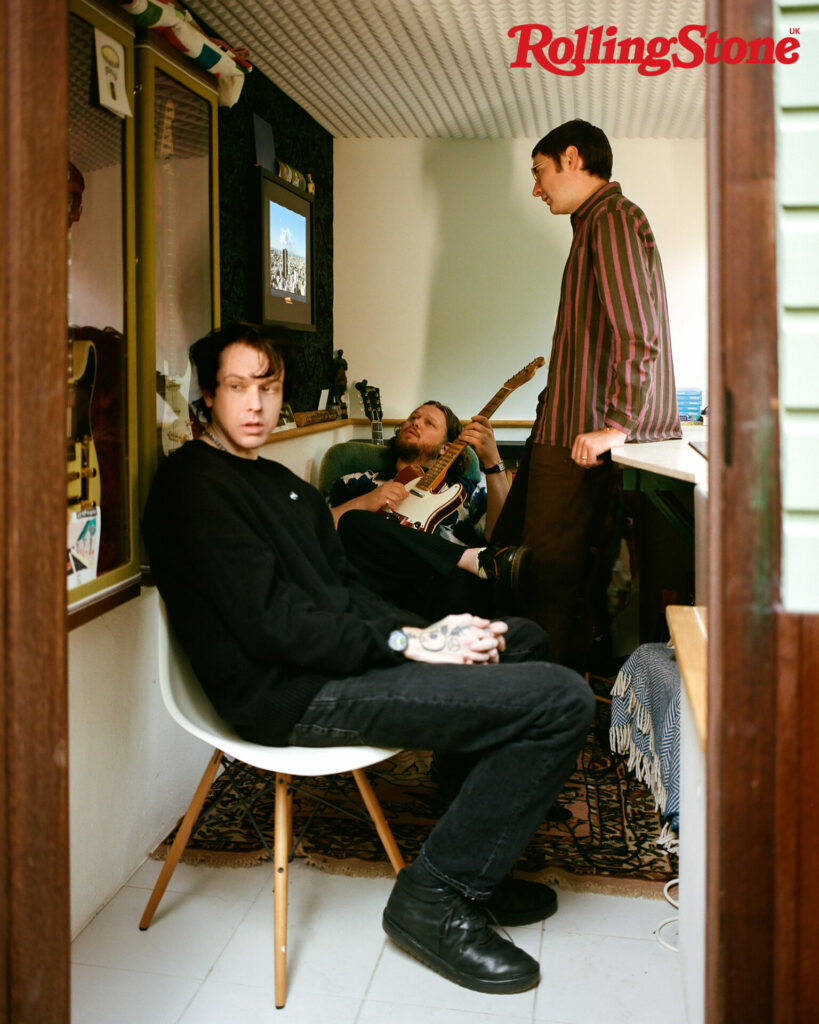 Another celebrity encounter was Woody Harrelson, who the band befriended after he came to a few of their shows. "And then it was my 30th birthday," says Newman, "and I thought I'd message him 'cos I had his email address and I thought there would be a chance he'd be working in London. I messaged him and he said he'd come. I bought him some stuff. And then he didn't show up."
"But you know who did?" Unger-Hamilton butts in. "Me. And we had a bloody good time!"
The band talk about their chemistry a lot and here it is at its most refined: Newman as creative dynamo, Unger-Hamilton lending the songs a classical grandeur and Green's restrained percussion putting a leash round the whole thing. As we finish our drinks, the pair reflect on the fact alt-J are no longer the fresh-faced newbies of nine years ago. When they returned to the Mercury Prize ceremony with a nomination for Relaxer in 2017, they realised they were surrounded by younger artists. Fans and staff at their label are currently asking if they'll be doing any 10th anniversary shows for An Awesome Wave.
But that would feel like an odd move for alt-J — The Dream is the work of a band artistically grounded in the here and now. "This is gonna sound really extreme, but something died on Relaxer and something was reborn on The Dream," says Unger-Hamilton. "We've entered a new life cycle."
The mild-mannered goody-goodies are doing what they do best: perfecting their alchemy and having their version of a grand old knees-up on the way.