Cristale: Rising UK rap star on her journey so far
Meet Cristale, the silver-tongued south London wordsmith who has her sights firmly set on bringing about change
By Will Lavin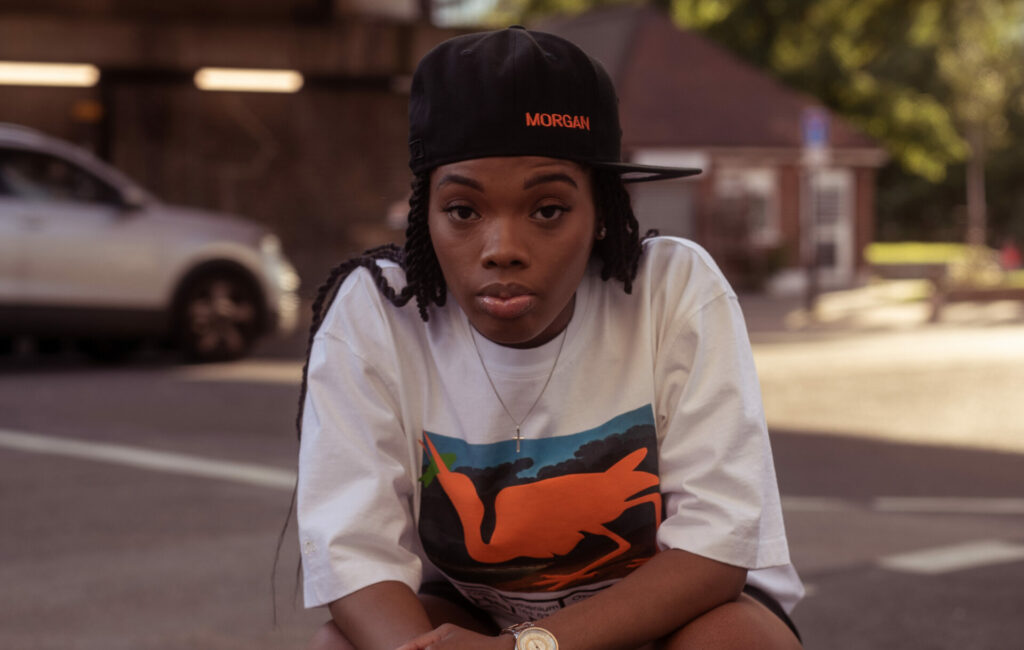 "I see myself reaching heights that people have never reached before," declares Cristale, showing Rolling Stone UK the vision board hanging on her bedroom wall. The 20-year-old south London artist, whose extensive creative repertoire includes rapping, singing, writing poetry and illustrating, has a very clear idea of the direction in which she wants to take her career.

The Brixton-raised artist — full name Cristale Deabreu — has loved music for as long as she can remember. Growing up in a Caribbean household, she credits her mother with introducing her to some of her favourite artists. "A lot of the music I love that doesn't correlate with my age was introduced to me via my mum," she explains. One artist in particular who had a big impact on her upbringing was Lauryn Hill. "I don't know how to put it into words," Cristale says, trying to describe the effect the Fugees frontwoman's music had on her. "It just doesn't make sense to me that music no longer sounds like that."

Cristale's foray into performing came by way of her uncle — himself a rapper — who encouraged her to pursue a career in music. He helped her pen her first bars, which she took to the playground of her primary school and used in rap battles with other kids. It was at this point that she developed a love for words and was soon entering — and regularly winning — poetry competitions. "My relationship with words became an obsession," she says. "It's what helped me become a wordsmith rather than just a rapper."
She started garnering attention for her music in early 2020, around the same time the coronavirus reared its ugly head, rapping over instrumentals by other artists. After spitting a freestyle over the beat for Drake and Headie One's 'Only You', she was retweeted by Headie, one of several famous admirers impressed by her lyrical dexterity and effortless delivery. Since then, she's released a few singles, including her latest, the vibrant, panpipe-led 'Militant', taken part in a few high-profile rap ciphers, and signed a record deal with Black Butter and Sony Music joint venture label, 4ZA.
More recently, Cristale's been enjoying huge viral success thanks to a snippet of her dancehall- infused new single 'Bong Bing' featuring Laa Lee racking up millions of views on TikTok. It's something she can't quite fathom.
"It's not really resonating or registering with me the fact that people actually want to hear what I've got to say," she observes. "Maybe I'm not supposed to understand it. Maybe I'm just supposed to receive my blessings."
These career landmarks have all been reached while Cristale continues to study fine art at the University of the Arts London, which she admits has been a bit of a slog due to the interruptions caused by COVID-19. Her frustrations are referenced on her 2021 track 'Morgan': "Tell Boris I want a refund on my course, ain't been to class since February".
She adds: "Going back to uni was a bit mad because a lot of people started recognising me — not as a student but someone they've seen online."
This newfound fame must feel a little overwhelming. "That's a complete understatement," she says, laughing and shaking her head in mild disbelief at her rapid rise. "People often tell me they don't think I quite understand how fast I'm progressing. I can see it, but I'm trying not to take too much in so I don't get big-headed over it. I'm just trying to show that I'm very grateful for all the success that I've enjoyed so far."
But far more than praise and accolades, Cristale is more concerned with being a beacon for her community and a role model for any young person chasing a dream. "I want to open doors for my community," she says. She also wants to do away with the pressures that plague those who constantly compare themselves to others, which can have damaging effects on a person's physical and psychological well-being. "I want people to resonate with my music," she explains. "I don't want to make people feel bad. I don't want it to make them compare themselves to others. I want to stop that whole comparison shit."
It's evident she's ready to put the work in, and she's looking forward to reaping the rewards — just so long as her mother gets to enjoy them, too. "She deserves to be walking London Fashion Week and Paris Fashion Week, and going into the studio with me and flying around the world," she says. "My mum gave me everything, and I wouldn't be here without her."