Florence + the Machine: beyond the fairy tale
Florence Welch has hit her stride, yet finds herself at a crossroads. As she releases her fifth album Dance Fever, she talks relationships, avoiding fame, and managing anxiety with Rolling Stone UK
By Tara Joshi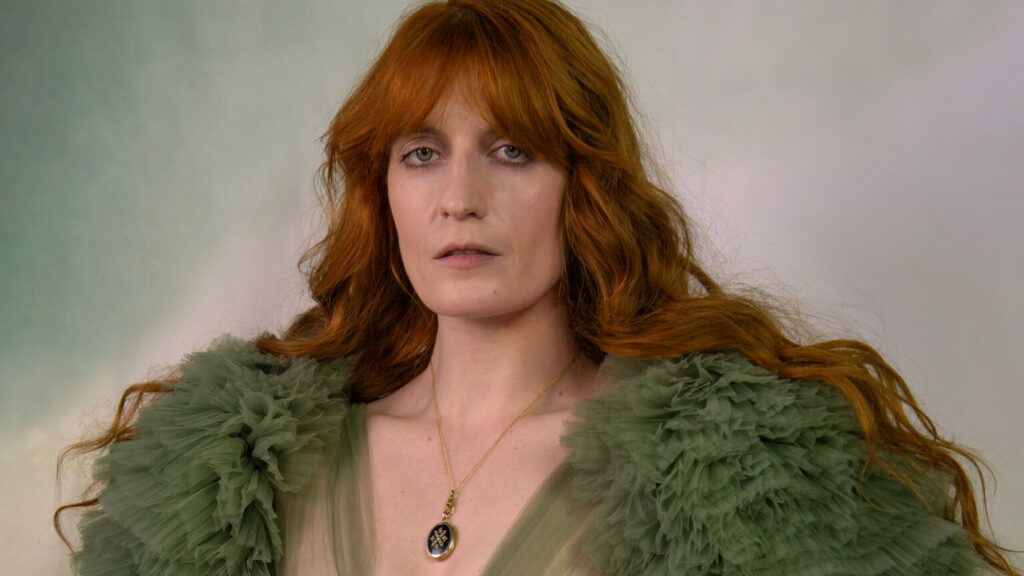 It's hard not to think about the deceptive nature of mythology when it comes to Florence Welch.
There is ethereal international pop icon Florence + the Machine, the emphatic, larger-than-life music persona that has shaped much of Welch's life since her late teens, singing epic, quasi-spiritual songs that brim with yearning, euphoria, imagination, musings on the cosmos, or deep-seated sadness.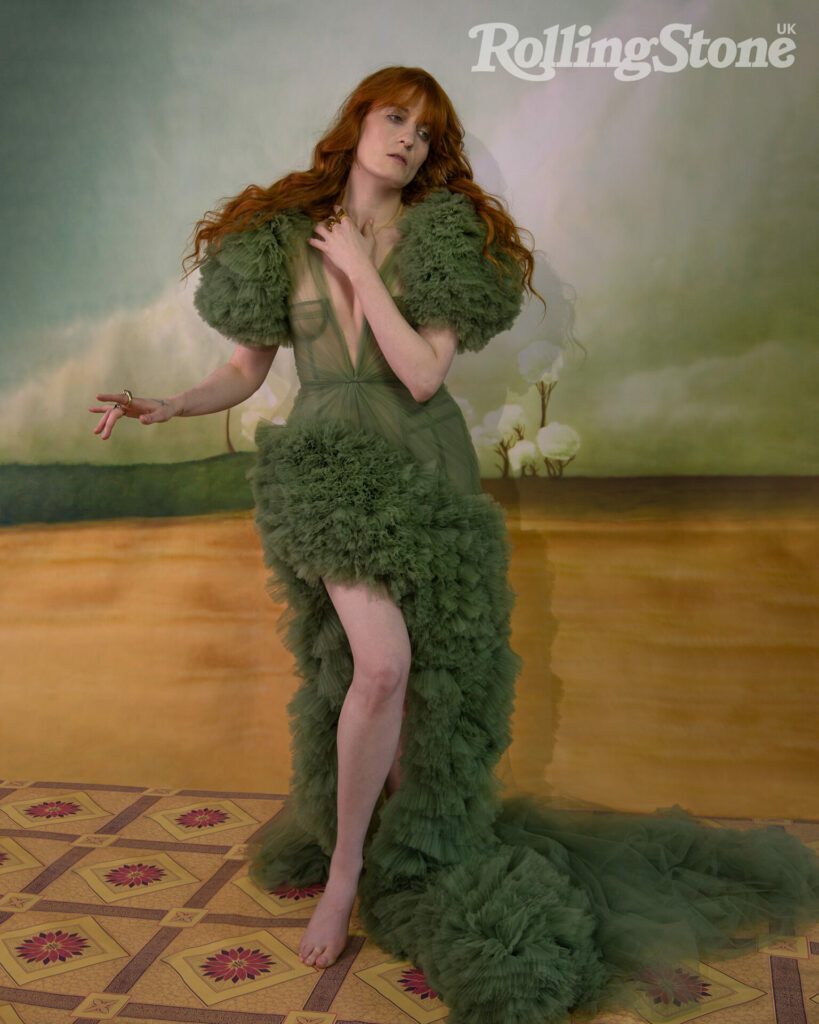 Then there's the 35-year-old woman sitting mid-morning in a pub in leafy Camberwell, south London, near where she lives, sipping on an espresso and talking drolly about mundane things like cleaning and watching too much TV. This Florence is an anxious overthinker with mild agoraphobia, who forces herself to do a daily morning coffee run to a nearby café, dressed down in her pyjamas and a hoodie.
Admittedly, this Florence still exudes plenty of whimsy. The first time we meet on the set of her cover shoot, she is bounding and drifting between rooms, long auburn hair cascading behind her as she sings Be the Cowboy-era Mitski songs to herself. She laughs in loud ripples that echo across the room.
Today, she is wearing a floaty, forest-green dress with panels of white lace. Her arms and hands are a sketchbook of tattoos, with fingers covered in intricate gold vintage rings and nails bearing chipped pale-pink polish. She speaks about poems, Zadie Smith essays and tarot cards, and sometimes to illustrate a point she will burst into song or emphatically yell. For all her dreamy nature, she has a quiet self-awareness that makes her seem of this Earth after all.
"I'm such a mix of actually being quite a logical, practical person and then also being completely away with the fairies," she laughs. "But on some level, I think you would think that I'm more woo-woo than I am."
"I'm such a mix of being quite a logical, practical person and then also being completely away with the fairies. But on some level, I think you would think I'm more woo-woo than I am"

— Florence Welch
Florence + the Machine's fifth album, Dance Fever, is about to arrive. It's her first since 2018's High as Hope, which — along with its 2015 predecessor How Big, How Blue, How Beautiful — saw her move into more literal lyrical territory, exploring more obviously personal subject matter. Her earlier work was woven with sparkling tales of looking glasses and the sea, but on High as Hope, which came after Florence's sobriety, she wrote in raw terms about stark realities such as her eating disorder (on 'Hunger' she offers the line: "At seventeen, I started to starve myself / I thought that love was a kind of emptiness").
When Dance Fever was first announced via her Instagram in March, she used the caption, "A fairy tale in 14 songs." With regal artwork and vast, glimmering tracks topped with formidable vocals that seem to narrate on monsters and kings, it's a descriptor that takes us back to the early days of Florence. But this is a collection that speaks to all manner of anxieties, from shared experiences such as ageing, womanhood, the fragility of the planet and the pandemic to more intimate musings on her career, relationships, loneliness; simply existing. And unlike most fairy tales, it's somewhat unclear whether there's a happy ending.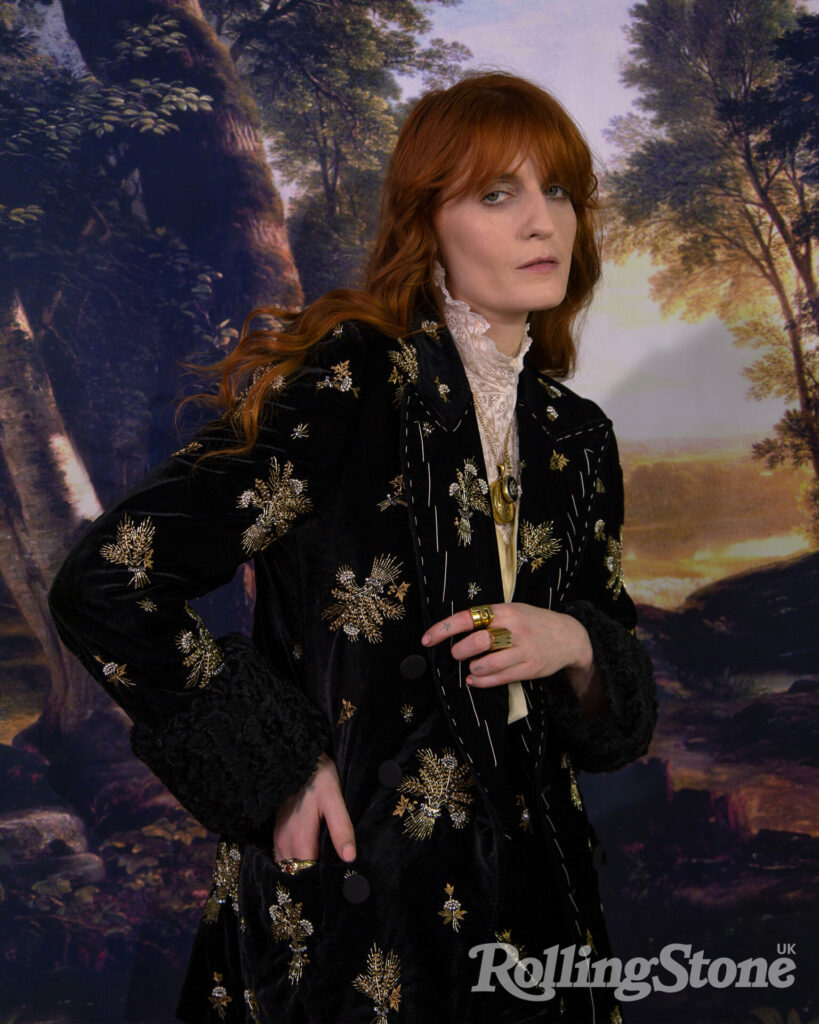 "How I make sense of the world is to turn it into myth and fable," she shares as the spring light pours in through the tall window next to us, framing her like a portrait. "Turning people and things into characters… I think that's how I process everything."
She is aware that this is something people do to her, too: her fans, the media, and even new romances. "I think a lot of people think, 'Florence + the Machine! She's just gonna be lounging around in silky stuff.' No, I'm gonna be a ball of anxiety, with the TV on, constantly just trying to keep out the bad thoughts," she starts to laugh, not entirely bitterly. "It's not gonna be fun and glamorous, I promise — there's the stage, and then there's the very agoraphobic person who needs just to be in the house, you know, especially since I stopped drinking. I am very much a homebody. So, I think people come on board thinking it's gonna be really fun and exciting, but it's that sense of like, 'Oh, the public will get the good bits.' You won't. You'll get the tears."
On Dance Fever, she turns this way of thinking inwards. Through its mystical and epic storytelling born from the vast kingdom of her imagination, the album seeks to confront the dichotomy between the desires and needs of Florence Welch, the human, versus Florence Welch, the creator and myth.
"It was just full alert all the time, there was nothing to tap into. And so as soon as I pressed a note on the piano, I just burst into tears. I didn't have words, I only had grief "

— Florence Welch
A mysterious 'dancing plague' occurred throughout medieval and early modern Europe, with sometimes thousands of people congregating and manically beginning to dance for no discernible reason. Some commentators suggested that it was a 'mass madness' brought about by people trying to relieve themselves through periods of stress, trauma and poverty. Dance Fever takes its name from this phenomenon, known as 'choreomania' (also the title of a skittering, frantic track on the record).
In some ways, it's a concept that runs the gamut of Florence's oeuvre: dance as an uncontrollable, restorative ritual to shake off the blues. "The summation of the record is probably that line 'And when I'm dancing, I'm free,'" she says, "It's relentless, and then I'll dance and it will be like, 'Oh my GOD, it went away!' And it's about wanting to give other people that feeling, too."
There is something especially meaningful about the dance floor being a healing space. In February 2020, Florence was in New York City, recording with renowned producer, songwriter and artist in his own right, Jack Antonoff (she'd wanted to work with him off the back of her love of Melodrama and Norman Fucking Rockwell!). The initial sessions were going well, until her mum called and told her she should come home for a bit — Florence acquiesced, because, like most of the world, she figured that the Covid-19 pandemic could surely only last a month or so. It would be like "a snow day" from work, she and Antonoff agreed.
The reality, of course, was very different. Being forced to pause for so long had not been on Florence's agenda after more than a decade of constant movement. "I need the movement to move it out of myself," she confesses. "If I sit in the sadness, it doesn't go away." And so, lockdown was understandably not ideal.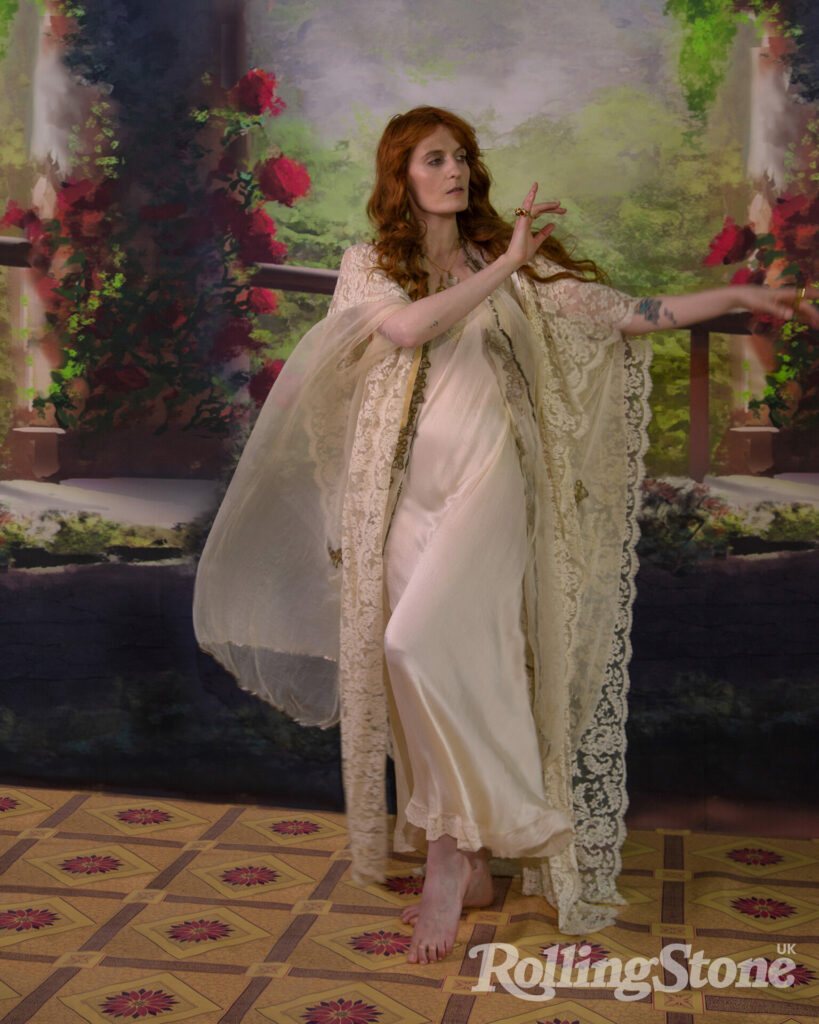 For Florence, songwriting had always been about turning the individual experience into a shared one. "But at that point, it was such a collective experience… How could you make that individual? What would I even have to say about this?" Her creative process had been about tapping into her subconscious, but at that point it was absent: "It was just full alert all the time, there was nothing to tap into. And so as soon as I pressed a note on the piano, I just burst into tears. I didn't have words, I only had grief."
Six months later, she managed to write 'Heaven Is Here', a stomping spell of a song which she describes as "a purge" after such a long period of not being able to get anything out. Florence had wanted a break from touring, but being faced with the very real possibility that maybe live music wouldn't come back was overwhelming: "I can be overdramatic at the best of times, but imagining a world without live music? I really don't know if I could live in that world."
At times, Florence can be quite fatalistic — as explored on album track 'Cassandra', she says that part of her felt like the pandemic was her being punished for any prescience in her work, and for wanting to rest for a while. (She then laughs at the innate ego of this: "'Why is this happening to me?!' Like, no, it's happening to everyone.")
"How I make sense of the world is to turn it into myth and fable. Turning people and things into characters… I think that's how I process everything"

— Florence Welch
When she met up with Dave Bayley from Glass Animals soon after writing 'Heaven Is Here', it was with the intent of making dance music — songs that specifically had the live experience in mind. Finally, the record she had feared was lost began to make sense again — but now there was a core of grief and fragility that underpinned pre-existing themes of introspection and her relationship with creativity.
The result is that Dance Fever is full of songs that offer cathartic release: some are hefty dance-floor-ready tracks, others have a more restrained, gospel warmth. It's an album that finds Florence pondering her agency in the hellish fairy tale of her own life: whether she should be taking medication for her mental health, catastrophising, questioning her happiness, relationships, mortality. Her songs are "like children begging to be born".
It's a record that asks how long it will be before the crowd turns on their dream girl: could people truly love her with all of her very human flaws?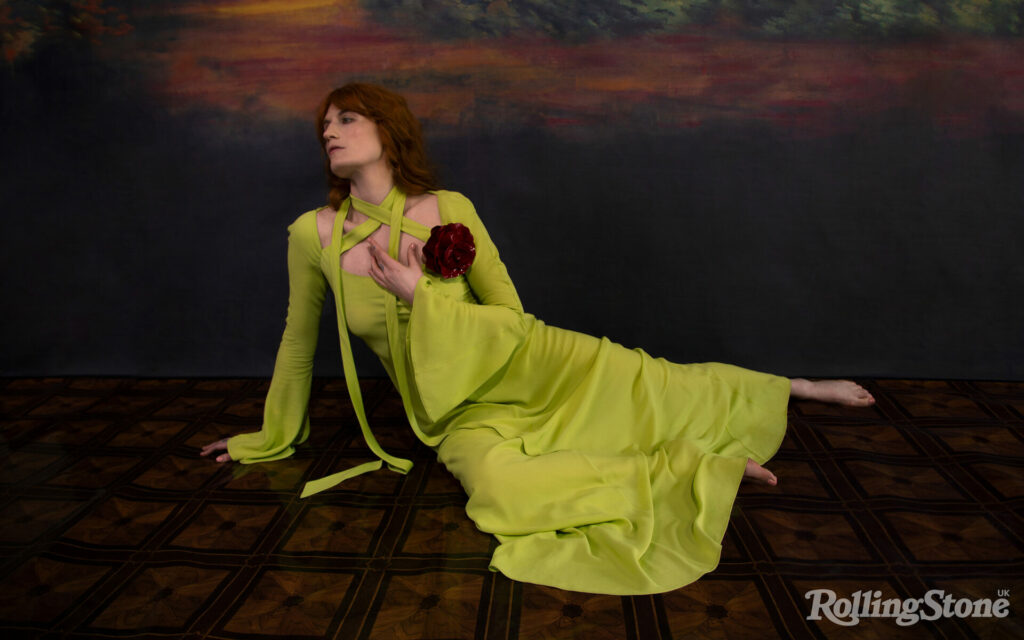 Stardom came quickly to a chaotic young Florence. Though she had various musical endeavours in the 00s, it was her work with her friend, keyboardist Isabella Summers, that began to garner attention. Initially performing as Florence Robot and Isa Machine, the pair had started making music together in 2006, playing shows and uploading demos, and quickly attracting the hype of music blogs and MySpace users alike. By 2008, Florence + the Machine was signed to Island Records, and in 2009 they won what was then something of a music industry kingmaker, the Brits Critics' Choice Award.
Florence had been anxious since childhood, but her self-doubt and fear was exacerbated by that late-00s era when her face was suddenly everywhere, and she was being scrutinised for how she looked. She started to measure her worth by her weighing scale, caking herself in make-up and fancy clothes, hoping she would fit into this bewitching new world of red carpets. That period still hangs over her creative decisions. "When I first put music out, my life completely upturned," she says. "And so now, every time I put something out, I think I still have in my head: 'is my life going to be completely flipped?'"
Florence talks about fame as an almost separate, uncontrollable entity that happened to her: "Sometimes fame does feel like loss, like a little bit of your humanity got lost along the way. All I ever wanted was to be a singer, but you're so naive as to the costs that will come with it. How do you retain your humanness?"
"Sometimes fame does feel like loss, like a little bit of your humanity got lost along the way. All I ever wanted was to be a singer, but you're so naive as to the costs that will come with it. How do you retain your humanness?"

— Florence Welch
Camberwell is a location that has kept her at least somewhat grounded through it all. We are around the corner from the hospital where Florence was born; near the house she grew up in; down the road from her current home; not far from where her sister lives. "I think there is something about the consistency of it, when your life has changed so much," she tells me. "I'm a creature of habit."
The daughter of Nick and Evelyn Welch (the former an advertising executive and the latter a professor of Renaissance studies), Florence was one of three siblings. Her parents were relatively lax, and her relationship with them and general upbringing is something she drily wonders about. "My therapist always keeps trying to pull me back to talk about my childhood, and I'm like," she starts laughing and yells, "'It can't be that simple! I'm complex! I'm different! It's not about my mum! I'm gonna be the one person who it's not about their mother!'"
As a pre-teen Florence fell in love with skate punk boys, deciding to emulate her crushes and become a skate punk, too. "That was back when music wasn't just music, it was what you wear, it's who you fancy, it's your friends," she starts cackling. "You dress in the baggy jeans and then discover skater boys don't actually fancy skaters, they fancy girls who dress really hot. As though he would see how long my wallet chain was and fall in love!" She even briefly formed a rock band called Toxic Cockroaches, though admits that they got no further than deciding on the band name. "It was music that had a whole identity to it, and a scene," she says, conceding that it was weird that she was going to NOFX gigs at 13.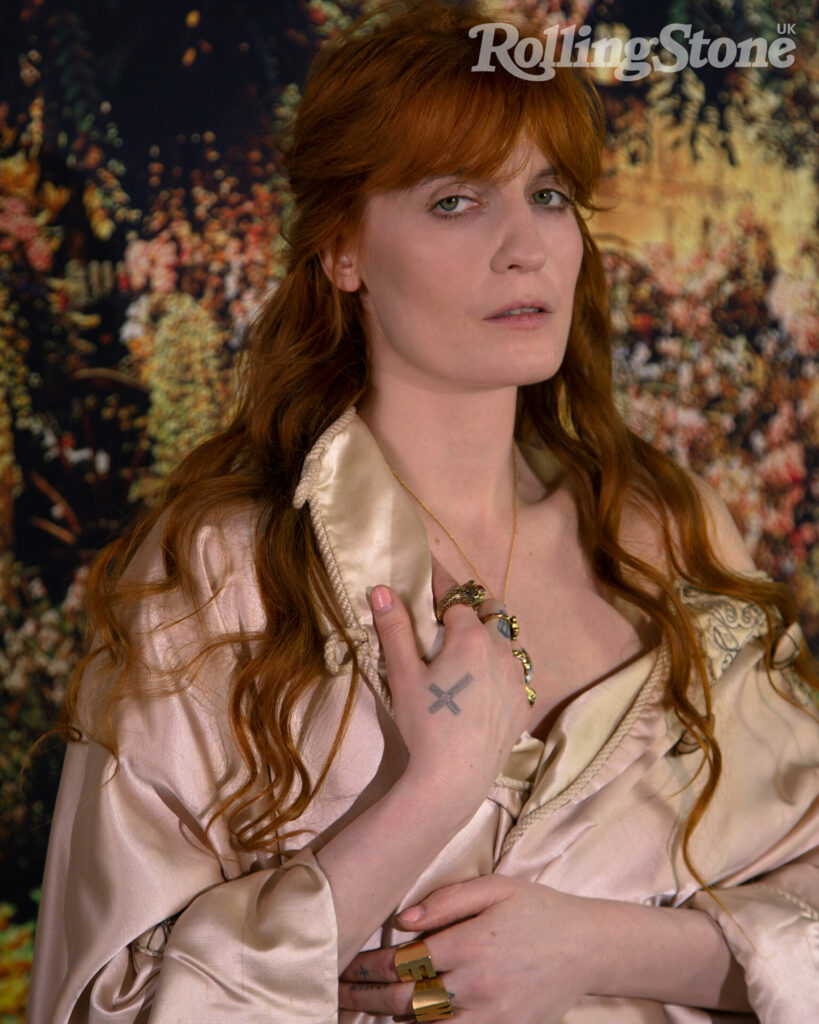 She mentions repeatedly that she didn't feel beautiful as a teenager. I recount a line from her 2018 book of lyrics, poetry and diary-style entries, Useless Magic: "I could fall in love with a plastic bag if it paid me some attention." She starts guffawing, "I know!" She sighs, "It's really funny, you can have everyone applauding you, but a handsome stranger giving you compliments… There's a core of abandonment there that if someone is making me feel seen or pouring love into me, I'm just like 'I've just met you but I'm wildly in love with you!'"
Surely, though, given her profession, she is hardly lacking attention and compliments? "People think that, but it's more in your daily life that people want to keep you grounded," she says. "So your regular friends and family are more like, 'We still want you to know that you're a really frustrating individual!'" She continues, "I think that there's a core of me that's still really susceptible to charm, because there's the little girl who never thought anyone fancied her. I didn't have a boyfriend the whole time at school. And I was just so desperate to be seen and be loved."
Perhaps her teen years lacked romance, but they still hold significantly more colourful stories than most. A 15-year-old Florence would attend student parties at Camberwell College of Arts, meeting the people who would give her what she describes as "a musical education" (aka introducing her to Joy Division). She also drunkenly barged her way into infamous DIY dance-punk band Test Icicles' dressing room in 2005, her first meeting with another music ingenue, Dev Hynes. It was only a little later that they would actually become friends, writing together and even occasionally performing in each other's groups.
"Actual intimacy, commitment? I really struggle with it. You can spend your whole life craving love, and when someone gives you real, wholesome love, you're like, 'Why would you do that? I'm disgusting!'"

— Florence Welch
"Dev took me on my first tour as a backing singer for Lightspeed Champion, and I was just jumping around and singing way too loud," she recalls with booming laughter. In 2007, the pair recorded a cover of the entirety of Green Day's album Nimrod in Hynes' kitchen under the name 'Team Perfect' — and yes, you can still find the recordings on YouTube.
I suggest this is all somewhat at odds with how people might perceive Florence now, as an effeminate, pretty, art-pop auteur. She starts shout-singing Limp Bizkit's 'Break Stuff' — "Everything is fucked / everybody sucks!" — and laughs. "If you look at earlier pop-punk, it's simple chords, energy, pace, relentlessness, and I do think it has influenced me. It's simplicity, but also engendering feeling… Even after I found my more romantic aesthetic, I think I learned a lot about crowd control from those punk gigs in Camberwell, and how aggressive you had to be to do that."
Florence has always been known for a wild abandon in her live shows — running through the crowd like she'd never stop, climbing up on the rigging. "I think it's where I can exorcise a lot of frustrations and feelings, and be big and scary," she says. "My performance style is probably a lot more based on the masculine than the feminine and moving between those two. So, when people ask things like, 'What's it like being a female headliner?', I'm kind of like… 'I don't really know?' It always felt far more fluid to me than that."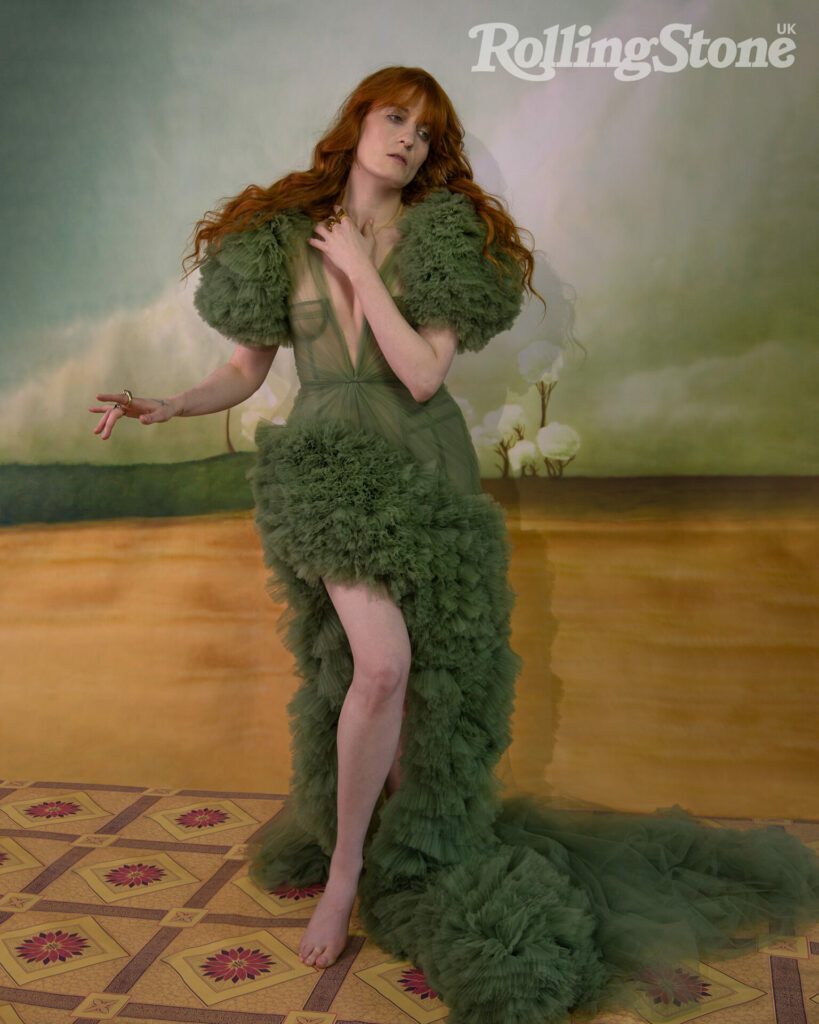 In 2017, Claire Dederer wrote a piece for The Paris Review: 'What do we do with the art of monstrous men?' In the midst of #MeToo ripping through Hollywood, she picked apart the work of known abusers but also asked a question of herself, positing that to be a successful artist, "When it comes to necessary ingredients, [you need] selfishness. A book is made out of small selfishnesses. The selfishness of shutting the door against your family. The selfishness of ignoring the pram in the hall […] I have to wonder: maybe I'm not monstrous enough."
I put it to Florence that this is an overarching theme of Dance Fever — creativity as a selfish monster that is much harder to commit to with the timelines and expectations of nurture placed on womanhood. On the searing 'King' — the album's first single — she refrains, unfaltering: "I am no mother, I am no bride, I am king."
She agrees with the assessment: "The biggest relationship in my life has always been the song itself. A lot of this record is about unpacking that relationship with the creative entity and being like, 'Are you actually a force for fucking good? Or are you actually demonic?'" Florence used to think her songs were 'angels' but questioned it when — after intending to finally settle down for a while following the fourth record — she felt the songs calling to her again. "'No, you're coming with us!'" she yelps. "As you get older, what you are giving up for that becomes more and more. It feels more like a force that's dragging you away from something… but you kind of enjoy it? And so, it feels much more Faustian than it ever did before."
"A lot of this record is about unpacking that relationship with the creative entity and being like, 'Are you actually a force for fucking good? Or are you actually demonic?'"

— Florence Welch
The decision to do another album and book another tour felt like an admission to herself that, once again, she wasn't going to start a family any time soon. "It felt so hard — like, 'Am I cold? What kind of creature am I?' There was a point where I could have decided not to, and I still decided to book it. And maybe it's the way we've all been programmed, but I do wonder: 'When is my sudden need to bring life into the world, and will that overtake me until I need to do it?' I would really like a family at some point, but the creative thing is so strong."
We talk about hitting your 30s, and the jarring realisation that your peers having children is no longer an alien or undesired thing (and she mentions a Reductress meme about a 29-year-old 'teen mom'). "The way that it feels to me now, which maybe is creeping through on this album, is that it feels like a slow, creeping overtake. It feels like a little ghost — I feel haunted by the idea of children, rather than feeling like 'I'm ready!'" she pauses. "But then, it's this dread, that maybe you're not ready now, but what if you then get to the place where you're sure and you've missed it? Time isn't on your side, and that kind of rage is what the scream at the end of 'King' is — I'm not saying I don't want these things; I just want more time! But… time isn't like that. You can't escape it."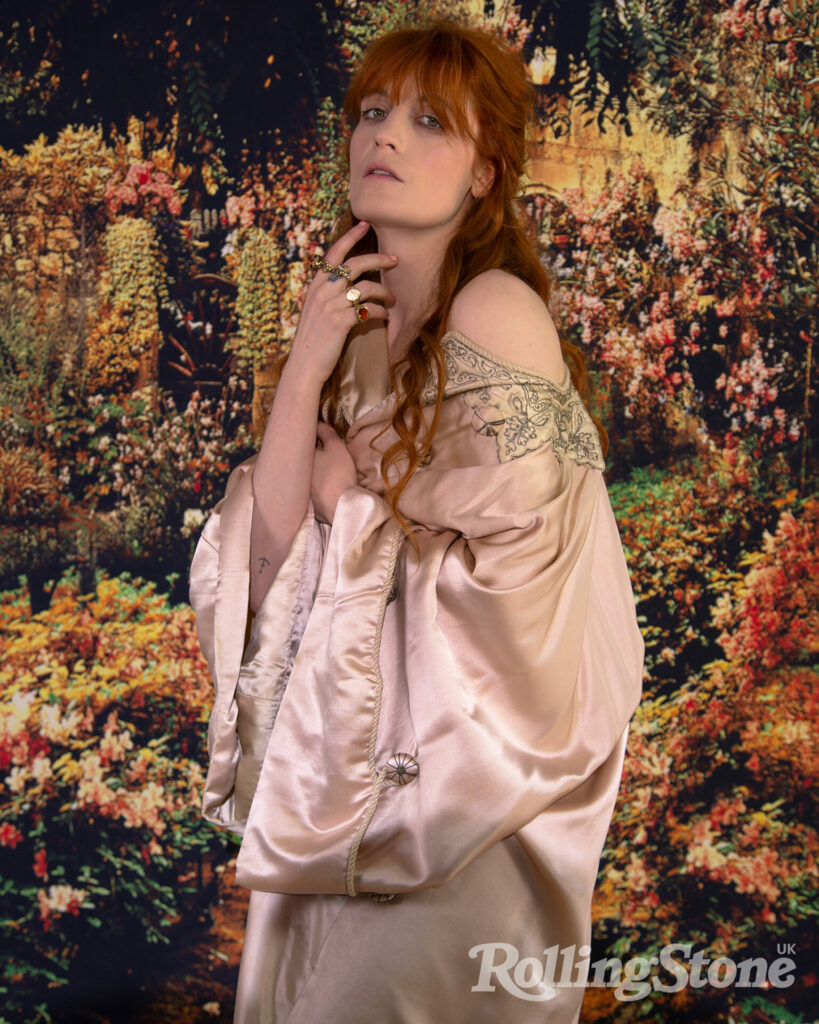 In 2018, on the final track on High as Hope, 'No Choir', Florence suggests that contentment makes for mundane subject matter ("And it's hard to write about being happy, 'cos the older I get, I find that happiness is an extremely uneventful subject / And there would be no grand choirs to sing / No chorus could come in / About two people sitting doing nothing").
Four years later, I wonder if she frames happiness differently: whether she can accept love and happiness without doubting it, without assuming it will negatively impact on her ability to create art. She takes a moment to respond, twisting her long red hair up into a bun. "I think part of it is long-term recovery from eating disorders," she begins. "So much of that is rejecting nourishment — 'I don't deserve to eat, I don't deserve to feel comfortable.' Anorexic thinking is still part of my life, even though the anorexia itself isn't. And so, with emotional intimacy, which is kind of like being fed, sometimes you can be like, 'No, that's too much, I don't need it.'"
One of the demos which didn't make it onto the album has the lyric: "Learning how to let yourself be happy is the hardest part / Learning how to let yourself be loved? / Jesus, where to start?". In part, Florence thinks she hacked her brain by giving this intimacy to her listeners instead. "Being intimate on such a grand scale is such a safe way to do it," she says, "But actual intimacy, actual commitment? I really struggle with it. You can spend your whole life craving love, and when someone gives you real wholesome love, loving the real you, you're like, 'Why would you do that? I'm disgusting!'"
Of course, it's even more complicated when your life's work has been creating this big monument to yearning. Florence Welch is deeply self-aware as she smiles. "I'm trying to get over myself as this tragic figure who can't do love," she says, wryly. "I'm like, 'No, that's part of my mythology, maybe I need that pain for my songs! My songs are the things that have really been there for me!' But how committed am I to my own loneliness?"
There's a line on Dance Fever where Florence sings, "I thought that I was here with you, but it was always just an empty room." The 'you' in question is that creative entity that has shaped Welch's life; the angels and demons pulling her along to make another song. "You know, I think I'm finally alone with my creativity in my space that I've made in exactly the way I want to see the world," she sighs. "But really, I'm just sitting in a house alone."
Taken from the June/July 2022 of Rolling Stone UK. Buy it here.
Styling: Aldene Johnson
Hair: Leigh Keates
Makeup: Sarah Reygate
Styling Assistant: Kamelia McKayed
Fashion Director: Joseph Kocharian
Fashion Assistant: Sacha Dance