Behind the scenes of Glass Animals' huge shows at Red Rocks Colorado
Oxford's Glass Animals are currently the biggest band in America. Frontman Dave Bayley talks to Rolling Stone UK about the runaway success of 'Heat Waves' and shares photos from their two-night stint at Colorado's legendary Red Rocks amphitheatre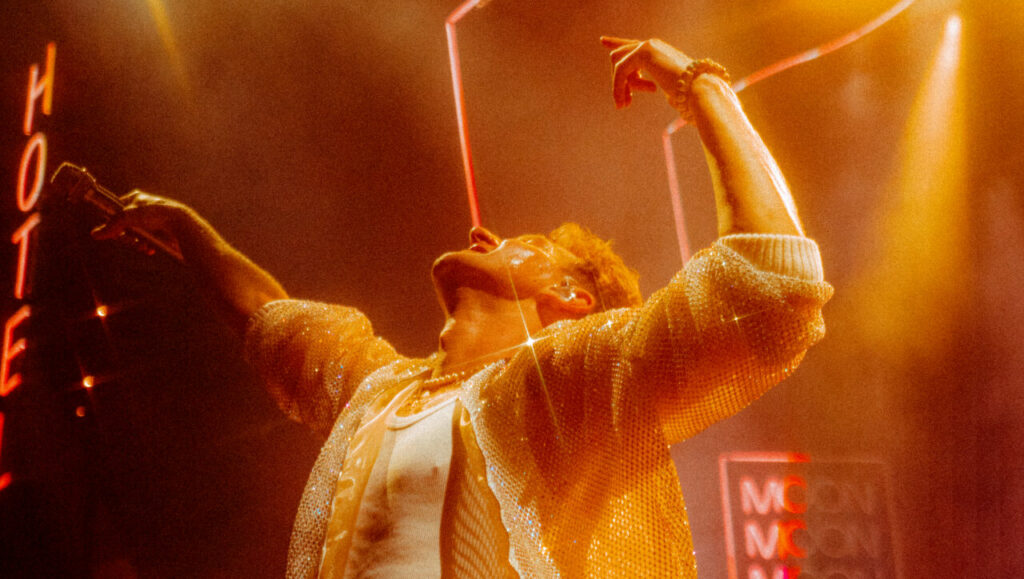 The last time Glass Animals played Red Rocks, they summoned the gods. The band's show at the iconic outdoor Colorado venue in the summer of 2017 coincided with a biblical downpour, with the gig being stopped multiple times. During 'The Other Side of Paradise', frontman Dave Bayley sang the line "my thunder shook him down"at the very moment rolls of thunder and flashes of lightning illuminated the amphitheatre, as if he was playing puppet master with the elements.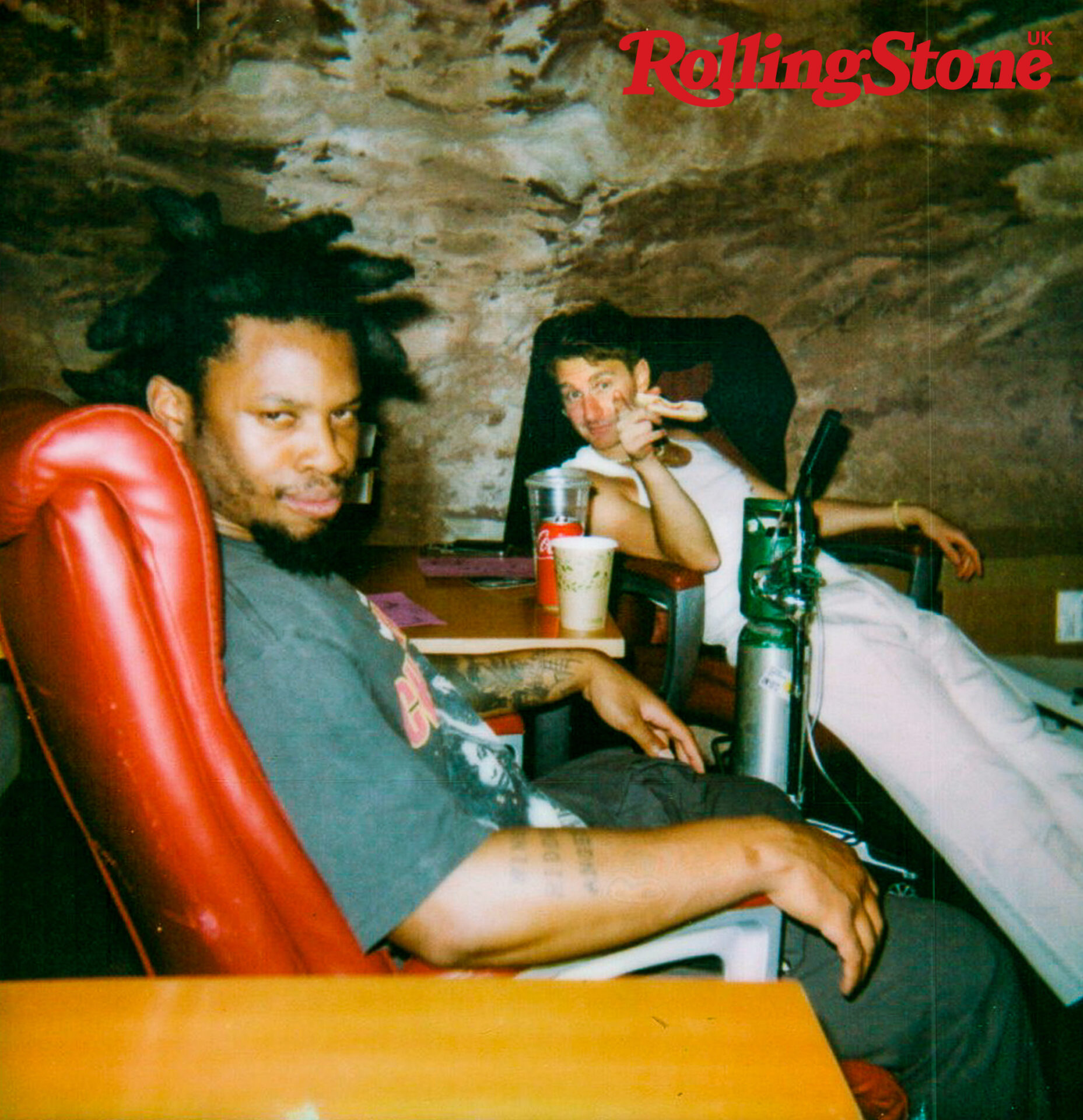 This time around, they didn't need acts of god to put on a biblical show; they have 'Heat Waves' for that now. Since releasing third album Dreamland during the first COVID lockdown, Glass Animals' success has been nothing short of remarkable, all centred around the record-breaking rise of its hit single.
Back in November of 2021, 'Heat Waves' made history when it hit the Billboard 100 Top 10 after 42 weeks on the chart – the longest climb there in history. After hitting top spot in its 59th week on the chart four months later, the band equalled the Spice Girls' record for most amount of weeks atop the US chart.
The 2022 tour that the band are currently on has subsequently felt like a euphoric victory lap, with venues getting bigger, audiences getting more feverish and Glass Animals surely heading for arenas.
The morning after the band's second Red Rocks show, Bayley called Rolling Stone UK from Colorado to discuss how much has changed since the Red Rocks shows were originally booked for June 2020, their plans for Glastonbury and beyond, and why he thought 'Heat Waves' was "too personal" and "too sad" to be a hit single.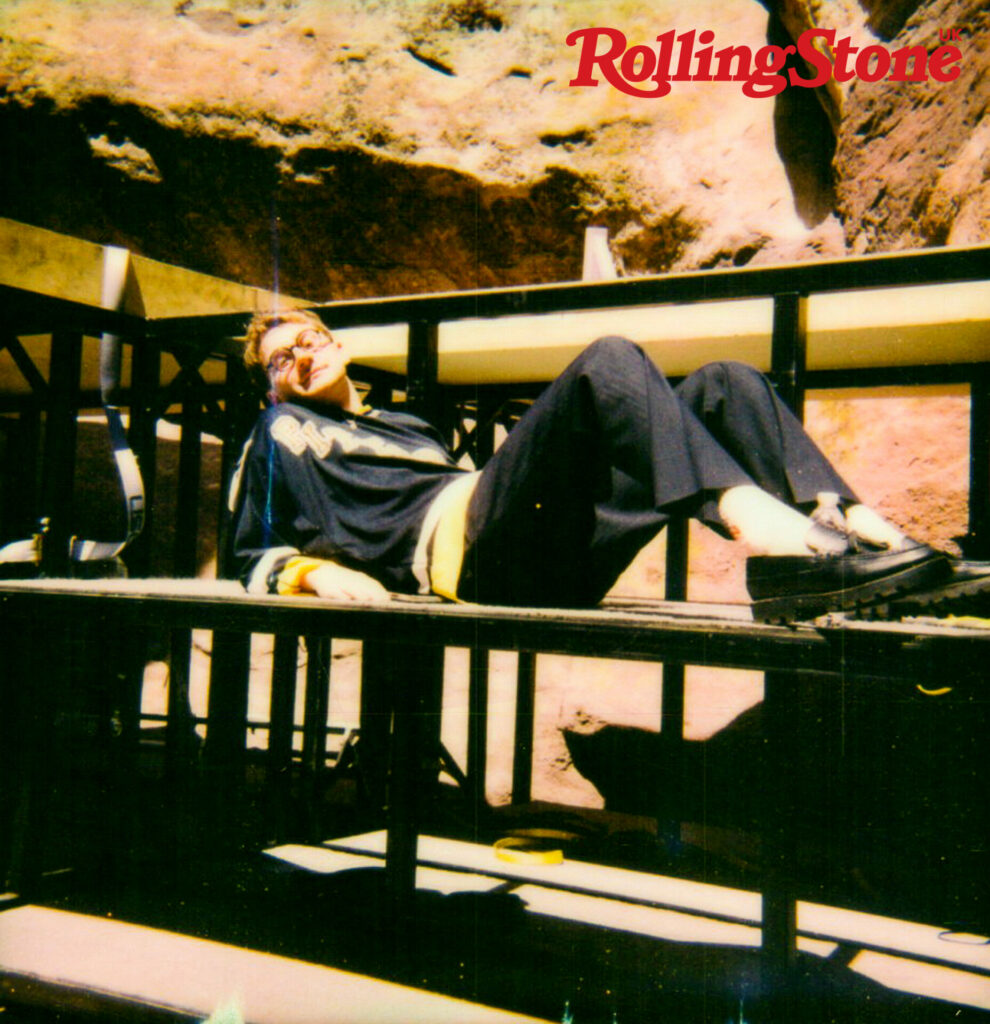 Tell us about the Red Rocks shows you've just played – how did it feel to be back there?
Dave Bayley: After the last show with the thunder, which is still the craziest thing that's ever happened in my life, the place already had some magic for us. It's a remarkable place, you just walk out on stage and there's a wall of faces. It's like nothing you've ever seen before and completely takes your breath away. I feel like the only time anyone sees that many faces in front of them at once is when they're at war! It was panic but also extreme excitement. Because everyone is on a slope, you can hear them all. Someone whispers at the top and you can hear it. It's an amazing place and the energy of it is insane. I'm still absorbing it all, really.
"The last two days at Red Rocks have been a culmination of the last two years"

— Dave Bayley, Glass Animals
Have you had any time over the last year to stop and digest your amazing success, or does it still feel like you're in the hurricane?
Dave Bayley: In some ways, it feels like the last two days at Red Rocks have been a culmination of the last two years. You could see it and hear it all in one place at one time. We were meant to start the whole [Dreamland] album campaign with these shows, so last night did feel like the cycle had completed. All of my family was there and Denzel [Curry] was there. At the end of last night's show, the whole thing hit me in the heart, took me down and I started crying a little bit. The last few years just flashed in front of my eyes for a second.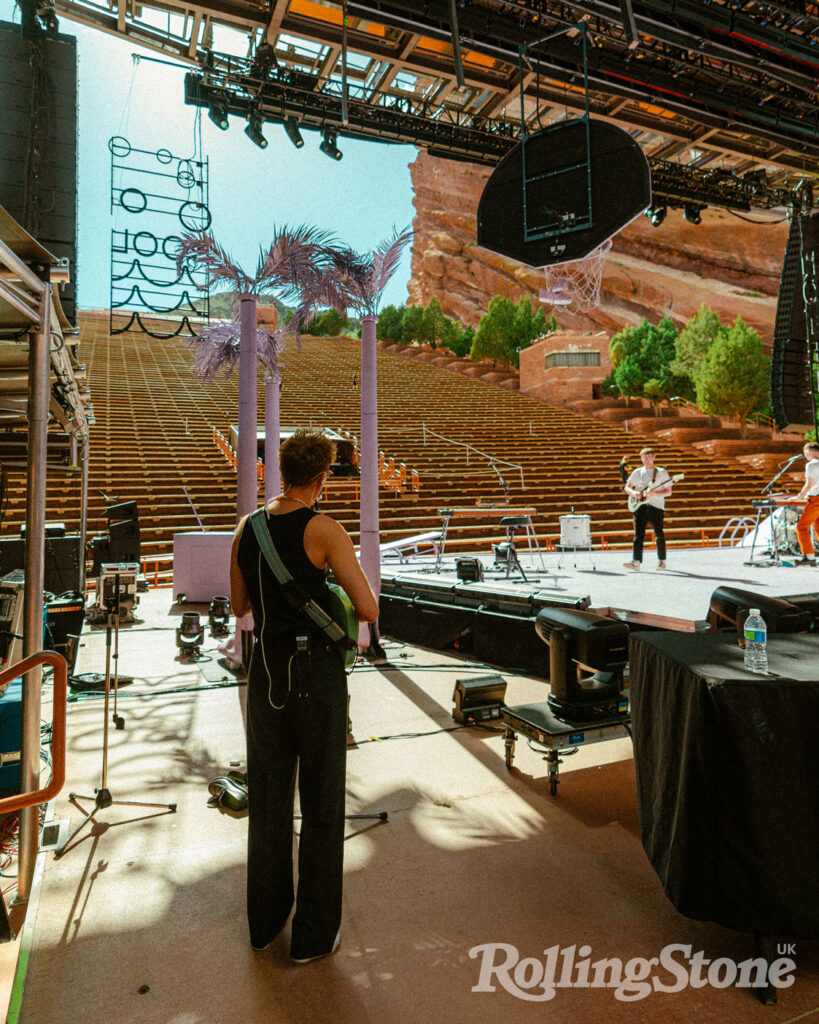 Did the runaway success of 'Heat Waves' take you by surprise, or did you know you had a hit on your hands?
Dave Bayley: There was a point where we all thought we'd lost it – we thought it was over. We didn't think that the album would do anything in the pandemic and we were ready to go and get other jobs. I just didn't think that anyone was going to listen to new music when everyone was finding comfort in old stuff. Even I was listening to stuff I grew up with, and then we had an album and were asking people to listen to something new when it's probably not the time for it. And then we had no touring for two years. We were a touring band, you know? That was how we survived.
"Having heard a lot of what was in the ether, I didn't see necessarily how 'Heat Waves' would do what it has done"

— Dave Bayley, Glass Animals
What do you think it is about 'Heat Waves' that has taken off and become a record-breaker?
Dave Bayley: I knew I loved the song and I knew there was something in it, but really the reason I loved it was because it was so personal. I definitely didn't think it would do what it did; I thought it was too sad and too personal for that. Having heard a lot of what was in the ether, I didn't see necessarily how 'Heat Waves' would do what it has done.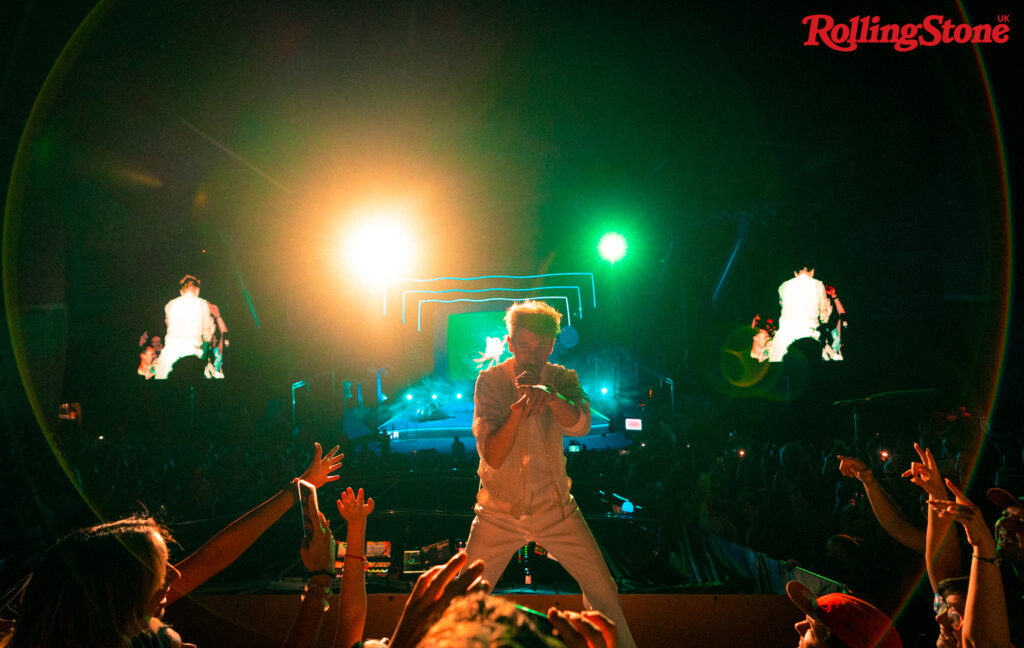 How does the new success sit with you, and does the idea of being a proper star excite you?
Dave Bayley: It's not what I set out to do. I just wanted to make music that I found interesting and I want people to like it, but that's my favourite thing, when I make music that changes the way someone thinks and helps someone. That's still the goal. Obviously it's exciting that it's grown into what it is, and when it grows it gives you more options, but I think because this wasn't a pop project where five people were put together by a label and the hitmakers came in and wrote songs, there was no expectation. Because of that, it's bought us a weird freedom. No-one really knows how it happened, so instead of being pushed to move in a certain direction, the people around us are saying, 'We don't know how you did that, but do it again. Just do whatever you want to. Go do your thing.'"
"[Florence Welch] is an absolutely once-in-a-generation artist, and I learned so much from her"

— Dave Bayley, Glass Animals
Alongside Glass Animals, you've also been working with others including co-producing Florence + The Machine's Dance Fever alongside Jack Antonoff – how does that work feed back into your own songwriting for the band?
Dave Bayley: [Florence] is an absolutely once-in-a-generation artist, and I learned so much from her. Doing those projects is so exciting, and from working on that project, I've started coming up with ideas and writing a bit on the road. I tend to write everything in my head and then when I get off tour, throw it all up onto tape. When the time off does happen, I'm ready. I've got a lot of ideas floating around and I'm really excited to get back to it.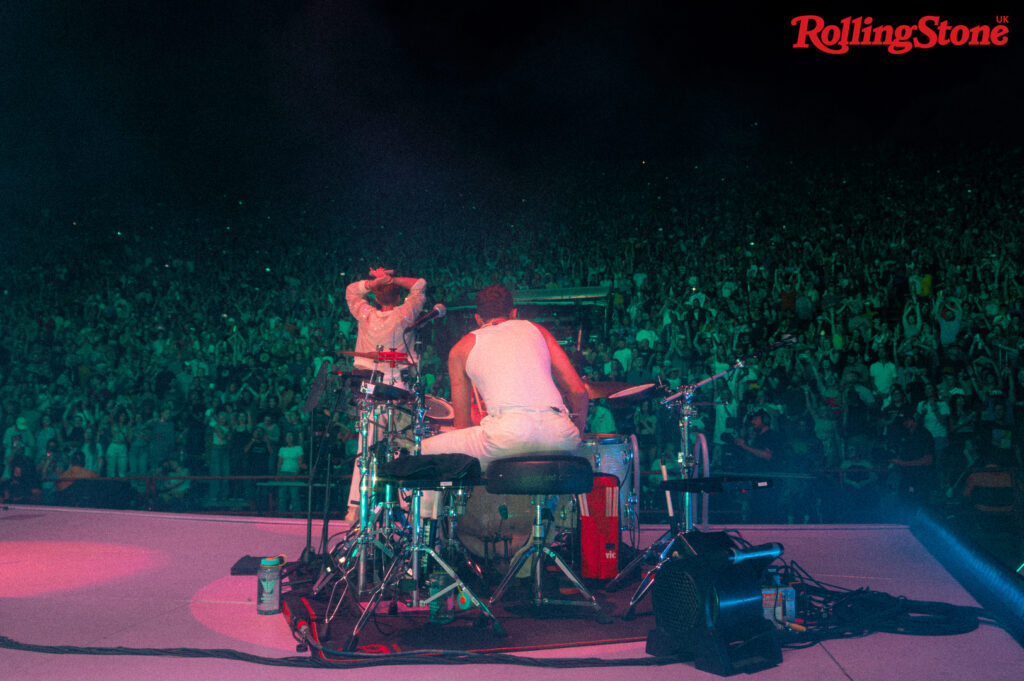 Are there any particular things inspiring you when thinking about new music?
Dave Bayley: I've been finding spaces really inspiring at the moment. We've been travelling a lot and I've been going to lots of amazing, amazing places, and I've been trying to find places within those cities that have a lot of soul. I enjoyed going to New Orleans recently, it's one of my favourite cities in the world. That's kind of where my head's at the moment, finding these really amazing places and going to those places and making some music there.
And what's in store for the rest of the summer?
Dave Bayley: We've got Glastonbury coming up, which I think is going to be absolutely feral this year, and then a host of European festivals in the summer. Reading & Leeds as well of course, which is where all of the band met, so that will be a special one. It's going to be a fun summer.