Jacob Collier is your favourite musician's favourite musician
Jacob Collier won Grammys for his first four albums and is the talent behind some of music's biggest hits. Star collaborators including Coldplay and Stormzy describe him with a string of superlatives — so why do so many people not know his name? As Collier prepares to release his fourth album, Rolling Stone UK attempts to answer that question
The testimonials written about Jacob Collier from global stars are so intensely fawning and complimentary that they might seem fake if they weren't so unanimous.
"He's nothing like I've ever seen before," Stormzy has said, while Coldplay's Chris Martin labelled him "the best musician in the world". The great Quincy Jones, Collier's de facto manager and early mentor, added: "I have never in my life seen a talent like this."
With co-signs from stars across jazz, pop and rap, and as the first British artist to win a Grammy for each of his first four albums, Collier is one of the most in-demand musicians on the planet. But chances are you may never have heard of him.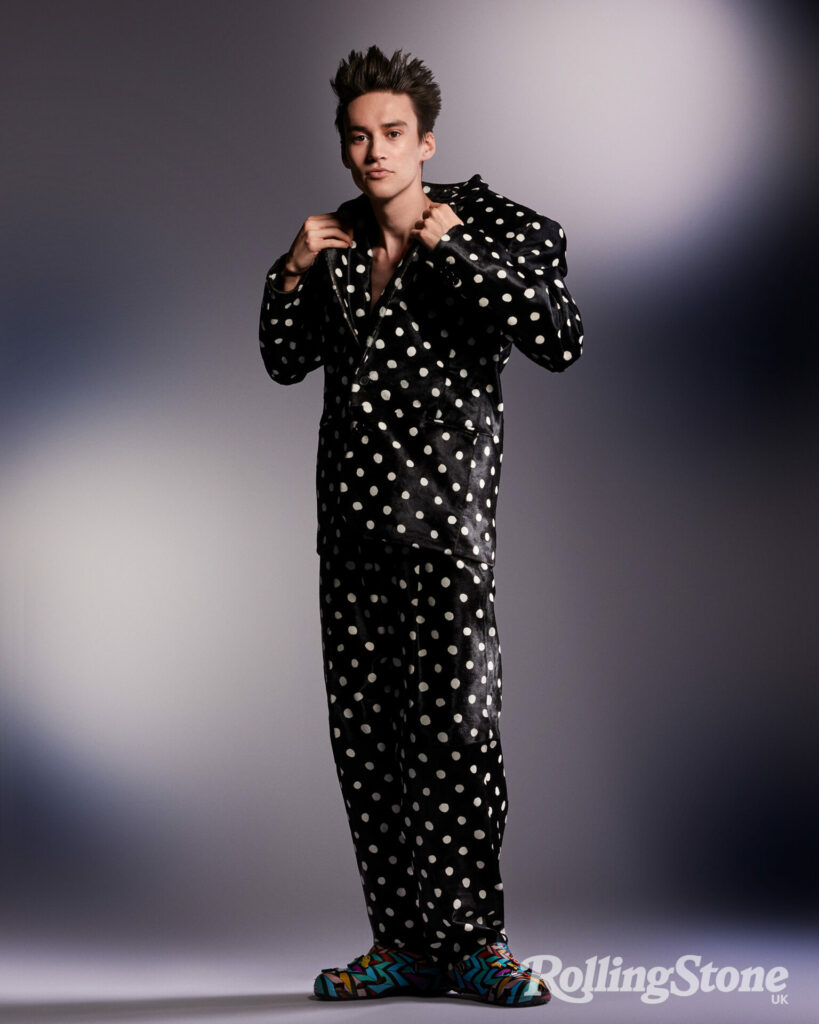 A 28-year-old multi-instrumentalist from London and son of Royal Academy of Music violinist and conductor Suzie Collier, Jacob emerged a decade ago on YouTube, sharing split-screen covers of global stars including Stevie Wonder. In the videos, Collier plays every instrument and rushes about between them like a livewire, creating loops and showing incredible dexterity and natural talent on whichever instrument he picks up. These videos were the genesis of a one-man show that Collier built in 2015 and toured the world with, catching the attention of Quincy Jones, who took Collier under his wing and became his mentor. That same year, Jones flew Collier out to the Montreux Jazz Festival in Switzerland, where he introduced him to Herbie Hancock.
"Herbie had bought my whole discography on Bandcamp," Collier tells me in his dressing room midway through the Rolling Stone UK photoshoot, giddy disbelief still permeating his voice. "I got an email from him, and it said something like, 'Hey, I've just bought this whole bunch of music and I love it! Where do you live?'" In his note alongside the purchase, Hancock told Collier something that has stuck with him in the decade since: "All the best music comes from the best life."
Collier's life in music started at the earliest age possible, and he fondly tells a story of picking up the violin at age two after seeing his mother playing it while rocking him on her knee. "Like many people, I realised that I've found myself aspiring to be like my mum as I've got older. She's a conductor and an extraordinary teacher, but also just an amazing person. My first memories of human interaction were her teaching people to play the violin at my house. I'd come home from school, and she'd be there enabling them, challenging them, duetting with them."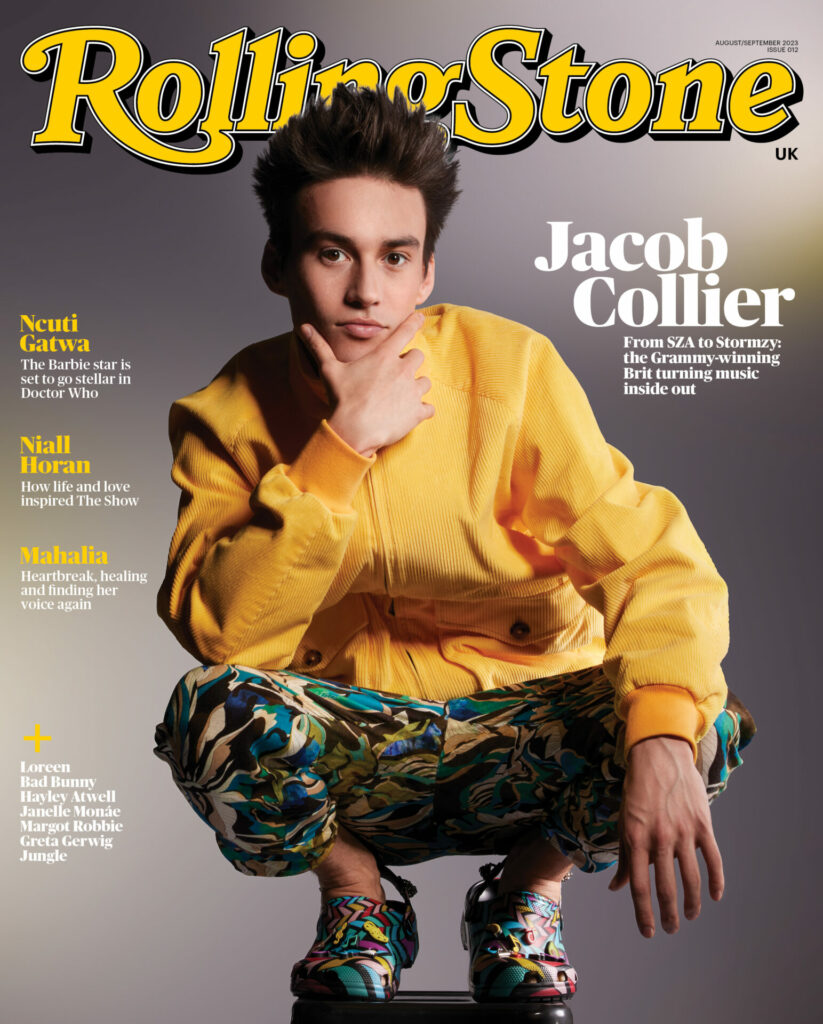 At the age of two or three, Jacob would go and see his mother conduct the orchestra at the Royal Academy of Music. "It wasn't just a case of her moving her hands up and down," he remembers. "That's the least of the process. It's how she made the orchestra feel that stayed with me. At the time I think I thought it was normal: 'Oh, this is normal, this is what people do. They conduct orchestras, and they'll just come to life.'"
Given this background, it's perhaps no surprise to read the fawning words about Collier from thousands of household names. As well as being a supremely talented and virtuosic musician, he understands the essence of collaboration and what to bring to the process. In conversation, he talks as animatedly about communicating past a language barrier and through music with Malian singer Oumou Sangaré as he does about linking up with SZA to co-write the huge hit 'Good Days'. "I get a major kick out of dressing up my universe to the eyes of other people's universes," he says with a smile. "I'm learning through them how I could forge my own ideas differently. I think the biggest kick I can get is the feeling of being a human and making a connection with other humans. It's something I think that music does really, really well, but it's much bigger than music as well." Unknowingly echoing Hancock's words to him from a decade prior, he adds: "It's just about being alive."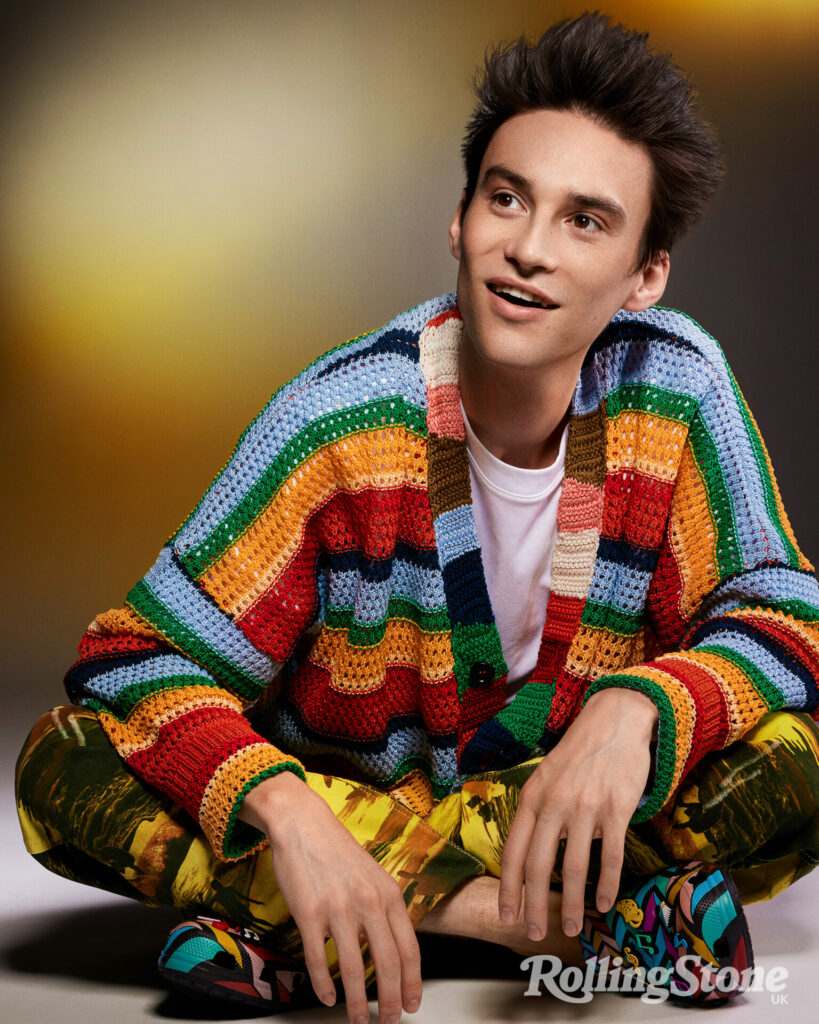 It's a phrase that permeates every facet of his life. "I'm quite a chaotic and colourful person in many ways," Collier says of how his music has gone on to influence his kaleidoscopic visual aesthetic, which has evolved to include a collaboration with Crocs, with whom he's about to drop a shoe that is designed entirely by him.
Sitting down for our cover interview, he's dressed — if anything — even more flamboyantly in his own clothes than in the photoshoot outfits, sporting a blue tie-dye ensemble. Sitting next to him are those new custom range of Crocs, which are just as vibrant as he is. It's a wild collab, but one that makes perfect sense in Collier's world. Boasting a black base emblazoned with blue, pink and yellow parallelograms and Jibbitz featuring a shuttlecock, musical notes, bananas and tiny silver bells on the rear heel, it's essentially his musical genius brought to life in physical form.
"When Crocs first came out, my whole family were fans, but no one wore them," he beams. "It's come back around now where all the biggest celebrities in the world are wearing Crocs, and I'm lapping it up! I love it so much. This is a bit of a dream for me to make a shoe with Crocs."
He continues: "I'm often drawn to patterns that have lots of different colours and patterns and things going on with them, and I also just like comfortable clothes," he says. "I love loud, I love colourful, I also love very subtle patterns with textures and elements in them."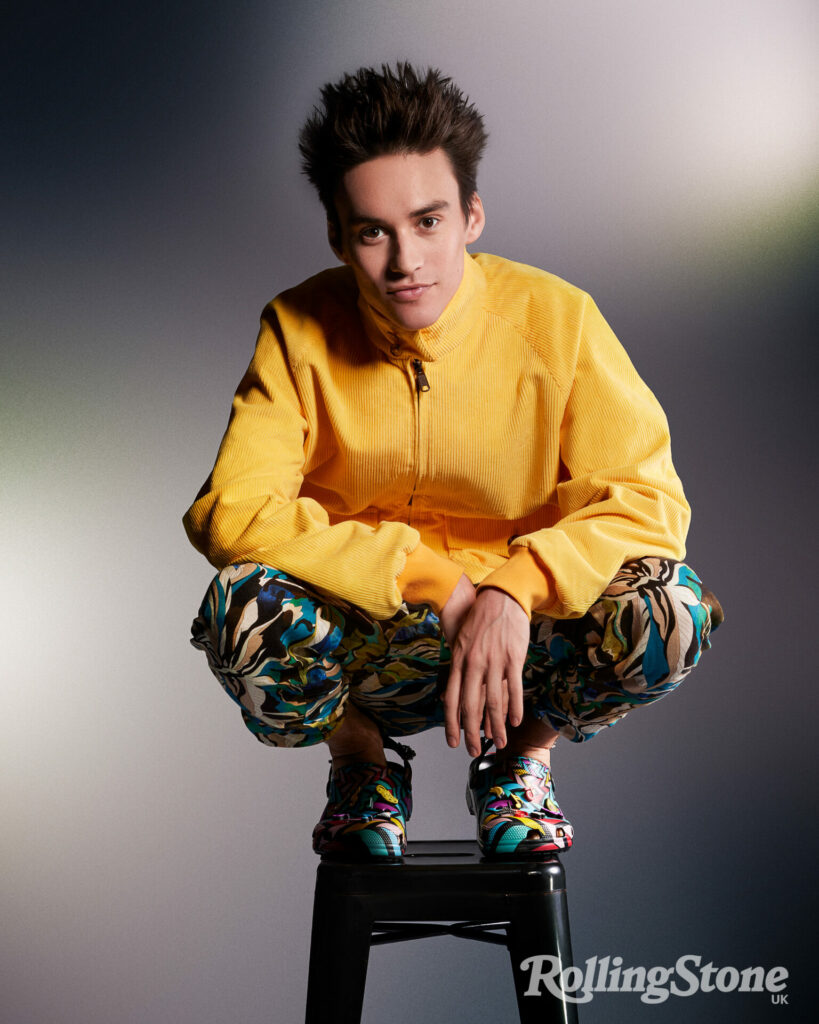 In recent years, Collier has become a vital cog in some of the biggest music machines operating today. In 2021, he was recruited to East Point Studios on Essex's Osea Island as one of Stormzy's collaborators for third album This Is What I Mean. Speaking glowingly of his friend and collaborator, Collier says the differences between him and the Croydon rapper allowed a beautiful working relationship to flourish. "Stormzy is one of these really special people who's achieved a vast amount of success, but has also reached lots of people and been very important in the culture. But with [This Is What I Mean], since his third album, he chose to surround himself with people who, in his eyes, were more qualified than he was to execute his vision," says Collier of the celebrated artist.
"That's an incredibly bold, beautiful and humble move," adds Collier. "It's such a joy to see Stormzy bring the fullest version of himself to the table with all these other people who are really different from him. Stormzy and I love a lot of the same music and were brought up in the same city, but we actually don't have that much in common. It was one of the best forms of collaboration I've ever experienced, because of the environment."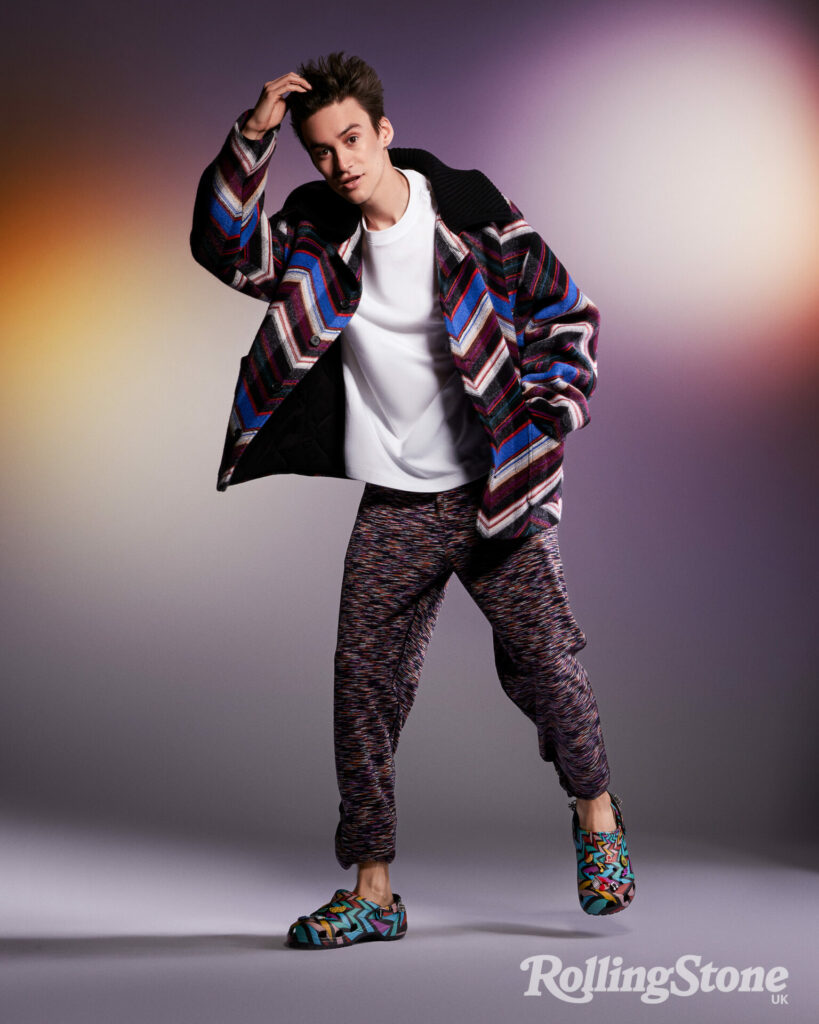 The environment, which has been well documented, saw Stormzy invite his collaborators to live and work on the island, and Collier speaks of the rapper saying a prayer every morning before work began for those who were leaving the process and some who were just joining. "He did such a good job of curating a really special, creatively open atmosphere, where everyone could bring things to the table and parts of themselves that were totally new. You could feel the family spirit of it and a sensitivity.
"I think Stormzy could have gone out and been even more ballsy, forthright and extroverted," Collier muses of his collaborator's musical evolution. "But he chose to look inward, which is a beautiful, brazen example for people and artists all over the world. You get to that level and are essentially the king of England, and you choose to look inward instead of just going bigger."
A more spontaneous and light-hearted collaboration came last summer when Collier joined Coldplay at their huge Wembley Stadium shows. As he reveals excitedly, Chris Martin — who he had collaborated with on Coldplay's song 'Human Heart' — rang him on the day of the band's first show at the venue and asked him to fill in last-minute on a series of special guest appearances. "I was on a shoot or had a meeting or something," he laughs. "Chris said: 'Hey, are you in London, and are you free tonight, because Natalie Imbruglia wants to sing 'Torn' at Wembley Stadium?'
"I didn't know the song," Collier admits, quickly realising how absurd that statement is ("It's the biggest banger of all time!" he realises now) and learned the chords on the journey to the stadium. For the next three nights, he joined Coldplay's special guests — Imbruglia, Steve Coogan as Alan Partridge, and Stormzy — as they delighted fans with unexpected performances.
"I just love that feeling of being thrown into something," he says with a grin. "I deliberately create environments on tour and in my life where I don't know what the hell's going on and I just have to figure it out." Like his mother before him, he felt like the glue that knitted the collaborations together those three nights, a connective tissue between artists that allowed everyone involved to bring out the best in themselves. It's a true skill, and clearly part of why Collier is so in-demand.
Parallel to this enviable list of collaborations has been a growing solo career for Collier that has gained him five Grammy nominations including an Album of the Year nod for 2020's Djesse Vol. 3. The Djesse series — a play on Collier's initials — has seen him traverse a vast and intricate network of genres, from classical to jazz, R&B and pop. Jacob's first album In My Room was a solo mission, but the Djesse project, alongside the writing and production of the music being predominantly made in his music room at home where it all began, involved Jacob inviting a whole host of collaborators from across the globe.
With 'Djesse Vol 4′ due out in the near future he's drafting in more collaborators than ever before. Hundreds of thousands of them, in fact. At a 2019 show in San Francisco, Collier began an impromptu ritual that would become a staple of his live shows and a viral sensation, orchestrating the crowd through an improvised and spontaneous cover version, with their voices rising and falling in spine-tingling harmony.
"I'd say about 50 per cent of the crowd have an idea of where things are going, but it's almost like the murmuration of birds — there's a huge gravitational pull to go in a certain direction," Collier says of the process. "Every person who seems to know the right note causes the five people around them to know what the right note is. San Francisco changed the way I thought about people and music. There's an inbuilt understanding, and people have a tonal gravity which you can tap into."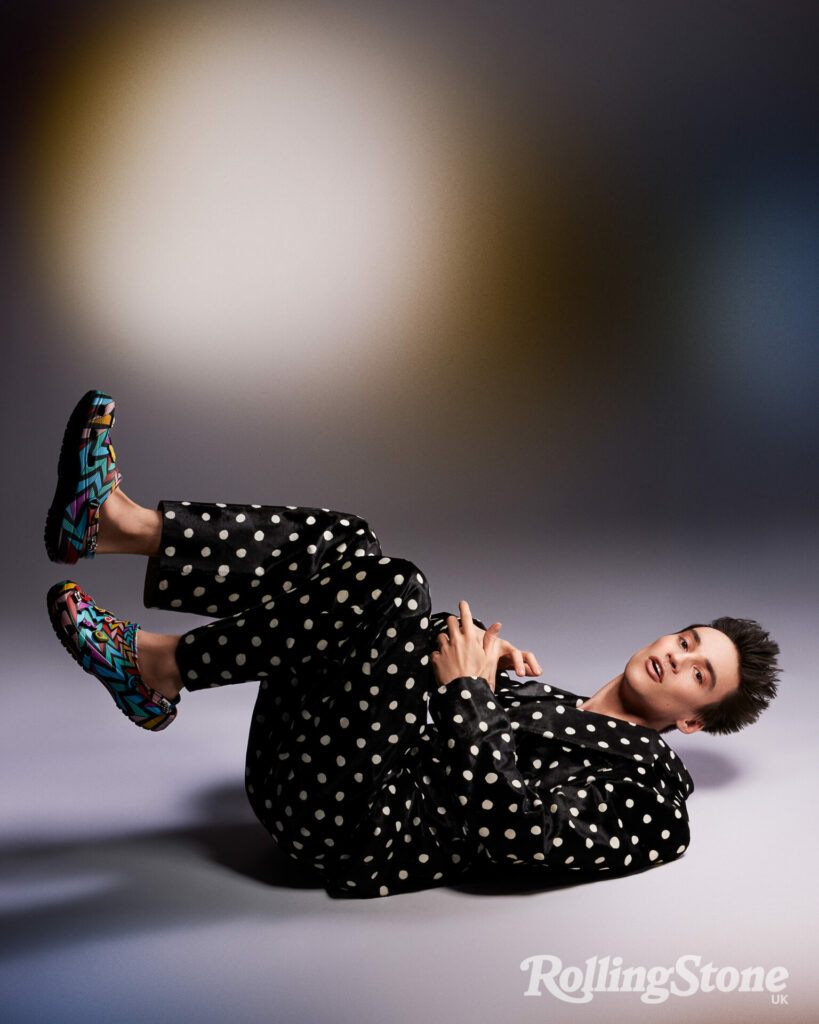 Since then, the audience participation has defined Collier's live performances, which he has now expanded from his lauded one-man show to incorporate a band due to his longing for an on-stage community. A few days after we speak, he brings the concept to its biggest audience yet on Glastonbury's West Holts stage in a glorious display of collective power.
As his reputation grows, and his collaborations continue, Collier is forging a career as a pop star in his own right. With Djesse Vol. 4 feeling like the end of the beginning, what's next for this supreme talent? Does he want to have a radio hit, or to dive deeper into becoming the muso prodigy many have pegged him as? "I can't say really," he smiles, clearly excited by uncertainty and the prospect of infinite possibilities.
"I wouldn't seem to be interested in narrowing into a genre, because I've never been a particular believer in genre. It's quite a 20th-century construct, and it can be helpful to some people, but not necessarily to create music. I will probably stubbornly not conform to an idea of genre, but I do think that all sorts of limitations can be immensely valuable. I'm always very interested in different ways to narrow the aperture without decreasing any potential for infinity within that aperture."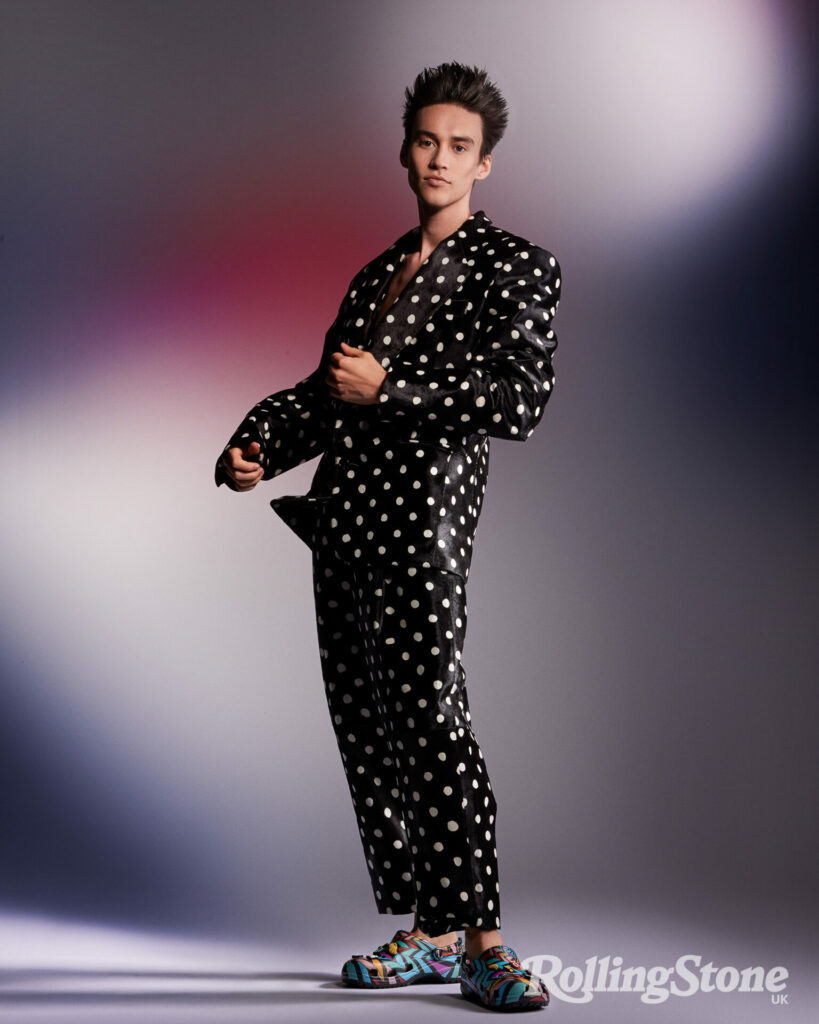 He has a similar outlook on fame, with any interest in turning from a critics' choice into a household name hinging on keeping his iron-clad integrity. "When I was a kid, I didn't dream of being famous," says Collier. "[Being famous] feels incredible, because it's proof of the work that you're doing reaching and moving people. I think the more people I can move in a deep way, the better, but I feel like it doesn't really matter if it's three people in a room or three million people on the internet, or 3,000 people in a venue. My job is to perform to the people who are present and who are listening to something that feels really real, something that's really me and that's honest to my perspective of the world. If a musician creates music to become famous, that genuinely results in that musician's worst work."
Chameleon seems to be the perfect word to describe Jacob Collier, who dashes excitedly between musical styles with abandon, while soaking up all the extra knowledge he can. As with everything though, this inspiration comes back to people, whether it be his A-list collaborators, his mother or the hundreds of thousands of voices on his new album.
"It always does well to put faith in people," Collier says of trusting his audience to join him each night. "I've always believed that if you put faith in someone and you say, 'No, you can do this, you really can!', on any scale, whether it's a teacher and a student or a friend to a friend, or me to my audience, they can surprise themselves. There's something in people — all they need is just a bit of faith in themselves. I put my faith in them every single night."
Every night on tour in the four years since that show in San Francisco, this faith has rebounded into Collier, who is now collaborating on a vast scale and emerging as one of modern music's great polymaths. "There are all sorts of things that people would have experienced on that day that brought them to the venue that night," he says fondly. "Even if it's just for two or three minutes, the feeling that everybody's unified is wonderful.
"For me, the fact that I'm not actually singing anything is profound, because I'm just essentially guiding people to express what they already know," he adds, distilling his singular appeal and the reason why he's a coveted collaborator for so many. It also brings him back to the very start, as he smiles: "It makes me feel like the best of my mum, you know?"
Taken from issue 12 of Rolling Stone UK. Pre-order yours now.