Leigh-Anne Pinnock: 'I haven't lived my destiny out yet'
From the age of 11, Leigh-Anne Pinnock was telling her schoolmates she was going to be a pop star. Two decades on, you'd be forgiven for thinking she'd long since fulfilled that dream. But, as she tells Rolling Stone UK, she's determined to prove herself as a solo artist and to explore Black music in a way she's never been able to before
By Tara Joshi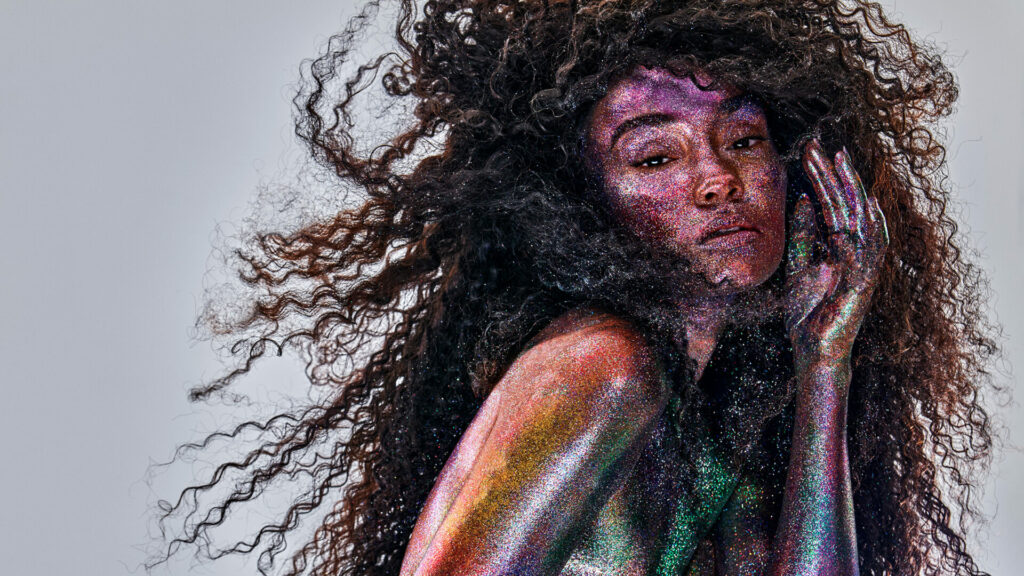 When Leigh-Anne Pinnock first appeared on our screens for her audition on The X Factor in 2011, she was a sweet but shy 19-year-old from High Wycombe with a sweeping side fringe and a job at Pizza Hut.
"I want to be a pop icon," she had announced to the nation at the time. But after hearing her sing, judge Kelly Rowland suggested Pinnock would, for now, fare better in a group. Several iterations later, she was placed with fellow singers Jade Thirlwall, Perrie Edwards and Jesy Nelson.
Together they would make pop history. Little Mix were the eventual winners of the series and, over the next decade, would become one of the biggest, most successful British girl bands in the world. On paper, Pinnock had done what she had set out to do. And the 31-year-old has also found happiness in her personal life — she married footballer André Gray in June, after giving birth to their twins in 2021, who she describes as "the most beautiful blessing that I could ever have been blessed with".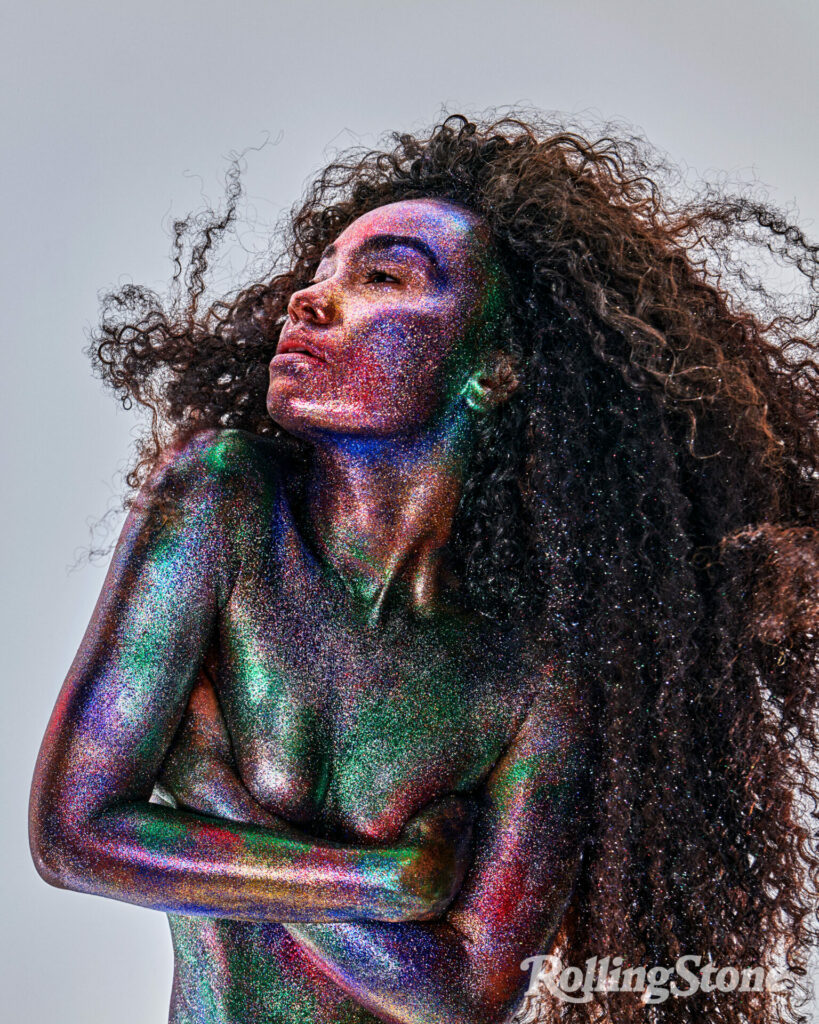 Although Pinnock is pleased with her professional achievements so far, she still isn't fully satisfied, as she reveals when we meet. It's a sunny day in east London, and we're sitting on a sofa in her management's offices sipping oat lattes and discussing her decision to launch herself as a solo artist. "I just feel like I haven't quite conquered it yet," she explains, matter-of-factly, "Like, I haven't lived my destiny out yet." The side fringe is long gone — today her hair is slicked back in a high-braid ponytail, and she's dressed simply but elegantly, with delicate gold jewellery glistening on her fingers and earlobes. She exudes warmth and sincerity and holds herself in a way that suggests she is markedly more at ease and confident than when we first saw her on TV. But it is in having grown from that young girl that Pinnock recognises all the things she still wants to do.
At the end of 2021, almost a decade after their debut album was released, Little Mix announced their hiatus. Nelson had left the group in 2020, and the remaining trio felt that it was time to pause, recharge and focus on solo projects. And so, for Pinnock, it was her time. "When I got in the group, that's all I ever saw; I didn't ever see beyond it, because I just wanted us to be massive, I wanted us to be huge," she says of those early years. "It wasn't really until we started having those conversations about bringing this to an end where I was like, 'I can do this.' I wasn't ready to not sing. And once upon a time, my dream was to be a solo pop star. I went into something else, and I had the best time of my life, and I don't think I could have done it any other way. But I feel like I owe this to the younger me. I owe her more."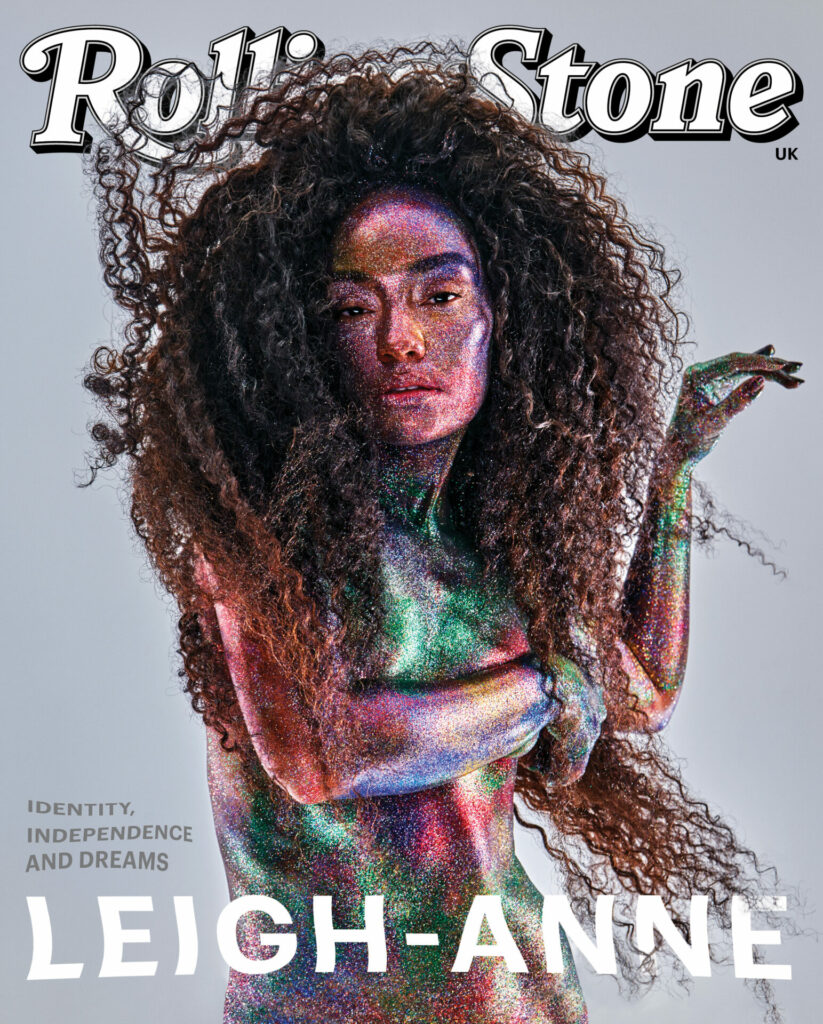 Of Jamaican and Bajan heritage, Pinnock grew up with parents who were incredibly supportive of her ambition, with her dad driving her to stage school at the weekends. "He really put his time into that for us," she smiles. "He just wanted us to be able to do whatever we wanted to do."
Maybe this is why Pinnock has always been determined: she had been surrounded by people who encouraged her and told her there were no limits. Though she was shy as a kid and battled with her confidence, she never saw that as something that should hold her back.
As a teenager, Pinnock was obsessed with former America's Got Talent winner, Alexis Jordan. "I just loved her, I could see myself in her," she beams. "She was a pop girl who looked like me, and I thought, 'I could do that.'"
Pinnock laughs recalling her transformation at that fateful X Factor audition: "I don't know what it was, but I just let loose and for the first time, I just performed. I turned into this different character, almost. I remember my sister saying 'Where did that come from?! I've never seen you like that before!' And I think I just knew that it was my opportunity, this was the shot."
As such, the realities of working in music were a blow. During a decade as part of Little Mix, her race meant that Pinnock was in the minority in both the band and most of the industry spaces she was in. "All of a sudden, for a lot of the time, I was one of the only Black people in the room, and it was a real shock. But because it was like that for so long, I was conditioned to feeling that way, and I never questioned it, I just got on with it," she says.
British pop music is a notoriously difficult space for Black women, and it is only in the past few years that attention has been drawn to how disproportionately white and male the British music industry – and the pop world, especially – is, particularly at a senior level. In turn, that often impacts how young people of colour are treated in these spaces, with countless stories of artists being dropped by labels because the predominantly white teams just haven't known what to do with them. Even with plenty of examples of singers who have had a few hit singles or a successful album, it is genuinely difficult to think of any Black and British female pop artists (especially darker-skinned women) who have achieved longevity in their music careers.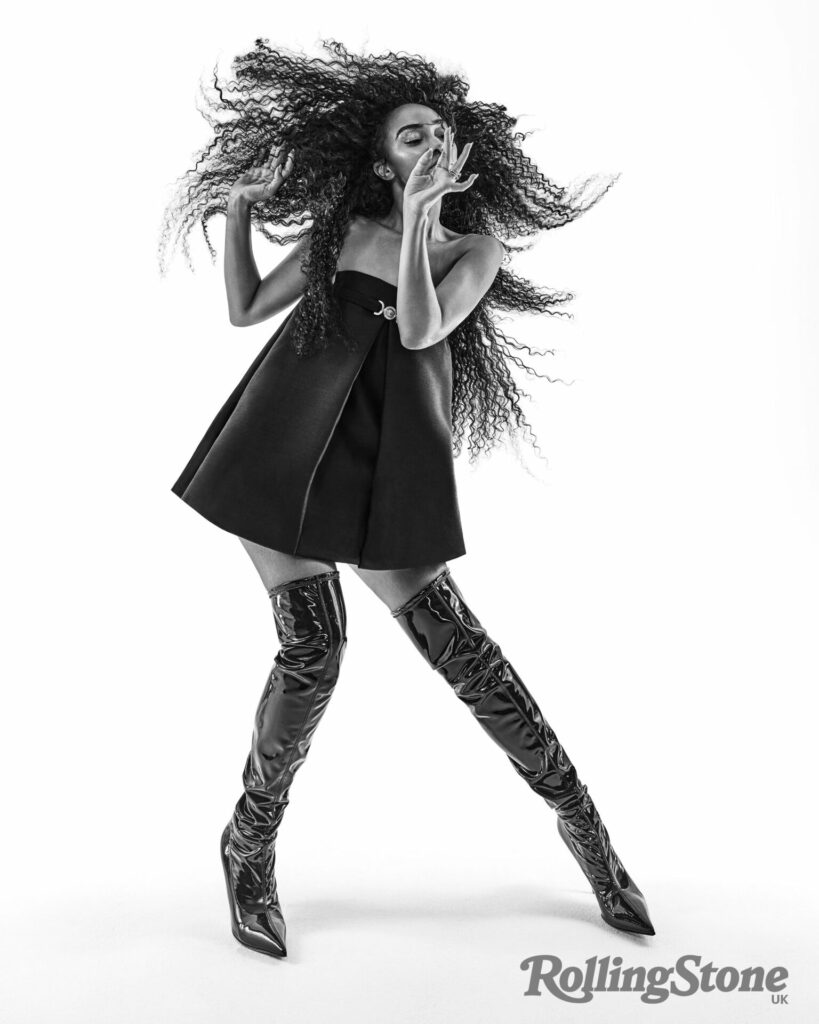 In her 2021 documentary, Race, Pop & Power, Pinnock recounts how American choreographer Frank Gatson Jr. told her on the set of one of Little Mix's early music videos that she was going to have to work five times as hard as the other girls because of her race. At the time, she did not fully understand what he meant. Then Pinnock started noticing the ways in which she was treated differently, be that in terms of how fans engaged with her (or didn't engage at all), or how she was presented in photo shoots and videos to fulfil a certain image of Blackness. "As the time went on, the feeling wasn't right, and I'd be thinking, 'Was that racist?' Just little things I was questioning, but also feeling quite alone with it.
"I wasn't in spaces where I could connect with other Black faces, and I was always on the road, so I didn't get to see my family a lot," she reflects of her time in the band. "So, it did feel quite lonely, and even more lonely because I didn't quite understand it myself." Despite these experiences not being all that long ago, pre-2020 and the resurgence of the Black Lives Matter movement, race was not something that people in the music industry were openly talking about. Pinnock felt uncomfortable voicing what she was feeling. "I just pushed it down and down and down. I think that's why I'm still trying to heal from it. It was so weirdly traumatic without even knowing it because I was just getting on with it. I was still smiling, still living my life, but this thing was just there all the time."
The documentary allowed Pinnock to talk openly about her experiences, and in 2021, she, her husband and her sister, Sairah, set up The Black Fund, which distributes grants and funding to a variety of charities and organisations that work to empower Black people and tackle inequality. "I wanted to put my money where my mouth is," she says affirmatively.
Now, in Pinnock's solo work, her Blackness defiantly takes centre-stage. The team around her is majority Black. "Now I'm on my own, I have the control to make sure 60 per cent of my team is Black, 'cos why not? Music is so heavily influenced by Black culture, so why are all the people at the top white? I can control these little things. I don't have to be one of the only Black people in the room now, that just doesn't have to be my reality," she says.
She asserts that much of the music she's been working on is a celebration of her Caribbean roots – particularly her long-standing obsession with romantic reggae aka Lovers' Rock, cemented by her cousin in Jamaica burning CDs for her when she was younger. When she decided she wanted to start working on her own material, Pinnock joined a song-writing camp in Jamaica, a country she affectionately describes as her second home. "My grandad lived there, so we used to go to see him every year," she recalls. "It's a part of me, it's my favourite place in the world; it's somewhere I can go and just breathe and be. So, the fact I got to make music there – and make music inspired by my culture – was just an amazing feeling."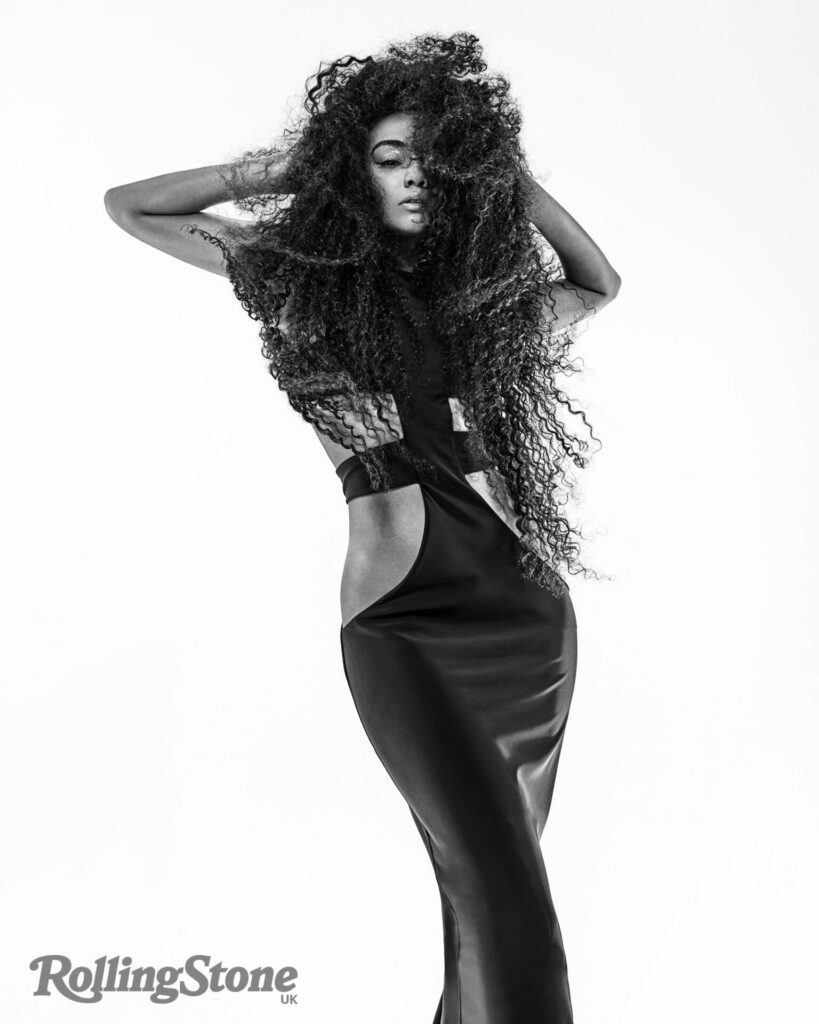 Her celebration of her Blackness is not bound to the islands either. Aesthetically, this new era finds Pinnock experimenting with her hair. "Beautiful styles like braids and locs and up-dos, and whatever, hair is a massive thing for me," she says, and this is displayed to full effect in her Rolling Stone UK shoot.
Pinnock also namechecks R&B, house and Afrobeats as inspirations, while mentioning how she grew up listening to rap, reggae, dancehall, jungle and garage. She even hints at a history in High Wycombe's freestyle grime scene: "I guess everyone had little tag names, I feel like I named myself 'Cutie'," she says.
"I think it's interesting how eclectic my upbringing has been in terms of music styles and where I'm gonna go with that," says Pinnock. In a reflection of that, her songwriting team includes Tayla Parx, Khris Riddick-Tynes, Kassa, Abby Keen and Dyo (known respectively for their work with the likes of Ariana Grande, Rick Ross, Stormzy, Normani and Nao). "Musically, I think I just wanted to be able to explore Black music in a way that I've never been able to do in the group before," she says. "It's music that I love, that I love to listen to, and that is me. I want to create something that is unique to me."
One of the tracks she's most excited about is her effervescent, euphoric second single, 'My Love'. Featuring Nigerian star Ayra Starr, it pays homage to Pinnock's love of Afrobeats – she's a particularly big fan of Asake, she notes. "I remember messaging my A&R being like, 'We're doing something insane in the studio right now, it's folky with Afrobeats. I don't know what's going on but it's so good!' It just sounded so different – it was the first time I got this feeling that something really incredible was happening. Like, something clicked: 'This is Leigh-Anne.'" Her love of the single was reaffirmed by her kids: "At the minute, the babies are loving 'My Love', and they keep saying 'See mama dancing!' and I have to keep playing the video for them. Honestly, they are obsessed, so that's how I know this is the one, 'cos they just love it so much."
In keeping with Pinnock's desire to help push for change where she can, she specifically tapped local dancers to appear in the 'My Love' video, which was filmed in Nigeria. "It made sense to highlight this beautiful culture," says Pinnock. "I spoke to one of the dancers, and she was saying, 'It's so incredible that you've come here, and we're doing this routine because so much of the Western world likes to take what we are, take it and not come to the source.' And I just think that's infuriating!"
Even her vibrant debut track 'Don't Say Love' is a straight-up pop banger, which nods to sleek UK garage, while its slinky R&B remix is an homage, she says, to the Mariah Carey era of remixes that flipped the tempo of a song into something new. The track, with its message about knowing and loving herself well enough to not let people undervalue or disrespect her, comes in part from what she faced as the only Black girl in Little Mix.
Clearly, Pinnock is done shrinking herself. Fully embracing her identity for the first time in her career, there's a new confidence that's spilling out across an array of genres that feel special – even personal and intimate – to her. She doesn't want young Black women coming through in pop music now to experience what she did, but Pinnock recognises that a lot still has to change. "I had somebody come up to me recently from a band, talking about how they were experiencing something similar to me," she sighs. "It kind of choked me up a bit … Having someone come up to me now, who has just stepped into the industry and feeling similar things to me.
"I'm pissed off because I don't want the cycle to keep happening. But I felt like, if I'm honest, I didn't really know what to say, because I'm still trying to get my head around it. I want to be that voice and to be able to help…" she pauses. "I mean, with racism in general, I don't know if I'm going to see a change in my lifetime. It's frustrating, but I'm just here doing what I can do."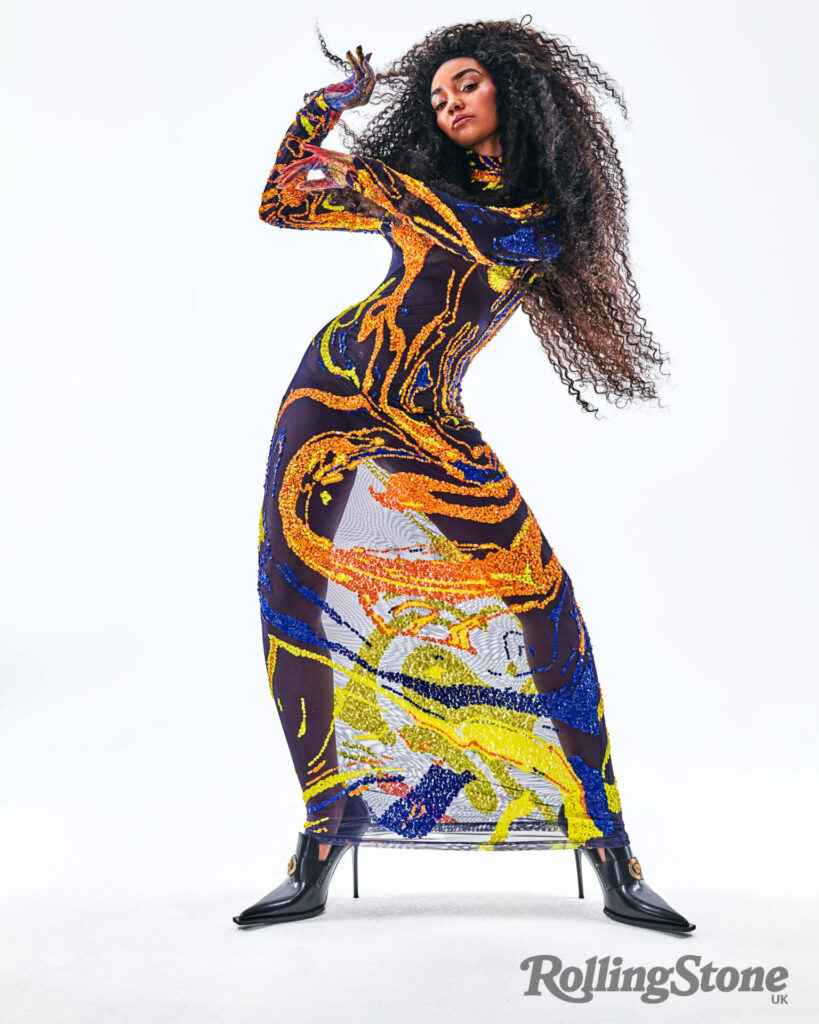 For an artist who has been in the limelight for so long, Pinnock is refreshingly candid. Though she's evidently a manicured popstar who is careful with the words she chooses (there are multiple times during our interview where she'll pause and slowly ask herself 'How do I put this?'), and is understandably protective when talking about her children, there are points in our conversation where she tears up recalling how past situations in her relationships – be that in the group, or with her husband – have made her feel about herself. "I am just a very emotional person, and I used to see that as a bad thing, but now I see that as a superpower," she states.
During the song-writing camps that she embarked on for her solo work, Pinnock felt it was important to bring this energy to the table, most notably laying bare her ups and downs, be that in her relationships with others or with herself, or even just addressing the realities of being a new mother alongside establishing her name as a solo artist. "The one thing I kept saying was that I wanted this to sound like an open letter," she explains, "because this is the first time I can actually pour my heart out."
She is conscious that people might see her life on social media and think she has it all sorted. It's a myth she wants to dispel. "Nothing is perfect," she reiterates. "A lot of what I'm talking about in the music is past experiences which I would not accept now. And they're things that me and my husband were able to get through – sometimes you have to go through the shit to come out better on the other side. It is OK to work through things, and not just be like 'I'm done.'" Though she's talking specifically about her romantic life, it's not hard to apply Pinnock's words to what she has been through more broadly. Later, she notes how her journey has ultimately led to a better place, and "how empowered I now feel as a woman".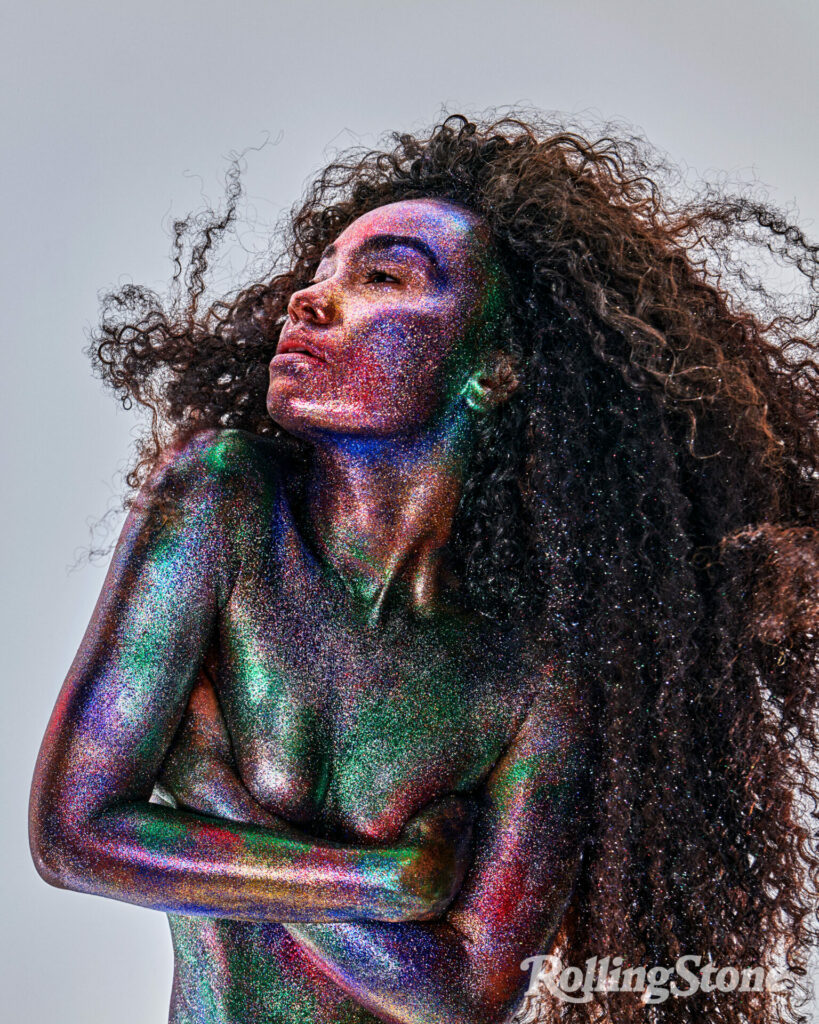 The week before we meet in London, Pinnock is in Greece on a short break with her husband before the promo campaign for 'My Love' really kicks in. We have a video call while she's there, in which we talk mainly about the past: about Little Mix, about her family, but mainly about her younger self. A lot of Pinnock's time in therapy, she says, is spent talking about herself as a child. "She comes up a lot, I think because of how passionate I was," she muses, "and I find it interesting if I think about my journey from that girl to now. And how I went from this young girl who had this dream, had this determination, fought so hard to get where she wanted to be, got there, realised that…" she pauses, reaching for the words, before continuing: "Realised that it was going to be a lot harder up there, and lost some of her confidence, lost some of her character. Then has now grown into this woman who has regained that and knows who she is."
It may have taken years to get here, but that young girl has grown into a woman who is today proudly stepping up and taking ownership of her identity. Embracing her time as a solo artist, Pinnock is ready to celebrate where she's come from and to work towards a more positive future that is upending the limitations British pop music previously placed on her and other Black women. She is now ready to speak up with honesty wherever she can – and make the songs that she's always wanted to. "I feel like that little girl would be really proud of this woman that she is now," she says with a smile.
Photography by Mariano Vivanco
Fashion direction by Joseph Kocharian
Styling by Georgia Medley
Makeup by Hila Karmand at Arch the Agency using 111SKIN and CTZN Cosmetics
Hair by Issac Poleon at CLM Agency
Hair assistant: Mya Muntari