Aitch live at Glastonbury: Manchester rap giant rules the Pyramid
He might be from Manchester but over on the Pyramid Stage it feels like the world is Aitch's for the taking.
By Ali Shutler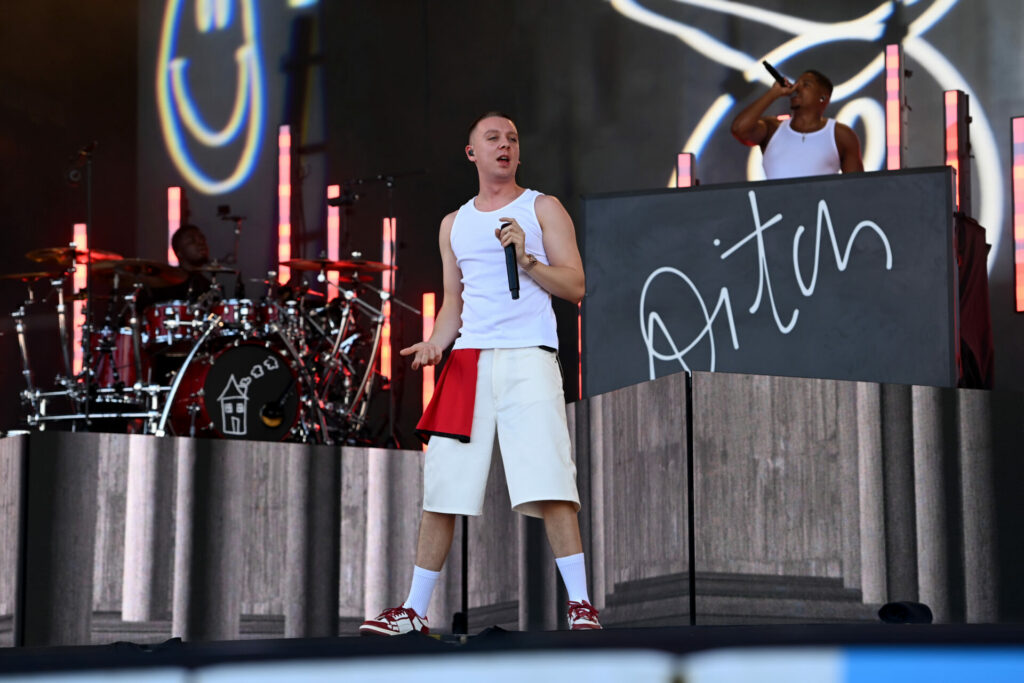 Friday's run on Glastonbury's Pyramid Stage showcased the ferocious might of rock & roll while tomorrow's a joyous celebration of glitzy, theatrical pop. Today though, things feel a little confused. We've already seen Raye's fierce pop follow on from a burst of '80s nostalgia courtesy of Rick Astley while later on, Lewis Capaldi's heartbreaking ballads will somehow warm-up the crowd for Lizzo's jubilant lessons in self-love. Then it's the swaggering, self-indulgent stadium rock of Guns N' Roses. Bang smack in the middle of this chaotic run is Aitch. On paper, the young Mancunian rapper has his work cut out.
In the field though, he makes it look easy. "Let's fucking go for it," he commands, kicking off with the urgent 'Safe To Say' before calling on his "mosh pit crew" for the first of several hectic pits that litter his rapid-fire, hour-long set. "Should we get this fucking party started," he asks with a glint in his eye.
What follows next is a masterclass in why Aitch has become such a celebrated force in the UK rap scene. From 2018's breakout track 'Taste (Make It Shake)' through a reworked take on Ed Sheeran's 'Take Me Back To London' to the effortless flow of his own 'Keisha & Becky', Aitch delivers a fierce, focused set that refuses to let up. He does it all without his vocals getting lost on the huge stage either.
Aitch is clearly having a blast taking on the Pyramid Stage as well. 'UFO' starts with him apologising to everyone watching at home before a sample proudly asks the women in the crowd "you ever had a millionaire eat your p***y," with the BBC's censor presumably hitting the panic button in response. Later, Aitch jokingly threatens to have a fan in a Manchester City shirt removed from the crowd, shortly after donning his own Man United shirt. "It's only right we represent," explains his DJ before a jubilant sing-a-long to Oasis' 'Wonderwall'. Time and time again, Aitch gets the crowd to chant "Manchester" while the bubbling '1989' pulls from The Stone Roses' 'Fools Gold'. Aitch is clearly a rapper proud of where he's come from and champions the city's legacy for rowdy anthems. It's his future that seems the most exciting right now though.
After a string of smash hit singles, debut album 'Close To Home' was released last August and saw Aitch begin to pull away from party-starting bravado. Today's set is heavy on the energy but slowing things down for the record's title track and 'My G', written for his little sister, only brings the audience closer together. "I just want to say thank you. It means a lot," says Aitch, visibly moved by the reaction. "Let's not get all soppy and emotional though. Shall we just go fucking mental instead," he roars, before an explosive 'Fuego' and a playful 'Psycho', that sees Aitch joined onstage by Anne-Marie. The crowd barely has time to catch their breath before a one-two of 'Rain' and smash hit 'Baby' close out Aitch's set in euphoric fashion.
Over the years, Glastonbury has tended to underestimate rap music but the likes of Stormzy, AJ Tracey and Dave have all had breakout moments on Worthy Farm. Today, Aitch steps up from rapper to superstar with an uncompromising set. He might be from Manchester but it feels like the world is his for the taking.