Beyonce live in London: Renaissance is here, and it is big, and it is clever
At the Tottenham Hotspur stadium, Beyonce delivers a 34-track show of scale and spectacle that thrills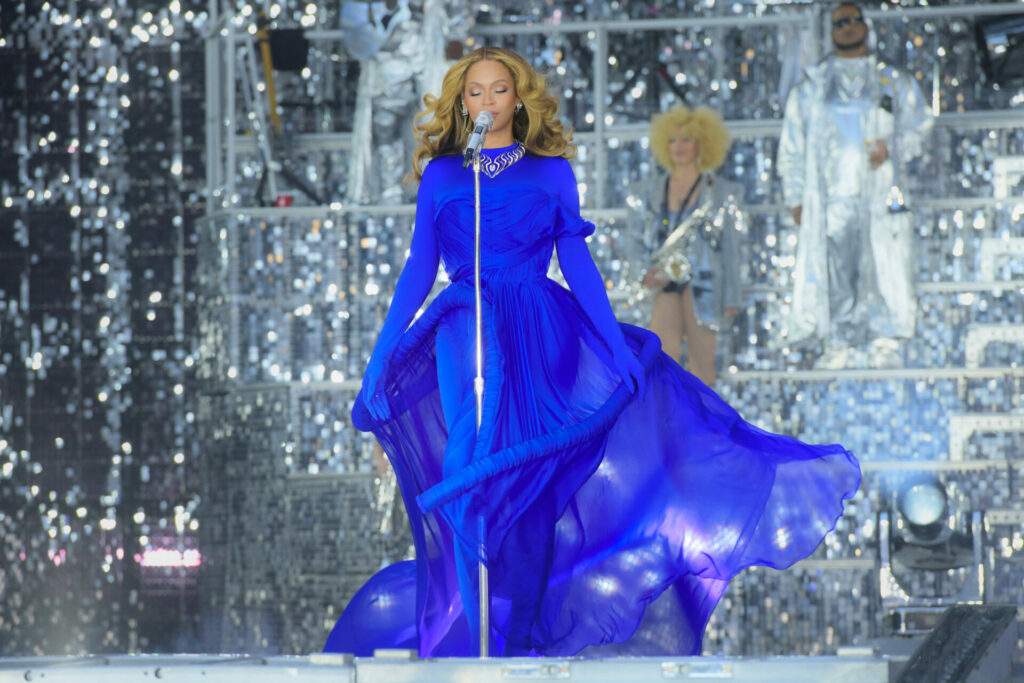 Colossal. Gargantuan. Immense. If size matters (and, mostly, it does), then the epic scale of Beyonce's Renaissance Tour show, just landed in London, defines the artist as one of the world's performance giants. And properly so.
To convey how 34 songs across two-and-a-half hours truly feels – performed on a stage the size of the solar system with the moon in its midst – requires constant reference to how big the spectacle, how big the sound and how big the sheer force of the former Destiny's Child member's personality.
And I start there because the show does, with 'Dangerously In Love', a band favourite that subsequently led Beyonce's first solo album. There is she is, a vision in royal blue, floaty in the face of a wind machine, hair in the breeze. Just as you like it, nay love it. As carefully orchestrated as all that follows, the consummate crowd pleaser with an audience of just over 43,000 to please – husband Jay-Z, Kris Jenner, Frank Ocean and Dua Lipa among them.
But we're just warming up, as the slower section of the show – climaxed by a heartfelt rendition of 'River Deep, Mountain High' in tribute to the recently lost Tina Turner – gives way to ever more elaborate staging and an increase in pace that starts quick, gets quicker and ends in a lung-bursting sprint.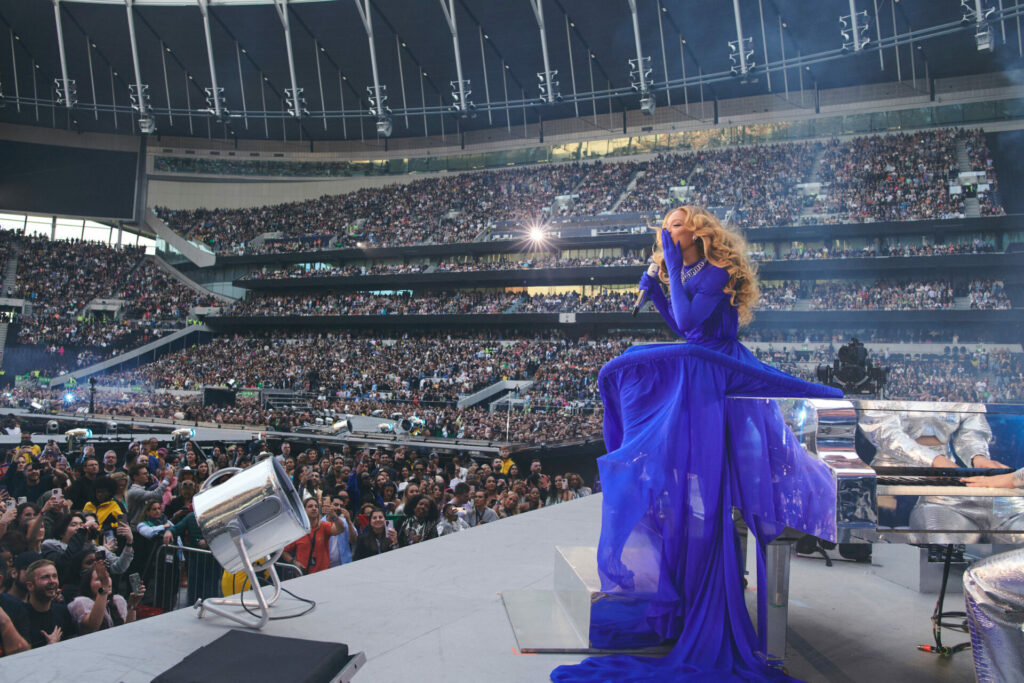 Renaissance's opening track – 'I'm That Girl' – begets a chrome-encrusted Beyonce (an Alien Superstar, if you will), progressively stripped of armour by mesmerising robotic arms, before 'Cuff It' and 'Energy' deliver exactly that among now-fading light across the Tottenham Hotspur Stadium. The air maybe chillier, but it's getting hot in here.
The hits keep coming – 'Break My Soul' is consumed whole, and by the time we reach 'Black Parade' then Beyonce is atop a Gerry Anderson-inspired troop carrier with daughter Blue Ivy in lock-step alongside, at 11 years-old a willing accomplice to a cast of dancers who often shine as brightly as the star herself. I say it again: it's a spectacle wider than wide-vision, taller than Imax and more than once I imagine a wheel in front of my own eyes while the word 'processing…' underscores.
'Love On Top' becomes a singalong, sent to giddier heights still by 'Crazy in Love', before the man in chaps alongside me gets jiggy as 'Heated' turns the venue into basement club, a notion heightened by references to Madonna's 'Vogue', a sprinkle of Destiny's Child's own 'Say My Name' and just a dusting of Jackson Five.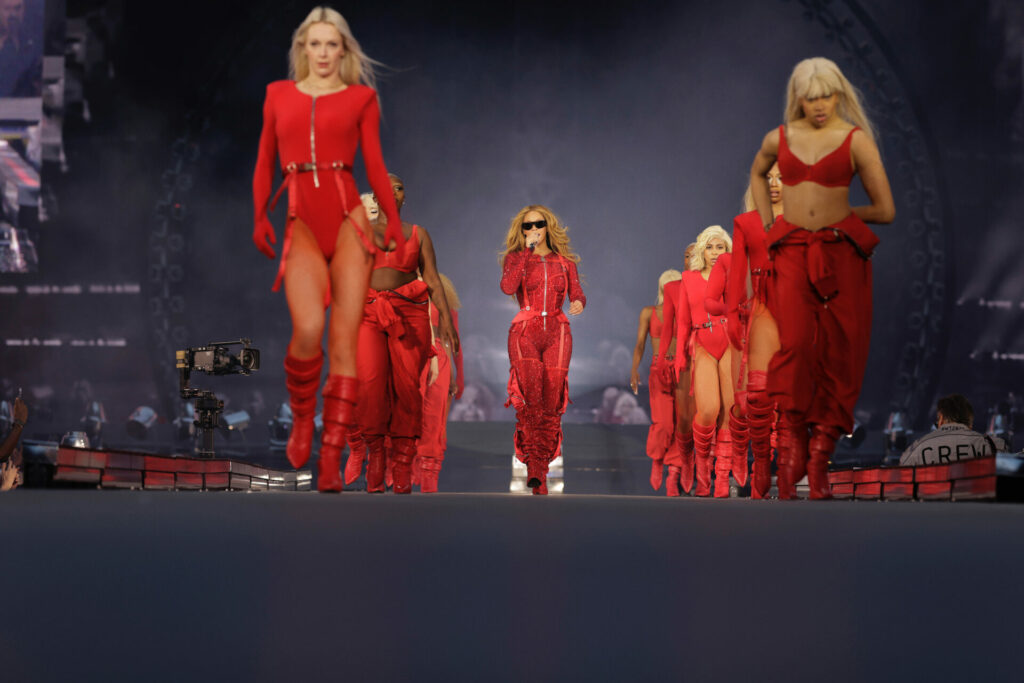 By the time we hit the three-song finale well past two hours in – 'America Has A Problem', 'Pure/Honey' and 'Summer Renaissance' – Beyonce is on the silver horse that adorned the Renaissance artwork, robed in sparkles, airborne with the world literally and figuratively at her feet, and awash with glitter fired from cannons. Of course she is. Go big or go home, so go big it is.
Ah, there it is again. A size reference. Because Queen Bey (who, obligingly, spends part of the set dressed as an actual bee) is nothing if not a size queen. This is the Vegas show that outgrew Vegas, the one where someone said "if we really can turn it up to 11, can't we go all the way to 100?" It's fantastical, often absurd (though deliciously so), overblown and full fat in an age of the diet conscious. The production budget would likely run a small country.
But here's the thing, if performance is art and art is culture, then this is the learning experience we should all crave. The Renaissance show is escapism, indulgence and sensory overload – from a clamshell bed, over-size glitterballs and a Ballroom masterclass Billy Porter would be proud to call home – and the extent of immersion is eclipsed only by a higher level of excellence to which many may aspire, but few can achieve.
Then, as now, seven albums in, let Beyonce run the world. We'll just live in it.