Self Esteem live in Newcastle: Flawless performance from new pop icon
On the first night of her UK tour in Newcastle, Self Esteem delivers a performance that comes good on the sound of her second album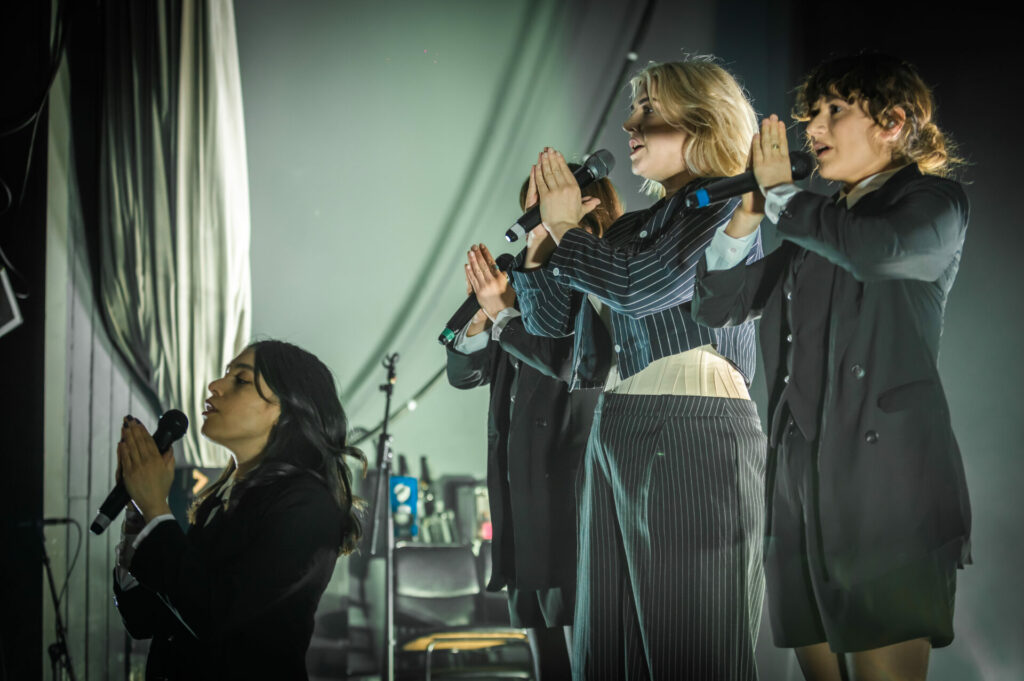 "We made it finally, and you guys got a brand-new tour!" exclaims Rebecca Lucy Taylor to a rapturous audience at Newcastle's Wylam Brewery. It's third time lucky tonight as Self Esteem finally kicks off her UK tour after two previous postponements. Tonight's rescheduled show now marks the beginning of a new fully sold-out jaunt to support the release of 2021's much-celebrated 'Prioritise Pleasure', and the feverish excitement that fizzes throughout the venue suggests it was more than worth the wait.
As Taylor's backing vocalist/dancers slink on to the stage to the glacial beats of album opener and ode to liberation 'I'm Fine', the deafening screams that greet Taylor as she joins them signal the arrival of Britain's newest bona fide pop star. By the end of the song, as the audience howl and yap wildly in response to a sample where a woman describes barking like a dog to ward off unwanted male attention ("because there is nothing that terrifies a man more than a woman that appears completely deranged"), it's evident that Taylor has full command over her audience. These calls, meant to be a deterrent to the male gaze, become a rallying cry of euphoric catharsis; proof of how strongly Self Esteem's anthems of self-acceptance have resonated with listeners.
What follows is an absolute masterclass in how to put on a flawless pop performance. The momentum never wanes, and Taylor and her backing vocalist/dancers never miss a beat as we're treated to life-affirming banger after banger paired with slick choreography. Huge praise must be heaped upon the backing gang, comprised of Marged Sion, Levi Heaton and Seraphina D'Arby with Sophie Galpin on bass and keyboard plus Mike Park on drums, who are all immensely talented in their own right. In fact, Marged Sion demonstrated her stunning vocal abilities as tonight's support act.
During 'Prioritise Pleasure', and in fact most of the songs performed tonight, the accompanying choreography is faultless and more akin to that of a performance art piece; the moves at times seductive and hypnotic, echoing the theme of sexual liberation, or powerful and tender, as Taylor and her gang cling to each other as she softly murmurs the outro lyrics, "I thought that you'd be kind to me."
Of course, this is a celebration of Self Esteem's latest record, so newer tracks are given priority, though we're treated to a smattering of older offerings such as 'Girl Crush' and 'In Time', which are performed with such energy and pure joy that they are now transformed into huge pop anthems, the kind that could comfortably fit on an arena stage. In fact, there are times when Taylor seems almost about to burst free of the small stage; the confrontational 'How Can I Help You' sees her embrace the spirit of punk as she venomously spits "I don't know shit' before taking over on drums as her dancers thrash under strobe lights.
While Taylor and her crew are no doubt set for much bigger venues, tonight's intimate surroundings allow Taylor to show off her astonishing vocal talents. It's very rare that an artist's vocals are stronger live than on record, but tonight's show proves that to be just the case. 'Just Kids' is performed with just a quietly strummed guitar and takes on a gospel-like quality, while an encore version of 'Still Reigning' is given the full acapella treatment. Backed up by the exquisite harmonies of her backing gang, the tender chemistry between them all is genuinely touching.
In a show so spectacular that it's hard to choose a stand-out, the part spoken-word 'I Do This All The Time' just edges ahead due to the emotional connection between Taylor and the audience who cling on to her every word as if she was delivering a sermon. Such is the sincerity that as she utters "It was really fucking miserable trying to love you," you can almost hear the crowd's collective heart break.