Eurovision design team on their vision for Liverpool 2023: 'a hug for the world'
Stage designer Julio Himede and lighting designer Tim Routledge on their grand vision for Liverpool 2023.
By Nick Reilly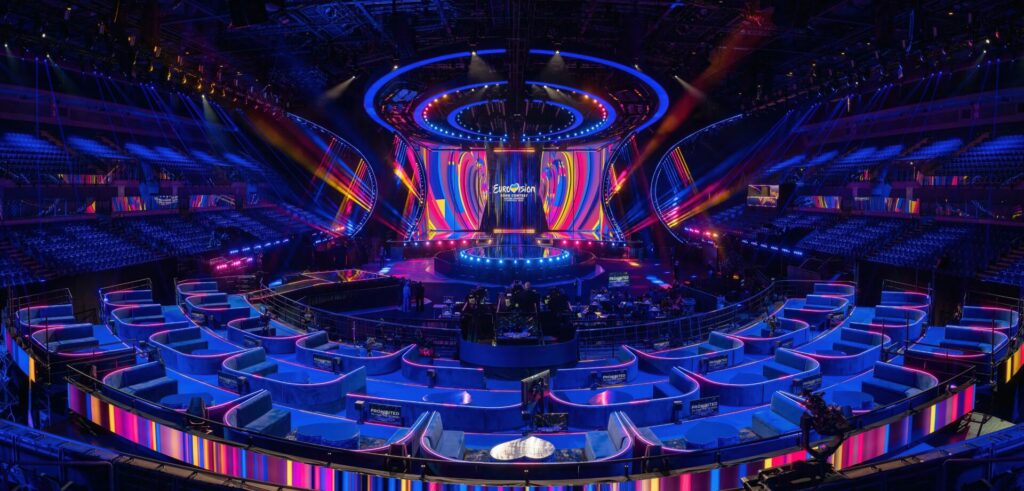 As Eurovision kicks off in Liverpool, stage designer Julio Himede and lighting designer Tim Routledge have told Rolling Stone UK about how they brought the anticipated event to life.
The grand final of the celebrated song contest will take place at Liverpool's M&S Bank Arena this Saturday, after 2022 winners Ukraine were unable to take up hosting duties due to the ongoing war.
Speaking to Rolling Stone UK, Himede explained how combining the identities of both countries was at the forefront of his concept when designing the Eurovision set.
"Ukraine and the UK both have such rich cultural histories, so we really looked at how to embody the traditional side such as manmade crafts and embroidery of Ukraine, but also the rich dynamic musical history of Liverpool," he said.
"We spent a lot of time looking at how we could translate that to a visual form, how that translated into a set design that we could cater for."
Both Himede and lighting designer Routledge also decided that it had to centre around the idea of offering "a hug to the world" – which is seen in the outstretched wings, or arms, that feature on either side of the Eurovision stage.
"The architecture of our set design really resembles that, you know, it looks a hug that is welcoming the world to Eurovision," said Himede.
Routledge, a BAFTA winner and TV veteran, said that the idea of open arms was also front and centre when it came to assembling his lighting team for the show.
"One of my big things when creating my team was that I wanted it to be really diverse. We've done a lot of things to encourage more people into the lighting industry that aren't just white males and we wanted to extend those arms out even more" he said.
"So I've employed a Ukrainian lighting designer who is going to be one of my associates on the show. He's lit the Eurovision selection show for Ukraine a couple of years before the war started and he's worked on The Voice over there too. Just by incorporating people and bringing them in, we're saying it's not just all lighting UK lighting crew."
Himede, too, said that Ukrainian production crews have been involved.
"In the production team, there are Ukrainian crew that have helped us to build this set and it's been quite a lovely collaboration, to be honest. What we needed to remember is how to combine both identities together throughout and that comes down to making the show happen. Our concept and tagline, after all, is united by music."
Still, the show is not without its pressures. Tim's team are tasked with changing the lighting between acts in a matter of seconds, while Julio's is responsible for moving props on and off at breakneck speed.
Not that they'd change any of that, mind.
"For me as a lighting designer, I've done all these huge shows around the world, but this is the next step for me in my career and as a huge Eurovision fan," explained Routledge.
"I put out the feelers to anyone who would listen to help me get this gig and I was manifesting it too. This is a massive operation and there's nothing quite like Eurovision."