James Acaster's international music collective announce debut album
Temps will release 'PARTY GATOR PURGATORY' on May 19
By Joe Goggins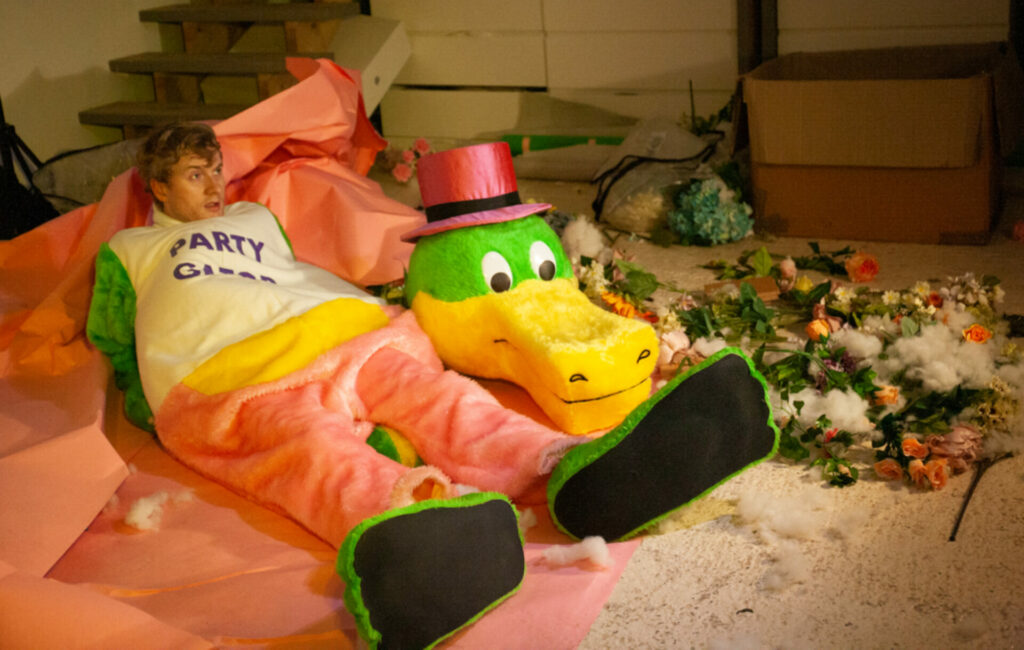 Temps, an international music collective helmed by the comedian James Acaster, have announced details of their debut album.
PARTY GATOR PURGATORY will be available via Bella Union on May 19. To preface it, Temps have released a new single, 'bleedthemtoxins', which sees featured turns by Joana Gomila, NNAMDÏ, Shamir, and Quelle Chris.
You can see the video below, which features Acaster in costume as the album's titular Party Gator and causing havoc in London's Victoria Park. Per a press release, the title of PARTY GATOR PURGATORY is taken from a toy that the funnyman won at a country fair at the age of seven, a "human-sized" cuddly alligator wearing a t-shirt that reads 'PARTY GATOR'. You can see the full track listing for the record below.
The Temps project originated during the first COVID-19 lockdown in 2020, and now results in what is being described as a "mind-bending opus rose from the ashes of an aborted mockumentary made with Louis Theroux's money." What began as an attempt to make a spoof documentary in which Acaster would ostensibly step away from stand-up comedy and venture into the music industry. Plans for the film foundered, but now, the comedian has in fact branched off into music, with a debut album from an outfit he described as a "DIY Gorillaz" that features everybody from Open Mike Eagle, Denmark Vessey, Yoni Wolf and Wheelchair Sports Camp to Blanck Mass and Babar Luck.
"I became completely obsessed with this project," says Acaster of PARTY GATOR PURGATORY. "It was all I focused on for two years and we ended up making my favourite thing ever. I hope people enjoy it."
Temps – PARTY GATOR PURGATORY
'lookaliveandplaydead' [feat. Quelle Chris, Mal Devisa, Denmark Vessey and Foonyap]
'kept' [feat. NNAMDÏ, Gaston Bandimic, Xenia Rubinos, Satomi Matsuzaki, Law Holt and Quelle Chris]
'partygatorR.I.P.' [feat. Xenia Rubinos, Denmark Vessey, Quelle Chris and bb tombo]
'no,no' [feat. Quelle Chris, Xenia Rubinos, NNAMDÏ and Shamir]
'at(moves)' [feat. Quelle Chris, Wheelchair Sports Camp and Mal Devisa]
'partygatorpurgatory' [feat. Babar Luck, Law Holt, Gaston Bandimic and bb tombo)
'ificouldjust' [feat. Yoni Wolf, Quelle Chris, Shamir, Montaigne and Ami Dang]
'bleedthemtoxins' [feat. Joana Gomila, NNAMDÏ, Shamir and Quelle Chris]
'partygatorresurrection' (feat. Open Mike Eagle, me oh myriorama, Montaigne, Low Growl and bb tombo)
'slowreturn' [feat. Yoni Wolf and Shamir]
'fitinthiscostume' [feat. Ami Dang, Emma Daman, Blanck Mass, me oh myriorama, Gaston Bandimic, Law Holt, Public Speaking and The Growth Eternal]
'firstbirthday' [feat. NNAMDÏ and Public Speaking]
'partygatorpoltergeist' [feat. me oh myriorama, J Thoubbs and The Growth Eternal]
'lastbirthday' (feat. Gaston Bandimic and Blanck Mass]
'belongbetween' [feat. Quelle Chris, Wheelchair Sports Camp, Law Holt, Babar Luck, Mal Devisa and Public Speaking]