The Rolling Stones' Keith Richards to auction off special guitar NFT
A hand-signed black Gibson ES-335 electric-acoustic guitar comes with the NFT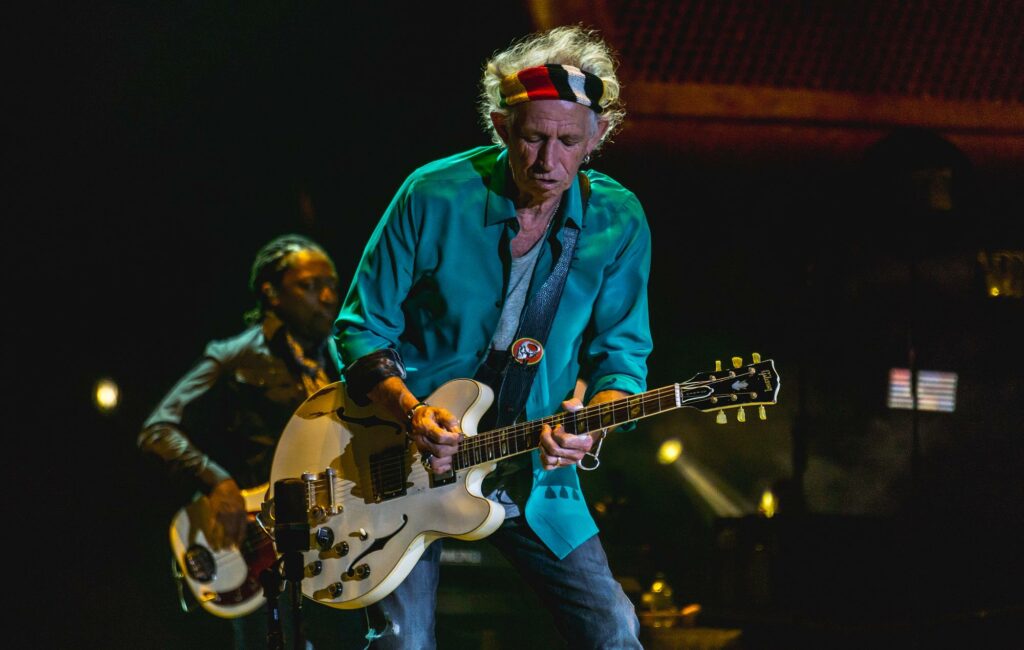 Keith Richards has shared details of a guitar-based NFT (non-fungible token) to be sold at auction for charity.
The Rolling Stones guitarist will raise funds for MusiCares, the Grammys' music charity, by auctioning off the NFT for "green NFT platform" OneOf.
In addition to the NFT, which is described as "a digital version of the signed guitar", the auction lot includes a black Gibson ES-335 electric-acoustic guitar that's been hand-signed by Richards and a hard guitar case.

A short video of Richards signing the guitar in question at New York City's Germano Studios "as a seal of authenticity" comes with the NFT.
NFTs, which came into widespread popularity last year, are a form of cryptocurrency asset. Most cryptocurrencies are fungible (or "spendable") tokens that can be exchanged for other cryptocurrencies or spent on goods at places where they're accepted as currency. However, NFTs are a one-off digital asset that can be kept on the blockchain and traded or sold as collectibles.
Julien's Auctions is organising the sale, which is live now and marks the company's first ever NFT auction. At the time of writing the bidding stands at $4,500 (£3,277) and is estimated to reach between $6,000-£8,000 (£4,369-£5,826). The auction ends later this month.
"We are honoured to be the platform to mint the first-ever Keith Richards NFT," Adam Fell, OneOf co-founder, said in a statement. "Keith is music royalty, and we applaud him and his team for championing eco-friendly blockchain technology that can empower musicians for generations to come."
Richards is the latest music veteran to dip their toes into the world of NFTs, after Ozzy Osbourne launched his own collection of Cryptobatz late last month.
Elsewhere, The Rolling Stones are set to be honoured with a special edition series of 12 stamps from the Royal Mail to celebrate their 60th anniversary.
The stamps feature photos of the legendary rock band performing at a handful of gigs from across their career. Among the shows is the group's huge Hyde Park gig in London in the summer of 1969, a show in Tokyo in 1995 and a recent gig in Düsseldorf, Germany from 2017.
Speaking of the new collection, Royal Mail Director of Public Affairs & Policy David Gold said: "Few bands in the history of rock have managed to carve out a career as rich and expansive as that of The Rolling Stones.
"They have created some of modern music's most iconic and inspirational albums, with ground-breaking live performances to match."
Elsewhere, the US Library of Congress has released previously unseen footage of the notorious Altamont Speedway Free Festival in 1969.
The free concert, held at Altamont Raceway Park in northern California on December 6, 1969, was headlined by The Rolling Stones, with The Grateful Dead, Jefferson Airplane, Crosby, Stills, Nash & Young and Tina Turner also on the bill.