The Kunts on creating the unlikeliest contender for Christmas No.1
Merry Christmas! The Kunts on creating 'F**k The Tories' and taking on the 'f*****g drivel' of LadBaby for the festive top spot.
By Nick Reilly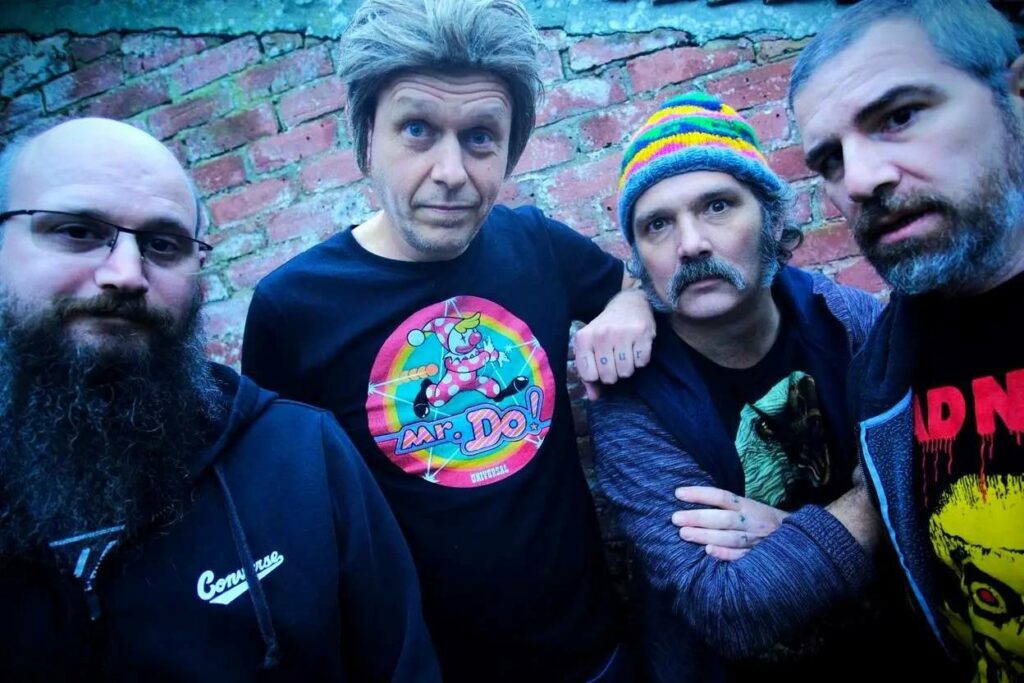 As the race for this year's Christmas No.1 heats up, The Kunts have spoken about creating one of the unlikeliest contenders for the festive top spot.
The darkly comic group have rallied against the government on 'F**k The Tories', a no-holds-barred polemic against the current British government. The song, which is a far cry from some of the festive offerings vying for Number One this year, sees lead singer Kunt attacking the government for having "fucked the NHS and fucked up the environment" among other criticisms.
"F**k, f**k the Tories, Cause we've had enough, Of them f***ing us," he offers on the song's chorus.
Speaking to Rolling Stone UK, Kunt said that a huge drop in living standards across the UK had inspired the group to record the track.
"The state the country is in after 12 years of Conservative government. Strikes, empty shelves, normalising foodbanks, high taxes because of the decisions they made, pensioners dying on their kitchen floor waiting for an ambulance and people having to choose between eating and keeping warm," he said.
"We've never had it so shit. And the blame lays squarely at the door of the c***s who have been in charge for the last 12 years. They just place no value on people."
While the group face stiff opposition from husband and wife duo LadBaby – who have teamed up with MoneySavingExpert's Martin Lewis in a bid to secure their fifth Christmas one – Kunt says that public solidarity with striking workers in the UK over Christmas could hopefully help their cause.
"Hopefully the strikes will be something that make people in general think about the bigger picture, and how we've ended up here, but whether that will impact on us I just don't know," he said.
"I think there are already enough disgruntled people that would think our song was a fitting Christmas number 1 but it's whether, without the luxury of a big PR company getting us spots on mainstream TV and with the right wing press ignoring us, we can get enough people to find out in time.
"That's why it's so important for people to share the song on their socials and WhatsApp to help us try and level the playing field against the major record labels, the Christmas streaming and the sausage roll c**t."
As for that aforementioned 'sausage roll c**t', Kunt is highly critical of LadBaby aka Mark Hoyle, a graphic designer from Nottingham.
"Already this week LadBaby has been on the sofas at BBC Breakfast and Good Morning Britain, and of course because they are part of the system they never mention that there is any alternative. But online I get a sense this year more people can see through his 'it's all for charity' stance," he said.
"Martin Lewis has stopped posting about the song on his social media because of the negative reaction to him being involved in their latest grift. So, in short, yes I believe we can win. Even if we don't beat him to Christmas number 1 this year he is finished making charity records – you only have to hear how poor this year's song is to know there is nowhere left for him to go."
He added of Hoyle: "He knows people are onto him so this year he cynically aligned himself with Martin Lewis, The Money Saving Expert, previously the most trusted man in Britain. And that's before you even mention his music. This year's effort is in equal parts insipid, patronising, false, and utter f**king drivel. It's not funny, endearing or moving. It's just s**t."
But with Christmas being a time for hope, is Kunt optimistic that change could be on the way?
"Hopefully the clusterfuck of the last few years has taught the people that say 'politicians are all as bad as each other' that some are actually worse," he said.
"Keir Starmer has all the charisma of a cardboard cut out but after the lies, sleaze, corruption, cover ups and one rule for you and another rule for us we've seen going on in this term of government, we just need anyone else but them. Then we have to pressure whoever takes over for electoral reform so we can never again end up in the mess we are in now."