The Zombies announce new album 'Different Game'
You can watch the lyric video for new single 'Dropped Reeling & Stupid' exclusively on Rolling Stone UK
By Nick Reilly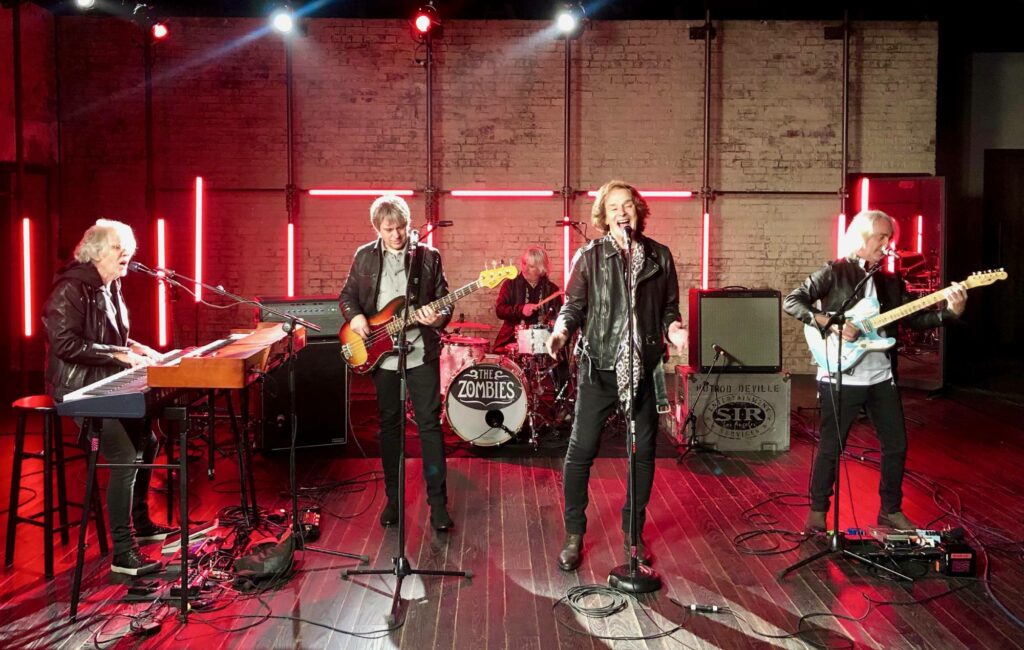 The Zombies have announced details of their new album Different Game, as well as sharing the lyric video for new single 'Dropped Reeling & Stupid'. You can watch it exclusively on Rolling Stone UK.
Set for release on March 31, the latest album from the 60s psych icons – still featuring founding keyboardist Rod Argent and lead singer Colin Blunstone – began life after the group's 2019 induction into the Rock & Roll Hall of Fame.
They had originally hoped to record the follow-up to 2015's Still Got That Hunger in early 2020, but when the pandemic hit Argent says the band was "not content to record remotely".
Instead, they regrouped at a later date to record the album in person and give it the all-important feel of a live performance.
"Making this album has been a joy from start to finish. Post-lockdown, we were absolutely determined to come together and record in as 'live"'a way as we could – to capture that magical, fleeting quality of energy and immediacy of performance," explained Argent.
"'Dropped Reeling & Stupid' is our first streamed release. Can't wait for you to hear it!"
As well as the soaring lead single, official release material from the band explains that the album also features "tender acoustic ballads with classical string arrangements" and is produced by Rod Argent together with the band's long-time live audio engineer Dale Hanson.
The album cover for Different Game, meanwhile, comes from a photo taken by Rod Argent during a touring misadventure in the Arizona desert.
Colin Blunstone explained: "We were traveling from Southern California to Tucson, when our tour van's engine suddenly caught fire! We spent about 5 hours stranded in the remote Arizona desert, but thanks to our intrepid team and crew, we were rescued and made it to our next show! It was a harrowing experience, but also beautiful and surreal."
The animated lyric video for 'Dropped Reeling & Stupid"', produced by Animind Studio, is inspired by the band's desert mishap.
Check out the album's track-listing and forthcoming live dates from the band in full below.
Different Game track listing:
'Different Game'
'Dropped Reeling & Stupid'
'Rediscover'
'Runaway'
'You Could Be My Love'
'Merry-Go-Round'
'Love You While I Can'
'I Want to Fly'
'Got to Move On'
'The Sun Will Rise Again'
UK Shows:
April 05, 2023 – Wimborne Minster, UK – Tivoli Theatre
April 06, 2023 – Emouth, UK – Exmouth Pavilion
April 07, 2023 – Fletching, UK – Trading Boundaries
April 08, 2023 – Fletching, UK – Trading Boundaries
April 09, 2023 – Fletching, UK – Trading Boundaries
April 12, 2023 – Pontardawe, UK – Pontardawe Arts Centre
April 13, 2023 – Bristol, UK – The Fleece – SOLD OUT
April 14, 2023 – London, UK – Islington Assembly Hall
April 15, 2023 – Bury St. Edmunds, UK – The Apex
April 18, 2023 – Norwich, UK – Epic Studios
April 19, 2023 – Felixstowe, UK – Spa Pavilion
April 20, 2023 – Harpenden, UK – Eric Morecambe Centre
April 21, 2023 – Harpenden, UK – Eric Morecambe Centre
April 23, 2023 – Kinross, UK – Backstage at The Green Hotel – SOLD OUT
April 24, 2023 – Kinross, UK – Backstage at The Green Hotel
April 26, 2023 – Glasgow, UK – Òran Mór – SOLD OUT
April 27, 2023 – Holmfirth, UK – Picturedrome
April 29, 2023 – Taunton, UK – Brewhouse Theatre & Arts Centre
April 30, 2023 – Bury, UK – The Met
May 03, 2023 – Stockton-on-Tees, UK – ARC
May 04, 2023 – Carlisle, UK – Old Fire Station
May 05, 2023 – New Brighton, UK – Floral Pavilion
May 06, 2023 – Milton Keynes, UK – The Stables – SOLD OUT