Sadiq Khan: "Not right decision" to prosecute Sarah Everard vigil attendees
"One of the big jobs for the new Met commissioner will be a plan to win back confidence and that starts from the stop"
By Nick Reilly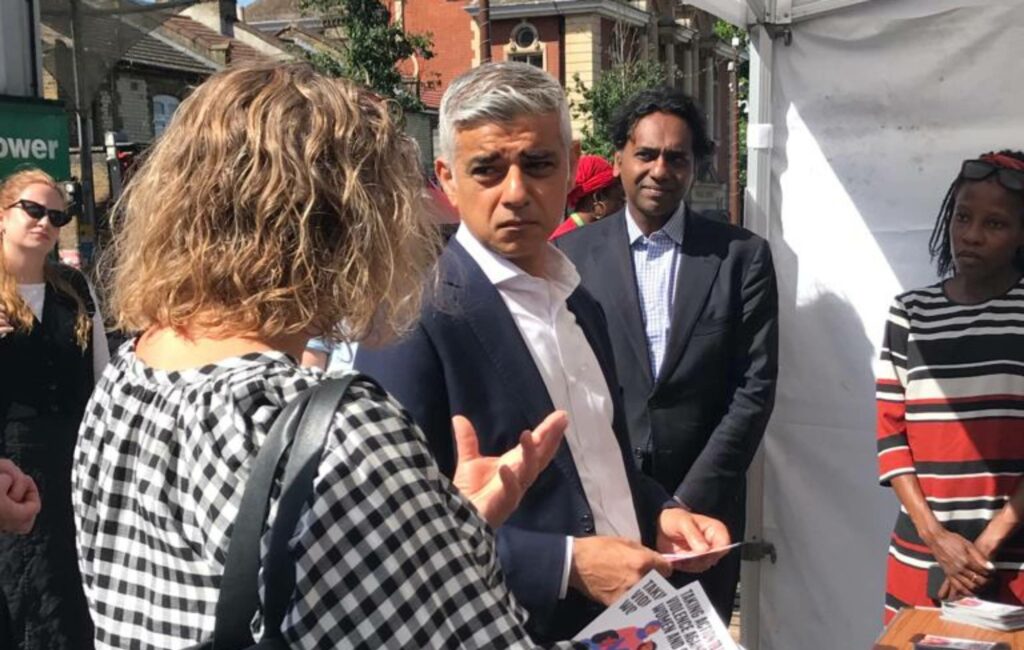 Mayor of London Sadiq Khan has spoken out after three people who attended the vigil for Sarah Everard were convicted and fined by the Metropolitan Police under Covid laws.
The three, whose ages range from 21 to 68, were all convicted by a magistrate last week of breaking Covid regulations by attending the event, receiving a fine of £220 plus £134 in court costs and fees.
The police's handling of the vigil itself has also faced criticism, after it ended with women in handcuffs and some being pinned to the ground by officers.
Speaking to Rolling Stone UK today as he launched a major campaign to tackle misogyny and violence against women in the capital, the mayor said of the prosecution: "I think it's not the right decision. I was quite clear both at the time of the vigil my views on the policing, but also in relation to other issues that have arisen, not just Sarah Everard's horrific murder."
Opening up on the other issues, Khan spoke about the murders of Bibaa Henry and Nicole Smallman in 2020. They were stabbed to death by 19-year-old Danyal Hussein in a random attack that took place in a West London park.
In the wake of their deaths, it emerged that two serving Met officers took photos of the murdered sisters and shared the images on WhatsApp groups. They have since been jailed for the offence.
Khan said: "The deaths of Bibaa and Nicole showed police officers sharing photos on an WhatsApp group, as well as some of the messages uncovered by the police watchdog that came from Charing Cross Police Station of overt sexism, misogyny, racism and homophobia."
"They're all challenges in the culture in the police service and challenges in relation to the lack of trust and confidence among women and minority groups towards the police service."
He added: "We've got to address that head on, because one of the things we're trying to do as part of our strategy is to give women and girls more confidence. If you're seeing these stories I can understand why, as a woman or girl, you might not feel confident coming forward to report incidents."
The Mayor of London was speaking in Walthamstow as he launched a new public health style approach to tackle an "epidemic" of violence against women and girls in the capital.
Opening up on new steps taken by the Met to tackle domestic violence, Khan said: "You'll see across London now that a lot of predatory units have been set up to tackle the men who are responsible for a lot of these things. We've spent several thousand pounds training police in relation to how to treat victims and survivors.
"Police officers wear body cams too, because often victims of domestic violence withdraw their statement and there can't be a prosecution. But with body cams that evidence is admissible, so even if someone withdraws your statement you can still bring a prosecution against someone responsible for domestic violence and domestic abuse. "
But, he added, further challenges will come for the incoming Met Commissioner, following the departure of Dame Cressida Dick after she lost the confidence of Khan over her response to racism and misogyny in the force.
"One of the big jobs for the new commissioner will address these things I've talked about, but also have a plan to win back confidence and that starts from the stop," he warned.
During his visit to Walthamstow, he spoke to local businesses such as dry cleaners and beauticians that will act as "information points" for victims of abuse and those at risk to safely discuss their experiences and how to secure help.
City Hall will also invest a further £17.7 million in support services which will provide support for marginalised communities.
The mayor said of the initiative: "It's a source of shame that we have this epidemic in this country. Every three days a woman will lose her life because of domestic violence. During the pandemic we saw other types of crime go down, the one that didn't go down was violence against women and girls. That can't be right."
He added: "We are the most progressive city and arguably the most progressive country in the world, but women don't feel safe. That's why we're re-doubling our efforts to address this issue, using a whole society holistic approach. A public health approach. We're not going to police ourselves out of this, we need to make sure that boys in primary school understand healthy relationships and how they should be treating girls.
"We've got to make sure that boys in secondary school understand what is acceptable and what isn't. The Have A Word campaign targeted teenage boys and men. There are times when we think things are harmless banter, but that isn't the way it's received.
"Women are changing the way they dress, how they behave, changing the hours they go out in the day and imposing a curfew on what times they go out. That can't be right in London in 2022."
For free, confidential advice on domestic abuse, 24 hours a day, you can contact Refuge on 0808 2000 247.