Ritu Arya: 'The Umbrella Academy' star on the show's third season
The British actor plays Lila Pitts on the Netflix show. She talks about being drawn to her character's unpredictability, and her upcoming roles in Nida Manzoor's 'Polite Society' and Greta Gerwig's 'Barbie'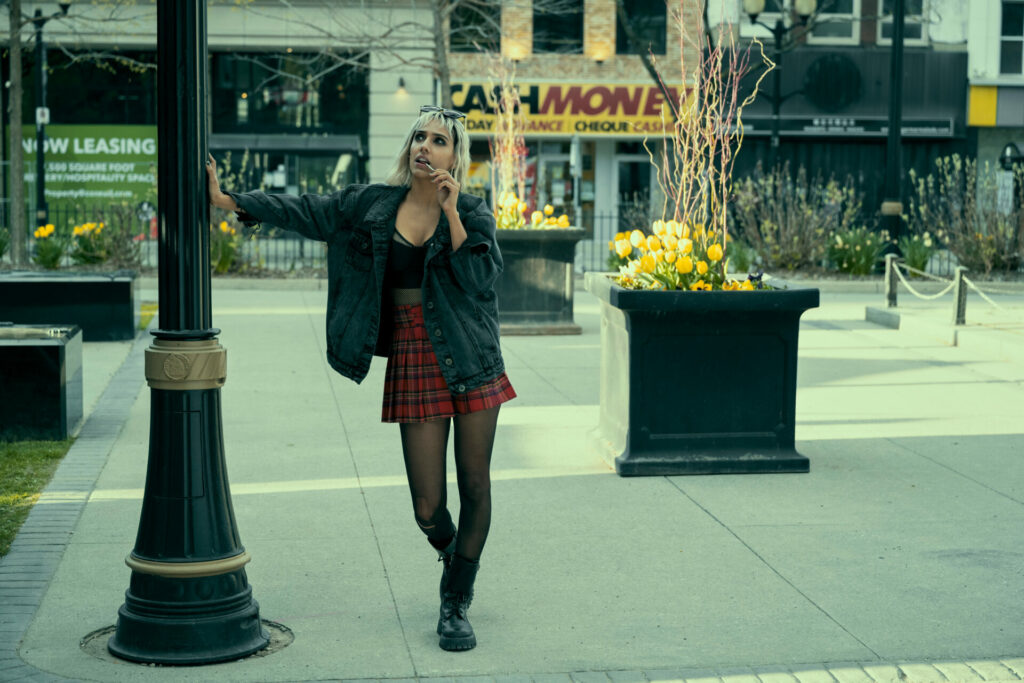 It's premiere day for the third season of The Umbrella Academy, and Ritu Arya is glowing with joy. The Netflix show's new episodes already received rave reviews from critics, and the social media response has ranged from viewers debating which family member is the most powerful to a certain dance number that left people both overjoyed and confused. "It honestly just made my day," the British-born actor says, speaking on Zoom from her adopted home of Los Angeles. "I'm so excited it's finally out in the world."
Ritu Arya first joined the show in its second season, where the chaos and dark humour of her character Lila Pitts embedded her firmly in the cast. In the superhero-based sci-fi show's new season, Lila returns to the Umbrella Academy in order to find Diego (played by David Castañeda), having lost the only mother she knew (The Handler, played by Kate Walsh) and having learned that her adopted mother was also responsible for the death of her birth parents.
This deep sense of family and the need to belong was something Arya was keen to explore this season. "She gets to spend a lot of time with the Umbrellas and is sort of welcomed into their family – which, after losing the only family she had, is so nice to see," Arya says. She adds, however, that although Lila may be part of the family now, she doesn't lose any of the quirks that make her who she is, as demonstrated by some of the outrageous one-liners that Lila has in this season.
"There's something really fun about playing a character who's unpredictable, aloof and very manipulative"

— Ritu Arya
That anarchic energy is what drew Arya to the role when first auditioning. "I think there's something really fun about playing a character who's unpredictable, aloof and very manipulative," she says. "I just fell in love with her. You never know what she's going to say, why she's going to say it, or what she's going to do next." The actor took her time developing and creating Lila, capturing the character's energy by hanging up paintings by the Austrian expressionist artist Egon Schiele around her trailer, seeing their abstractness and intensity reflected in the role. She'd even go for walks as Lila and sit with the character to get a feel of who she was, flaws and all.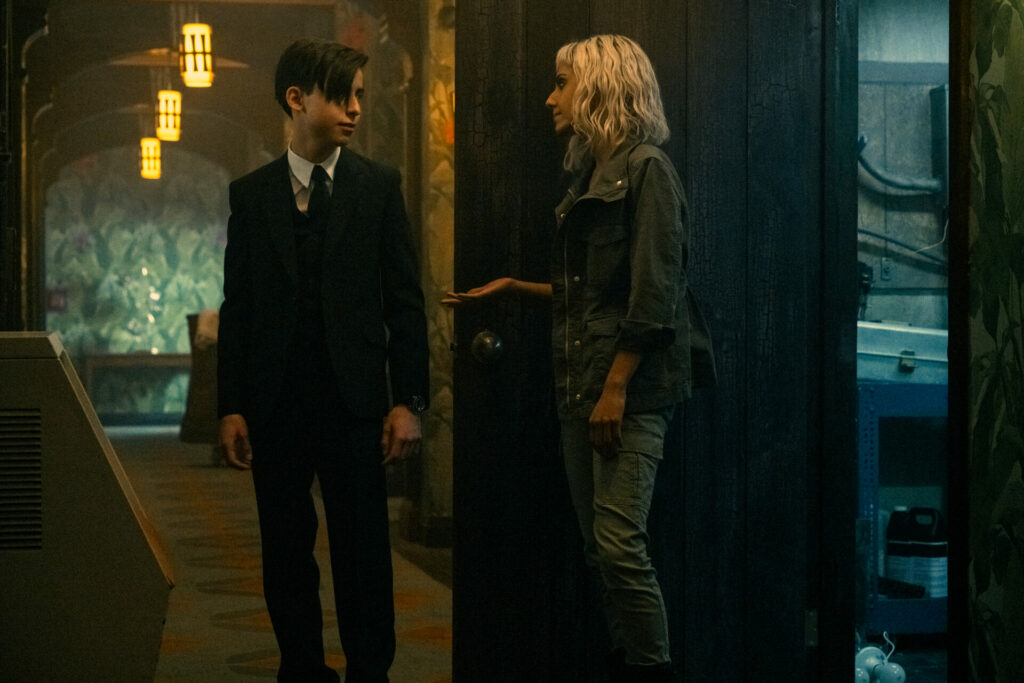 Arya knew she wanted to be an actor from a young age. She trained at the Oxford School of Drama, though this wasn't what she initially studied at university. Her appetite for learning new things, especially subjects that she may never get to learn again, meant she first pursued astrophysics for her undergraduate degree. She says that her parents are supportive of her acting career, but were originally more enthusiastic about her studying science. So she struck a deal: she'd take up astrophysics at university, then they would help her with drama school after she graduated. While the latter led to the life she now leads, she hasn't lost her fascination with space. "I still read about space as much as I can," she laughs. "I'm always checking in with NASA's Twitter page to see what's going on."
Arya is of Indian heritage, and growing up in Guildford, her family was one of the only Indian families in her area. "Growing up was really hard," she recalls. "I did experience a lot of racism." Still, this didn't stop her from questioning some of the rules and traditions she grew up with, like why following academically "reliable" subjects was so heavily encouraged. "I've always done my own thing, if I'm honest. I have a great relationship with my parents, and they've always been supportive, but I did always question why they believed or encouraged certain things."
After leaving drama school, Arya's first roles included a guest appearance in BBC's Sherlock and a character in the daytime soap opera Doctors, a rite-of-passage for many young British actors. Playing Dr Megan Sharma between 2013 and 2017 earned Arya a British Soap Award nomination, and she subsequently went on to appear in Channel 4's sci-fi series Humans as Flash for two of its three seasons. Recurring roles in The Good Karma Hospital and a guest appearance in Doctor Who followed before she made her breakout in The Umbrella Academy, subsequently appearing in Netflix's record-breaking Red Notice alongside Ryan Reynolds and Dwayne Johnson. Making the jump to Hollywood, she says, is "all about just doing your best work and then just letting go afterwards. I feel so grateful and proud to be on those sets, it's an incredible feeling."
With all these roles to focus her time and energy into, Arya keeps herself grounded by following another passion – music. You don't have to go too far to see Arya on the drums: there's a flashback scene in episode seven of the new season of The Umbrella Academy, where Lila is visibly emotional and playing to fight off her memories, and she's also a drummer in indie-pop band KIN, a group she met on Facebook and now calls her some of her most beloved friends. She started drumming at the age of 16 (at the time, she thought was too old to start learning to play an instrument, but looking back she says you're never too old to start learning something new). She's a big believer in art feeding art. "To have another passion that you can decide when you want to do it, without the pressures of it being a job, is such a simple joy that I couldn't recommend more," she says.
Being in the band helps Arya deal with the rejections that come with her line of work, as it takes the pressure off acting and her career. "I love just going into a rehearsal room and taking out some drumsticks and playing with your friends," she says. "It's never about the end goal, just having fun." To that end, she also practises meditation, which taught her the art of stillness, perspective and letting go. If she could go back and give herself advice at the start of her career, Arya says she'd tell herself, "no regrets" and "trust the universe". But she's also comfortable with the decisions she's made that have led her to where she is today. "I would not be who I am if it wasn't for all the decisions I made," she says. "So, to me, there's no wrong decision."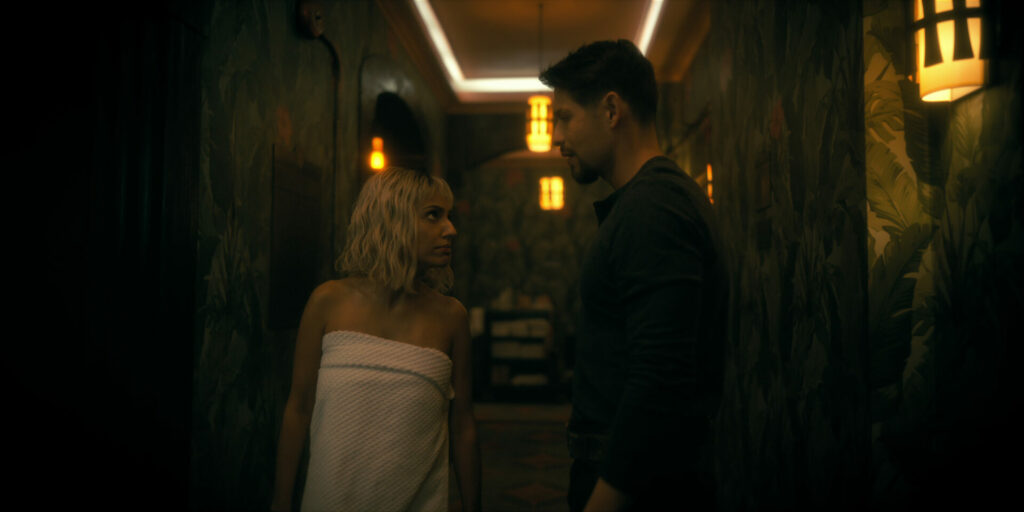 Those decisions have paid off. She was recently cast in Greta Gerwig's Barbie, set for release in June 2023, an experience she says she was very grateful for the – although, naturally, she can't reveal much more. One film that she can talk about is Polite Society, due out later this year and directed by We Are Lady Parts' Nida Manzoor (Arya featured in Manzoor's original 2018 Lady Parts short film as Saira). Polite Society follows Ria Khan, who dreams of becoming a stunt woman; when she sees her big sister Lena give up on her own artistic ambitions after getting engaged, the film explores how Ria deals with this change.
"It took me such a long time to find my voice and to take up space"

— Ritu Arya
Arya is animated as she talks about the film, its primarily South Asian cast, and how it's a story she wished she'd seen when she was growing up. If she'd seen characters like these or like Lila, she says, then it would've changed so much for her as a young brown woman. "I would have felt like I belonged. I would have felt confident," she says. "It took me such a long time to find my voice and to take up space, and characters like these would've helped so much in that." That's exactly what Arya aims to do with her work – to create and produce authentic representation both on and off screen, whether that's drumming in her band or appearing in a film, so that young people, like her growing up, can have the confidence to share their stories too.