'Stranger Things' star Noah Schnapp talks season four and fan theories
As 'Stranger Things' returns for its fourth season, Rolling Stone UK chats to Noah Schnapp about playing Will Byers, fan theories and how his character has matured over the years
By Nana Baah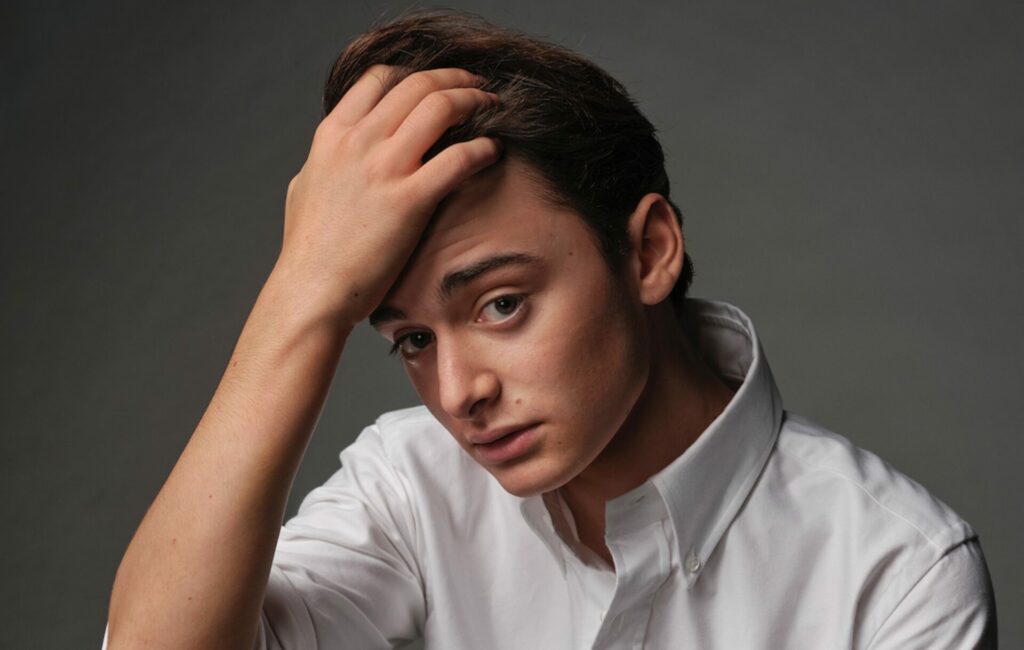 Noah Schnapp knows what it's like to be a Stranger Things fan.
"I've only seen what you've seen," he says over Zoom from the rural countryside of Alabama, where the 17-year-old has started shooting for an upcoming film. "I've seen little clips and it looks really good, but they haven't sent it all finalised. It's like, 'I need to see more!'"
He is, of course, talking about the long-awaited fourth season of Netflix's cult horror series, Stranger Things. We've both been lucky enough to see the first two episodes and although we can talk about it in vague terms only, Schnapp believes that the show has really matured in its sixth year.
When the hit series started, Schnapp played 12-year-old Will Byers, who goes missing before it's discovered — by his mother Joyce, played by Winona Ryder, and his geeky gaggle of friends — that he's trapped in the mysterious twisted realm that is the Upside Down, which lurks beneath his hometown of Hawkins. Now, four seasons later, the storyline sprawls across different states and countries, taking in new characters as it does so. What's more, the monsters are scarier and the kids are all grown up and grappling with the politics of high school.
"I'll watch YouTube videos [of fan theories] and a lot of them are interesting and sometimes they're actually pretty close"

— Noah Schnapp
The wait for this season has been longer than previously because, like everything else in the world, even the Upside Down couldn't remain unscathed by COVID. The cast flew into Atlanta to start their table reads of the script at the start of 2020, just before restrictions were brought in and everything came to a standstill. During that summer, Schnapp hung out with his cast mates and waited for filming to resume. "It was definitely over a year's break for me," he recalls. "But it was just so difficult. I think it took something like 300 days and a crazy number of hours to finish this season. It was definitely an intensive process."
It is worth the wait, though. Not only are the episodes much longer — "Every episode is like its own movie," observes Schnapp — but they're being released in two halves, with the first coming onto the streaming platform on 27 May 2022 and the second half on 1 July 2022. It's a strategy Schnapp is firmly behind.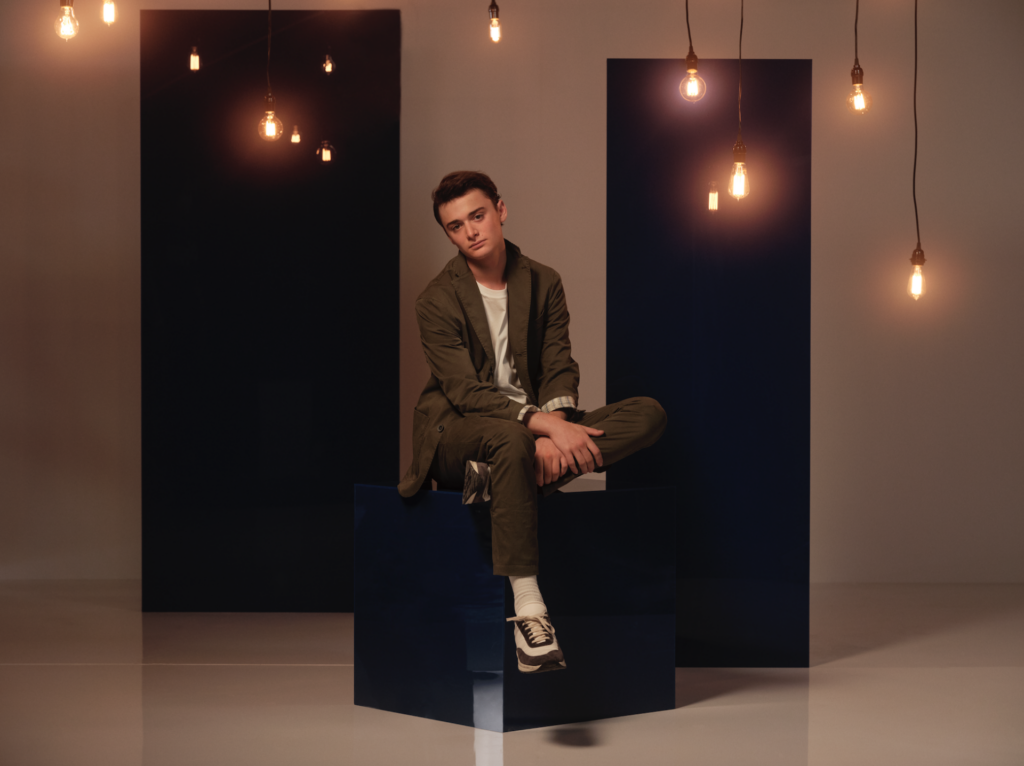 "I've seen so many comments from fans saying, 'We've waited two years for this. We're gonna binge it in one day' but then you have to wait another few years. So, I think it's a nice way to release a show, it keeps the hype around — you know how with Euphoria, they released it weekly."
The long gap between seasons has left plenty of time for fans to speculate. Even before the season four trailers dropped, forums were buzzing with theories about time stamps and how Eleven gets her powers back. This activity didn't go unnoticed by Schnapp. "I'll watch YouTube videos [of fan theories] and a lot of them are interesting and sometimes they're actually pretty close," he teases. "With our show, there's still so many unanswered questions and that's something Stranger Things does best — it leaves you on a cliffhanger with all of those unanswered questions."
"[The Duffers] just do a really nice job this season of tying everything in but showing our characters growing up"

— Noah Schnapp
Although Schnapp has tried to get a sneak peek at what the future holds for Will Byers, he, like the rest of the show's fans, is none the wiser. "I'm always texting the Duffers [the Stranger Things creators], like 'What is happening?', 'What's next for season five?'," he confides. "But they keep their mouths shut."
Having said that, Schnapp is able to give a few hints as to what fans can expect from this new season. "It's scarier and more gory," he says. "I haven't seen it as graphic as this yet. It does a really great job of growing up with the characters and bringing the violence and gore that we know from Stranger Things, but also the light and the fun with the comedic relief from Dustin and the new characters. They just do a really nice job this season of tying everything in but showing our characters growing up."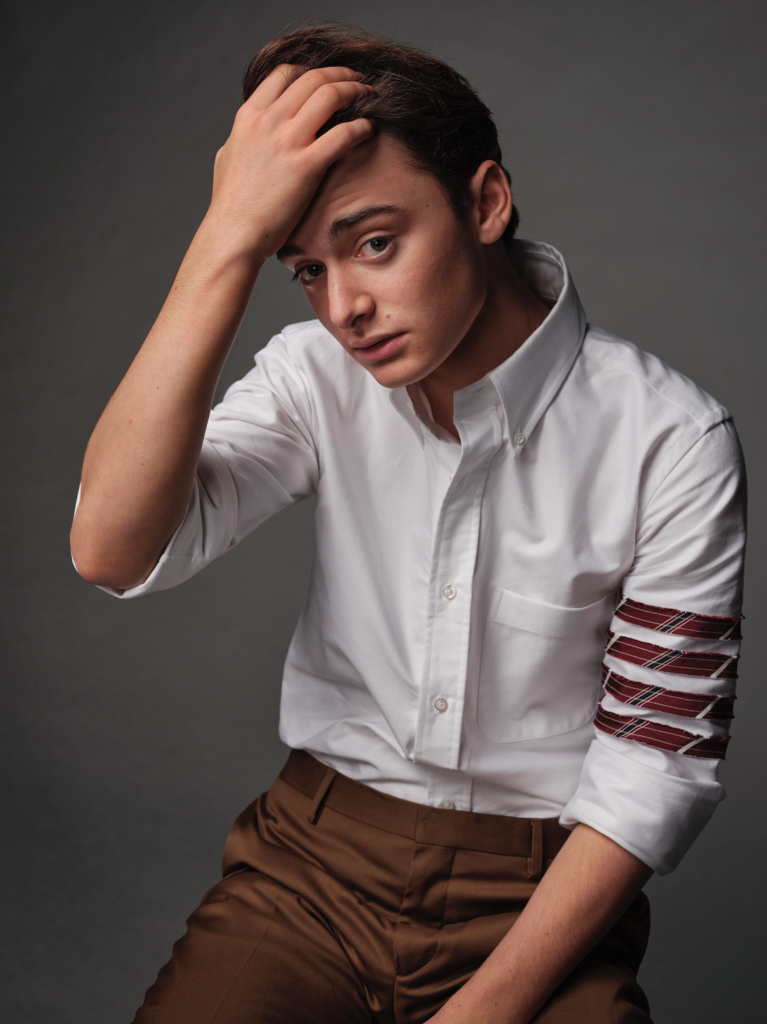 Will has certainly changed, he adds. "In season one, he was very shy and wouldn't really come out of his shell and then he went into the Upside Down and he kind of was traumatised by that ever since. But I think it also taught him to be brave and to stand up for himself."
Having played Will Byers for the past six years, Schnapp now has more input into his character. "Once we're on set, we can make edits and improvise. The Duffers are super open to that, especially with costumes as well. I can say that I think Will would wear this or this."
Another unexpected bonus of being on the show for so long is that 80s music has wormed its way into Schnapp's affections. The Clash's 'Should I Stay or Should I Go' and 'Africa' by Toto were played multiple times during the first season. Schnapp has now acquired an almost encyclopaedic knowledge of the era — to the extent that even his dad is impressed. "I feel like I've grown up in the 80s at this point. My dad always tells me when he's watching the show, like, 'Oh my God, I can't believe you're using that.' It's crazy how authentic [it is] and how well they do it."
Back in the real world, it's no secret that being a child star can be difficult. Schnapp's Stranger Things co-star and friend Millie Bobby Brown recently opened up on The Guilty Feminist podcast about the sexualisation she has faced since turning 18.
As the youngest member of the core cast, Schnapp was catapulted into the spotlight at the age of 10, but he says that having his co-stars to lean on has been a lifeline. "We're like a family at this point, I grew up with these people and we all relate and have the same story with the whole 'being in the limelight' situation," he says. "I really appreciate the fan base. When people come up to me on the street, I still wonder, 'How do they know who I am without the bowl cut?' It's just crazy."
But Schnapp wants to be known for more than being Will Byers from Stranger Things, so he is turning his attention to other projects. "I've always wanted to expand beyond just being an actor, maybe one day being a director, or a producer and now an entrepreneur," he reveals.
"I really appreciate the fan base. When people come up to me on the street, I still wonder, 'How do they know who I am without the bowl cut?'"

— Noah Schnapp
In December 2021, Schnapp shared on Instagram the moment he opened his acceptance letter from the Wharton School of the University of Pennsylvania to study Entrepreneurship and Innovation this autumn. But the wheels of his business ventures are already in motion: he's a consultant for Roll, an app that lets fans see exclusive photos and videos by their favourite creators. He has also invested in different brands and start-ups and is working on a clothing collaboration. In October 2021, Schnapp founded his own company, TBH, a snack brand that's focused on health and sustainability. So far, they have launched a hazelnut butter, but there's more to come.
"I love being a leader and having control over things, so launching and owning a business lets me do that," he tells me. "I love the creative side of acting and I'm actually dipping my feet into producing projects, which is all I can say right now," he says. "I'm still young, so I'm just trying out new things."
Taken from the June/July 2022 of Rolling Stone UK. Buy it here.