The Brit Crew: What happened to Britain's most recognisable YouTubers?
In the 2010s you couldn't escape a certain friendship group of chirpy, cheeky British YouTubers dubbed the "Brit Crew". But when their star faded, members stopped uploading and their household names were forgotten. With the help of Brit Crew members Jim Chapman and Marcus Butler, Rolling Stone investigates their story
By Amelia Tait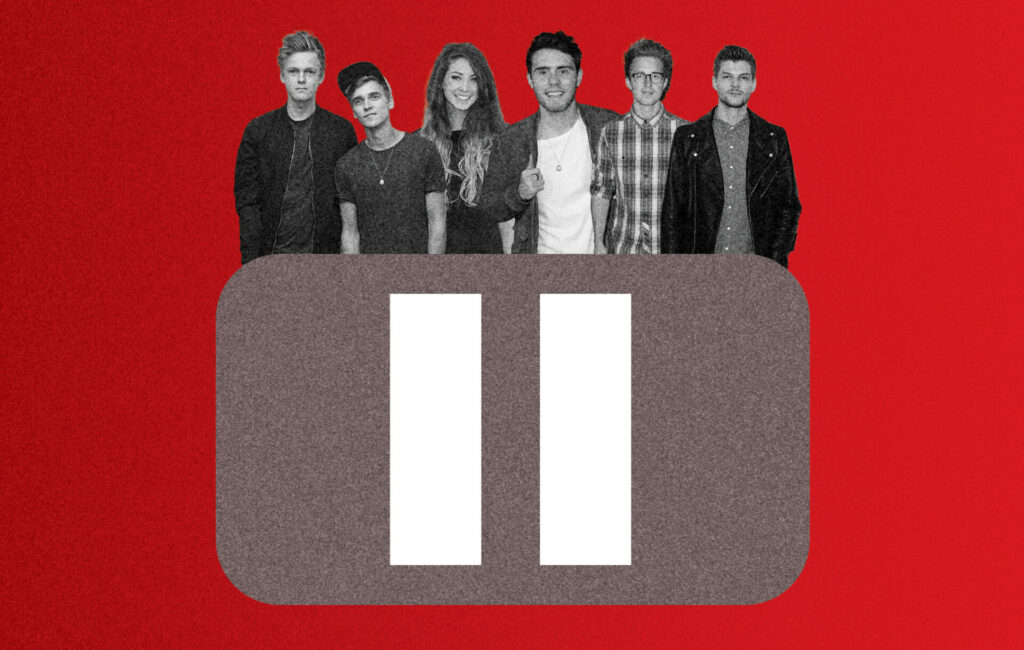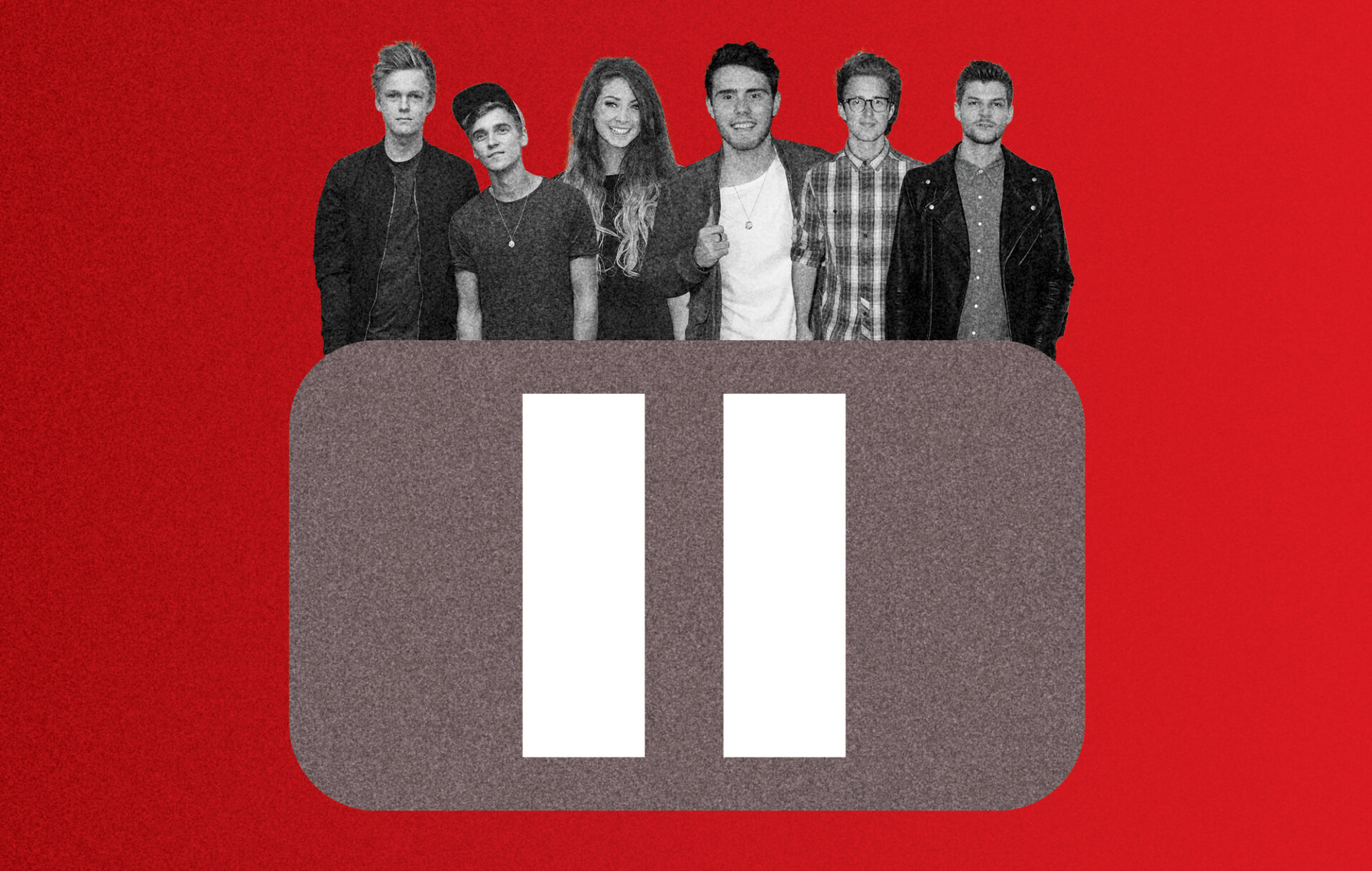 Whenever 33-year-old Jim Chapman walks past a group of teenage girls, his fiancée jokes that he turns into a meerkat. "I sort of go up a bit straighter and I look around, waiting for someone to charge me," Chapman says over Zoom from his London home, wearing a taupe hoodie and an abundance of silver rings. For most of the past decade, Chapman couldn't go out without teenagers rushing at him; once, he got on the Tube and a girl started crying her eyes out, baffling her dad. "It's so ingrained in me that young teenage girls are the ones that will scream and cry and flock, I see them and think I'm gonna get stopped. And then I don't, which is kind of embarrassing," he laughs.
Jim Chapman is a model, writer and presenter, but most people know him best as a YouTuber. As a recent psychology grad, Chapman began uploading grooming videos in 2010, slowly building a following before it suddenly mushroomed. At its peak in 2017, Chapman's channel boasted nearly 2.6 million subscribers; in 11 years, he has accumulated 144 million views. His most popular videos are pranks and challenges filmed with his friends, a group of nine unassuming British YouTubers who once dominated the platform.
Nicknamed the "Brit Crew" by fans, Jim Chapman and his contemporaries Marcus Butler, Alfie Deyes, Louise Pentland, Tanya Burr, Caspar Lee, Niomi Smart and siblings Zoe and Joe Sugg were once the internet's most famous friends. When Zoe Sugg, better known as Zoella, released a book in 2014, it became the fastest-selling debut novel of all time. When Deyes signed copies of his own tome at a London Waterstones months earlier, the street outside was flooded with 8,000 screaming teens. For his part, Chapman once moved house after fans discovered his address and started knocking on his door.
Combined, the Brit Crew still have more than 42 million subscribers, but something happened at some point, and they no longer hold the same sway. Zoella topped news site Insider's list of, "The 16 YouTube channels that lost the most subscribers in 2019" after her following dropped by nearly half a million — she last posted to her main channel in June 2018. Of the rest of the Brit Crew, her brother Joe Sugg is still active, but Butler hasn't posted for nearly four years; Burr and Lee haven't posted for two. Chapman still uploads regularly, but his most recent three-week-old video has 26,000 views.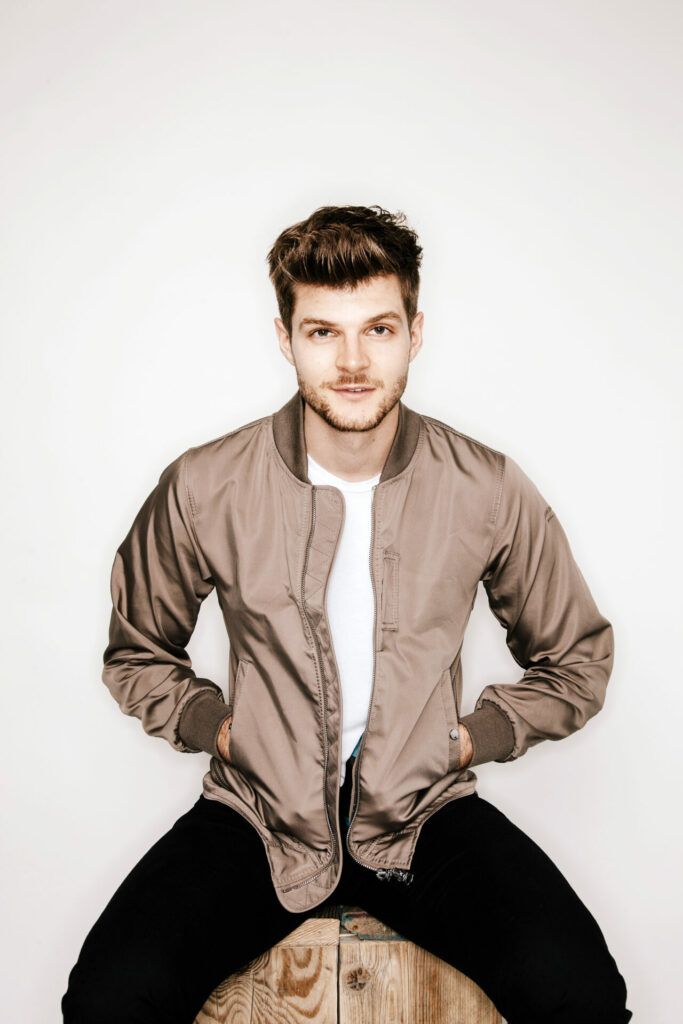 Over the past year, an entire YouTube cottage industry has sprung up of video after video asking, "What happened to the Brit crew?". The most popular has 97,000 views and inspired comments ranging from, "watching these guys die out actually hurts my heart" to "thank goodness I grew out of that phase." But no one really knows the inside story of how a bunch of British teenagers became international superstars before they seemingly fell out of favour.
Explaining how the Crew became friends, Chapman reveals that before influencing was a career, vlogging was "underground" — those who did it naturally bonded over the strange new world they inhabited. Once that friendship was cemented, the crew posted on a schedule and promoted each other in "collabs".
To cash in on their popularity, in July 2015, magazine publisher Egmont released a special, one-off publication, Oh My Vlog!. Designed to appeal to girls aged 10-15, headlines included, "Marcus shocker! Bees terrify me." Inside, readers found an A2 poster of the Brit Crew and a detachable Top Trumps-style game (Deyes scored 88 for "Phwoarsomeness"; Chapman only scored 73).
Former Oh My Vlog! editor Malcolm Mackenzie puts his finger on their appeal. "They created a wholesome, safe place where everything just seemed nice," he says. He adds that kids loved them because they were normal — so normal that, much to his chagrin because he needed to fill pages, they never got papped.
"It was incredibly difficult to do what we did because there were no pictures of these people. Celebrities go out to red carpets, everyone's interested… But these are YouTubers just sat at home." Still, that was the point: "YouTubers did feel very relatable, they did feel like people you might just bump into. A lot of popstars feel unattainable."
Sasha Buckwell-Bailey is a 20-year-old from Eastbourne who bumped into Zoe Sugg and Deyes — or "Zalfie" — in Brighton when she was 14. "I watched YouTube every day without fail. I'd come home from school and I'd watch for hours," she says. "I'm an only child and grew up with a single mum so I think I found comfort in following such a large group of friends having fun. It's kind of like I was living vicariously through them."
Three things, then, made the Brit Crew famous: they were relatable, they were wholesome, and they were young. But with money, scandals, and the slow march of time, none of those things could last.
At their peak, the Brit Crew were all represented by talent agency Gleam Futures, and by 2016, rumours were swirling that Zoella earned £50,000 a month.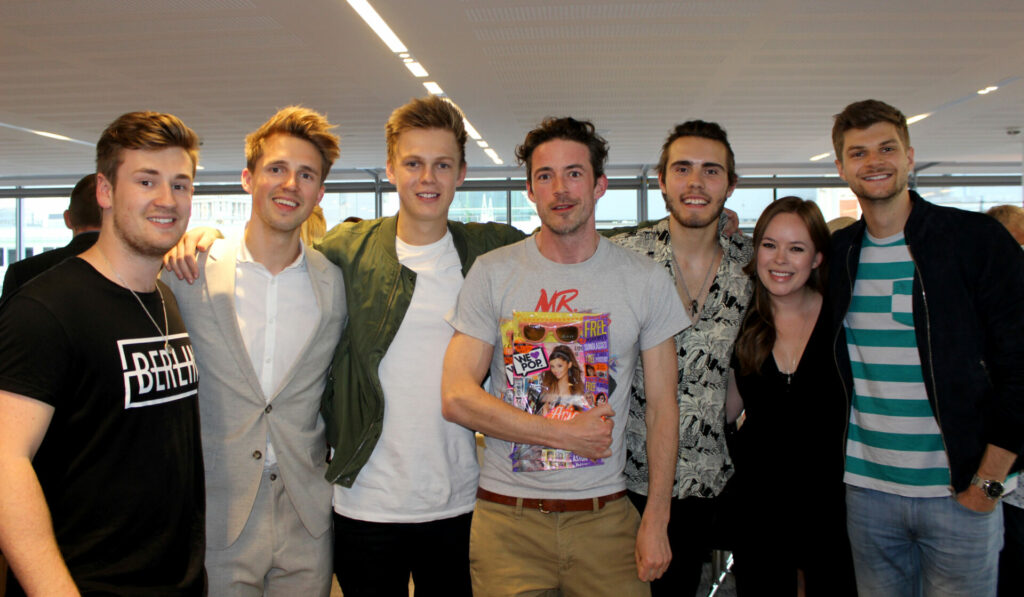 "I remember the first brand deal, hearing the amount of money that someone wanted to offer you [to promote a product], and it was, like, 'This is insane,'" says 29-year-old Marcus Butler via Zoom from his Berlin home, his rescue dog lounging beside him.
Butler initially found it hard to turn down opportunities. "You're so young and so new to it, you feel so excited that you want to do it," he admits. Although Chapman says he once refused a meat company's invitation to dress up as a sausage…
Buckwell-Bailey — an avid fan from the age of 12 — says she "started watching less and less YouTube" as she went into Year 10. "The older you get, the more you come to understand money and the way the world works. You start to realise that for these people, it's now just their job."
"I think it started to get weird when we started to live our life a bit more — we weren't all these young kids any more, travelling the world, always together all the time"

Marcus Butler
Zoë Glatt, a digital anthropology researcher at the London School of Economics, notes: "The commodity being sold in their videos is the vlogger themself — their lifestyle, activities, tastes and relationships."
Commodifying your friendships is difficult; Butler "felt weird" about placing Zoella in his thumbnails for clicks, even though the crew joked about it together. And while they once enjoyed meeting up to shove as many marshmallows in their mouth as possible, they soon matured.
"I think it started to get weird when we started to live our life a bit more — we weren't all these young kids any more, travelling the world, always together all the time," Butler says. Chapman, who was always older than the rest, quickly grew out of the content that made him famous.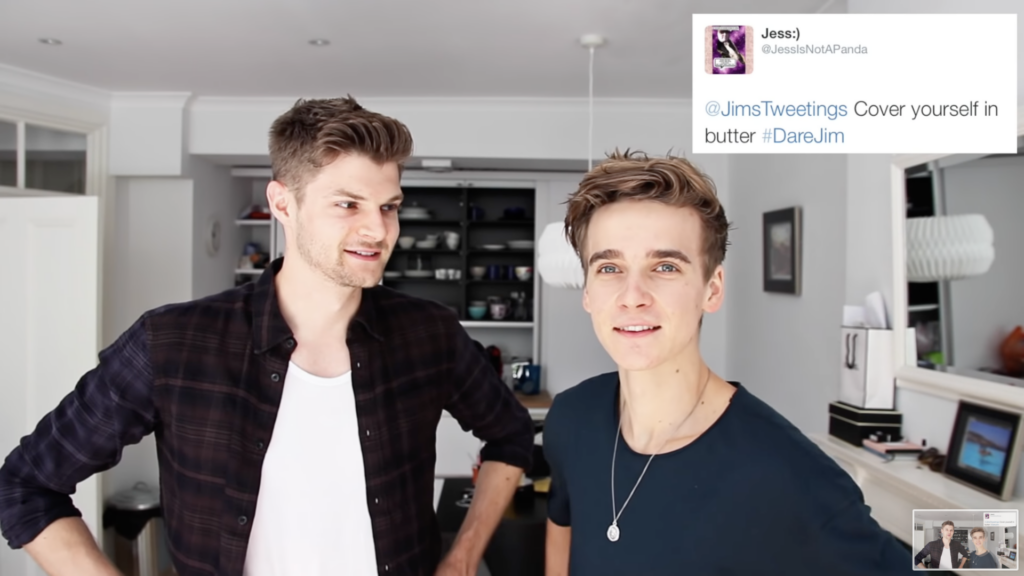 "I remember there was a video I did with Joe Sugg where he waxed my armpits and I got in a bath of ice and I covered myself in some condiment. I was 25, maybe, something like that. And I remember thinking, 'This is the last time I'm doing this,'" he says. The video in question, 'JOE SUGG WAXED MY ARMPITS! #DAREJIM', is Chapman's most popular, with 4.1 million views (the condiment in question was butter).
"I had to stop because I couldn't keep doing that for my own sort of dignity and mental health, I suppose," Chapman confides, explaining that he decided to transition into the calmer vlogs he films today. "I was really stressing, thinking about sacrificing all the traffic I was getting, but I knew there would be a point where young kids would be, like, 'Dude, you're too old. Why are you still waxing your armpits on the internet?'"
Butler began his YouTube career posting basketball compilations and reuploading Radio 1 Live Lounge clips. When viewers asked who he was, the sixth former started vlogging in 2010. Butler opted out of university — of the nine Brit Crew, three graduated before starting YouTube, while the rest didn't pursue higher education.But the last video Butler shared with his 3.9 million subscribers was uploaded in March 2018; today, he calls himself a "retired YouTuber".
"I had to stop because I couldn't keep doing that for my own sort of dignity and mental health"

Jim Chapman
"Thinking about how much I shared of my life online makes me feel very, very funny," Butler says. At the height of his career, he would post 10-15 videos a week across his main, vlogging, and gaming channels. "The really dangerous thing with that is, you get to a point where you start living your life for the vlog.
"I remember waking up in the morning and being, like, 'What am I going to do today for the video?' My whole life became dedicated to trying to make something worth watching." When Butler greets me on Zoom, I initially fear he's annoyed — then I realise I'm contrasting the cheery way he started videos ("Hellllloooo!") with his normal tone. He is more than happy to chat, saying he has been "waiting for a while" for someone to "pick up on" this story.
Butler says he made "an overnight decision" to stop vlogging daily. "I knew from a financial [viewpoint] it was probably a stupid decision, but I felt like I had completely fallen out of love… It had purely turned into: 'This is earning money, I'm just going to forcefully carry on.'"
Although today there are entire BBC News reports about "YouTuber burnout", back then, viewers were unsympathetic. In 2014, Zoella posted a video entitled "Sometimes It All Gets A Bit Too Much" and faced backlash despite her candid tears. "It's very hard for people to look at someone who is successful and feel sorry for them," Butler says.
Hate forums sprang up that scrutinised the Brit Crew, and Butler found it hard to resist reading. "It was the most toxic cycle ever, because you're not reading it thinking it's funny, you're thinking, 'Ah, that hurts.'"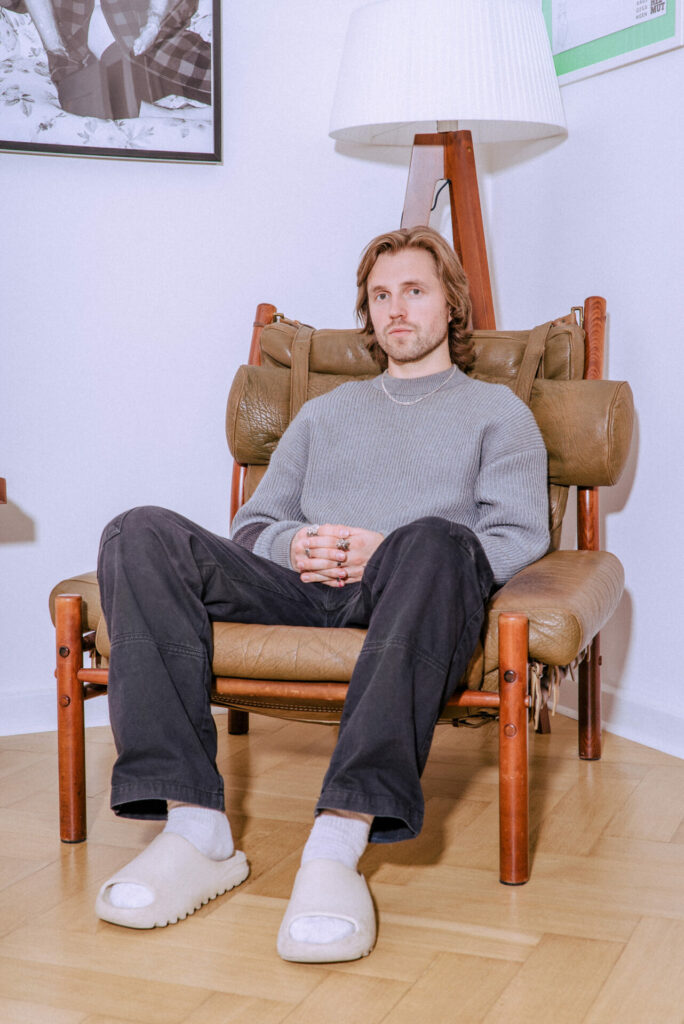 Chapman still deals with eye-watering hate: recently, someone DM'd him wishing his baby daughter would be thrown at a wall. Anti-fans also spread rumours about the crew's relationships. Zoe and Alfie are still going strong and have just had a baby together. Chapman dated and married Burr, while Butler dated Smart — but both couples have since split.
"Going through a break-up is obviously shit anyway… And then if you're sharing that with people, it's just amplified multiple times," Butler shares. Chapman says initially keeping his split secret led to false accusations about cheating. Yet while the haters were often unreasonable and extreme, sometimes complaints were justified.
By today's standards, the Brit Crew scandals are tame. Butler remembers a mum once stopped him in the street to tell him off for swearing online — hardly on a par with corpse clips à la Logan Paul. Yet Zoella's authenticity was eroded in 2014 when it emerged that her novel was ghost-written; in 2017, she was blasted for selling an overpriced tatty advent calendar. In 2018, Deyes clarified, "I am not a Tory" after he filmed a video about living on £1 for a day. But one scandal was more serious: The Fyre Festival of YouTube, HelloWorld.
HelloWorld was supposed to revolutionise meet-and-greets — kids were told they would film videos and play games with their favourite YouTubers instead of queuing for hours. But parents who paid a week's wages for tickets were fuming when there was nothing to do inside the Birmingham Genting Arena, and mismanagement did indeed lead to long queues.
"There was a lot of shit that happened on that day that should never have happened," Butler remembers. The Brit Crew formed a company — Crew Live Limited — to launch the event, but Butler says he didn't make any money. Chapman argues that too many cooks spoiled the broth.
"We rushed it," he admits. "I think we were all a bit, like, 'We can do it better because we know what's up.' In actual fact, we might have bitten off more than we could chew." Chapman adds that while he was "all in", some of the others "were a bit like, 'Eh?'" because they had other projects to fall back on.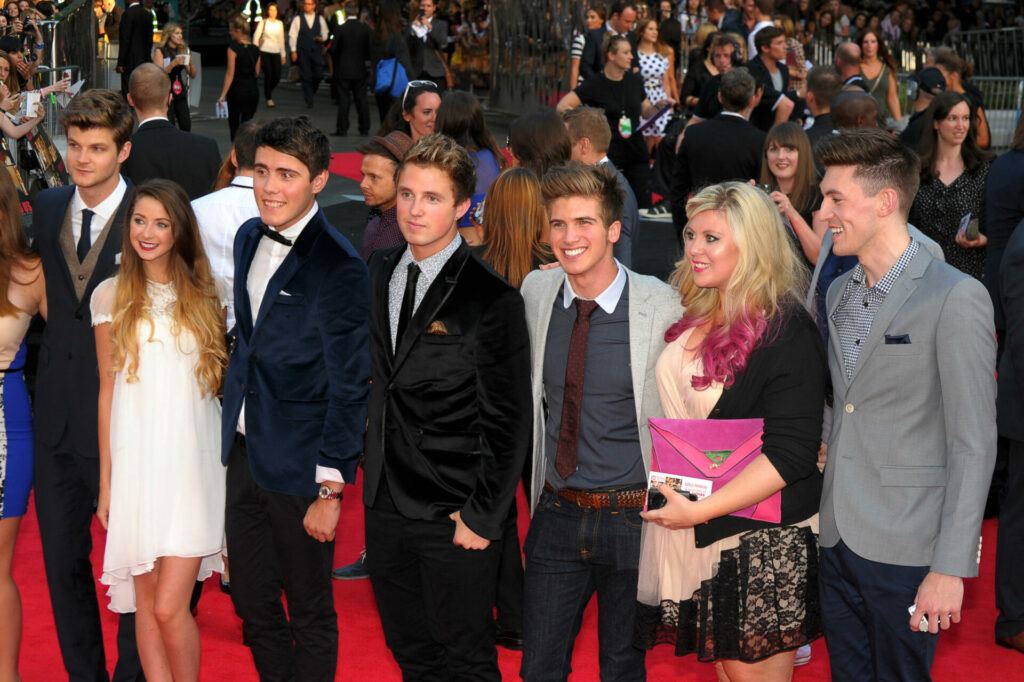 HelloWorld marked the beginning of the end for the Brit Crew, and by 2017, YouTube was fundamentally different; wholesomeness and One Direction-adjacent Anglophilia had been swapped for gamers shouting slurs. While the Brit Crew thrived as adults acting like kids, kids began to act like adults — nine-year-old Instagram rapper Lil Tay embodied a new influencer era that valued flex culture and "tea". As a digital culture reporter, I began to notice a greater cynicism in the creator space, both from the audience and stars. Chapman and Butler both say they didn't start their YouTube vlogs for money; they had no idea there was money to be made. Such a claim would be outlandish today.
Although Chapman and Butler are now zen about their decreased audience figures, both admit they spent a while chasing the dragon, creating content that no longer resonated. Then, both diversified their incomes by working in fashion. Today, Chapman is writing screenplays, while Butler has a passion for cryptocurrency. Many of the Brit Crew have founded companies, be they for student accommodation (Lee) or skincare (Smart).
And all of them can still be found on the less-invasive Instagram, while some have rebranded on YouTube for an adult audience. Joe Sugg has more than seven million subscribers, with another 5 million following his vlogs and gaming channel. But he recently reappeared on his channel ThatcherJoe after it being "in serious hibernation" for around a year to discuss his future plans for it. Zalfie post intermittently on their second, smaller channels (in March, Sugg broke the three-million-view mark for the first time in four years when she announced her pregnancy). But today it's rare to see the whole group together. Chapman was recently reluctant to post a picture of him, Deyes, and their baby daughters because "you don't want your mates to think that you're just using them for traffic."
Chapman continues to vlog simply because he enjoys it: "I've got an audience of people who seem to really care, but I don't fool myself into thinking that they'd be devastated if I died tomorrow." Butler expresses remorse for not making a final video for his viewers explaining why he left. "That's probably something I messed up," he says, "But I'm not even in a position where I feel comfortable making a YouTube video now."