The essential British music documentaries you need to watch
From The Beatles and Britpop to beats, bass and Bros: the story of modern UK music in ten indispensable films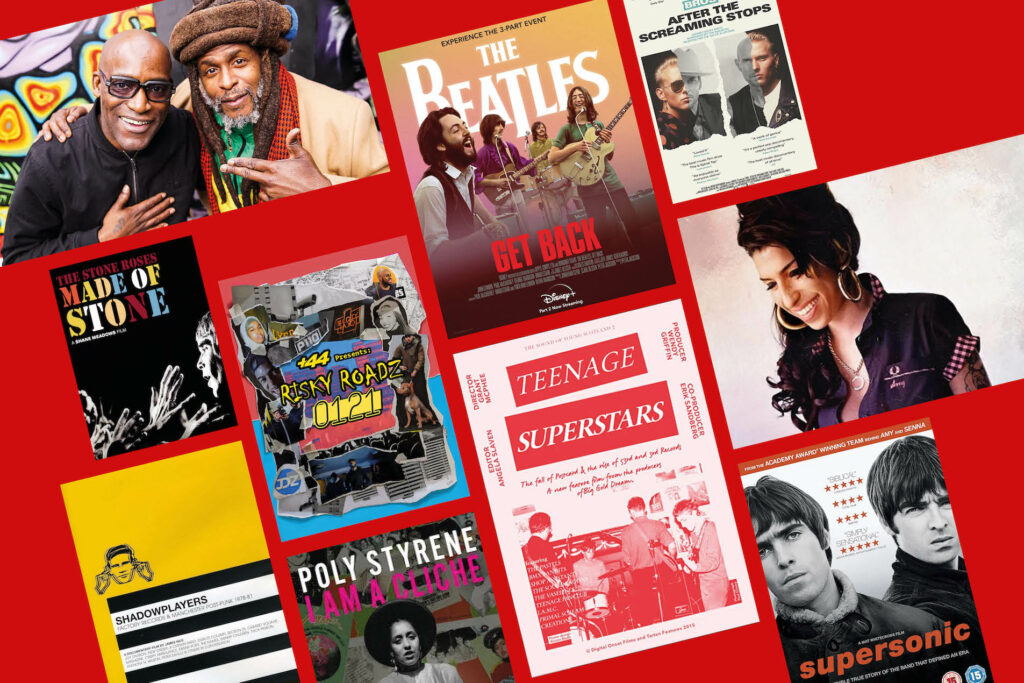 Most successful musicians find themselves in the spotlight because they are compelling in some way, not just through of their talent but also their profile and image. It's no surprise that means they often they make good documentary subjects.
Between oral histories, scene reports, and in-depth artist profiles, the music documentary is a rich and varied medium that can offer unparalleled insight – offering peeks behind the shrouds that surround musical icons, and the telling of as-yet unheard stories.
Like the rest of us, artists aren't made in a vacuum – they're products of time, place, and circumstances – and it's in showing us these factors first hand that the music doc's power really lies. Yes, for a quick snapshot there's Wikipedia for the basics of whatever artist of musical trend you want to explore. But what the best music documentaries offer is the experience: they place you at the heart of things and give you a lived-in taste of the moments they're witnessing ­– whether that's The Beatles' meandering Let It Be sessions, the exciting forward momentum of the Birmingham grime scene in the 2000s and 2010s, or The Stone Roses' lager-soaked Manchester reunion shows ten years ago.
Collected here are a few of the films that do music documentary best, telling the real, fascinating tales of iconic British artists – Amy Winehouse, Oasis, Poly Styrene – and music cultures, from late 1970s post-punk to the evolution of Black British music in London.
Teenage Superstars (Grant McPhee, 2017)
A much-needed feature-length voyage into the Glaswegian music scene of the 1980s and very early 1990s, this is a tribute to bands like The Pastels, The Jesus and Mary Chain, Teenage Fanclub, and The Vaselines. Some of these groups often find themselves overshadowed by the looming figure of Britpop, which came just after, and re-centred English culture and politics, but Teenage Superstars – narrated by Pixies and Breeders musician Kim Deal – celebrates the seminal Scottish scene in and of itself.
Oasis: Supersonic (Mat Whitecross, 2016)
Easily the most storied British band of the modern era, it makes sense that an Oasis documentary would make this list on the strength of the contentious but supremely entertaining dynamic between the Gallagher brothers alone. 2016's Supersonic is an immersive account of the band's 90s heyday, which artfully places archive footage alongside contemporary interviews for a fond look back at Oasis' beginnings and their subsequent reign over the British charts and pop culture at large. Director Mat Whitecross does well to contain Oasis' energy, impressively communicating the impossible, magic-in-a-bottle feeling of a time when the main objective was simply to have it as large as you possibly could. As you were, LO X
Reclaiming Amy (Marina Parker, 2021)
Ten years after the death of Amy Winehouse, this BBC documentary marks the first time that a number of her closest friends have given interviews about her life. Reclaiming Amy, therefore, is an intimate, loving corrective to the many public narratives about Winehouse – some begun before she died, as a result of the tabloid press' obsession with and sustained harassment of her, or that emerged afterwards in articles and other films – which have endured over the years. This film's greatest achievement is in stripping away the noise to remember the woman as she was: a friend, a daughter, and a monumental, other-worldly talent.
+44 Presents: Risky Roadz 0121 (Toby Robson, 2021)
For his first music documentary under the RiskyRoadz banner since 2008, veteran grime filmmaker Roony Keefe teamed up with director Toby Robson for this deep, localised dive into Birmingham's grime scene, which has produced huge amounts of talent. Considering the fact that grime media can often be London-focussed, it's fascinating to see the phenomenon from another angle, alongside commentary from artists like Mist, Lady Leshurr, JayKae, Preditah, and countless others who have gone on to become nationally recognised MCs, musicians, and celebrities.
The Beatles: Get Back (Peter Jackson, 2021)
Ordinarily it might feel cliched to recommend a documentary about The Beatles, but in late 2021, along came director Peter Jackson – the man behind the famed Lord of the Rings saga – to adjust that narrative. Jackson's eight-hour "event", as it was billed, is the world's most famous band as fans never thought they would see them – smoking cigs, wisecracking, and writing songs as if pulling them out of thin air.
The footage comes from the sessions for Let It Be, their 1970 album, and was initially collected for the documentary of the same name by Michael Lindsay-Hogg. Jackson, however, reimagines the scenes into a longform film, which is more naturalistic, and more befitting of the Beatles legend, allowing audiences the closest look ever at the band at one of its most pivotal moments.
Poly Styrene: I Am a Cliché (Celeste Bell and Paul Sng, 2021)
In the annals of punk history, X Ray Spex's Poly Styrene is a towering giant, who broke ground by defying every expectation of what a frontwoman could be. This film about her life is a deeply personal affair, made by her daughter Celeste Bell and co-director Paul Sng, and featuring testimony from those who knew or were influenced by her – including Bikini Kill's Kathleen Hanna, Thurston Moore of Sonic Youth, and the designer Vivienne Westwood. Poly's own diary entries are narrated by Ruth Negga, while Bell's careful stewardship of her mother's legacy is wonderfully admirable to behold – as is her candour as she unpicks their complex relationship.
Bros: After the Screaming Stops (Joe Pearlman and David Soutar, 2018)
When this film about 80s sensations Bros was released around Christmas 2018, news of it quickly spread like a rash. Suddenly, everyone was asking, "Have you watched this Bros documentary?" At first, I wondered why I'd bother but as soon as I succumbed to the zeitgeist, I understood. Pitched somewhere between This Is Spinal Tap and The Office, Bros: After the Screaming Stops is a bizarre, unexpectedly hilarious and at times touching look at the dynamic between brothers Matt and Luke Goss as they reform their band Bros 28 years after they last played.
The film explores the brothers' upbringing, their early fame, and their lives after the group, and became a cult classic almost immediately following its release (London's Prince Charles Cinema even screened it a few times, though it was made for TV). It also scooped awards from BAFTA and the Royal Television Society, though neither of these are its most crucial legacy: that accolade must go to the fact that the film single-handedly raised the profile of the sport of conkers in the UK.
The Stone Roses: Made of Stone (Shane Meadows, 2013)
Shane Meadows is as close to filmmaking royalty as British cinema has, and his 2013 documentary on The Stone Roses is one of the many jewels in his especially decorated crown. Ian Brown and company are captured as they rehearse for and play three huge Manchester gigs in 2012, with cameos from figures like Liam Gallagher and Eric Cantona. Meadows approaches the whole endeavour with clear, unbridled fandom, achieving a marvellous visual representation of the euphoric largesse of The Stone Roses' music. Objectivity is important, sure, but there's nothing that glitters more beautifully on camera than pure love.
Shadowplayers (James Nice, 2006)
This oral history of post-punk in Manchester from 1978 to 1981 is a lengthy but interesting examination of Factory Records, the community around it, and the eventual decline of post-punk in the early 1980s. Shadowplayers features more than 20 participants – including Factory co-founder Tony Wilson, and New Order's Peter Hook, and subjects discussed include Manchester's Factory Club, the death of Ian Curtis, and the eventual formation of New Order. The wide-ranging interviews are divided into chapters, and therefore the great strength of Shadowplayers is its ability to make the depth of its detail feel accessible and digestible.
Beats, Bass and Bars: The Story of Grime (John Williams, 2018)
Grime gets the BBC Four treatment in this 2018 documentary hosted by Rodney P. Beats, Bass and Bars is particularly keen on tracing the advent of the genre through its geographical history in east London, and its musical forebears, offering a thorough exploration of grime's musical evolution – through reggae, jungle, and UKG – as well as its wider cultural growth, as a genuinely grassroots genre made and shared on phones and digital cameras, in a time before iPhones, or social media as we now know it. On the whole, the film makes for a fittingly rigorous tribute to the genre it (correctly) says is the most important innovation in British music since punk rock.v