Woman On A Mission: Lashana Lynch on Bond, breaking barriers and increasing Black representation on screen
Jamaican-British actor Lashana Lynch is the first Black woman to snare a major action role in Bond as new MI6 recruit Nomi. In her first Rolling Stone UK cover, she tells the story of how she got here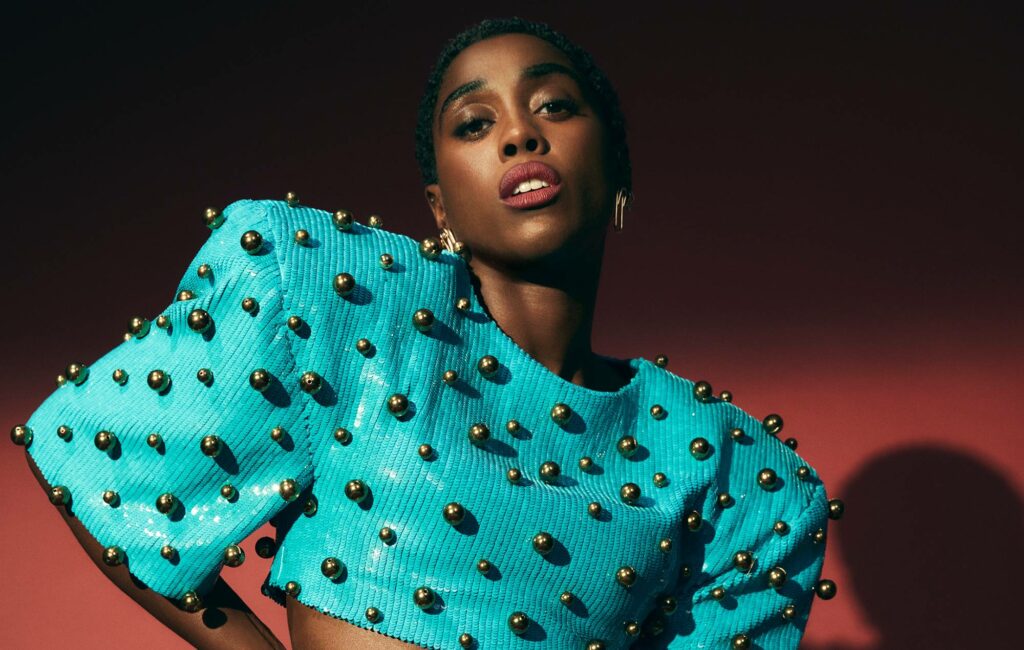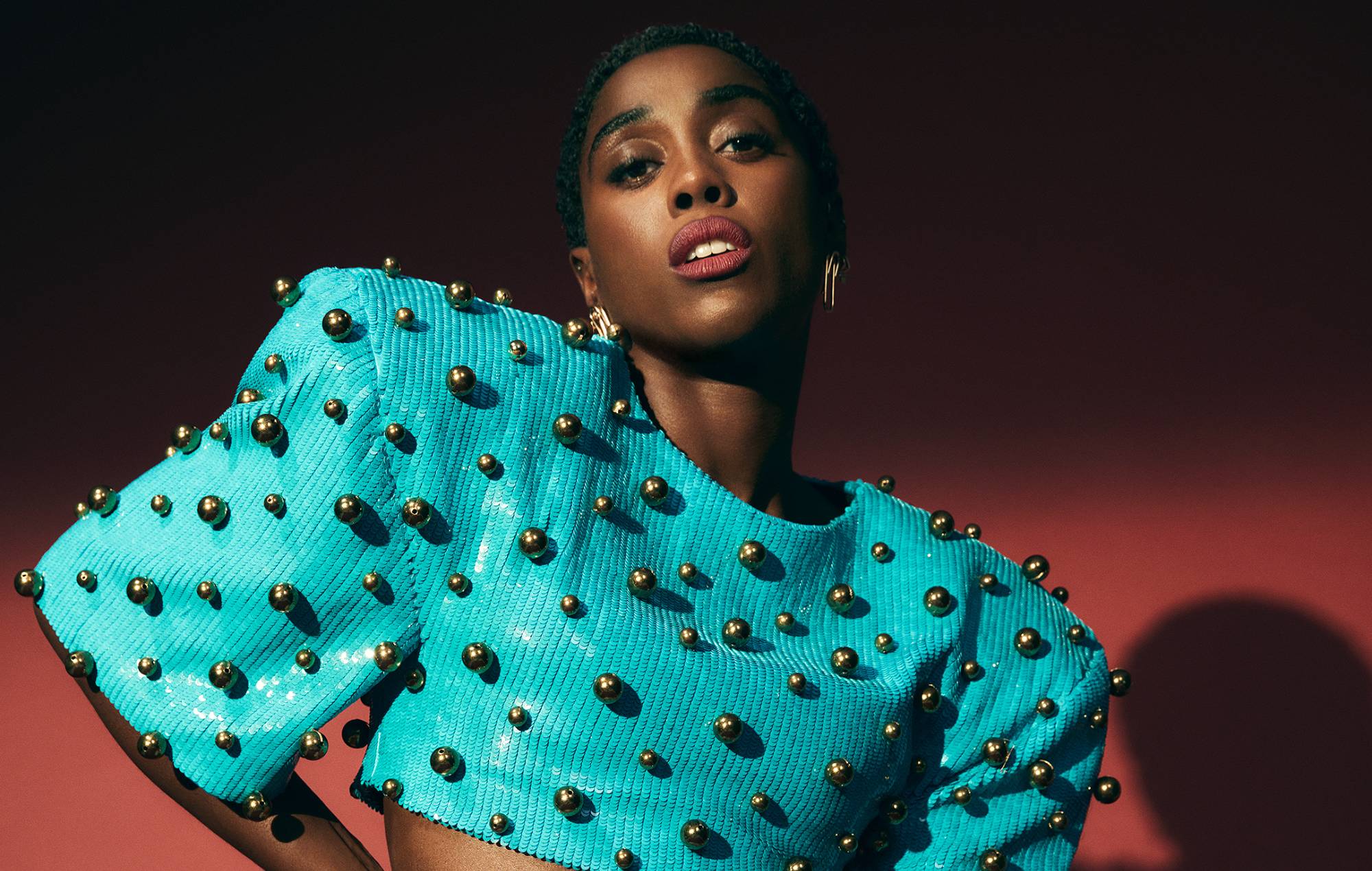 It's been a long run-up to this moment for Lashana Lynch. A brand-new addition to the cast of No Time To Die – Daniel Craig's fifth and final instalment as James Bond – Lynch joined the line-up of the stylish assassin series set for release just as the global pandemic hit. Originally slated for release in April 2020, the date for the film was pushed back twice (or is that three times? We've lost count) in response to an ever-changing Covid climate. "We actually did our first bit of press in New York at the end of 2019, so I just say I've done a week!" Lynch says of the stop-start campaign to bring Bond back to the big screen.
She tilts her head to the side and stares off into the distance wide-eyed for a moment when asked how long it's been since filming actually wrapped, before announcing slowly, "Two years. Next month… wow, I didn't even think of that," she laughs.
Despite this mini revelation, on all other fronts, the British-Jamaican actress is as composed and relaxed as they come. Sitting cross-legged on a plush green velvet couch, in a relaxed pastel tie-dye two-piece, she radiates the kind of zen that reminds you to do your skincare routine or tidy your room, charge your crystals or pay your bills. Lynch is warm and passionate and affirming in all her answers, leaving you with the residual boost I imagine one might experience after a life-coaching session. So much so that it's a little hard to picture a younger, more childlike version of the Lashana before me today.
What was baby Lashana like? "Oh! Or what she is still like, because the inner child is real and we can't neglect them forever, they gotta eat, too!" I take a mental note to write that one down later, as she continues. "Baby Lashana is free and open and always wanted to tell stories through my body. I had a very half-quiet, half-loud confidence that made me feel like I could kind of do anything. We've got a knowing in my family that makes a lot of people uncomfortable, but I just knew from a young age that I was going to be 'something special' and that I wasn't going to live in England…"
Born and raised in bustling Shepherd's Bush, Lynch attended Sylvia Young Theatre School as a child ("Only on the weekends, because I'm from a Jamaican family, so they wouldn't let me go full time"). She admits that her first love was actually singing, "I wanted to be a singer from the jump," and it was only in a moment of serendipity that that gateway led her to acting. "When I was in my singing class and I was trying to learn how to emote through singing, my teacher told me 'You can't sing without accruing and you can't act without singing; both of them come hand in hand.' And I've never forgotten that, that was my first lightbulb moment. Every time I pick up a script now I think, this is music. There's musicality running through this and all I have to do is connect the dots."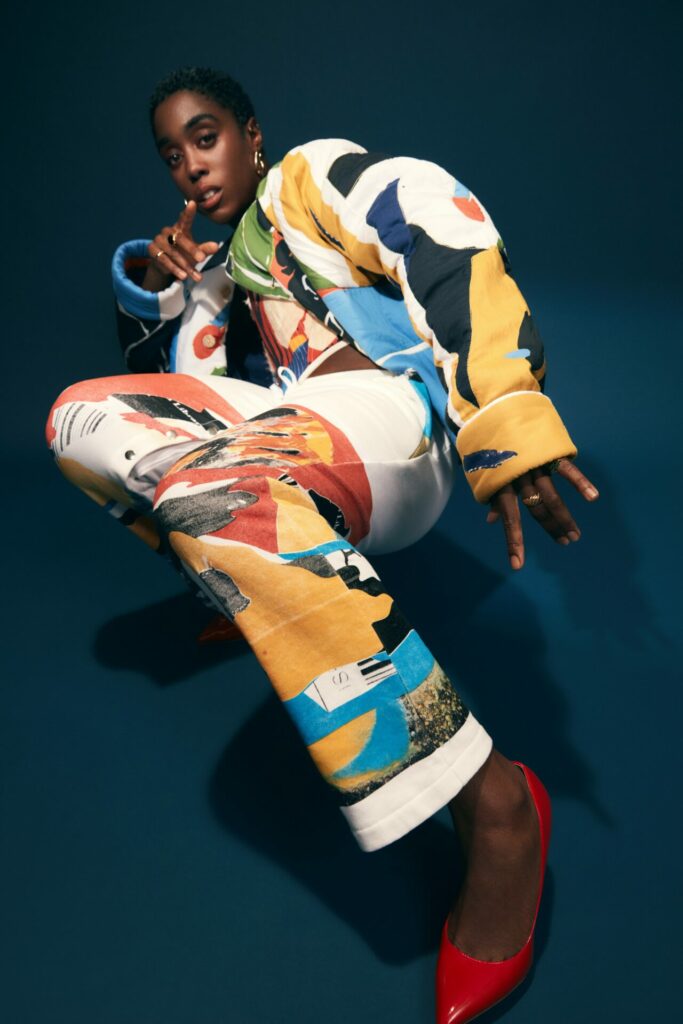 At this stage, to say that the 33-year-old's star is ascending feels like stating the blindingly obvious with her filmography past, present and future speaking for itself. Currently in production for a musical adaptation of Roald Dahl's Matilda, both of Lynch's worlds meet for her upcoming role as kind-hearted teacher Miss Honey opposite British veteran Emma Thompson as Miss Trunchbull in the childhood classic, produced by Netflix and Sony Pictures and lined up for 2022.
Elsewhere, she's also been announced as part of the cast of historical epic drama The Woman King alongside theatrical heavyweight Viola Davis and star of Barry Jenkins' The Underground Railroad, Thuso Mbedo. But it was featuring as fighter pilot and best friend to Captain Marvel, Maria Rambeau, in Marvel's first ever female-led superhero film, that kickstarted Lynch's journey towards becoming a household name – the film went on to break records as the highest-grossing female-led film ever on a global scale.
The significance of her role as a Black British woman in a film of that stature and popularity is not lost on Lynch by any means: "Knocking out your first film that happens to be massive, happens to be the first [Marvel] female-led superhero movie, happens to be a Black single mother representing so much, I just gained a slice of confidence that let me know that wherever I place myself in the industry, I'll be able to speak for the people I want to represent without carrying it on my shoulders."
Practically straight off the back of that performance in 2019, Lynch's involvement in the new Bond film was then announced. "With Marvel, I had absolutely manifested that. I'd been auditioning for Marvel for years and finally got a role in the franchise. So, I feel like I was already internally, emotionally and energetically prepped for having those conversations. With Bond, it came out of nowhere!"
Lynch had appeared in the critically acclaimed Royal Court Theatre production of ear for eye in 2018, created by Olivier and BAFTA Award-winning writer and director Debbie Tucker Green. It just so happened that the play was executed in association with American-British film producer Barbara Broccoli, who also oversees the Bond series. Through that connection – and Lynch's stellar performance in it – she found herself asked to audition for a role in the next project and was taken by total surprise. "When it first happened I was just like…" shaking her head slowly, "one, it's another franchise, but two, what does that even mean? I'm a young Black girl from Shepherd's Bush. Like I never expected two [roles] to come in my favour like that," she says, sounding as in disbelief now as she was back then. "So, when it did, I had to really get used to the idea of being maybe a mouthpiece for different communities. And that's not something I had anticipated happening quite so quickly."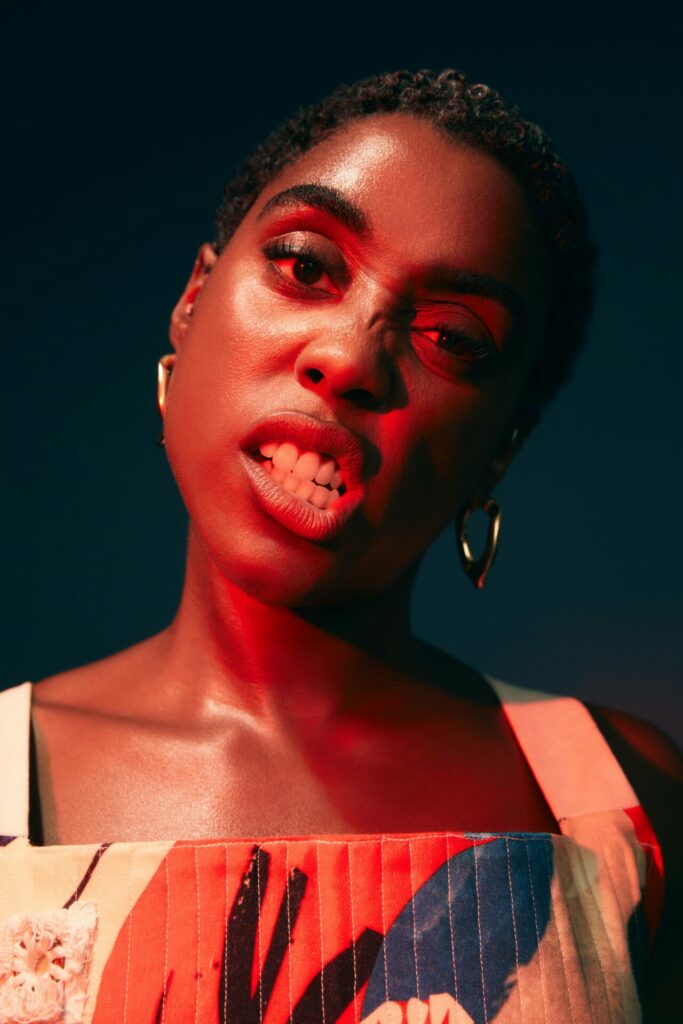 With no real information on whether the role was a one-liner or something more significant, Lynch went into the casting process fairly blind. After a tape, a couple meetings and scene tests and "the most intense fight audition I've ever had in my life", the role was hers. When I ask if Lynch remembers her first-ever audition, she gasps and clutches at her imaginary pearls. Two spring to mind: "One of them was for The Lion King on the West End, I think I did about three rounds of auditions and then they dropped me like that," she chuckles, dusting her hands off. "And I thought, 'Oh my God! This is the end of the world! How do they do this to people? This is torture!'" She yells with a booming laugh and her hands to the sky. The other, at around the same time, was for Britain's small-screen acting rite of passage, The Bill. This time, she landed a role. "But I was late," she remembers. "I got on the Northern line the wrong way and got there so late. And the scene was her crying her eyes out and literally, [I was so stressed] I did not have to act."
Those early postings were pivotal for Lynch's entire approach to acting going forward. Arriving on set as a newbie with an open and curious mind, she capitalised on the opportunity to soak up her surroundings and become a bit of a sponge. "I just listened to the DP, the director, the lighting man, everything that was going on around me." Once she'd nailed the basics, she enrolled in drama school [Arts Educational School] to hone a little further. "I made sure that I knew what the technical terms were, I knew where to stand and what made sense and if a lighting guy hasn't put a light on me, then, because I'm a Black woman, I should probably ask the question, am I lit well? Look at the monitor and see. All those things I just learned really early because I like to listen and ask questions.You find gems of information and you become even more than an actor; you become a creator of the set. You appreciate other people's positions and learn that it's a real machine, it's not about you."
To this day, it's a mantra she abides by. On set for her Rolling Stone UK cover shoot two days later, Lynch is checking her photos on the monitor every few minutes, and bouncing ideas back and forth with photographer Danny Kasirye. She needs little direction to nail the shot, grinding away one second like she's on the dancefloor listening to her jam, then giving us emotion and screaming out loud the next.
Even her Bond character Nomi is a prime example of that collaborative spirit coming to fruition. "I only really learned about her when me and Cary [Fukunaga, writer-director] started talking about her, so literally we created her together. I had an idea, he had an idea and then Phoebe [Waller-Bridge, writer] had her ideas. And as the script was being written, we kind of created this big melting pot of who she could be, what she represents in MI6, what kind of Black woman is she?" There's a real fondness between actor and character there, it's hard for her to not beam as she lists off her qualities: "Strong, whip-sharp, witty and brave, playful, very cheeky, very sarcastic and dry."
Beyond her immediate demeanour, however, Lynch was also very intentional in bringing a real-life complexity to Nomi in the form of addressing her mental health, specifically the anxiety that one might experience in the line of work she's in: "I think throughout cinema, it's really imperative that we introduce the conversation of the Strong Black Woman into everything."
She continues, "Every seat at the table you get, you must remind people that the strength of Black women sometimes comes from trauma. Sometimes comes from ancestral, spiritual trauma that we don't even know about, or it comes from fear, or it comes from anxiety, it comes from society throwing this film over us that we did not ask for and that we have to deal with in our everyday encounters."
When working on the script with Waller-Bridge – brought in by Craig to retain some of its distinct Britishness – Lynch specifically wanted to interrogate some of those tensions in Nomi. "I wanted to really think about the micro aggressions that Black women have to handle in these spaces and how that can manifest as anxiety. That's what made the most sense to me. Because I don't want our young Black girls to think that these superheroes are out here just being slick, because they're not. She goes home, she's got her washing to do, she lives on her own and she's lonely.
"She's taken up this responsibility which is very awkward, very uncomfortable and it's a lot! It's a lot, what these people do… She's literally risking her life every day."
And aside from the life-threatening aspect, there's a sense that when Lynch is unpacking these nuances of her character, she's also aware of how transferable they might be to someone in a position such as hers – with high visibility and influence but that's also vulnerable in a different way, to the unforgiving dissection and critique of others. In the wake of rumours that broke last year from an unknown source, claiming that Lashana Lynch's character would be taking on James Bond's code name '007' since his retirement from MI6, Lynch was met with a barrage of discourse around what the monumental move might mean for the franchise, if true.
Alongside the unbridled joy of many at the symbolism of a possible first-ever Black and female 007, were a small but mighty contingent of people outraged by the prospect and committed to having their protests heard. To this day, if you end up on the wrong end of a comments thread under a video relating to the franchise, you'll find those announcing their unsolicited opinions on the never-confirmed topic.
Lynch has been consistent in her refusal to confirm or deny throughout the whole promo run: "I'm just really good at keeping secrets. I think I was just raised that way, that what happens in-house stays in-house," she laughs. But the truth of the claims aside, it's gutting to be reminded that even in the alternative fictional realities that we escape to in order to suspend belief and immerse ourselves in fantasy and thrills, some still choose to transfer and enforce the oppressive structures of real life. In worlds where spies emerge unscathed from burning buildings, where evil villains have fluffy white emotional support cats, where wheelchairs launch rockets and alligators transform into submarines, boundaries of gender and race are rigid and codified.
Was the backlash at all surprising? "This whole career is a journey that no one can really teach you about or prepare you for," Lynch declares resolutely. "And I literally just take everything as it comes in the moment because I think that's healthy. But it's a process and I think it's really important for young people on social media to understand that we're living in a world where everyone feels like they're number one, like they're the most important in the room, that their opinion is the most valid.
"For me, years ago, social media was everything… and then when that came, I had to re-evaluate what I add meaning to in my life. The most meaningful things in my life are me as my authentic self, my friends and family and nature… the things in front of me. Once I went through that process, I started reminding myself that everyone is living their truth in a different way, whether they've done the work or not." She shrugs gently. "It was a real life lesson in not adding meaning to things, because once you do that, you become less offended and more like water, you become open to the things that make you feel good."
As she speaks, that aforementioned zen factor skyrockets through to a new and formidable level. And if you've encountered Lashana Lynch on the one social media account she still entertains, her Instagram, you'll see a feed that is testament to that philosophy of protected peace: filled with pictures of friends, books and nature, videos of her sageing her house and lengthy empowering captions.
For a few minutes, we gush about how important it is now more than ever to implement those boundaries in the age of digital access-all-areas and uplift those around us. But as Black women, it can be an odyssey to reach a place of such steady strength and peace with those who try to limit or diminish your power, often. Lynch reckons her sturdiness stems from her upbringing. "I come from a family of very forward women, they don't hold back. Their opinion is always… palpable," she says, laughing and enunciating that last word with a slight but deliberate Jamaican lilt.
"The women I'm surrounded with [in family and friends] remind me daily that if you're not being treated with the utmost respect, then they're completely disrespecting you. So, if you're seeking validation from people who aren't respecting you as a Black woman – as the originator, the cultivator, the 'strong' one – then why are you in the room?" She goes on to break down that at that point, we decide if we want to remove ourselves completely or make it a teachable moment, both equally valid responses. "And sometimes the peaceful way of teaching someone is to just let them learn from you. So that's what I'm doing with a lot of older white men at the moment. Just watch what I, and people like me, are doing and then maybe you'll be less confused and not have to ask so many questions. Maybe you'll do the right thing."
Either way, Lynch doesn't make her choices for those people, and mostly dubs their issues with her thriving as categorically "not my business". Instead, her focus is on the people she can inspire and represent through the characters she embodies. "I'm very happy to represent what I do, I'm very proud of where I come from. But I don't want to be the one and only, I want to be an example. So that when everyone else, my peers, my friends who are doing their thing, people who are graduating now and thinking about getting into the industry, I'm just going to be one of them. Instead of 'the one'. Because that doesn't make any sense to me," she laughs. "If I'm 'the one' then there's something very wrong."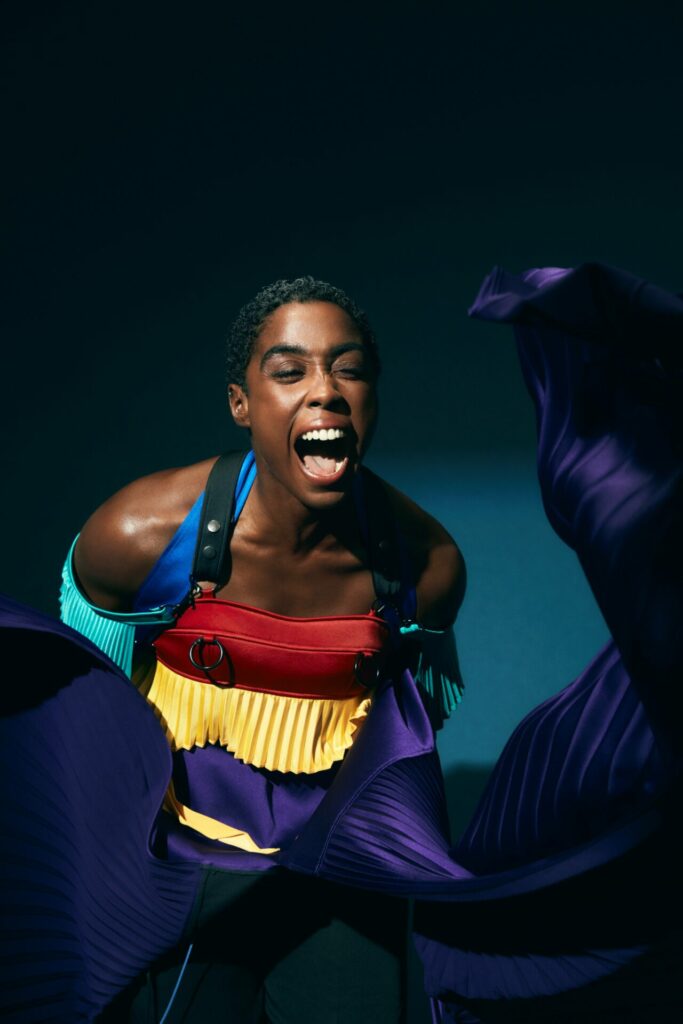 And that doesn't just apply to those on screen, or even just those in film: "Every time I pass a little Black girl on the street or come across a young Black teenager or woman online, I just want to hold their shoulders and say, 'Trust me, we're in the same boat'." At this, Lynch's voice shakes a little. "Mine just looks a bit different to yours. Yours could look like healthcare work or writing or being a plant mum! All of it is the same thing, it's just different slices of the same cake. We're important – man, we're so important."
Although she isn't the spokesperson for a Universal Black Experience, the capacity to make change with her career is not something that Lynch takes for granted by any means. She recognises the opportunity to be not just a familiar face on our screens, but also a crucial voice and presence in the industry as a whole, especially as that pertains to moving representation forward and deepening the humanity of the Black characters we see in film. "The first thing I said when I left drama school was, 'I will not ever be typecast.' That's one thing I wasn't going to accept, even if I was out on the street and had no money," she says.
From the 'rude girl' to the Black best friend character who has no opinions or moments of her own outside of supporting the – usually white – main character, Lynch set out with the intention to never be someone else's stereotype. "And if there was going to be something that was 'typical' to me, there had to be a spin that made sense as to why I'm in this space," Lynch exclaims. "Every time an audition came up that was typecast-y, I just said no. I learned my no's really early on. They weren't always consistent, but my gut is loud as hell, it's like there's a person in my gut pulling right now, saying, 'If you choose this, you're going to regret it. So don't do it.'"
With an inspiring and growing list of roles that continues to defy expectations, it's comforting to imagine that same intuition that predicted her standout future, is now aiding her navigation to the top. Lynch declares affirmatively as we sign off that she's glad she stuck to her word: "Looking back and looking forward, I can feel confident that I can tell my children that my legacy will speak for itself because of the choices that I've made."