Charli XCX: It's Complicated
Our digital cover star's new and biggest album yet is a self-fulfilling prophecy: write a personal body of work called Crash about heartbreak, sex, upset and self-destructive tendencies and live through it
By Hannah Ewens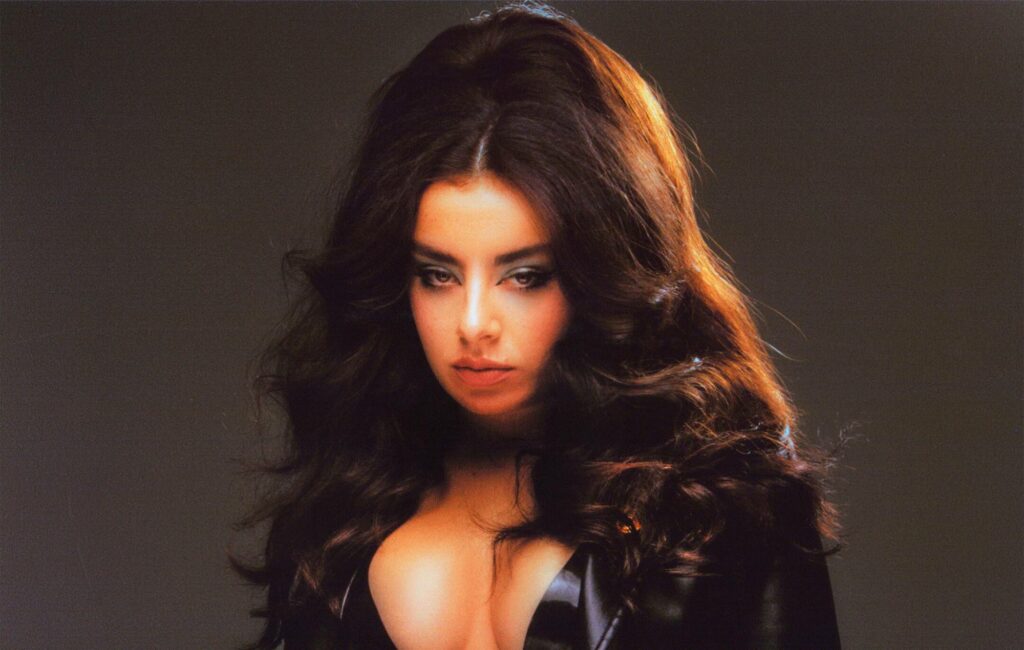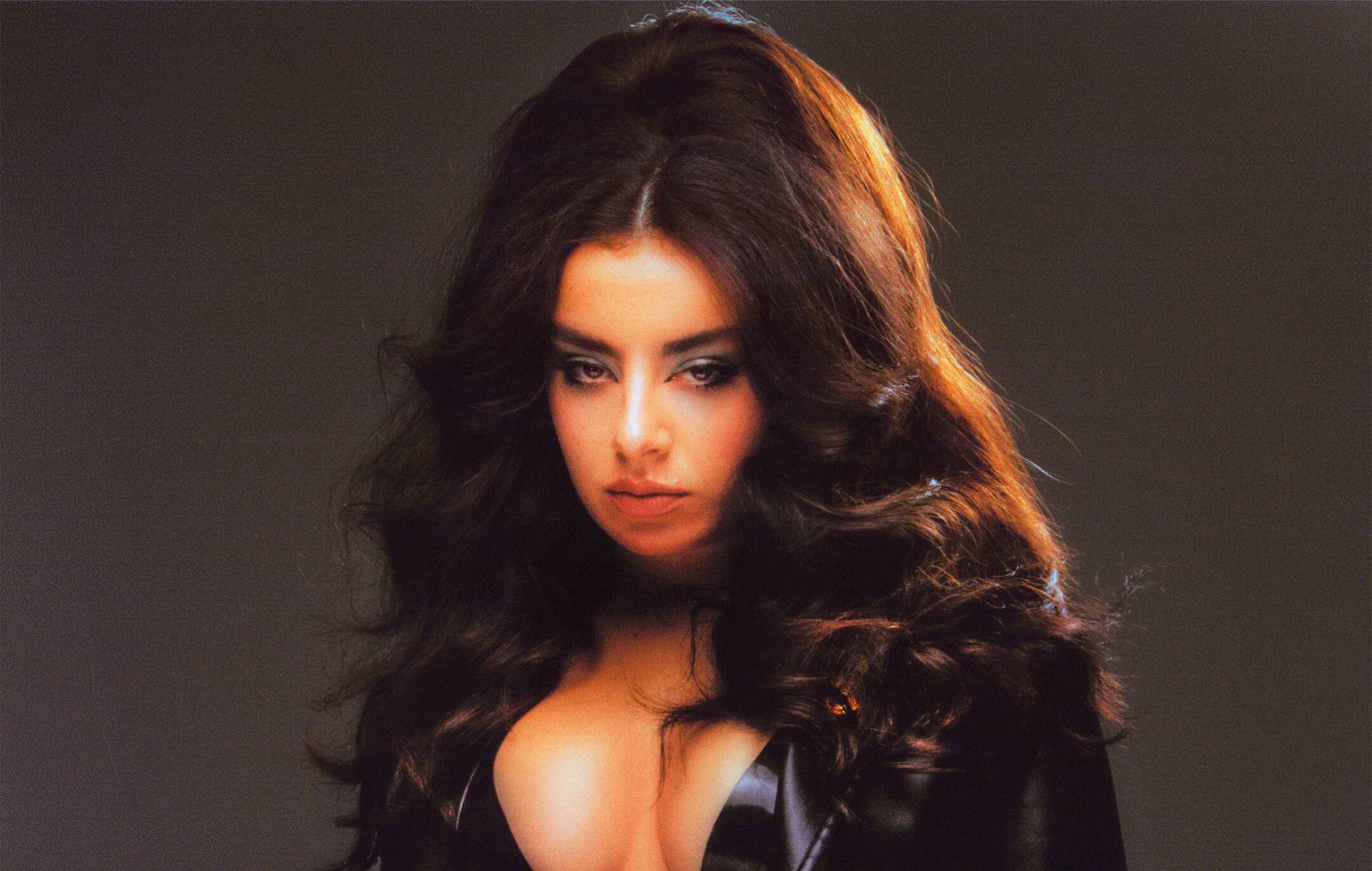 Charli XCX warns that her self-destruction is imminent and we're invited to witness it. "I'm about to crash, come watch me, baby," she sings on the opening track to her new album Crash. Everything that follows feels like the detritus of a single explosion outwards: heightened emotions, sexual desire, agonising heartbreak and endings. It's a violent juxtaposition to her previous album, how i'm feeling now, which was insular and domestic, written during and about the pandemic experience, when all we could do was slowly collapse in on ourselves.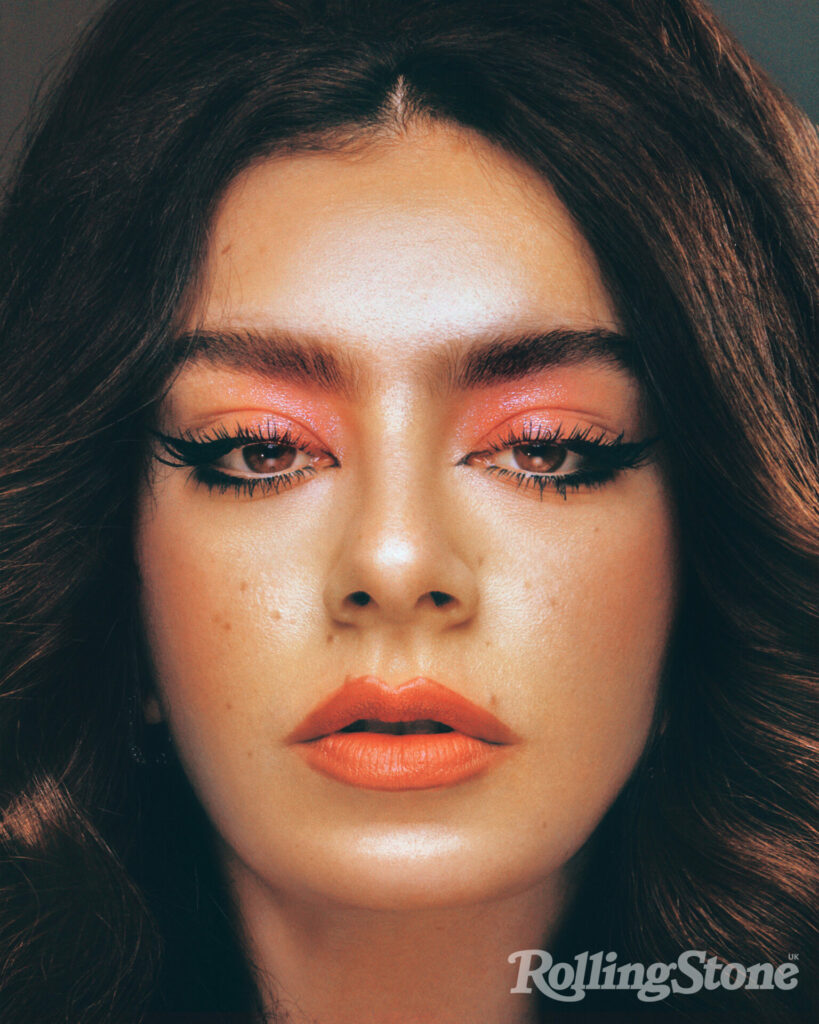 Charli – whose real name is Charlotte Emma Aitchison – considers this straightforward interpretation of Crash and decides she likes it. It reflects her current state of mind: "I almost just feel like this album title is becoming a self-fulfilling prophecy. I feel very explosive right now. I feel very on the edge, sometimes in a good way, sometimes in a bad way," Aitchison continues, her voice wavering. "I feel good when I'm rehearsing for tour, when I'm moving my body. I feel safe and at home there. Basically any time I'm not doing that I feel… like a time bomb, I suppose. I don't really know what I'm saying, sorry…"
You wouldn't have been able to tell she was feeling turbulent had you met her in north-east London the previous week. Charli XCX arrives at our photoshoot as every transatlantic popstar should: with an indefinable air of importance and like a blank canvas ready to be transformed (sporting a cap, bleached eyebrows over sunglasses and a puffa coat that could sleep two arctic explorers). The self-professed workaholic was professional and polite. In latex pants and skin-tight leotards, she moved through her poses and angles for hours with precision and energy. Once the Rolling Stone UK mic was in hand, she said, with deadpan humour: "Being a pop icon is very turbulent. The highs are high and the lows are low and the iconicness has to stay at such a high level that sometimes you can really get exhausted just from being so, so iconic."
Fifty minutes after the shoot wrapped, she posted on Twitter that she was leaving the app and would likely draft tweets and allow her team to post them instead. "I've been grappling quite a lot with my mental health the past few months and obviously it makes negativity and criticism harder to handle when I come across it," she wrote, attributing this criticism to song-release choices, the campaign roll-out and what was necessary to fund "the greatest tour" she's ever planned.
What she had to do was agree to play at an NFT festival called Afterparty. Fans gave her a "lot of flack" for that decision but, as she later explains over a video call with the camera off, it doesn't matter anymore. "I pulled out of the festival. That was my decision that I made and I didn't feel the need to announce it or let them know or whatever – but I did pull out."
"I almost just feel like this album title is becoming a self-fulfilling prophecy. I feel very explosive right now. I feel very on the edge, sometimes in a good way, sometimes in a bad way"
A minority of fans have been vocally critical of the heavily interpolated 'Beg for You' featuring Rina Sawayama. "I've been feeling quite low throughout 2022, to be honest. I feel like my mental health has really taken a toll," Aitchison says, becoming tearful. "I've never cared if you like my music or hate my music – don't listen to it if you don't like it – but I think at a time when I was already feeling quite low, that kind of rhetoric honestly just really hurt my feelings. There is this misconception that people in the public eye are able to take any shit that you throw at them and yes, we do have to learn how to handle negativity and criticism because it comes with the territory, but at the same time, everyone's a fucking human being. I guess on that day that I messaged that I felt more human than ever."
As an extremely online artist, she understands that this is the nature of self-promoting yourself and your work on social media. "The second you see something negative written about yourself, I feel like it's like survival of the fittest to focus in on that and try to protect yourself from the threat, the negative potential danger, in a really animalistic type of way." On a macro level, someone like Charli XCX doesn't care what the average person has to say. With a steely air, she adds: "Honestly, you can either get on my level and enjoy the fucking party or you can just not be invited because I don't really care, do you know what I mean?" She laughs ruefully because posting her statement on Twitter meant a question about it in an interview and though she didn't want to dwell on answering it for long, she has inadvertently drawn more attention to the scenario. "Obviously, never address anything publicly, that's the vibe that I learnt from that."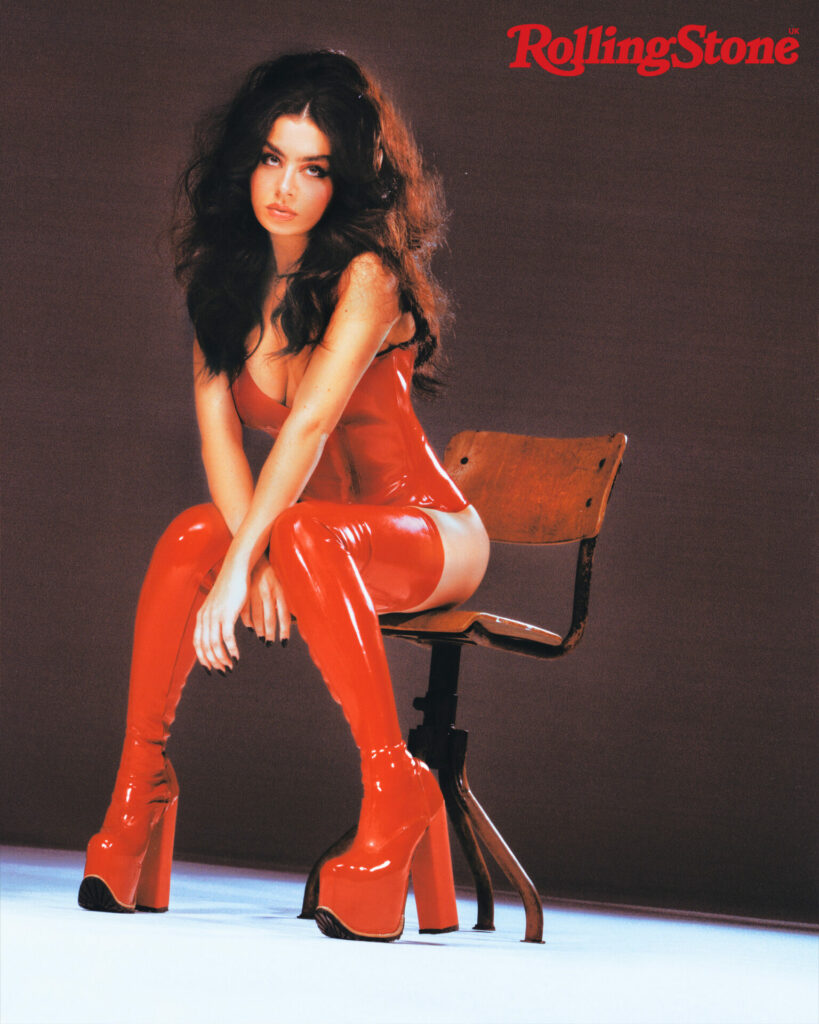 Her fans are precious to her, despite their caustic and fiery way of operating: they helped her create her intimate and diaristic piece of pandemic art, how i'm feeling now, making choices about visuals, songs and roll out. "I really respect my fandom and I'm really grateful that I have them. I don't think they'd be good Charli XCX fans unless they were a bit opinionated, so I'm happy that they have opinions and they've got some sort of spice and sass to them, I suppose."
It's not obligatory fan service for her to highlight positive sentiment towards them in our interview. The person behind the Charli XCX fan account, Charli XCX Updates, will always remember the day they got a direct message from the star about creating her pandemic album before the knowledge was public. Since then, the pair have continued to chat. "The kind of advice she has for me has been both personal and professional," they share. "Every time I want to know her point of view on certain things, she has taken the time to respond to my messages." It's this unique relationship Aitchison cultivated with fans – a give and take – that helped to make that album one of the artistic successes of the pandemic, but in turn made her more accessible, vulnerable and accountable to their whims and opinions.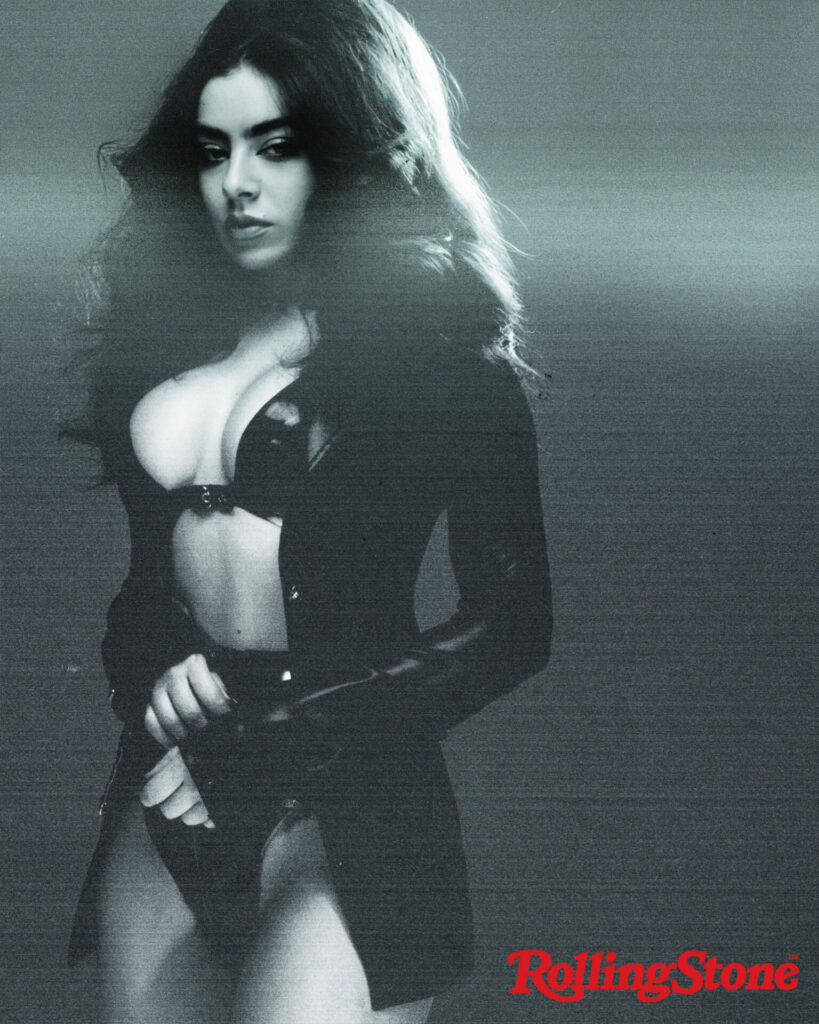 Despite those same fans upsetting her on Twitter days later (presumably via her team but perhaps, like all of us, she returns to social media quietly after announcing self-imposed breaks), she tweets a picture of new merch: a Charli XCX anal douche, an in-joke with the fandom about the gay fan who asked her to sign his douche at a meet-and-greet. No other pop star ally at her fame level would have the sense of humour to entertain a gay fanbase in this way. As the internet parlance goes, Aitchison understood the assignment. She hasn't disappointed yet; even when pop aficionados think she has, they're usually five steps (or five years) behind her vision.
"I enjoy that early-2000s era of celebrity where Paris Hilton and Lindsay Lohan are just being iconic and being these otherworldly figures. It's the same with musicians, to be honest. I want my favourite musicians to shock and surprise me and annoy me and completely flip my brain"
The vision has always been complex. In her early days, Aitchison was torn between being an experimental pop artist and an uncomplicated hitmaker: 'I Love It' and 'Boom Clap' were inescapable and her vocals on 'Fancy' made her distinctive voice recognisable to the average pop listener. Conversely, her first album toyed with witch house sonics and she was an early fan of London-based underground label, PC Music, who were called "the future of pop". Its mastermind A.G. Cook became her creative director and she collaborated with their associates. The now cult classic Vroom Vroom EP made with SOPHIE met mixed reviews in 2015: by this point, the music was considered too experimental, edgy without a cause. Fans loved it to the degree that it's normal for queer publications to refer to her as the "'Vroom Vroom' singer".
Her self-titled album in 2019 was a statement of intent to bring avant-pop to a grander, more mainstream stage by featuring collaborations with Lizzo, Christine and the Queens and Troye Sivan. After spending the first decade of her career being as clever and subversive as she wanted, she impressed the world with 2020's how i'm feeling now. Following that with her best and most accessible album yet leaves her at a significant moment in her career.
A strong narrative around Charli XCX has been that she's too forward-thinking to win, something of an underdog. The fact that hyperpop crystallised as a genre during the pandemic is partly why the world finally caught up to her. She's considered the figurehead of this sound of the 2020s. "I think hyper-pop becoming this word that people can umbrella a lot of artists under is definitely a familiarisation of a certain type of sound, which before was seen as quite uncontainable," Aitchison explains. "You couldn't put these artists on a playlist because they didn't really sound like anything and now with that genre title, it makes certain sounds and artists easier to digest for people who maybe weren't accessing that kind of sound on their own without the guidance of a Spotify playlist. I think that makes certain things about my project a bit easier to understand."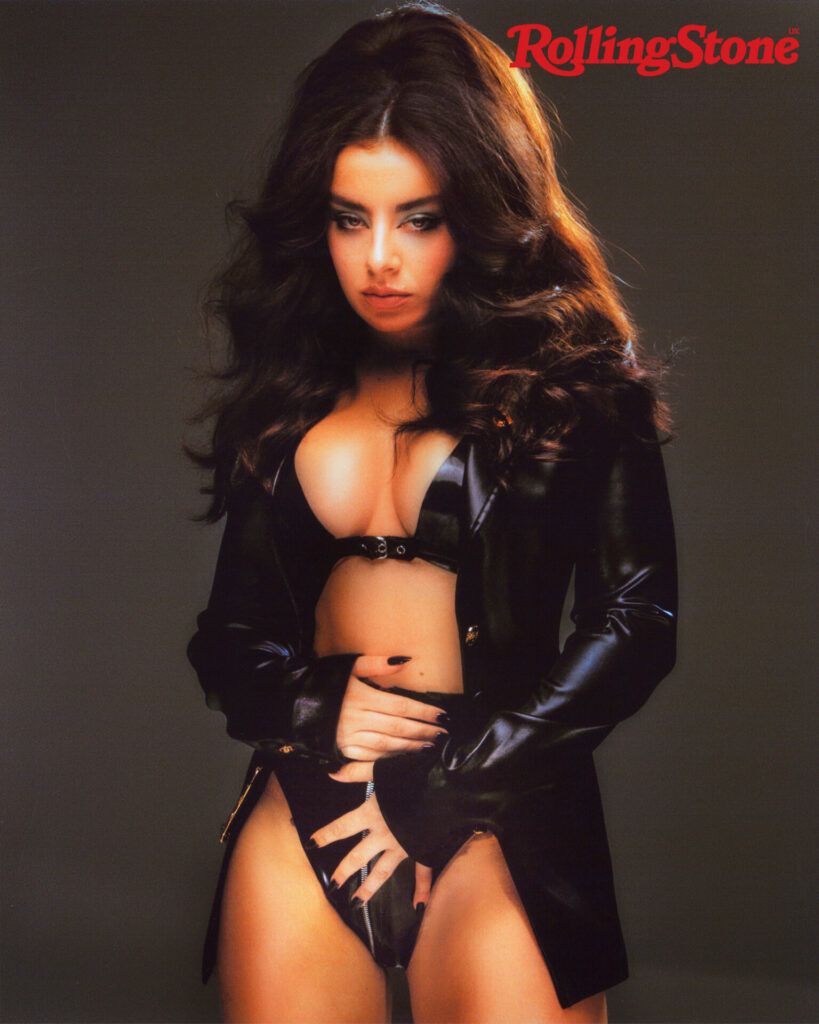 The messaging of that project alienated a proportion of potential listeners, too. Her lyrics are about partying until oblivion and loving and hating yourself in violent doses; medicating your stress with hedonism. It has, at times, elevated the superficial and sybaritic to an art form, which is why it's beloved by so many. She made music for people who liked to have a nihilistic laugh, who embraced working hard and playing harder during the grind of late-capitalism. If you can't beat them, join them and be the best, says Charli XCX (a Leo, if astrology means anything to you). In other words, it's just not that deep.
Her persona, like her sense of humour, is at turns flat, sexy and dissociative. But her uneasy lyrics draw red circles around her own flaws: she is frequently hardest on herself. In an age of empowerment feminism, this brash self-adoration and self-loathing wasn't easily digestible. She was too dominant, multi-faceted and flippant to be your typical British female mainstream pop star or to be universally loved by the masses. At a moment in which "dissociative feminism" is being discussed as a trend on the internet, celebrity is having a deranged avant-garde moment with artful staged paparazzi shoots, performative love and unhinged interviews, and shitposting online is the norm, it would seem that the culture is in step with Charli XCX.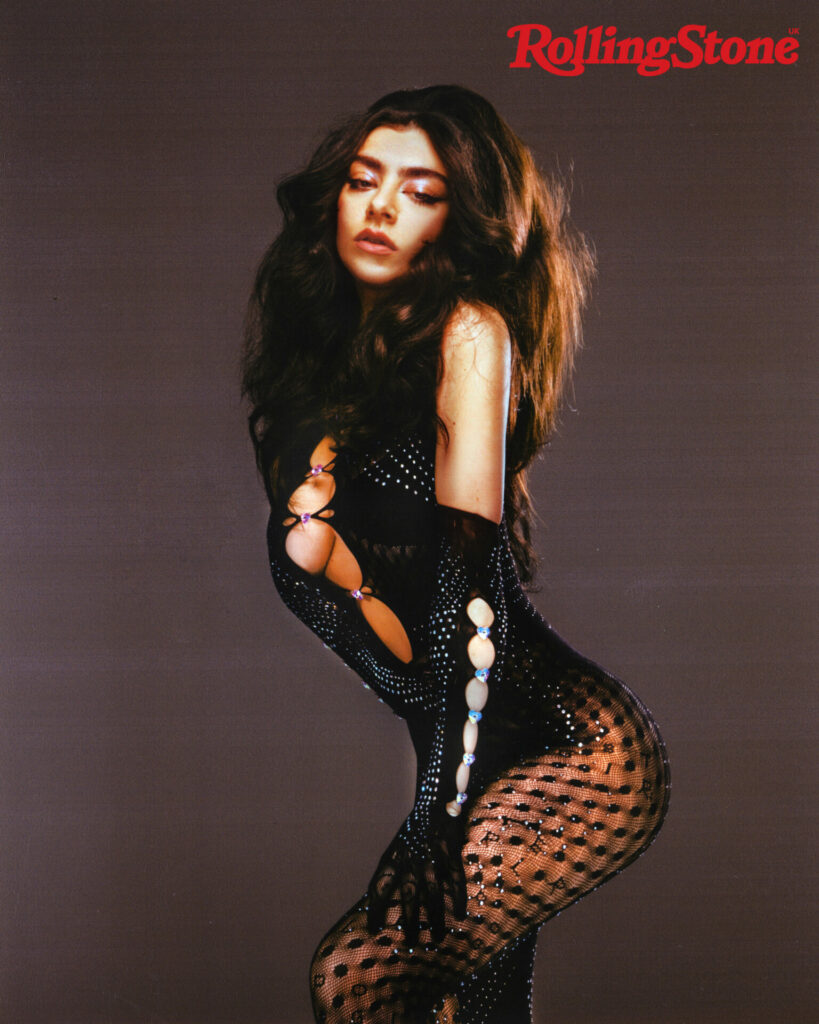 Aitchison herself is against the idea that celebrities should be accessible and "real", the mode of celebrity culture in the 2010s, crucially in full force while she was navigating the bulk of her pop career. "I enjoy that early-2000s era of celebrity where Paris Hilton and Lindsay Lohan are just being iconic and being these otherworldly figures," she says. "It's the same with musicians, to be honest. I want my favourite musicians to shock and surprise me and annoy me and completely flip my brain. I don't want to feel safe with the work that they provide me. I want to be constantly kept on my toes and not be able to see what's coming next from them." For her, that's Kanye West, Yung Lean, Tommy Cash and her collaborator Caroline Polachek. "I think that's what makes a great public figure, celebrity, artist, musician, performer, whatever: to not be able to predict what happens next. That's the fun of celebrity, I suppose."
"It's hard for me to not sit on this call with you and destroy everything I've built because I'm feeling really reckless. It's actually really a challenge in self-control, press, at the moment"
For Aitchison to enjoy her new album, she had to surprise herself. The insular, fast-paced construction of how i'm feeling now informed its follow-up: "I knew I had to turn it up to high-octane, ten, pop-star level for it to feel fresh for myself." Crash should have existed first: 'New Shapes', 'Good Ones', 'Every Rule' and 'Twice' were written, at least in part, before the previous album began but the pandemic halted it. She knew she wanted to put her own money into this big, impressive pop album and not being able to travel to collaborate with pop producers or put on her biggest tour yet made the entire venture redundant.
By September or October 2020, a few months after how i'm feeling now was finished and released, Crash became her focus. "This album was originally going to be called Sorry If I Hurt You and I liked that title because that sentence is both past, present and future," she says. "You can say that sentence to someone as if you hurt them in the past or as if you're going to hurt them or if you're about to do it right there and then."
Of all tenses, the album is most indebted to the past. While making it, she listened to Control by Janet Jackson and songs by Cameo (though generally doesn't consume music while in creation mode because it is a distraction). Inspiration for her retro bombshell look came from watching live performance videos of Madonna, 80s interior design and movies like Faster, Pussycat! Kill! Kill!. You can see the research in the campiness of her humping her own gravestone in the video for 'Good Ones' or the bouffant hair with deadness between the eyes on the single covers: the visuals are equally indebted to sexploitation films, Elvira and Pat Benatar.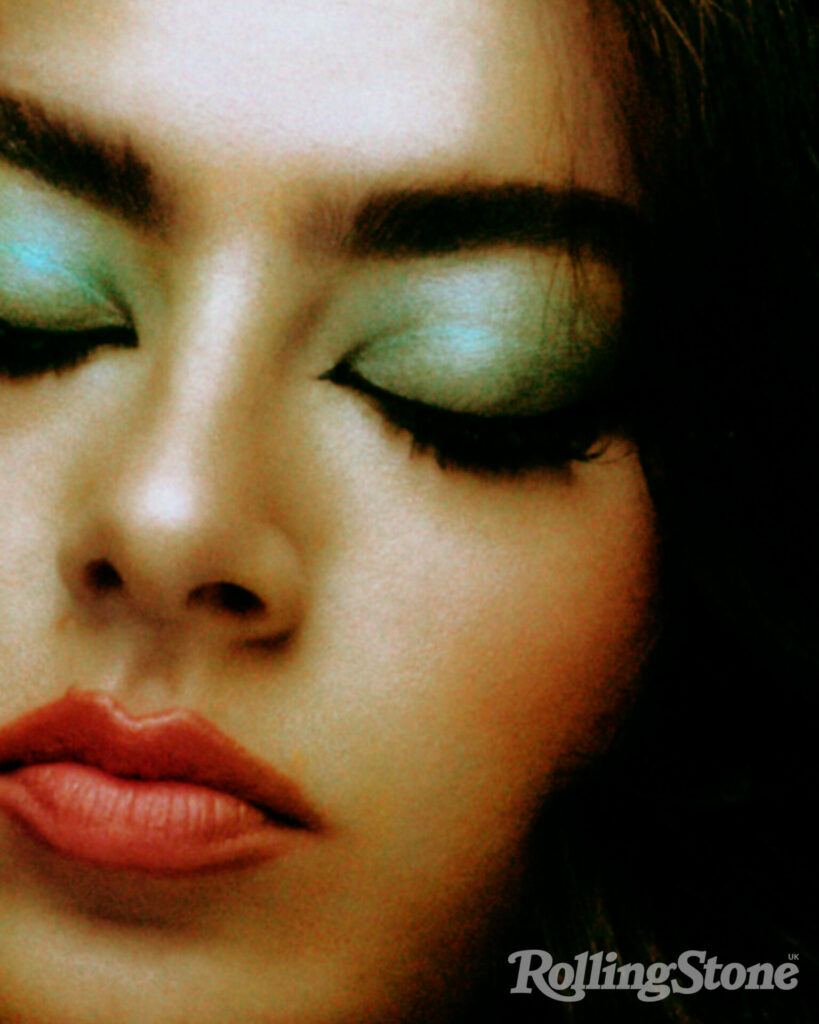 Lyrically and sonically, Crash conjures up the monumental drama of 80s music: sweeping landscapes, thunderous skies, bold colours and the expanse of a dancefloor half-empty and ready to be met with your misery. This mood is obviously felt in the interpolation tracks, like 'Beg for You', which uses September's 2006 hit 'Cry for You', a song which in turn mimicked 80s classic, 'Smalltown Boy' by Bronski Beat. "It's become a trend within pop music these days to be very referential of previous hits, which is cool if you're into nostalgia, less cool if you're into pure futurism. I feel like there's a cool middle ground that can be met, which is hopefully what I'm doing," Aitchison says. It's also there in the way the 80s references are heightened by her own overwhelming and staggering emotions. Far from adopting the classic tactic of front-loading an album with hits, Crash builds to feature the best run of Charli songs yet, climaxing with stories about lust, love and heartbreak.
Her new single 'Baby' is "a sex anthem, basically". The deceptively smart 'Baby' knows that with pleasure comes pain: it starts as a promise of lasting carnal satisfaction over a funky, sexy synth track and, with gleeful delight, turns into a vow to break your heart and shred your heart into tiny pieces ("I'mma fuck you up / I'mma fuck you up / I'mma fuck you up / I'mma fuck you up – wooo!"). "I was feeling myself that day in the studio and that song just makes me feel so sexy and confident and was an important song for the foundation of this album," she recalls. "I made it with Justin Raisen, a big contributor to my first album True Romance, so that was a cyclical thing of going back to work with him."
The following track 'Lightning' is a standout dancefloor filler that harnesses the euphoric misery of Robyn's best known hits. "Heartbreak already hit me once, they say that it won't happen twice," she prays, shortly before being struck down. For this track, she returned to another True Romance collaborator, Ariel Rechtshaid. 'Lightning' is followed by 'Every Rule', an oral history of a relationship over an instrumental that could've come straight from Twin Peaks. It's a song about her long-term relationship that recently ended, made with A.G. Cook and Oneohtrix Point Never "a long time" prior to how i'm feeling now. "It's funny when you talk about explosions, this really genuine and beautiful love story on this album is also quite traumatic to listen back to, because this is a relationship from my past that no longer exists. Even the story within how we met is quite explosive, I suppose. I really love this song because I'm just saying exactly what happened and it feels very truthful."
Other songs deal in relatable ideas like men giving you the ick – doing something that suddenly and irreversibly turns you off – and not knowing whether you've blown up a long-term relationship for the right reasons or you've self-sabotaged again.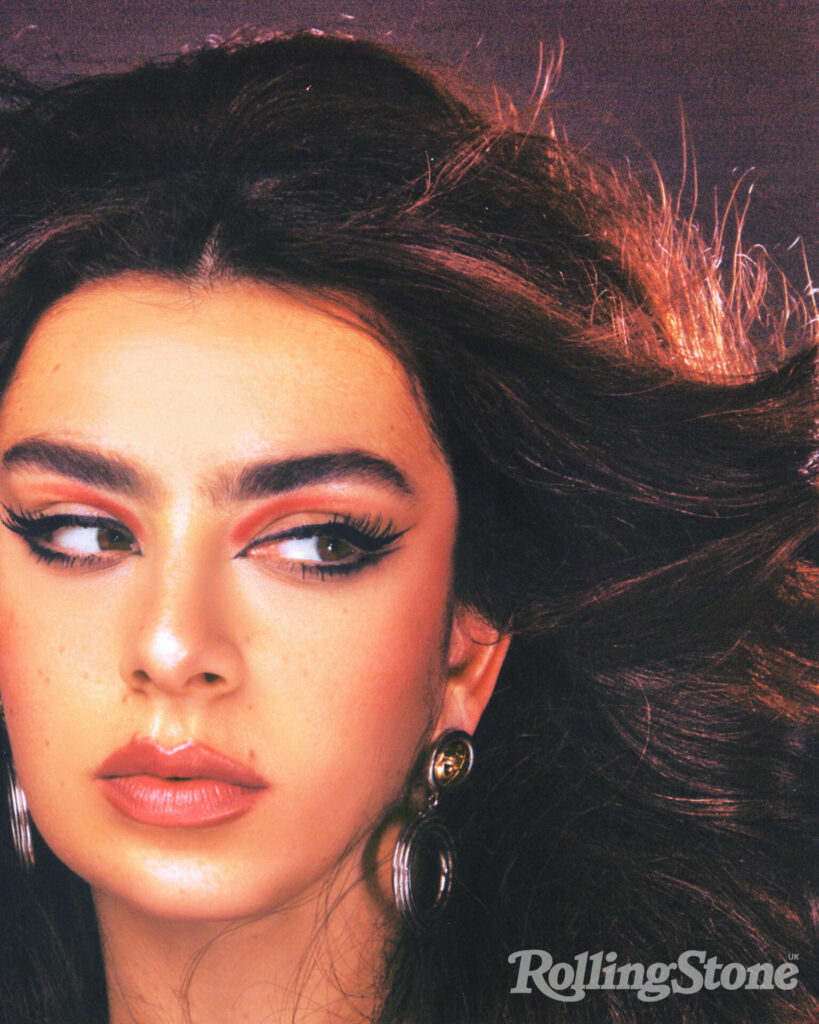 Initially, messaging around the album indicated that it was about the destruction of the pop star in a manipulative and damning major label system. Charli XCX was using the spoils of her fifth and final record in her major label deal she signed with Atlantic to make a statement about autonomy and artistic freedom. With its album cover of the singer, bloodied and on the windscreen of a car in a bikini, Crash is an obvious reference to the J.G. Ballard novel of the same name. The book follows former car-crash victims who seek sexual thrills from recreating the experience of crashes. In the Guardian, Zadie Smith wrote of the British postmodernist classic, "Crash is an existential book about how everybody uses everything. How everything uses everybody."
"I'd never actually made a major label album in the way that it's actually done," Aitchison explains of Crash. "It felt interesting to me to use moments of that process to make this final album as somebody who has really navigated the major label record system since I was 16 in completely on my own terms." It's been a challenge for her. Between pitching to streaming platforms, making sure visuals align, waiting for answers to her questions and for drop dates, she has found it painfully slow: "I'm learning about patience and taking things a little bit slower, which is probably why I have so much time to look at the internet now. There's a lot more promo and talking about yourself which one would think I'd be good at by now but I actually hate it."
Her old cover interviews on previous album campaigns involved meeting a journalist on a night out or going to a spa to drink champagne with them. We are on a 30-minute call. Does she not like press anymore or does she perhaps worry too much about being misinterpreted? After a pause, she says, "I really enjoy press when I'm in a good mood or a good headspace. But honestly I feel like, for me, press is kind of a volatile space. I've been feeling really self-destructive lately. So it's hard for me to not sit on this call with you and destroy everything I've built because I'm feeling really reckless. It's actually really a challenge in self-control, press, at the moment."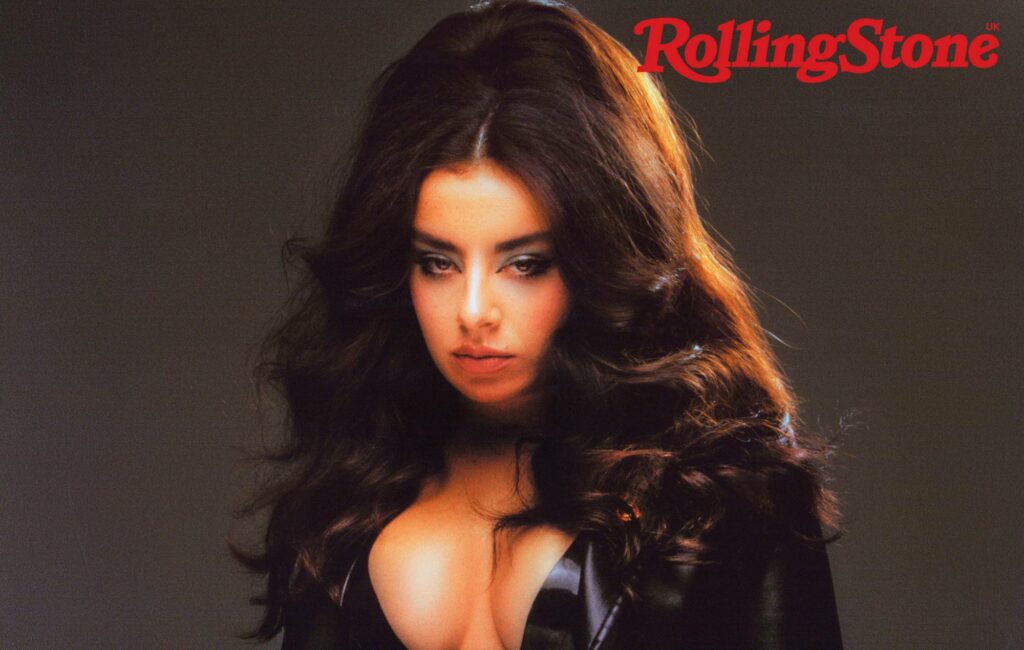 It's impossible to say how much of this is the Crash narrative and art project and how much is Aitchison's reality, which she is sharing honestly here. Ultimately, it doesn't matter – a fully formed, larger-than-life pop narrative that keeps people guessing is what Aitchison wants from her favourite artist and she's giving it to us at the height of her powers. In her 2014 Complex cover story, she told the journalist that her end game was people writing about her, to say "just… that I was an important songwriter who changed the landscape of pop music." Eight years on and she has indisputably done this.
To the mind of her collaborator Rina Sawayama, Charli XCX is currently our greatest pop innovator. On a personal level, Charli is "lovely but fearless – that definitely contributes to why she can do what she does and [why] people are drawn to her as a person and artist." Charli's trajectory and testing relationship with the industry has given Sawayama ideas about how she wants to navigate her own career: "I think for new artists you should definitely model on Charli's attitude of not feeling like you have to go down a one-track route. You can do weird, you can do pop, you can do whatever you want."
At the close of our call, Aitchison is concerned that she's been too negative or that I've read her as such and wants it on record that she is animated by Crash and what she anticipates it will do for her year. "Despite my stubbornness and quite cunty attitude, I am a really positive person and I'm really, really so fucking hyped to get on the tour and the stage and bring this shit to life," she says. This year, Alexandra Palace will host her biggest London show to date by far. "I used to play shows at Hoxton Bar and Grill with only my mum and dad there, so to think there'll be thousands and thousands of people watching me sing my songs is crazy and I'm really excited about it."
Now Charli XCX is back in the driver's seat and indignant and there's no time to breathe because she seems to have remembered in a flash what she does and more importantly who she is: "–and I really deserve it because I've fucking grinded and I work really hard and I always stay true to myself and I feel really passionate about what I've done and the things I've achieved so I can't wait to get on a stage and absolutely kill it, basically." After a significant sigh, there's a smile in her voice: it might be complicated but it's Charli, baby.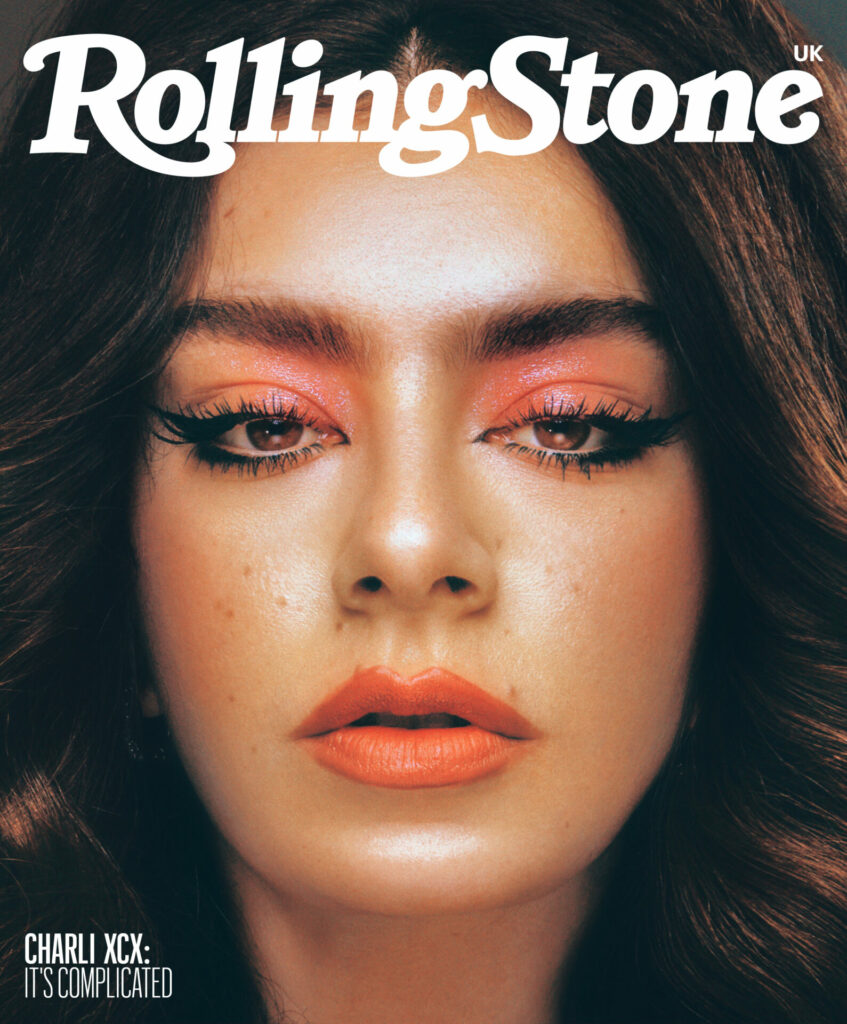 Charli XCX fronts Rolling Stone UK's digital cover. Subscribe to Rolling Stone UK in print and digital here.