Fall Out Boy on 'So Much (For) Stardust' and 20 years at the top
As they gear up to release 'So Much (for) Stardust', Fall Out Boy discuss 20 years at the top and the need to rally against nostalgia
By Ali Shutler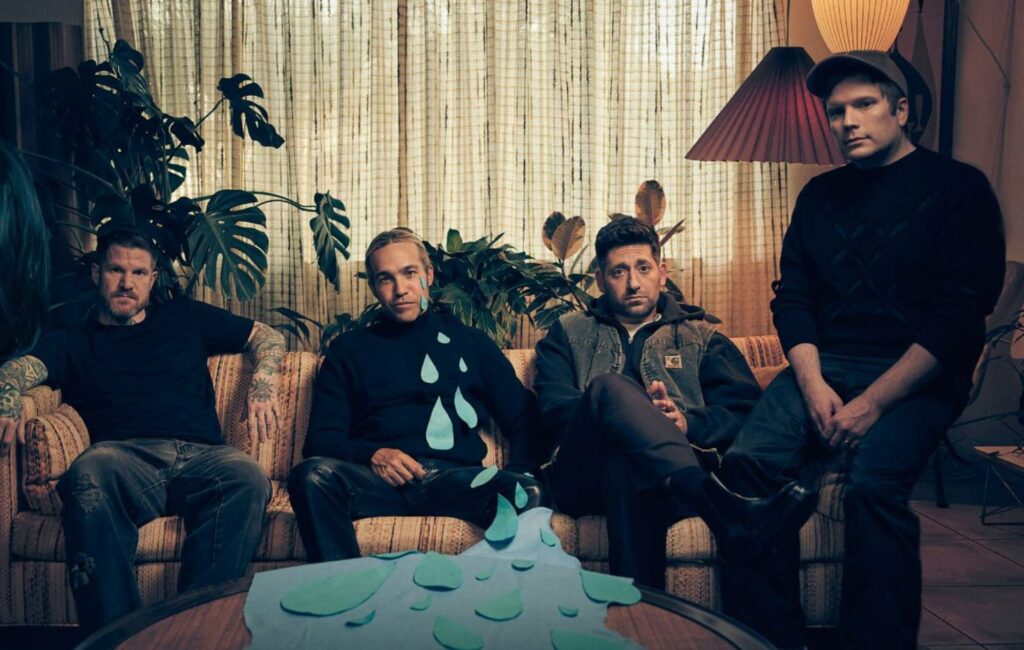 Fall Out Boy have never relied on nostalgia. For the elder emos, they're adored for '00s pop-punk bangers like 'Dance Dance' or 'Thnks Fr Th Mmrs' while a new generation of fans knows them for radio-friendly, guitar mega-anthes like 'The Phoenix' or 'Immortals'. In-between those era-defining singles though, Fall Out Boy have dabbled with everything from R&B and jazz to dance. They've also collaborated with the likes of Elton John, Burna Boy and Jay-Z. Long story short, they've never been ones to sit on their laurels.
It's a wild and oft-unpredictable trajectory, but two weeks before the release of new album So Much (For) Stardust, it seems that everyone is on side. At a recent underplay gig in the sweaty confines of London's Heaven, fresh new songs like 'Love From The Other Side' and 'Heartbreak Feels So Good' were greeted with the same reaction as the big hits. Rarely played deep cuts also inspired a chaotic, triumphant response.
20 years on from their influential debut album Take This To Your Grave, it seems like the world has finally made peace with the many different sides of Fall Out Boy.
According to bassist Pete Wentz, new album So Much (For) Stardust sees the group bring together the various eras of Fall Out Boy while speaking to Rolling Stone UK earlier this year, vocalist Patrick Stump explained how for the first time in a hot second, the band "weren't worried about outside influences or making hits." Instead, they wanted to create a spiritual follow-up to their controversial, sprawling fourth album Folie à Deux.
With the emo resurgence in full swing, Fall Out Boy had friends who told them to "just do From Under The Cork Tree again," Wentz tells Rolling Stone UK. Their contemporaries in Paramore and My Chemical Romance have both recently played their biggest ever headline shows while a new generation of artists like Machine Gun Kelly, Willow and Meet Me @ The Altar have made it big by taking heavy inspiration from that same '00s scene. "It would be money in the bank, but that's not why we make art. We actively fight the nostalgia of pandering," Wentz explains. "I don't want to make art that panders to people."
Still, Fall Out Boy aren't ashamed of where they've come from. 2003's screamo single 'Saturday' regularly closes out their headline shows and every album typically gets a look in during gigs. "We're not anti-nostalgia," says Wentz, who regularly references 80's movies. "Look at our song titles, look at our references, they're all very nostalgic. I just wouldn't want people to feel like we're just doing the same thing."
"I can't imagine saying 'see ya' to my family, to come and promote something that didn't feel exciting," he adds.
Despite every album pushing the boundaries of what Fall Out Boy could get away with, Stump says that had nothing to do with proving themselves to other people. "I used to work in a used record store that was filled with failures. I got acquainted with everybody's record after the hit record," he explains. "I've always known that opportunity walks away. Someone might not pay for an orchestra the next time, so there's an urgency to get your idea out. You might not get to do it again."
According to Stump, that urgency took on a new life during the pandemic. "It hit me really hard when [Fountain Of Wayne's] Adam Schlesinger died," he explains. "I never met him but we had a lot of friends in common and his death made the pandemic so real. It was this sudden realisation that 'Oh, we can die now'."
Stump was left wondering "''well, if I died tomorrow, what's the record I would want to leave behind?'" MANIA was not the one. "I liked that album, but I was not happy [with that being my definitive statement]," he offers. It's where the vision for So Much (For) Stardust came from.
As Wentz said in a recent press release, "Our band has been an ongoing art project for twenty years and we know there have been many inception points along that journey. We wanted to create an album that merged those points together."
Fall Out Boy are as surprised as anyone that they're still releasing albums. Not taking their success for granted is "some of the secret to longevity," claims Wentz. "When we started out, we were just these shitty punk dudes. When we're at the Grammys, we're still those shitty punk dudes."
Some things have changed though. Onstage at Heaven, Wentz may have told the crowd that the show "felt exactly like it did" back in the day but he admits that now he gets stressed worrying about the crowd drinking enough water. "It's the dad energy in me."
"I don't know if Quentin Tarantino actually has a ten-movie plan, but it's not like we ever said 'ok, we're doing three trilogies of albums'. I feel like at any time, it could be the last Fall Out Boy album," continues Pete as Stump loudly declares "Headline, this is the last Fall Out Boy album" with a grin.
"I'm not saying it to freak anyone out, I just feel like it *could* be," continues Wentz, eager for it to not be the headline. "We're only going to make albums while we're inspired. I don't think we'd make an album just for the sake of making one. If any of us didn't want to do it, we wouldn't do it." It's an attitude that's been "really helpful" in keeping things going.
"I feel like there has to be blood pumping through the veins of the songs in the album, otherwise, it's a zombie. It's a corpse," adds drummer Andy Hurley. "This record especially is my favourite record of ours because it feels so alive."
"There's also something to be said about the four of us being together on stage, where it's just a little bit different then all the other things that I've done," Wentz continues. The band have recently played a handful of shows without guitarist Joe Trohman after he took a step back to focus on his mental health and they're missing him. "When Joe's with us, there's something there, that's a little beyond what I can put into words," explains the lyricist.
Ultimately, Stump explains, it's this togetherness that has been the band's defining strength.
"We all call on completely different things and we're constantly surprising each other but the thing you find in the middle, that's Fall Out Boy," adds Stump. "I write a lot of the music but I also couldn't write this without everybody. It's an inexplicable thing."