How Fred again.. made his heartfelt music feel like a collaborative diary
After years producing behind-the-scenes for the likes of Stormzy, FKA twigs, and BTS, the musician stepped out into his own spotlight with electronic music that finds the beauty in everyday life. Rolling Stone UK meets the artist as he tours his 'Actual Life' project in North America to find out why his fans are so drawn to his 'live laugh love' music
By Lina Abascal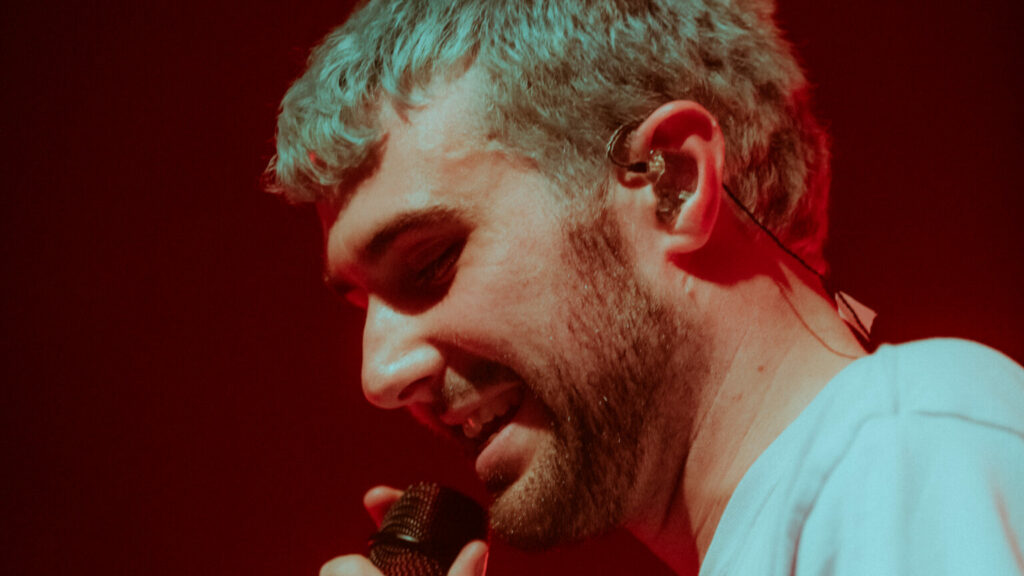 Everyone is talking about some guy named Fred. "You're going to see Fred? Again?", my friends ask. What they mean is am I really going to see Fred again.., again. The answer is yes. By the time I meet the musician face-to-face on the rooftop of a posh hotel in Santa Monica, I've seen him perform four times, with two hair colours, in the past ten days.
There's a reason I keep coming back. Fred again..'s music makes me simultaneously feel the euphoria of the first time I heard all ten minutes of Deadmau5 "Strobe", the buzz from illegally downloading Burial's Untrue, the catharsis of early Coldplay, and the storytelling from the one-and-only Postal Service album. In the time since his recent US tour was booked, the hype around Fred again.. has exploded; it already feels like the last chance to see him perform in the intimate settings his music thrives in (turns out this hunch was correct – a week after our interview, he announced a North American autumn tour with sized-up theatre venues).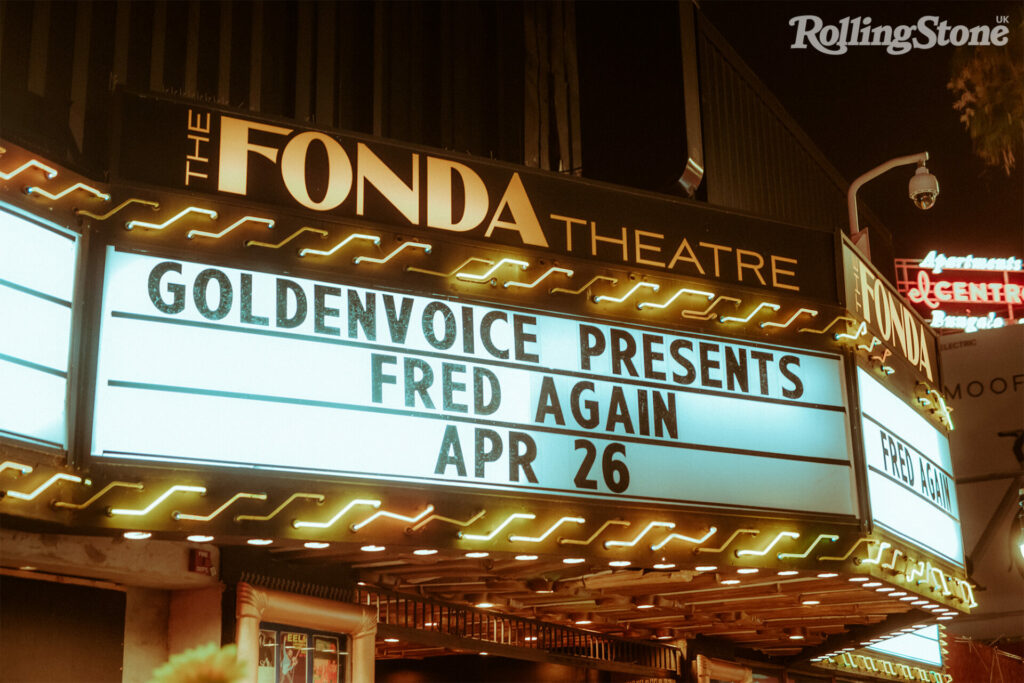 Clearly, I'm not the only one captivated. I see plenty of the same faces in the crowd at Coachella weekend one, dancing at a Coachella after party, in a secret music video shoot at a Los Angeles club, and at a sold-out live show in Hollywood. Sitting across from me the morning after the Hollywood show, Fred is just as smiley and open as he is on stage, drinking a coffee and sneaking in puffs of a hand-rolled cigarette (smoking is strictly prohibited on these hotel grounds). It turns out Fred isn't staying here, and is just as impressed by the digs as I am. Before getting too comfortable, he takes a lap around the rooftop, taking photo and video of the ocean view and I see the inquisitive, grateful energy he brings to his production and songwriting in real time. While a lot of dance music provides listeners with an escape, Fred again.. asks his fans to use his music to reflect. "I hope they feel like they can create their own story and narrative from it, and let go and feel free," he says.
"When I was doing tunes when I was younger, it was always kind of anonymous and faceless. But it was obvious when I started doing this that I wanted it to be the exact opposite of that. I crave the intimacy and the humanity of it"

— Fred again..
Even if you don't know Fred again..'s name, you probably know his work. He's the south London-born, 28-year-old Fred Gibson who won Producer of the Year at the 2020 Brit Awards. He's the producer, songwriter, and composer who's as adept at producing chart-busting tunes by Ed Sheeran, Stormzy, BTS, Halsey, and Rita Ora, as he is with experimental pop auteurs like FKA twigs and up-and-coming dance music producers like India Jordan.
Gibson is a lifelong musician. He began learning instruments as a child and playing in orchestras. At 16, a neighbour connected him with a musician who was running an a cappella group out of his studio – a musician who happened to be the legendary producer Brian Eno. Gibson's classical expertise led to him taking on an unofficial assistant role on top of singing in the group, tidying up music sheets and reorganising songs. Eno took the young musician under his wing, mentoring him and acting as his "musical dad" ever since. While organising his music studio a few years ago, Eno put his iTunes on shuffle and was reminded of old songs Gibson had made, leading him to email the younger musician and tell him it was time to focus on his own music again. "It was total synergy of timing," Gibson says. The email was just the nudge he needed.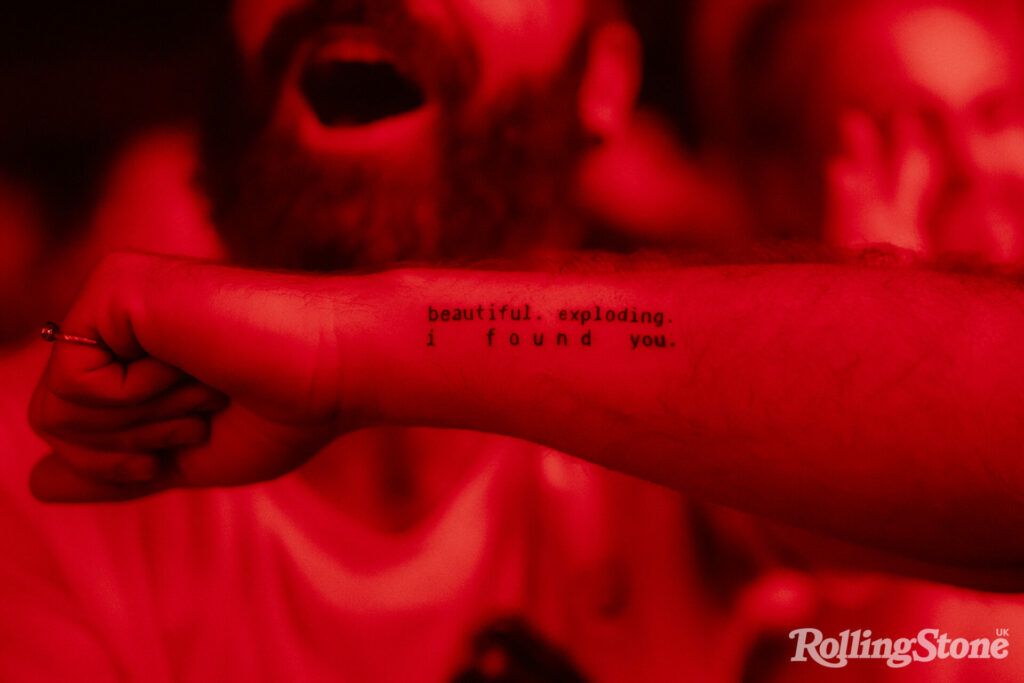 Gibson has never put his name and face to a project before Fred again.., and it hasn't come easily. As a teenager and in his early 20s, he had several projects with friends, all of which fizzled out. By 2015, he began producing and songwriting for others, and was collaborating with the UK's top pop and hip-hop artists. But even as his profile as a producer grew, with songs he'd had a hand in hitting the charts and winning awards, fans hadn't put a name to the face. Now, as Fred again.. he performs under his name, uses selfies as album art, and sings lyrics about his own experiences. Though he has struggled with this visibility as a solo artist, he acknowledges that the vulnerability behind Fred again.. is the crux of the project. "When I was doing tunes when I was younger, it was always kind of anonymous and faceless," he says. "But it was obvious when I started doing this that I wanted it to be the exact opposite of that. I crave the intimacy and the humanity of it."
"You go down a very needless rabbit hole if you attach your own experience to the songs and insist that is the only way [to interpret them]"

— Fred again..
Even so, Gibson never felt like he was the life of the party. "I was always the guy on the night out who just wanted to document it," he says. Until recently, the videos he would make were private, kept on his camera roll for laughs when he was hungover the morning after; he didn't even have Instagram until he started releasing music as Fred again.. Now, though, he crafts chantable choruses and sombre bridges from the sounds that he captures. The first two records he put out were part of a series called Actual Life, where he built songs out of samples collected from his everyday life and online findings: viral social media posts, slam poetry performances, even an enthusiastic construction worker he met on the streets of Atlanta. When these samples couldn't express exactly what he was feeling, he'd write lyrics and sing on top. It's a working method that's resonated with his fans, who tag him in posts they think might make for his next sample – he's taken their advice too, like on 'Kahan (Last Year)', which features snippets from a social media post by the rapper Kodak Black.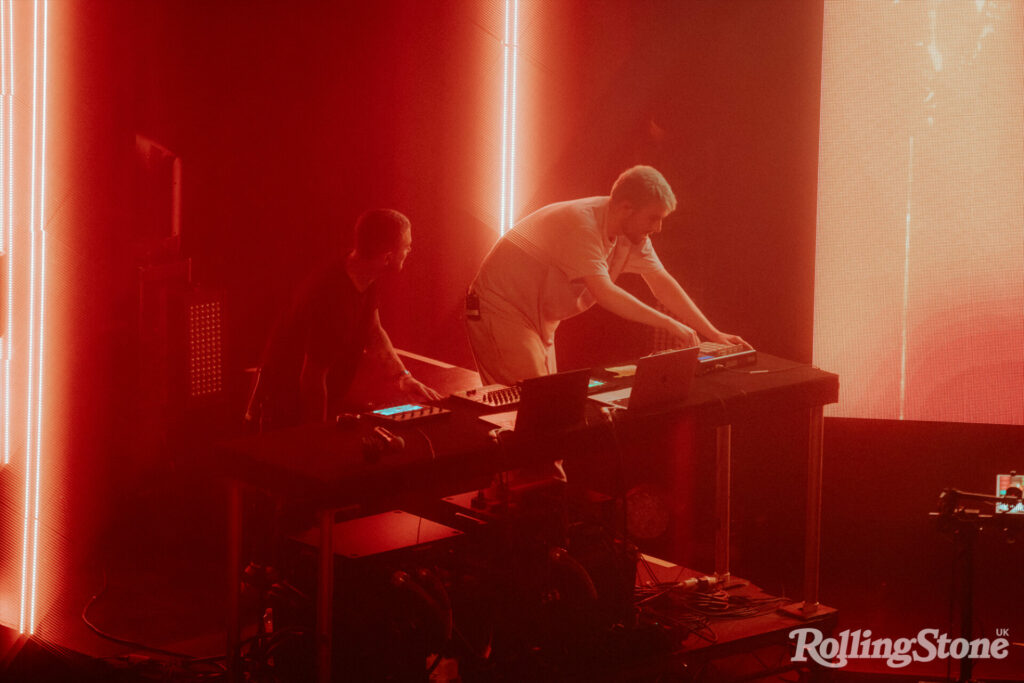 If listening to Fred again.. is like peeking into his sonic scrapbook, then seeing him perform live is a chance to contribute to the diary yourself. He often asks his Instagram followers to send him specific videos of themselves – selfies having fun at Coachella, videos from their cities when he has upcoming tour dates there – which he then incorporates into his visuals on-stage. Sometimes, his videographer heads into the queue before a show to interview fans before the show, and in superspeed, Gibson will turn their words into a piece of music, or the video into a custom visual for that city he plays, just for that crowd. "I want the music to feel like a collaborative diary, so I want the live show to feel the same," he says. "As much as possible I want it to feel like we are all making the mood of the evening together." It's very intimate, so it's no wonder his fans talk about him like they're his friends, queueing for hours for as many shows as possible.
"I want the music to feel like a collaborative diary, so I want the live show to feel the same"

— Fred again..
Fred again..'s first single 'Kyle (I Found You)' was released in late 2019, a bellowing dance track featuring spoken word poet Guante. Social media murmurs began to circulate around Fred again.. but before he could begin to tour, the world shut down. It was during lockdown that Gibson's ability to see the beauty in the tiny, fleeting moments felt particularly affecting, and his Actual Life EP, released in May 2020, took on entirely new dimensions in a Covid-stricken world. He's happy to see the many ways his fans have interpreted his songs, even when it doesn't match his original intent. "You go down a very needless rabbit hole if you attach your own experience to the songs and insist that is the only way [to interpret them]," he says. "That's not what they're for. What they mean is what they mean to everyone else." (His Irish fans show how easily something can be reinterpreted – they've taken the saddest samples and managed to position them as party chants at Gibson's shows.)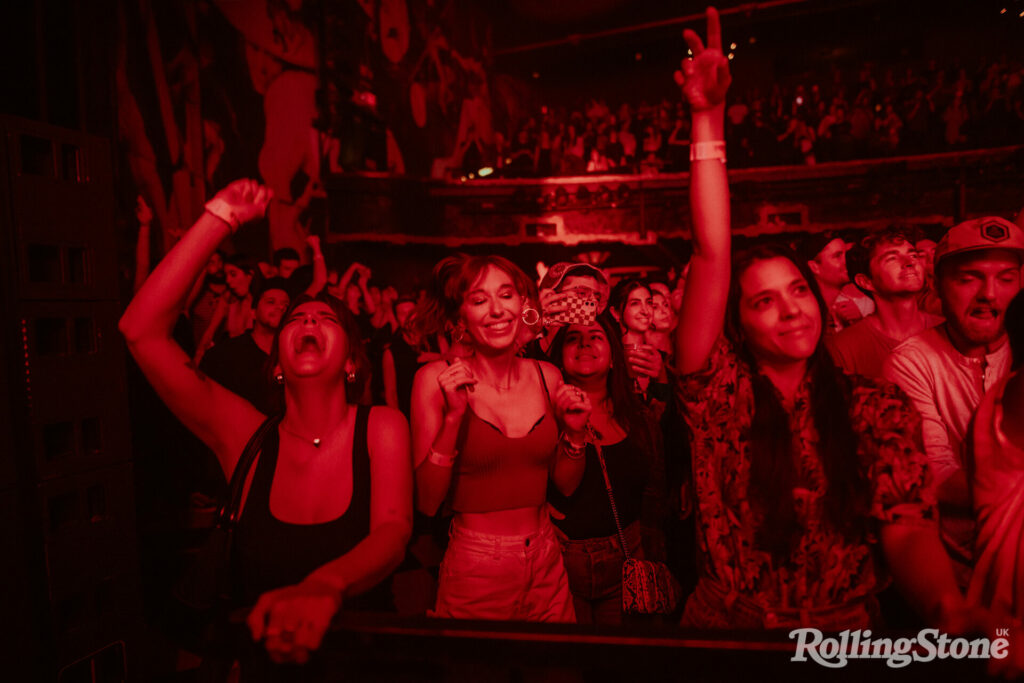 The first Actual Life EP teased out the concept that would lead to the subsequent Actual Life (April 14-December 17 2020), released in April 2021, and Actual Life 2 (February 2- October 15 2021), in November 2021 – the dates in the titles refer to the time the samples were collected. The bonus track 'Marea (We've Lost Dancing)', from the first Actual Life, became a lockdown anthem. In it, the Blessed Madonna – who Gibson met at a musician summit hosted by Brian Eno in Palestine – delivers a sermon about finding hope despite the loneliness of quarantine, especially to those who love going out and dancing. In the final line, she assures herself, "If I can live through this, what comes next will be marvellous." When Gibson played the track at Coachella, a woman in the front row recited the entire two-minute monologue while she smiled through sobs. At the historic Fonda Theatre in Hollywood, where $30 general admission tickets were reselling for nearly $300, Gibson looked into the crowd and shouted, "This here, this is what comes next!" as the song ended. As the fist pumps lowered, couples kissed, friends embraced, and the crowd faced each other, rather than the stage.
It would be a mistake to categorise Fred again.. as an electronic artist. He's quick to identify as a musician, not a music producer. There are moments on his albums and in his live shows where he abandons his drum machine and the lights stop flashing while he plays piano and sings. "I'm writing songs and some of them happen to have kickdrums, and some don't, and some are in the middle," he says. "I crave the feeling of dancing energy [combined] with a story, and having as much honesty as possible behind it. They can coexist." At the Fonda, he played his song 'Me (Heavy)' for the second time ever. The same fans that were jumping a minute earlier respectfully stopped bouncing and listened to the ballad about Gibson putting on a brave face while a woman he loves falls extremely ill. The emotional journey is at the heart of his music and performance. When Gibson DJed alongside the Blessed Madonna at a Soho House popup at Coachella, a very famous TikToker dancing next to me whispered to her friends, "He really builds you up but then gives you room to breathe."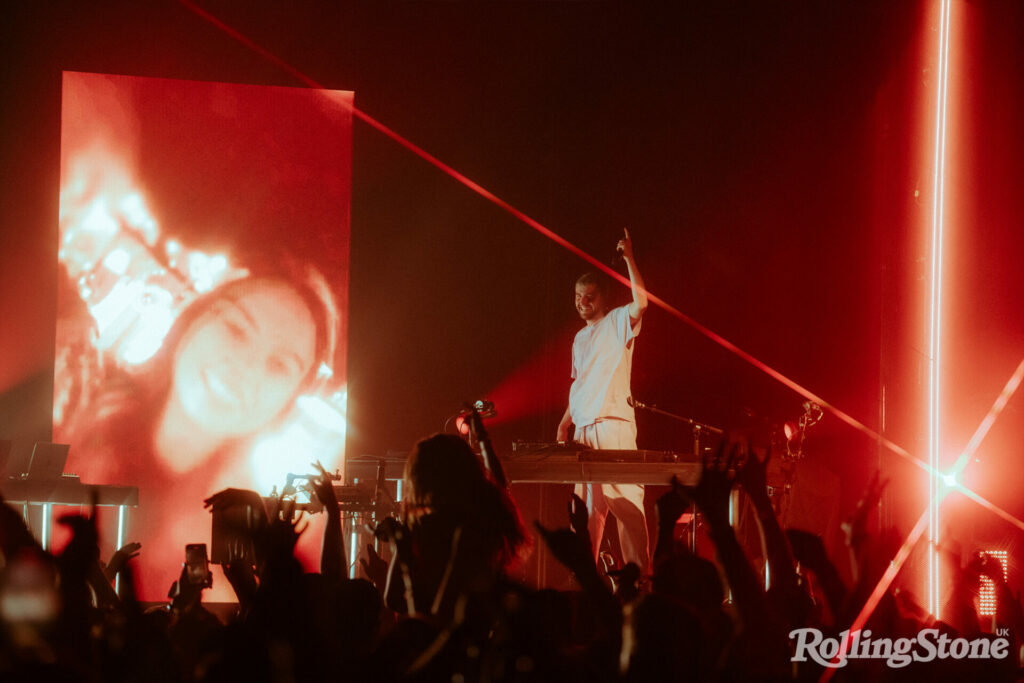 Challenging himself with ways to play his music live is Gibson's top priority. "Electronic music and live shows still does not know itself. When I was first working out how to do this, I was stunned to learn how embryonic and unsolved it is," he says. "There needs to be jeopardy. There needs to be a sense of risk. It needs to feel like it could fall apart, otherwise it's something else. If you feel a sense of, 'This is tangibly happening in front of me, and if he didn't do that, it would fall apart,' that's the excitement of the experience." At the show at the Fonda, his MPC – which he admitted to opening with a screwdriver and hacking before tour – began glitching, causing 16-bars of missing drums. Frustrating as it was, the margin for error he retains reminds both him and the crowd there's a human behind the beat.
"Electronic music and live shows still does not know itself. When I was first working out how to do this, I was stunned to learn how embryonic and unsolved it is"

— Fred again..
For someone who was mentored by Brian Eno and has collaborated with your favourite rap artists, it would be easy for Gibson to slip into the role of the elusive, super cool producer, but he's not concerned with being mysterious at all. He rejects the inclination towards the enigmatic personas put on by artists, especially in dance music. He smiles throughout his sets and encourages his crowds to get on each other's shoulders. At the Fonda, he acknowledged a fan holding a giant sunflower, who he recognised from a show the previous week.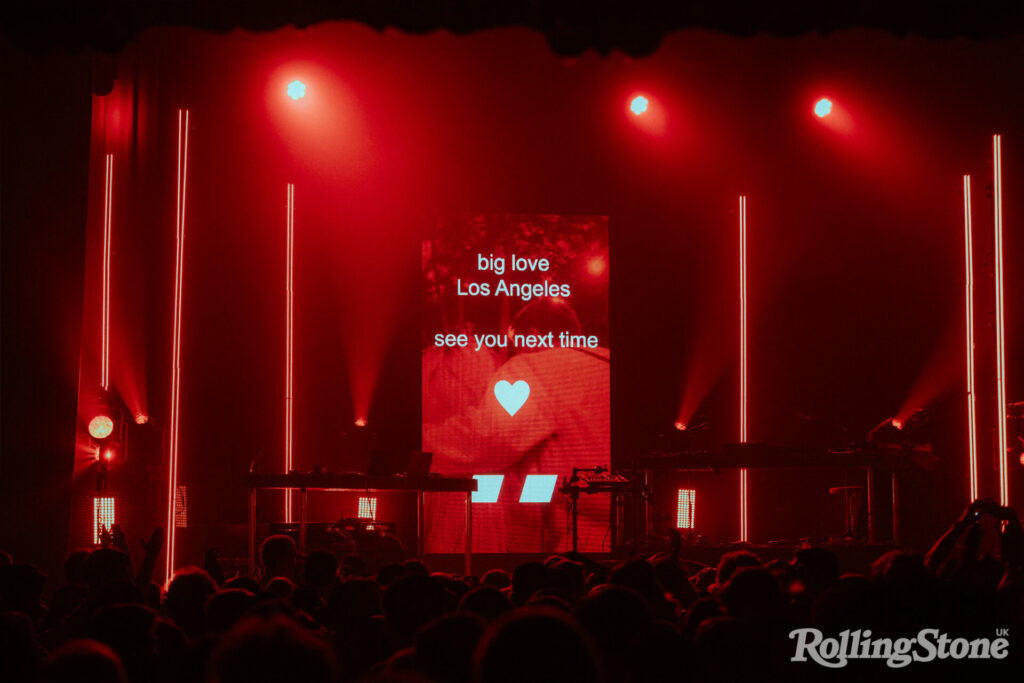 While filming a music video for an upcoming track from his next project, Actual Life 3, at the Kiss Kiss Bang Bang nightclub in Los Angeles' Koreatown, Gibson was told by the director to remain stony-faced at the DJ booth while fans went wild, but he couldn't resist dancing and smiling – so much so that the director demanded another take where he stopped beaming. The song, with a "just know that it gets better in time" sample, fits with the throughline Gibson is considering for the rest of the project. Much of it is about the realisation that grief is not linear, and loss is something he'll carry forever. "This album is trying to make peace," he says. He calls Actual Life 3 his purest and most cohesive work yet, reminding me that despite his recent experiences, "there's still hope".
His wholesome attitude is so atypical that it's become the butt of some jokes. Chromeo's Dave 1, who creative directed the visuals for Duck Sauce's performance at Coachella, shared on Instagram that many people in the crowd "had just come from Fred again..'s 'live laugh love' set", and might have been shocked by their slapstick visuals featuring cartoon buttholes. It's a phrase that's typically used derisively, inspired by the sort of cheesy signage you might find in your grandmother's kitchen, but it's actually an apt description for Fred again..'s music. Living, laughing, loving – all things considered, what would you rather be doing?