How Ukraine's Kalush Orchestra became Eurovision's runaway favourites
The folk-rap stars won the vote to represent their country at Eurovision 2022. Two days later, Russia invaded. Rolling Stone UK meets the band's Oleh Psiuk in Lviv, western Ukraine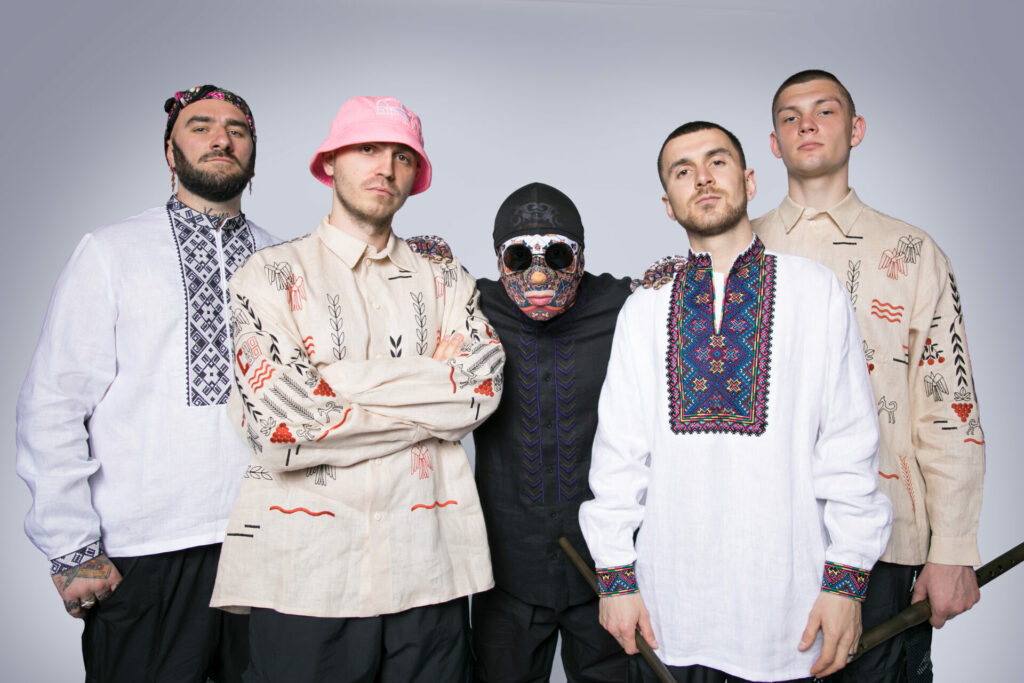 "OK, first you have to sign this form saying the Ukrainian armed forces are not responsible if you get killed here. Then you should go upstairs because our Eurovision entrants are about to hold a press conference. It should be interesting – it's a really good song!"
A week in Lviv, western Ukraine, in late April 2022 is a week of striking contrasts: eating gelato and watching street musicians play over the wail of air raid sirens; waiting for an AeroPress coffee in a fancy café and gradually realising the decorative curio you're gazing at absent-mindedly is the launcher for a shoulder-fired anti-tank missile. Few contrasts were as vivid, however, as these two instructions from the staff at the Ukraine Media Centre, situated (to the delight of most people with occasion to use it) in a four-floor brewery and bar on one of the city's main squares.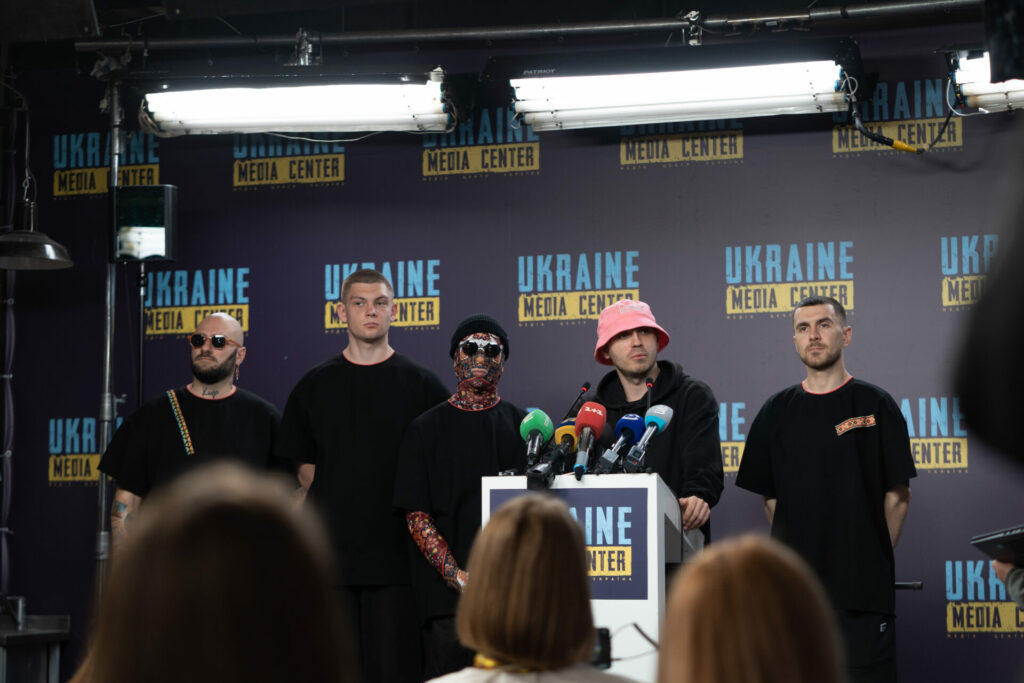 It's a bright morning and I've accidentally turned up just in time to see Kalush Orchestra talk to the media for the last time before they head to Turin, where they're due to represent Ukraine in the Eurovision Song Contest. A six-piece, all-male band, Kalush Orchestra is an offshoot of Kalush, a three-piece hip-hop group named after the western Ukrainian hometown of frontman Oleh Psiuk, aka the Psiuchyi Son. Psiuk, 27, is an intense, dark-haired man whose brooding features are permanently offset by a jaunty pink bucket hat that has become the visual calling card of both bands.
Kalush were signed by Def Jam in 2019 and quickly became major stars in Ukraine, playing scores of sold-out concerts the length and breadth of the country, until the Covid-19 pandemic intervened. In 2021 Psiuk started the offshoot Kalush Orchestra to explore a sound that blends rap and hip-hop with traditional Ukrainian folk music and instrumentation. Kalush Orchestra rapidly built momentum in late 2021 and early 2022, and on February 22 they finally won a contentious race to represent Ukraine at Eurovision with 'Stefania', a ridiculously catchy and chantable earworm written as a tribute to Psiuk's mother. Less than 48 hours later, Russia invaded.
Since the invasion, the song has taken on a life of its own. It has been used to soundtrack somewhere in the region of 150,000 largely war-related TikTok videos in the last two months. Walking around Lviv, a heartbreakingly pretty city where a strange, fragile normality currently endures in spite of intermittent missile strikes, you can hear the song's almost operatic chorus wafting from countless car windows, shops and cafés.
"I wrote the song before the war," Psiuk explains, speaking through a translator on a Zoom call from Turin a few days after the press conference in Lviv. "It is simply about my mother, with no extra meanings intended, but after the war started it began acquiring new meanings to many people. People started seeing it as about all Ukrainian mothers, at a time when many Ukrainians were thinking about or missing their mothers. I think that's how the song has made its way into the hearts of so many Ukrainians."
It has made its way into hearts far beyond Ukraine, too. When I post an Instagram Story from the press conference, one seasoned Eurovision-watcher quickly comments: "That Ukrainian Eurovision entry is a stone-cold banger. Before I heard it, I said to my girlfriend that I thought Ukraine would win this year out of solidarity, so she listened to the song and told me they would actually win because they have the best song by miles."
"['Stefania'] is simply about my mother, with no extra meanings intended, but after the war started it began acquiring new meanings to many people. People started seeing it as about all Ukrainian mothers"

— Oleh Psiuk, Kalush Orchestra
A cocktail of song quality and solidarity has lifted Kalush Orchestra from fifth-favourites to win Eurovision before the war, to runaway favourites today. At the media centre, I crack a throwaway joke about Ukraine probably winning this year's contest regardless of the song, but feel a little guilty for trivialising the nation's possible triumph. Psiuk, however, has no problem with the idea of solidarity helping his band to victory in Turin, and in fact sees it as another positive sign of the outside world's burgeoning identification with and love for his homeland. "People like our song anyway, but hopefully a song from Ukraine with Ukrainian lyrics will be particularly appreciated by Europeans at this particular time." For their part, Russia was excluded from the competition soon after the invasion at the request of the Ukrainian national TV broadcaster UA:PBC, a development Psiuk has described as "justice".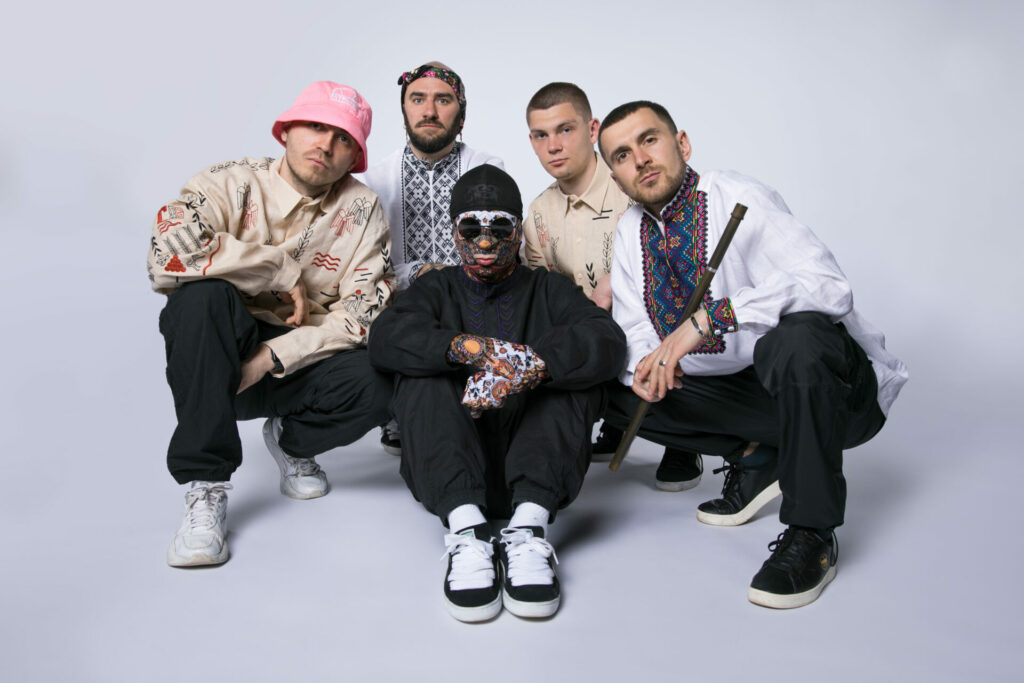 Kalush Orchestra's hectic touring schedule in Ukraine continued right up until the eve of the invasion, and inadvertently afforded them a harrowing front-row seat for its opening moments. "At about 5am on February 24, we were driving back from a gig in Dnipro and we saw the first explosions at Boryspil [Airport, southwest of Kyiv]," Psiuk says. "It was hard to process the emotions. We were afraid for ourselves, of course, and we started calling all our relatives and friends to see if they were OK. Like many Ukrainians, we had held on to a positive attitude that this wouldn't happen. But now it has."
"We are on an important mission to represent Ukraine as well as we can and we feel a huge responsibility from that. We have to be as useful as possible for the country"

— Oleh Psiuk, Kalush Orchestra
Ukraine barred men of fighting age from leaving the country in the first hours of the invasion, meaning Kalush Orchestra have needed special dispensation to leave for a pre-Eurovision promotional tour taking in shows in Israel, Poland and the Netherlands, and again for the final competition, which begins today and culminates with the final on Saturday. One of the questions asked in the press conference, translated on the fly for me by the band's ever-helpful press officer, was whether there had been any pushback from fellow Ukrainians over the band's special permission to leave. Unsurprisingly, given the joy and pride the song has brought to the country, they say the answer is no.
"We are well supported by everyone, and we are only on temporary leave from the country," Psiuk tells me. "We are on an important mission to represent Ukraine as well as we can and we feel a huge responsibility from that. We have to be as useful as possible for the country." Under the terms of their release from Ukraine all five members of Kalush Orchestra have to return to the country the day after the Eurovision final, to an uncertain future that could include being asked to fight on the frontlines.
"In my case it's actually very likely I will be called up to fight," Psiuk says matter-of-factly. "Everyone should play their part in the war effort, if and when they are asked to. I know for sure that Ukrainian men with war experience are actually joining the army to fight for their country even without being called up." Two of Psiuk's friends have been killed in the fighting so far, both while carrying out military service in different areas of the country. "They were 26 and 27. It's difficult for me to talk about this, to be honest."
The band's members are all based in different parts of the country and all have been involved in the war effort to some extent. One of the band's dancers, Slavik Hnatenko, has joined the territorial defence force around Kyiv. "He is still a member of our band and he will join us again after serving in the territorial defence," Psiuk says. Psiuk himself is a founder of the volunteer organisation De ty (Where Are You?) which helps homeless Ukrainians across the country find shelter, transport and medication, and which now has 35 active members.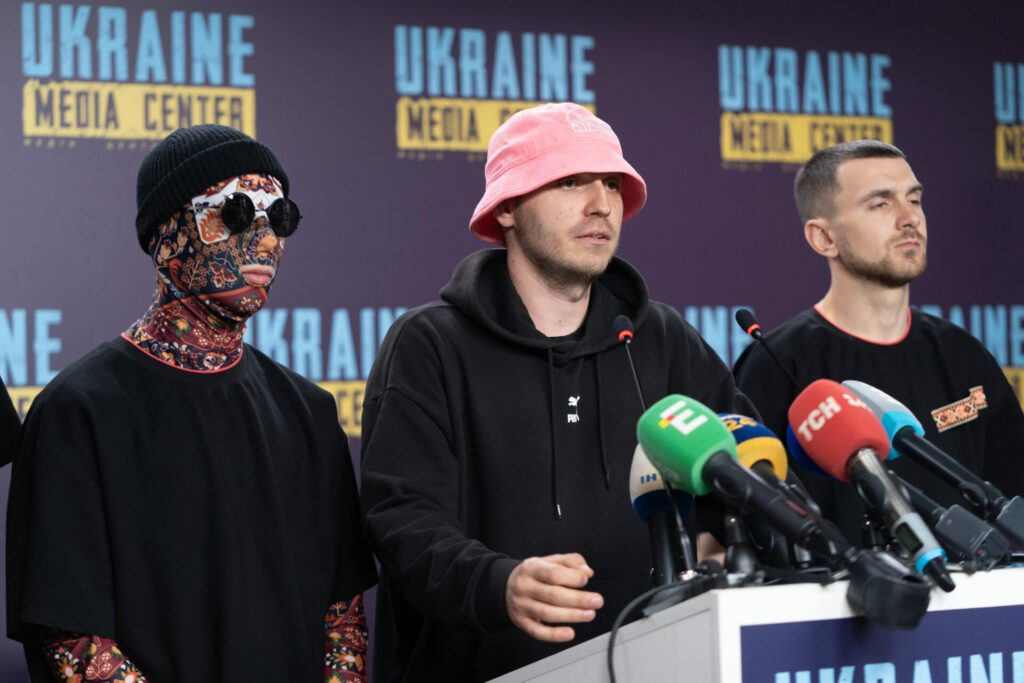 Psiuk shies away from making any big statements about the war or predicting how long it might take to end (Eurovision's rules prohibit political statements on-stage and around the competition). "Those are questions for the President," he says. And what of President Zelenskyy – does he know if Ukraine's reluctant war icon is a fan? "I haven't talked to him," Psiuk smiles, "but I definitely think he has heard our song."
Kalush and Kalush Orchestra's future beyond Saturday is up in the air. "Of course we were doing concerts every day before the war," Psiuk says. "We did a big tour and we had many plans that went awry, but so did every Ukrainian." The question is whether a group who inadvertently created a war anthem will write a song that's actually about war when they get back to making music, whenever that might be.
"I have never written any song about war before," Psiuk says (a notable, active choice in a country that has been at war since 2014, even if the rest of the world has only been paying proper attention recently). "Right now we are focused on our Eurovision performance. But watch out for the new music we make after that. The war will definitely be in there."
The Eurovision Song Contest final broadcasts on Saturday May 14