Bastille look to a triumphant future at intimate London show
02/02/2022: EartH Hackney. One of Britain's brightest bands shine in an intimate setting months before arenas beckon
By Rhian Daly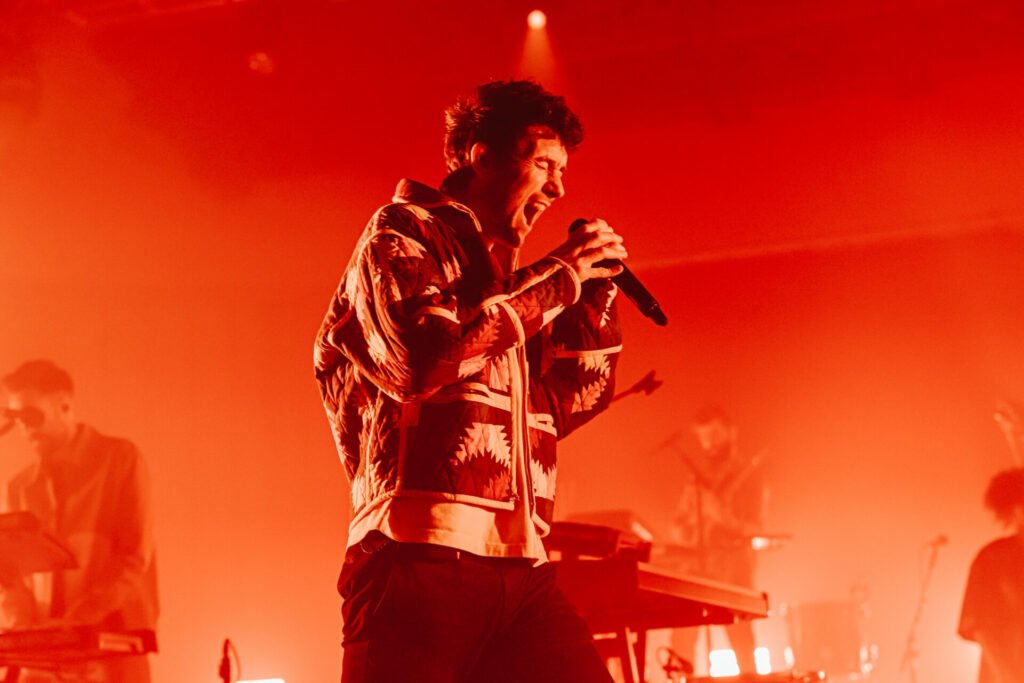 Bastille are on a voyage. Their fourth album 'Give Me The Future' steps into a sci-fi realm of technology and VR, and at Hackney's EartH tonight (February 2) it feels like the whole room has simultaneously donned an expensive headset and plunged into another world. Although there's little flash to the stage design for this special War Child gig, the sparse black theatre stage and the three clean lines of lights surrounding, the band make it feel like they're on a desolate launchpad in the middle of a screen, waiting for the world to fill in around them.
From that base, each song in tonight's set lifts us off to a different pocket of the universe. Bastille warm up their engines with a handful of better-known tracks, including a new version of mega-hit 'Pompeii', now a soft, glacial, slow-burner; an emotional 'Laughter Lines' and a fresh, edgier take on Marshmello collab 'Happier'. Then, a text-to-speech narration about the "Innerverse" – a virtual form of escapism offered by Future Inc, the fictional tech company the band have created for this record – signals it's time to jet into 'Give Me The Future', from start to finish.
The first trio of songs soundtracking the journey are some of the singles that have kept anticipation high for the full record. 'Distorted Light Beam' is a lasering festival anthem for any orbit, 'Thelma + Louise' is a perfect piece of escapist pop, and 'No Bad Days' is even more moving live – a dark interruption to the euphoria to grapple with a loved one having to unplug from life forever. From there, string interlude 'Brave New World' ushers us into the more alien part of the tracklist. Earlier, frontman Dan Smith asks us to pretend to know these songs as well as Bastille's back catalogue, but no instruction is needed when they're as immediate as the snapping, time-travelling pop of 'Back To The Future'.
Not every part of the set – or album – dives into the virtual sphere so readily. On 'Plug In…', Smith half-raps through an interrogation of tech's advancements and, bursting over the audience, its chorus feels even more desperate than on record, the singer pleading: "Tell me we'll be alright, say that we'll be fine / Lie to me, it's alright." Recent single 'Shut Off The Lights' takes a different tact, blasting us out of the darkness and back to exhilarating reality, turning the venue into one big dance party in the process.
There's a constant push-and-pull between real life and this other futuristic place, and 'Stay Awake?' rejects reality again, raving back into the limitless depths, giddily illustrated by touring member Charlie Barnes' energetic dashes around the stage. ''Club 57' paints an example of the artificial world's possibilities, jumping into Keith Haring's New York in a whistling pop song as bright and bold as one of his artworks, before 'Total Disassociation' rewinds back to where we started, disconnects from the Innerverse and chooses real life. It's a moment that feels poignant on the album, a feeling that only increases as backing singer BIM beautifully belts out its optimistic conclusion: "Who knows what the future holds / Don't matter if I've got you."
This might be the first time Bastille have performed these songs live, but they're delivered with the confidence, playfulness and tightness of a set that's been done 100 times before. Regardless of what the future of our world is, in their own universe, things are looking bigger, brighter and better than ever for one of Britain's best bands.