Coldplay live in London: Stadium giants return to Shepherds Bush for stunning intimate show
Coldplay treat a crowd of lucky fans to old classics and irresistible new cuts. Four stars.
By Ella Kemp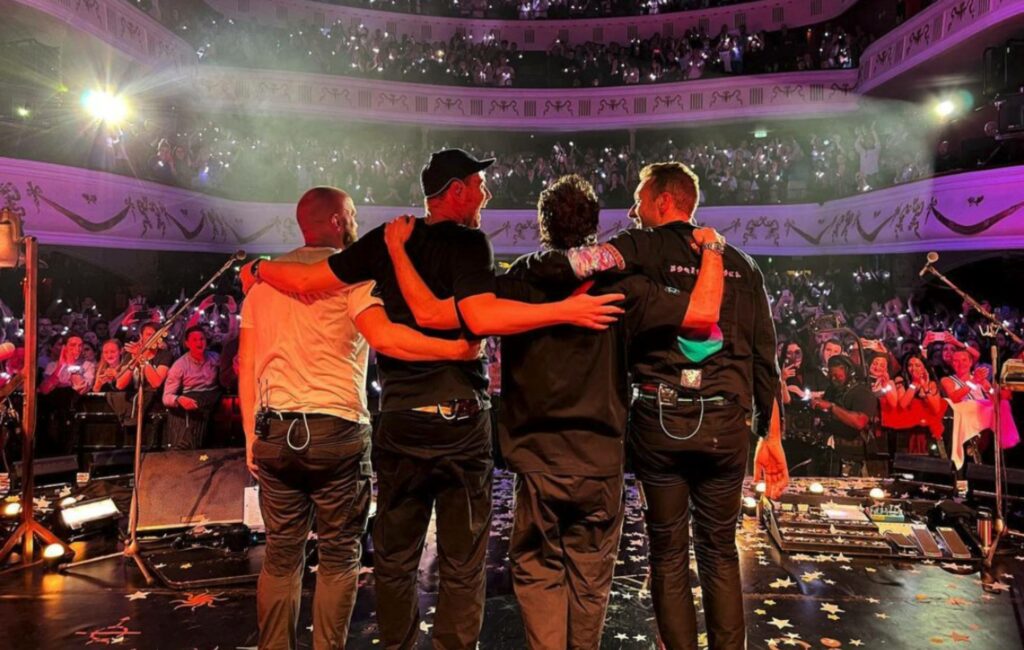 It was 1999 when Coldplay last played Shepherd's Bush Empire and Chris Martin was a bit worried about what would happen if the band became more successful than that.
But over two decades later, their one-off show in the London venue launching their eighth studio album 'Music of the Spheres' shows the last 20 years has given Coldplay more than enough ammunition – well-earned confidence and a robust catalogue of bangers – to do this in their sleep.
With their status as one of the world's biggest bands safely cemented, their new album is a carefree, euphoric record showing what happens when you can do anything in the world and so choose to ignore the rules and do whatever you damn well please. There's as much soft rock as there is electro-pop, and Chris Martin and co don't really care who's keeping tabs on it – which is why their setlist tonight is surprising and satisfying, yet fully fitting for the chapter Coldplay now find themselves in.
Lead single 'Higher Power' kicks off the night with earsplitting drums and a sea of flashing magenta lights (we're given two light-up wristbands each upon entry, nodding to the band's Xylobands developed by Jason Regler in 2011, except these ones are recyclable). The performance is as open-hearted and epic as the album recording suggests, yet to see Martin hold hands with fans in the front row in such an intimate space – by Coldplay's standards today – is breathtaking.
Yet as soon as there's a sense of what the new album has to offer, they take it all the way back. 'Clocks' begins as lights turn to red (the same design they've been using for this track at live shows for the last 20 years) and the room is suddenly incandescent. The tricks fans know and love (Martin's aggressively enthusiastic piano playing, Jonny Buckland and Guy Berryman's reliable stoicism, Will Champion's desperately powerful drums) give us a reliable, thoroughly enjoyable night from the four guys who have been respecting and nurturing their fans while exploring their own growth for so long now.
The night reserves a few surprises too – Simon Pegg introduces the band, Ed Sheeran joins them for 'Fix You' as well as his own new single 'Shivers' and major hit 'Shape of You', Fleur East duets with Martin on tender new track 'Human Heart'. But the most surprising and somewhat moving thing is how natural this all feels – they've played the biggest stages in the world yet are right at home at Shepherd's Bush, as Martin never neglects the feral adoration the crowd is showing him and holds onto one fan's arm for dear life during 'Adventure of a Lifetime'.
It's a shame that the likes of 'Charlie Brown', Coldplay's luminous single from 'Mylo Xyloto' which boasts the same technicolor bliss as this new album's look and launched the Xylobands into the stratosphere, is missing – but that's what happens when you give fans one rare night with just 90 minutes to celebrate both what's new ('People of the Pride' is a shattering, dumbfounding highlight as far as new songs are concerned) and what's so beloved – it wouldn't be a spellbinding Coldplay show without the impossibly delicate acoustic performance of 'Yellow'.
The concert is slick, tender, familiar, exciting all at once – as joyous and singular as it probably was 20 years ago, and is sure to be in the next 20 to follow.
Coldplay played:
'Music Of The Spheres'
'Clocks'
'Fix You' w/ Ed Sheeran
'Viva La Vida'
'Adventure Of A Lifetime'
'The Scientist'
'Paradise'
'Human Heart' w/ Fleur East and We are King
'People Of The Pride'
'Yellow'
'Shivers' – Ed Sheeran
'Shape Of You' – Ed Sheeran
'A Sky Full Of Stars'
'Coloratura'