Diana Ross live at Glastonbury: joyous disco that could have been spectacular
Patchy sound dampens what deserved to be a celebration of an extraordinary 52-year recording career
By Selim Bulut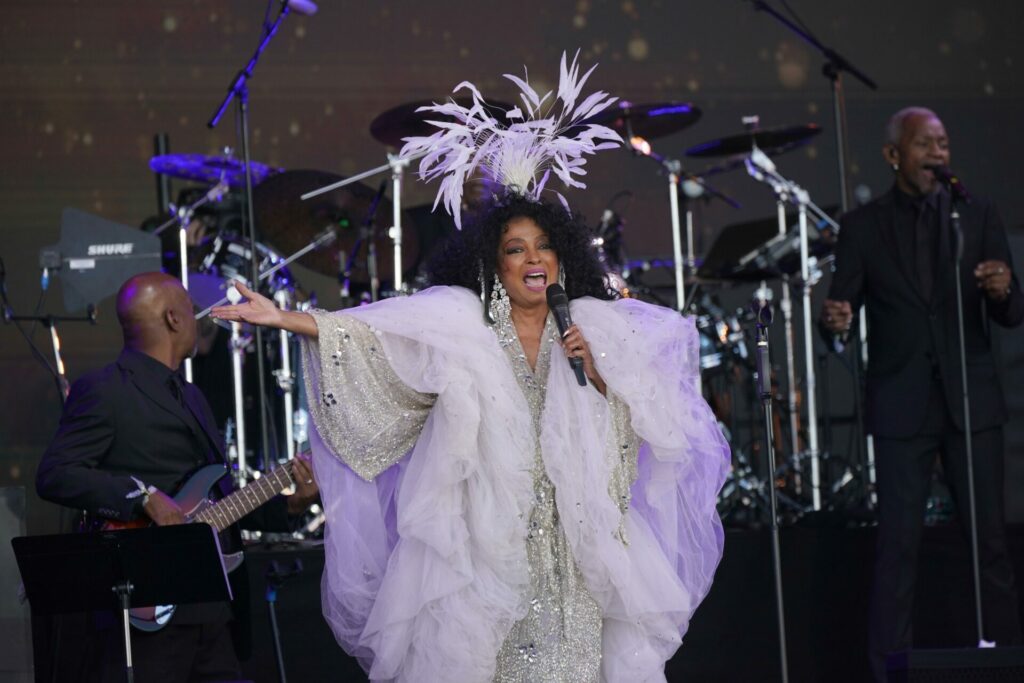 Diana Ross says she's 47 years old. Or at least she feels 47, as she tells the enormous crowd gathered at Glastonbury's Pyramid Stage. "I had a birthday this year," she clarifies to the audience, "I turned 78 years old."
Ross is filling this year's Teatime Legends slot, the afternoon performance at the festival reserved for the sort of long-standing icons of pop music you'd describe as "universally beloved" or "feelgood" (shorthand for: "generally inoffensive"), from Tom Jones to Lionel Richie, Neil Diamond to Kylie Minogue. It's been a long time coming – the disco and Motown singer was the very first artist announced for Glastonbury's 50th anniversary celebrations all the way back in 2019, before the pandemic delayed the event for two years.
It feels like a long time coming in other ways, too. For starters, Ross on her first tour in 15 years. But also, landing on the final day of the festival, the crowd is definitely flagging as they wait for the singer to come on-stage. There's a clear energy boost when the sun starts beaming down as Ross comes on-stage to – naturally – 'I'm Coming Out' (which, according to Spotify's data, was the top song added to user-created Glastonbury playlists on the service). She's joined by a huge backing band: a four-piece horn section, chorus, keyboardists, and rhythm section.
Dressed in a purple feather fascinator and shimmering sequin dress, her set was primarily a celebration of her extraordinary 52-year recording career, from her time in the Supremes through to her 1980s disco period and beyond: 'Baby Love', 'Stop! In the Name of Love', 'Upside Down', and more. But she also devotes some time to new songs too. Before 'If the World Just Danced', penned during Covid and released on her 25th studio album Thank You last year, she expresses her gratitude to be performing, telling the crowd that it was her "dedication" throughout the pandemic that led her to finally be standing there almost three years later than planned.
Unfortunately, for all the verve of Ross and her band, her vocals don't quite come off. Like last night's festival headliner Paul McCartney, who turned 80 recently, Diana Ross's voice has naturally changed with the years, but today her voice is often a quiet croak. It's hard to tell if it's Ross herself, the often patchy live sound on the Pyramid Stage, or a mixture of the two (her backing chorus, who should carry the high notes, also sound muted).
It's left to the crowd to make up for it. They sing along to every word of 'Chain Reaction's chorus as a confetti cannon explodes over their heads, and they climb on each other's shoulders when Ross closes with a cover of Gloria Gaynor's 'I Will Survive' (with an extended outro dedicating a solo to each member of her incredibly tight touring band). It made for a fun show, but one not quite as spectacular as it deserved to be.