Dua Lipa live in Manchester: UK pop queen proves why she's a world-beater
As the European leg of the 'Future Nostalgia' finally kicks off, Dua Lipa proves that it's been more than worth the wait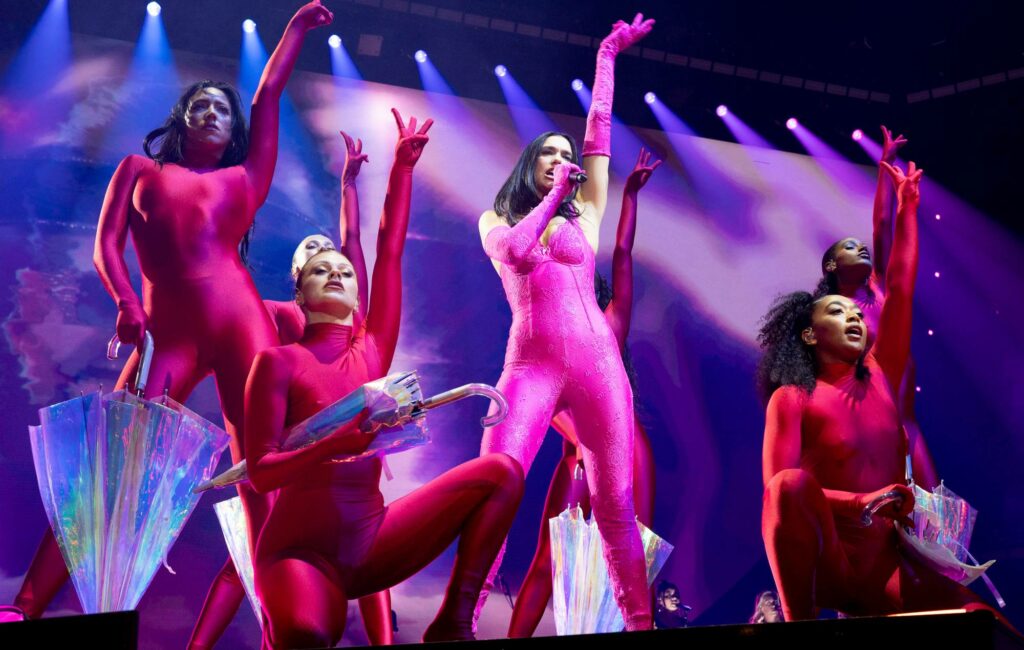 "We've been waiting so long, so long, to put this show on," an emotional Dua Lipa tells 21,000 fans in Manchester on the opening night of her UK and European tour. She isn't wrong: this tour was first announced in late 2019, just months before the pandemic hit. Several more cancellations and postponements would follow over the next two years. "Finally, we're here", she tells the cheering crowd, "…and it means the world."
That sense of unadulterated joy at finally being able to dance together again was palpable from the start of the show last night, as the opening bars of Hot Streak's 'Body Work' were cleverly interpolated into Lipa's mega-hit 'Physical'. The standout from her Grammy award winning second album 'Future Nostalgia' saw Lipa flanked by ten dancers at a ballet barre, the neon-stage setting nodding to classic film Flashdance as the dancers hit the runway.
Divided into four acts by choreographer Charm La'Donna – who also worked on this year's acclaimed Super Bowl half-time show – it was often a joyous celebration of dance that channelled everyone from Gene Kelly on umbrella-laden routine 'New Rules' to Bob Fosse on 'Hallucinate', a slick chair-routine impressing. Highlights elsewhere were a pair of break-dancing roller-skaters on 'Cool' to a troupe of twelve raving to a trancey remix of 'Club Nostalgia' and 'Electricity'. It was smooth and sophisticated throughout with frequent retro vibes of New York dancefloors of yesteryear, especially on the synth-drenched 'Cool'.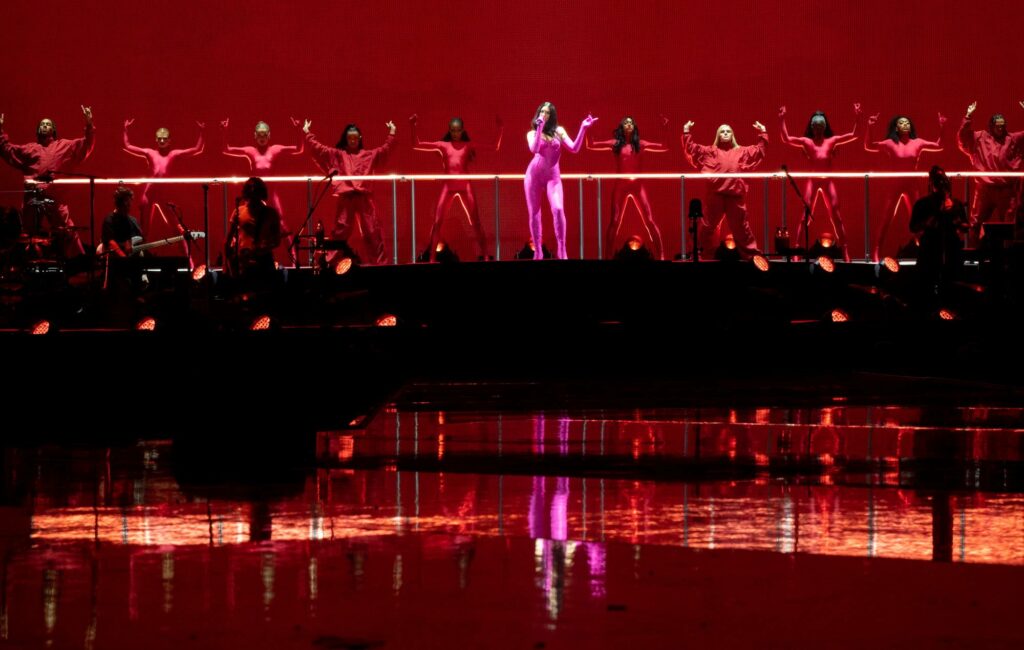 Tracks from 'Future Nostalgia' understandably dominated – after all, it's an album about the shared catharsis of the dancefloor and this was Lipa's first chance to share that sentiment with her fans on home soil. Yet there was also time to celebrate her classics too like 'Be The One', as well as her collaborations with the likes of Calvin Harris ('One Kiss') and Elton John ('Cold Heart'), the latter appearing on a pre-recorded video to deliver his up-tempo chorus on the track.
There was lots of impressive Madonna-like sampling too. A snippet of Gwen Stefani's 'Hollaback Girl' filtered into 'Boys Will Be Boys', while 'Break My Heart' loaned some of Justice's 'Dance' and 'Hallucinate' borrowed from Daft Punks' 'Technologic'. All paid tribute to nostalgic dance-pop, but also asserted Lipa's place in that cannon as its future – and rightly so: she's the fourth most-streamed artist in the world right now. Her confidence as a performer has grown – impressive, considering the lack of live gigs over the last two years – and so too has her voice, which frequently soared.
There were several seamless costume changes amid the breathless dance routines, but as with Lipa concerts pre-pandemic, crowd interaction was sparse. It was also light on humour too until a giant inflatable lobster joined her on stage for 'We're Good' (a nod to the song's tongue-in-cheek video) and another where she poked fun at the viral 'Dua Can't Dance' meme with some moves that proved the exact opposite. Coming in isolation, both moments felt out of sorts in a gig that was largely serious in tone, yet a few more felt needed: it's where Lipa seems at her most relaxed and relatable.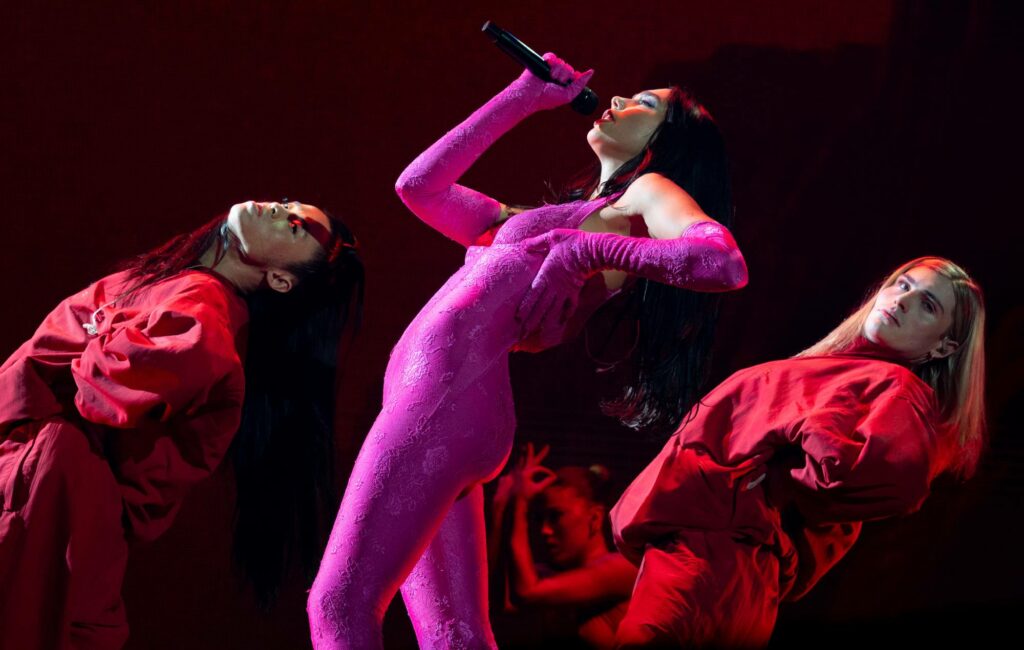 Towards the end, huge hit 'Levitating' was sung by Lipa mid-air above the crowd amid lasers, huge disco-balls and balloons. It was a lavish moment of pure pop opulence that surmised the pop star's ascent over the last two years, as did a show-stopping encore of 'Future Nostalgia' and 'Don't Start Now'.
During the pandemic, Lipa worried about releasing 'Future Nostalgia' at all, it's upbeat message at stark odds with the daily suffering experienced by millions. But as she told fans when she decided to release the work mid-pandemic, "the thing we need most at the moment is music, and we need joy and we need to be trying to see the light." Last night's show epitomised that message: fans finally together dancing, under the lights of the disco balls once more.
Dua Lipa, Manchester – Set List
ACT ONE
'Physical'
'New Rules'
'Love Again'
'Cool'
'Pretty Please'
'Break My Heart'
'Be The One'
ACT TWO
'We're Good'
'Good In Bed'
'Fever'
'Boys Will Be Boys'

ACT THREE
'Club Future Nostalgia'
'One Kiss'
'Electricity'
'Hallucinate'
'Cold Heart'

ACT FOUR
'Levitating'
ENCORE
'Future Nostalgia'
'Don't Start Now'