Pet Shop Boys live at Glastonbury: UK pop duo bring weekend to a bittersweet end
The British pop duo's spectacular, hits-packed showcase included a dedication to the victims of the Oslo Pride terror attacks
By Selim Bulut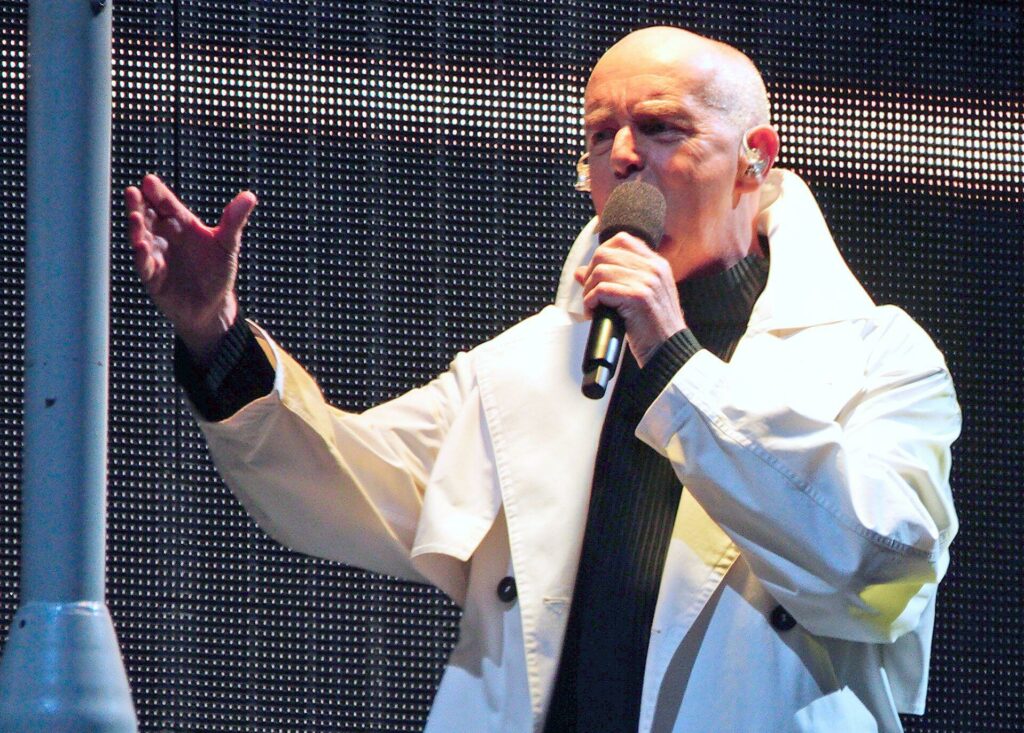 And so Glastonbury 2022 draws to an end. Closing out the weekend on the Other Stage, the Pet Shop Boys played a career-spanning, hits-packed set – their third ever performance at the festival over their four-decade career, and one that underscored that Neil Tennant and Chris Lowe are behind some of Britain's finest ever pop songs.
But it got off to a shaky start. After coming on stage to a giant projection of the Ukraine flag, the synth-pop duo performed their first few songs – which included some of their biggest numbers, like 'Suburbia' and 'Money' – with just singer Neil Tennant. Dressed in a silver gown and elaborate face mask with two suburban street lights on either side of him, he declared that Chris Lowe, the other Pet Shop Boy, "will join us shortly", before launching into their hybrid cover/medley of 'Where the Streets Have No Name (I Can't Take My Eyes Off You)', which seamlessly transitions into 'Rent'.
It's not until 'Left to My Own Devices' that Lowe joins Tennant on-stage along with the rest of their live band, but they appear in spectacular fashion: electronic percussion, keys, backing vocals, dancers, and a costume change for the singer (it's a long way for a band who once shunned live shows entirely). The eventual appearance of the band could have been palmed off as an epic mid-set reveal, but Tennant is too sardonic to be the sort of showman to go for that, and admits that the real issue was "technical problems".
From here on out though, the set really comes to life. The Pet Shop Boys are populists, and they have no qualms playing their most popular songs. Naturally, this skews towards tracks from the 1980s and 90s, though there are a few moments from their more recent trilogy of albums produced by Stuart Price, which have proved to be something of a late career renaissance. It also leans on dance numbers rather than their ballads, and it often feels as if there's a constant arpeggiated bassline and electronic kick-snare pattern running throughout the entirety of the show.
During a performance of Hotspot track 'Dreamland', they're joined by Years & Years frontman Olly Alexander (whose own band had played in the slot before) and a mass of dancers in flowing silver robes. The absolutely enormous house banger 'It's Alright' is dedicated to "any old ravers in the crowd", while their Village People cover 'Go West' is introduced as "a song of gay liberation that became a football anthem" thanks to its singalong quality which, obviously, suits a festival crowd too. The first part of the show comes to a close with 'It's a Sin', which has seen a revival since it lent its title to the popular Channel 4 series in 2021 (which, incidentally also starred Olly Alexander).
By the time the band return for an encore, they've played so many hits from their back catalogue that you've practically forgotten that they've yet to play their biggest. 'West End Girls' kicks off with an extended drum intro, lifted from the track's extended 12" mix. As the song closes, fireworks shoot into the sky on the left of the stage – a serendipitous moment, as the fireworks actually came from Kendrick Lamar's show, running concurrently on the Pyramid Stage, but one that underscores the duo's emotional finish. They end the set with 'Being Boring', a song about those lost to AIDS that they tonight dedicate to those killed in the Oslo Pride terror attacks: "Some are here, and some are missing." It's a bittersweet end to the weekend.