Primavera Sound 2022 review: Barcelona festival triumphs after teething problems
After a wonky start, the Barcelona festival's first instalment since Covid found its groove in its second weekend, with performances from Dua Lipa, Tyler, the Creator, Megan Thee Stallion and more
By Selim Bulut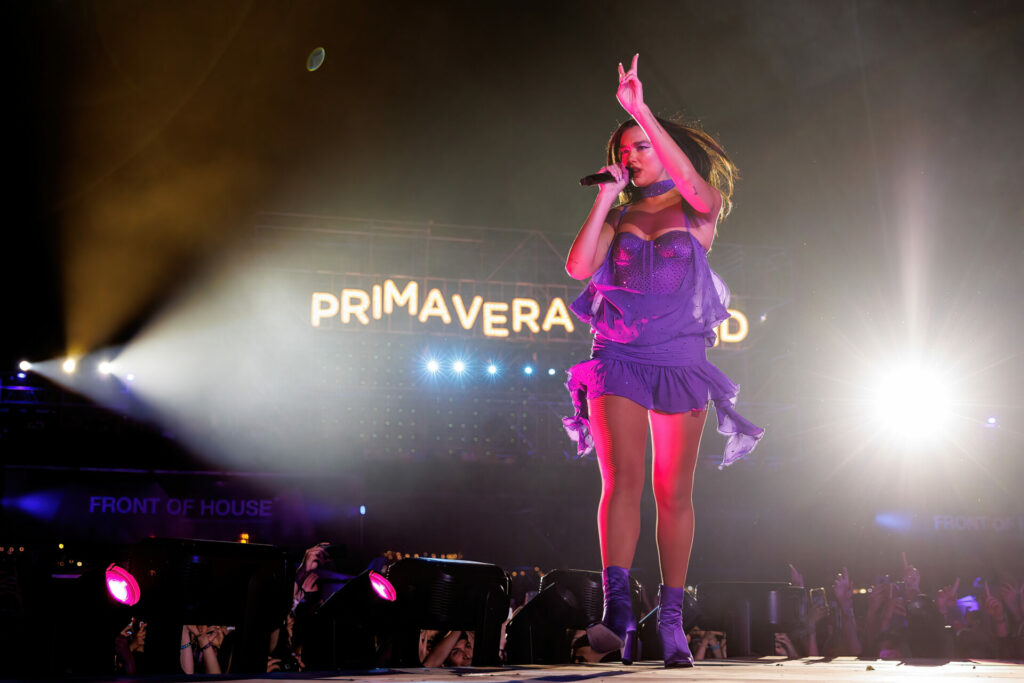 It's been two years since Primavera Sound's last outing, but its grand reopening post-Covid didn't get off to a flying start. With a reputation as the most well organised event in the European festival calendar, it was a surprise to see day one attendees experiencing 2+ hour queues for bars, crowd bottlenecks after performances, and last minute artist cancellations. More concerning were reports of confiscated water bottles at the gates and a lack of water refill points – essential in the scorching Barcelona heat. Thankfully, by its second weekend, the festival had (mostly) adjusted to these teething problems, allowing the focus to finally be on its impeccable programming. Weekend two saw performances from the likes of Dua Lipa, Lorde, and Tyler, the Creator on the festival's main stages, with a number of leftfield rock and electronic artists scattered across the site on smaller platforms.
With such a stacked line-up, Primavera has a reputation for its clashes. Attendance forces you to make increasingly agonising decisions about who you should see as the weekend wears on, and the first of these tough choices came before the main event had even begun. Between its two weekends, the festival took over various venues around Barcelona for its expanded Primavera a la Ciutat programme of club gigs, and on Wednesday there were two options at Razzamatazz: Megan Thee Stallion in the main room or PC Music's Acid Angel showcase next door, with performances from the UK label's stars as well as associated friends and family.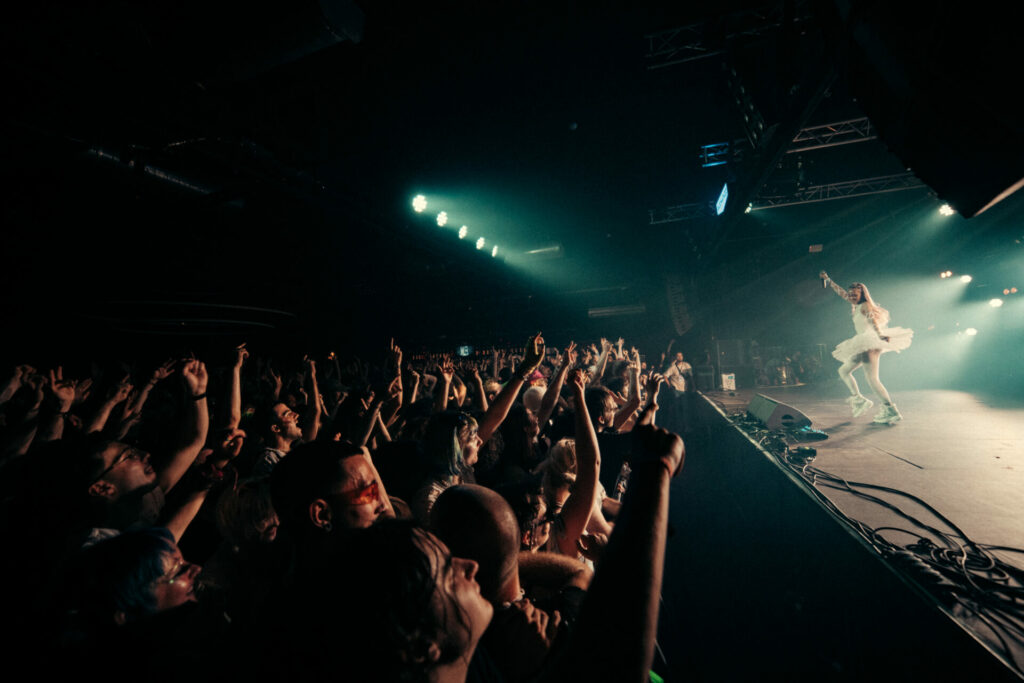 With Megan also playing the festival main stage a few days later, Acid Angel seemed a decent choice. Walking into a packed crowd going ballistic over (of all things) a Hannah Diamond ballad was a rush. When A. G. Cook later played Charli XCX's 'Focus', the pop star herself came on-stage, danced, and later tweeted her appreciation for the PC Music family (she was originally billed for the show but quietly dropped from the line-up weeks earlier). Kero Kero Bonito had played the festival a few days earlier but tonight promised a completely different set with no two songs repeated; the result was an off-the-rails performance that took in everything from old favourite 'Flamingo', to the first live outing of their very early song 'Fortune Teller' in nine years, to an unexpected medley of tracks from side project Kane West. Having not seen 100 gecs before (they've still yet to perform on UK soil due to repeated tour cancellations), it seemed reasonable to assume that their set would be pretty bananas, and with queues stretching around the block, the crowd – thankful to be inside at all – seemed up for anything. Things turned demented as the Dylan Brady and Laura Les tore through 'Doritos & Fritos' and 'Stupid Horse' at warp speed.
Heading into the Parc del Fòrum site the next day for the start of Primavera's second weekend, there were understandable concerns as to whether the problems from the previous week would resurface. This time, the staff were more fairly distributed between the quieter and busier areas, the internet problems that caused delays with wireless card payments at the bars were fixed, and more water points had been added across the site. It's hard to say if these were all Primavera-specific problems, too. In the UK, this summer will see many large festivals make their first outing post-Covid, and there are already concerns that they will be affected by the perfect storm of supply chain delays, increased costs, and the overall loss of skilled bar and security staff from the industry after many retrained after being left unemployed during the pandemic (the latter is a particular problem in Spain, where unemployment is 13.4 percent, more than double the EU average of 6.2 percent).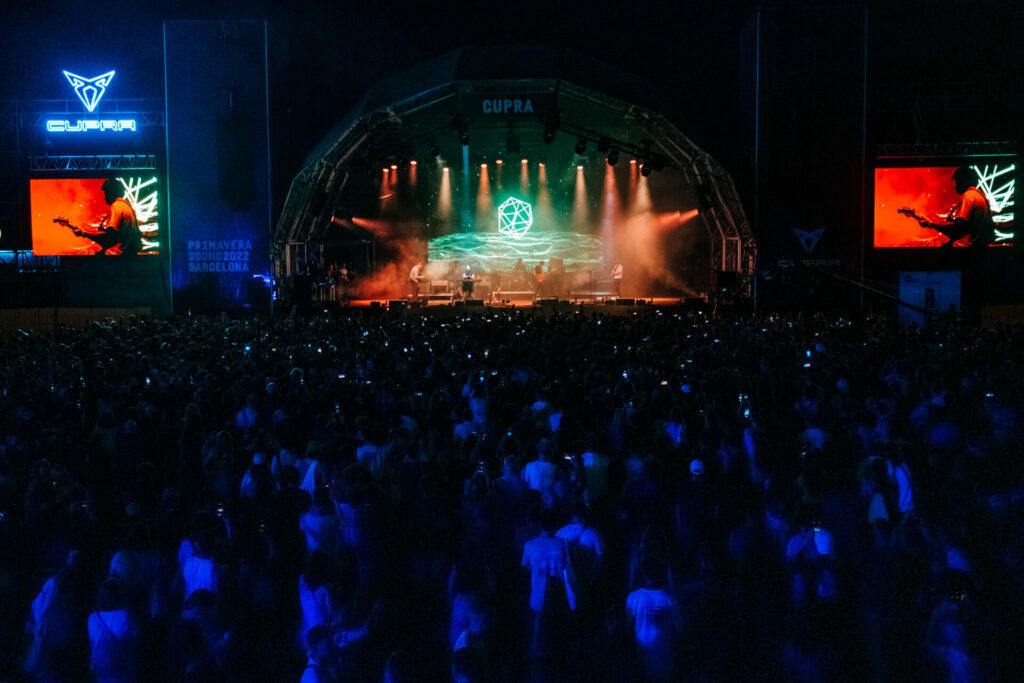 Other issues certainly were unique to the festival though – namely, having the two main stages (sponsored by Pull&Bear and Estrella Damm) sitting side-by-side. Although this unconventional arrangement meant the changeover between acts was fairly quick, it left a huge swell of people in place at any one time, with only some there for the act on-stage and the rest waiting for whoever was due up next. As the sun began to set on the Thursday, Khruangbin played on the Estrella Damm side, less 'performing songs' and more 'delivering vibes' – inoffensive enough until they launched into a medley of standards like Dick Dale's 'Misirlou' (A.K.A. the Pulp Fiction theme) and 'Apache' near the end of their slot.
If splitting the stage in two was a big adjustment, then other changes to the festival were more subtle. The amphitheatre venue remained at the centre of the site, but had switched sponsors from Ray-Ban to CUPRA, a Spanish car manufacturer specialising in hybrid and electric vehicles. The brand has become a recognisable presence in culture since it launched in 2018, sponsoring football, motorsport, and padel tennis teams, and using the Primavera weekend to kick off its plans for the future with its Impulse event in the days leading up to the festival. Their patronage extended to other venues too, sponsoring the Boiler Room stage and a VIP area next to the main stages, and the on-site Primavera Sound Radio station. The venue seemed tailor-made for acts with big, layered sounds, like Slowdive, whose rich, FX-heavy guitars and deep, dubby basslines seemed to reverberate deep inside your chest as they played songs like 'Souvlaki Space Station' and 'When the Sun Hits'.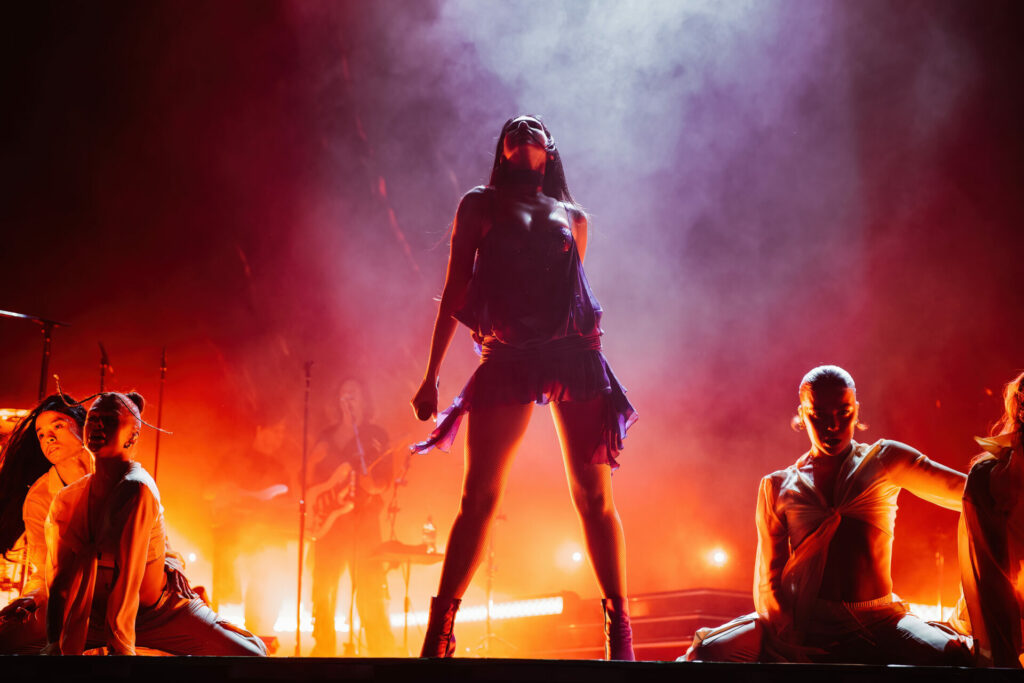 Later, on the Estrella Damm stage, Gorillaz – by most accounts a unifying headliner when they played the previous weekend – battled through washed-out sound for their second set of the festival. Following a somewhat slow midsection they brought out guests (Mos Def, De La Soul, Moonchild Sanelly) and performed with longstanding collaborators the Hypnotic Brass Ensemble, closing out with hits like 'Feel Good Inc.', 'Dirty Harry', and 'Clint Eastwood'. It was fun but never felt particularly vital.
Dua Lipa, on the other hand, played an all-bangers set in her headline performance. It was surprising to be reminded of just how many hits she has (with Future Nostalgia landing in the pandemic, you could easily forget all the monster tunes from her first record and her numerous collaborations). With an incredibly slick production, from the backup dancers to the overall rhythm and flow of the setlist – which went from uptempo bangers like 'Physical' through to the emotional sway of 'Be the One' to a straight-up dance party by incorporating remixes from the Club Future Nostalgia album and interpolations of DJ Falcon and Thomas Bangalter's 'Together' – you'd have to be made of stone not to be won over.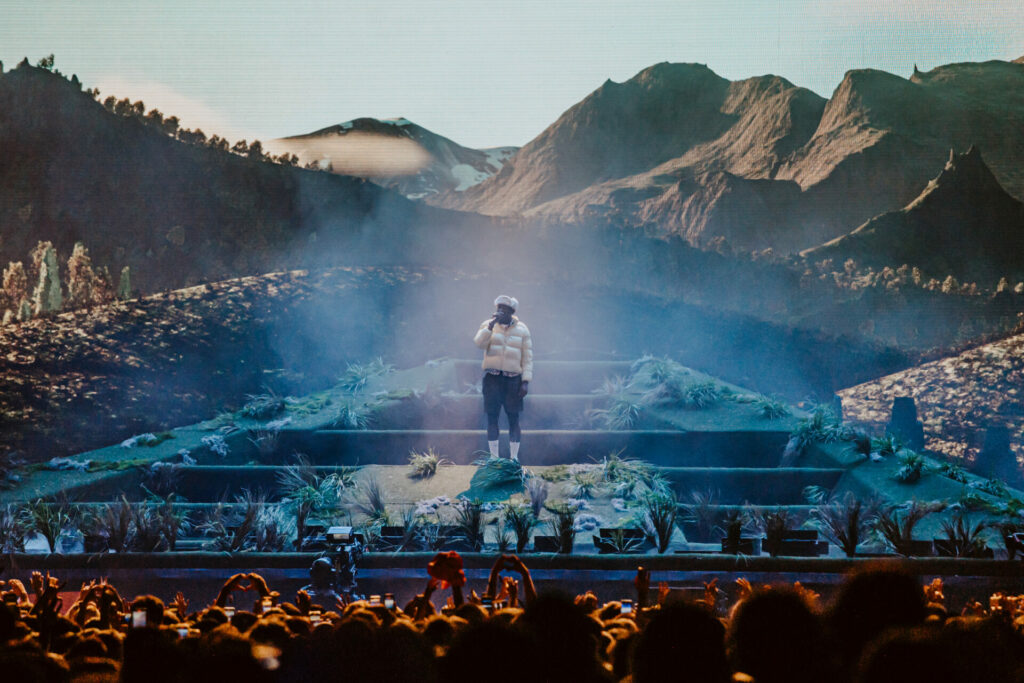 Closing out the main area that evening, Tyler, the Creator had a far more pared back performance. The staging was still elaborate, of course – he came on-stage atop a huge, custom-built mound and pyrotechnics – but ultimately, this was the Tyler show, and he could probably have done the same against the blank backdrop. He's a uniquely charismatic performer, moving through the more romantic cuts of latest album Call Me if You Get Lost and back to short teases of early crossover tracks from his horrorcore days like 'Yonkers'.
After hours, Primavera comes alive with some excellent dance and electronic music programming, much of it taking place on a part of the site that many punters call 'Techno Island'. This year's dance line-up felt a little less on-it than before, though there were still a lot of solid bookings. However, the bridge that connected this area to the rest of the event was closed, leaving attendees to take a 15-minute walk the long way around – that is unless, of course, you had a VIP ticket. While there may have been some justification for this (safety? crowd control?), limiting the bridge to high-paying customers seemed a miserly decision. Equally baffling was scheduling Charli XCX and Dua Lipa to play at the same time on opposite sides of the festival, making it impossible to see both. After Charli finished on the Tous stage, 2manydjs played a DJ set with a killer new A/V show, their selections careening from old Belgian rave and acid bangers to cult industrial band Crash Course in Science to new Soulwax remixes of Wet Leg, Charlotte Adigéry and Bolis Pupul, and Catalan icon Rosalía.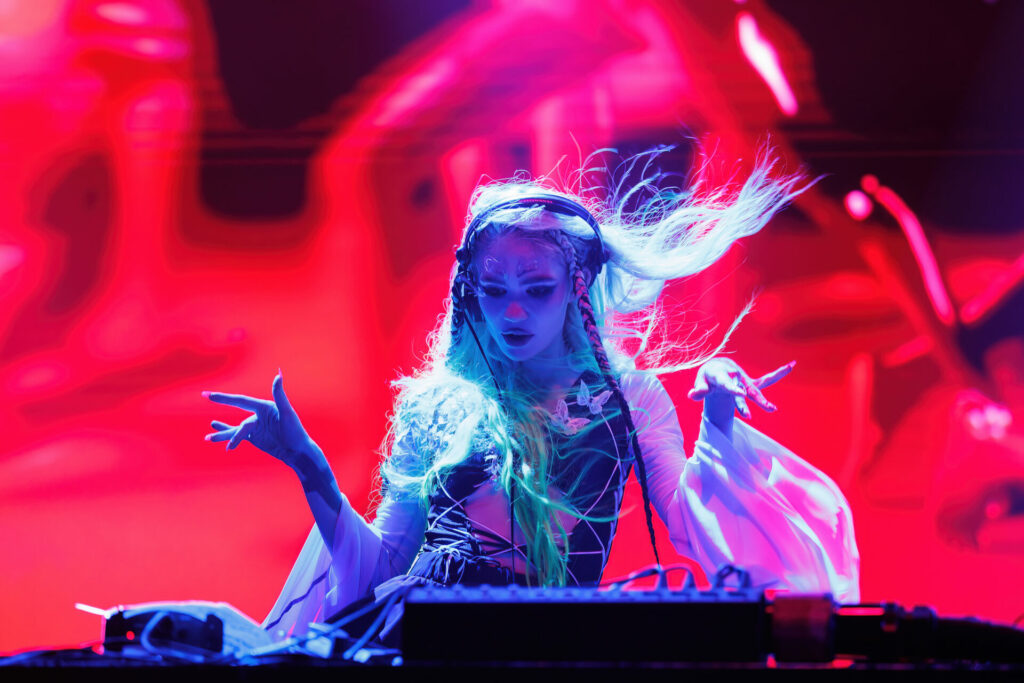 The next day saw headliner Lorde play at 9.30pm – relatively early, considering so much of the festival doesn't kick off until after midnight. Talking to the crowd about drinking on the beach in New Zealand and inviting them to sing along to 'Liability' (no shushing here), she delivered a slowed down and groovy cover of Bananarama's 'Cruel Summer'. M.I.A. later performed on the main stage too, her set underscored by divine iconography: a 14-piece female choir clad in white, a huge cross as part of the stage visuals, lyrics about "needing a miracle". It's not hard to view this in relation to M.I.A.'s recent revelation of a religious epiphany (which seemingly turned her into a born-again Christian), though the effect was more spiritual than sermonlike. Plus, it's hard to feel like you're being preached to with a song like 'Paper Plans', which tonight was mashed up with elements of Lorde's 'Royals' and Taylor Swift's 'You Need to Calm Down'.
Elsewhere, the Jesus & Mary Chain sounded as tight as they have done since first reforming in 2007, playing a tight set peppered with classics like 'Cracking Up' and 'Some Candy Talking' on the Binance stage (Primavera's forays into crypto felt quite jarring, especially in light of recent market crashes – besides Binance's presence, the festival also sold NFTs). Grimes's DJ set on the Tous stage proved to be an unlikely Friday highlight, mixing hi-tech cyber-rave with some serious pop bangers: Enya's 'Orinoco Flow', snippets of Britney's 'Toxic', and, most strangely for what felt like the hottest day of the year, 'All I Want for Christmas Is You' (perhaps a callback to her legendary Boiler Room set). She had some serious stage presence behind the decks, too, dressed in a long gown that blew with the breeze from the sea. The same could be said for rave lord Danny L Harle, dressed in silver robes and surrounded by a ring of CDJs (a reference to his 'On a Mountain' music video, which recasts the DJ as a sort of Old Testament angel figure). Playing on the CUPRA stage, his happy hardcore-inspired Harlecore album sounded unbelievable, kickdrums pounding at what felt like about 400 beats per minute.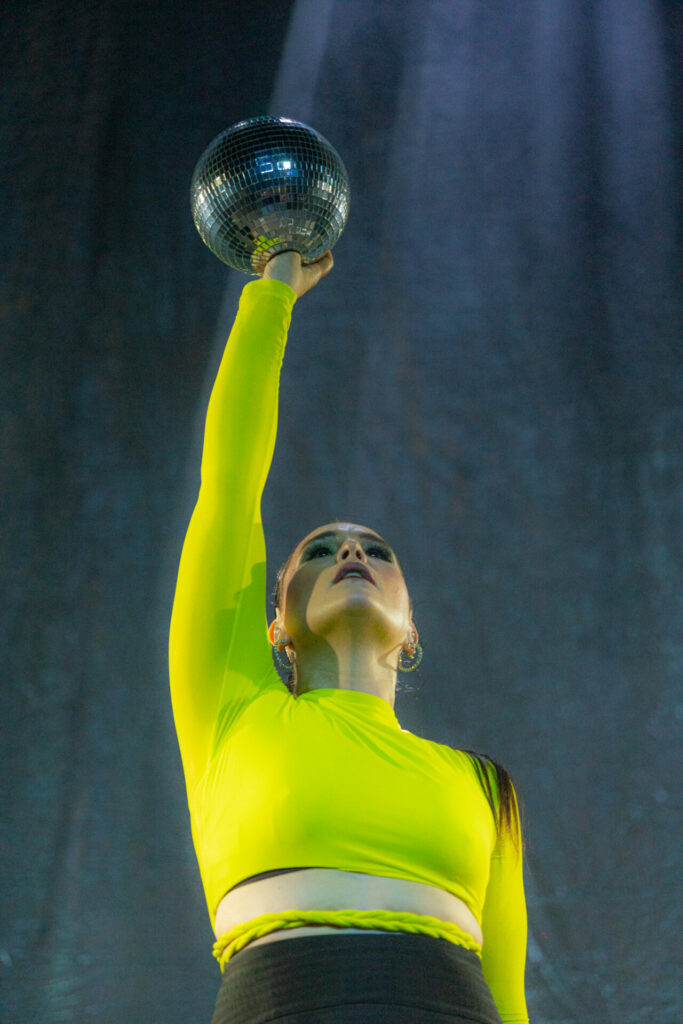 On Saturday, Jorja Smith delivered a light and airy set on the Estrella Damm stage, stopping to reveal that it was her birthday that day – leading you to feel somewhat guilty for finding the set a little, well, boring. On the same stage later that evening, Megan Thee Stallion posed deep, fundamental questions like: are you on your hot girl shit? The set was raucous, at times genuinely hilarious (her freaked out response to an audience member's "Megan adopt me" plea held out on their phone) to genuinely angry (her critique of Texas's abortion laws: "Tell these stupid ass men in Texas trying to tell us what the f**k to do with our bodies," she said, imploring the crowd to raise their middle fingers).
Over on the CUPRA stage, Jessie Ware delivered one of the night's highlights. The success of Ware's Table Manners podcast over the past few years has placed her closer to the British entertainment establishment's more cosy side, something that usually spells an easy listening creative death for musicians. Yet Ware's music has only gotten better as a result. She has totally found her groove with What's Your Pleasure?, leaning heavily on its disco-kissed sound throughout the set with the exception of a few old classics like 'Wildest Moments'. She also remarked upon how happy she was to be playing – not just performing live after Covid in general, but to be at Primavera specifically. Later, on the same stage, DJ Coco – a Primavera mainstay who plays what is essentially a middlebrow take on a chart'n'cheese set – was something of an acquired taste. Better was Daniel Avery's airy techno live show on the Tous stage, and Goldie spinning drum and bass set as the sun rose in the Dice area next door.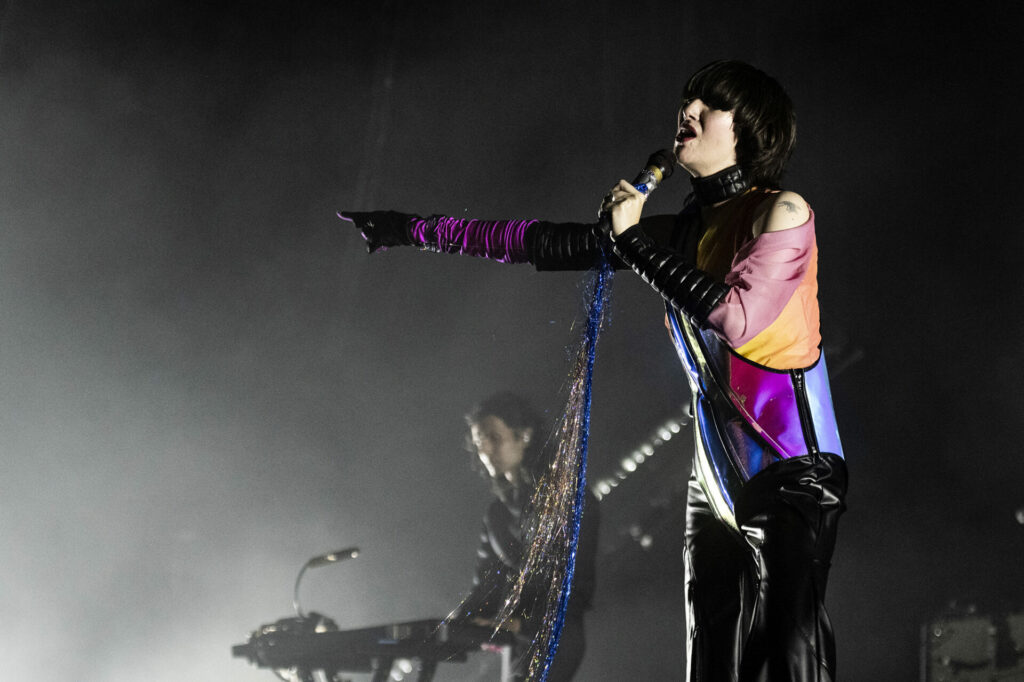 But it was perhaps the Yeah Yeah Yeahs who captured the mood of the weekend best. Having been out of the picture for some years (their last album was 2013's Mosquito, though they've toured sporadically since), they kicked off their show with new single 'Spitting Off the Edge of the Earth' before launching into a career-spanning set, where the time away has turned even third album singles like 'Zero' and 'Heads Will Roll' into classics on a par with 'Maps' and 'Y Control'. It was the band's first appearance at Primavera since 2009.
"It's great to be back," says frontwoman Karen O, looking out into the audience before taking a beat. "It really is."