Stormzy live in Leeds: Big Michael delivers star-power on first ever arena tour
On the third night of his first arena tour, Stormzy finds impressive ways to feel both massive and intimate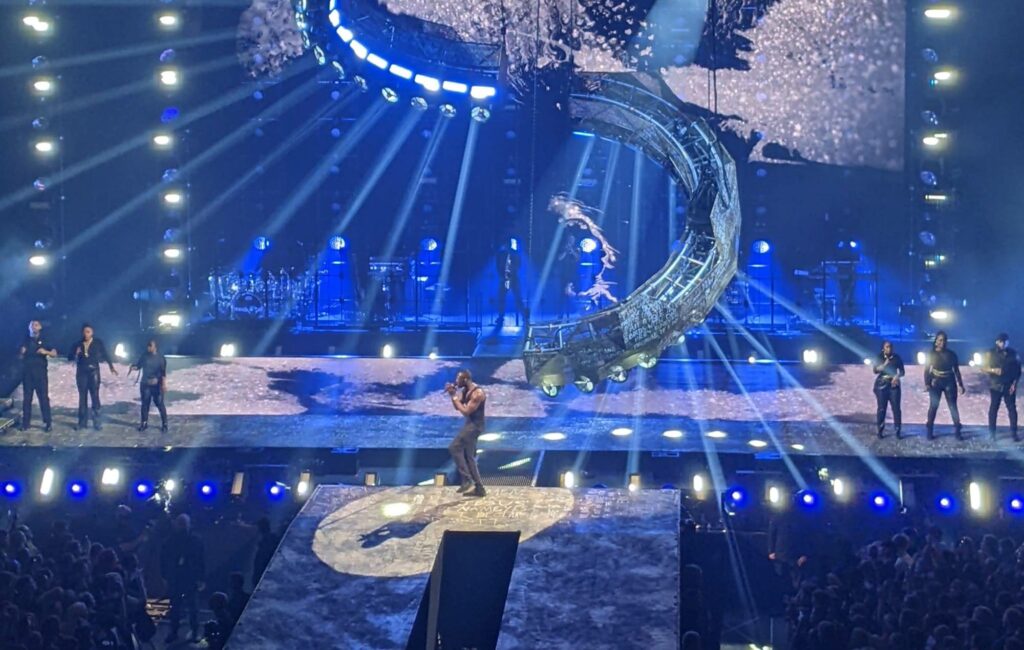 In both his music and his philanthropy, Stormzy is a star who likes to give back. Selling out an arena to a multi-generational audience, his is the kind of ticket that defines lives, that sets young people on a path that they didn't think possible before that night. Before he has even stepped foot on stage, the energy in the room is high; fans have clocked Leeds's star footballer Kalvin Phillips in the stalls, scrambling across seats to get selfies. There's a clear parallel to the evening; two role models accommodating their fans with consummate professionalism, knowing what that inspiration could mean.
Given that 'Heavy Is The Head' was released in late 2019, it would have been easy for Stormzy to skip these shows. But with tickets already rescheduled twice, it is clear that he has unfinished business, delivering a performance of epic proportions. Kicking off a run of 'Big Michael', 'Audacity' and 'Know Me From' without dropping a single bar, the stance is clear; play the hits, and do it with maximum energy.
When you find out that the staging was designed by the same team who worked on Beyonce's Coachella show, it all makes sense; this is big-league behaviour, with all the bells and whistles. On a superb rendition of 'Wiley Flow', he leaps around in one half of a moving caged pendulum; on 'Superheroes', the gigantic crown that has been hovering over the stage lifts and twists itself into an S, so smoothly that you barely notice until it is in place. It doesn't get the crowd moving as much as the rest, but the kids who get it get it, chanting the key phrase with grins on their faces; "What a flippin' time to be a black Brit!" Sincerity well and truly nailed, he glides seamlessly into 'Own It'.
Behind all the bravado of mum jokes and "not top two, top one" swagger, it is this effortless mix of tender and exhilarating moments that showcases just how versatile the rapper has become. Flanked by a choir and live band, 'Cigarettes and Cush' could be a Silk Sonic performance ("you are now listening to the smooth sounds of Stiff Chocolate", he deadpans), while 'Rainfall' has his backing vocalists belting out colossal gospel runs, morphing into a 'Praise You' party.
He's visibly touched as he crosses his arms and laughs at the crowd, embracing their roars. "I've been making music, I've been growing, and to come back out here and see everyone…thankyou so much for holding on to your tickets and still supporting me, still watching my fucking lanky legs jumping up and down. I love you guys from the bottom of my heart," he offers.
He introduces a studio VT that serves as a trailer; Stormzy album three has a release date reveal of 2022, and we are invited to pre-order it tonight at the merch booth. It could have been cheesy, but his excitement over "the album of my dreams" is infectious, especially when it slides straight into 'Blinded By Your Grace Pt.2', rousing to even the staunchest of Atheists.
As a set closer, 'Vossi Bop' ends so succinctly that it could almost be anticlimactic, but then he climbs down and introduces himself to the fans at the barriers, making himself available to clamouring hands right along the line. A full twenty minutes pass as he takes selfies and bumps shoulders with them all, house lights blazing. Tiny children leave starstruck, their faces gaping as they run back to the parents who have seen fit to hang back and let them live out their dreams up close. It's a risky move from Stormzy in the covid era, only three nights into a world tour, but it's one of touching spontaneity, a mark of his sincere desire to stay close. His national treasure status is rarely under question, but once again, he has proven that the crown is always worth it's weight.