A viral Drake and The Weeknd collaboration is completely AI-generated, but fans don't mind
The song, 'Heart on My Sleeve,' was created from scratch by TikTok user Ghostwriter977, who slapped on a Metro Boomin producer tag and has since amassed over 11 million views
By Larisha Paul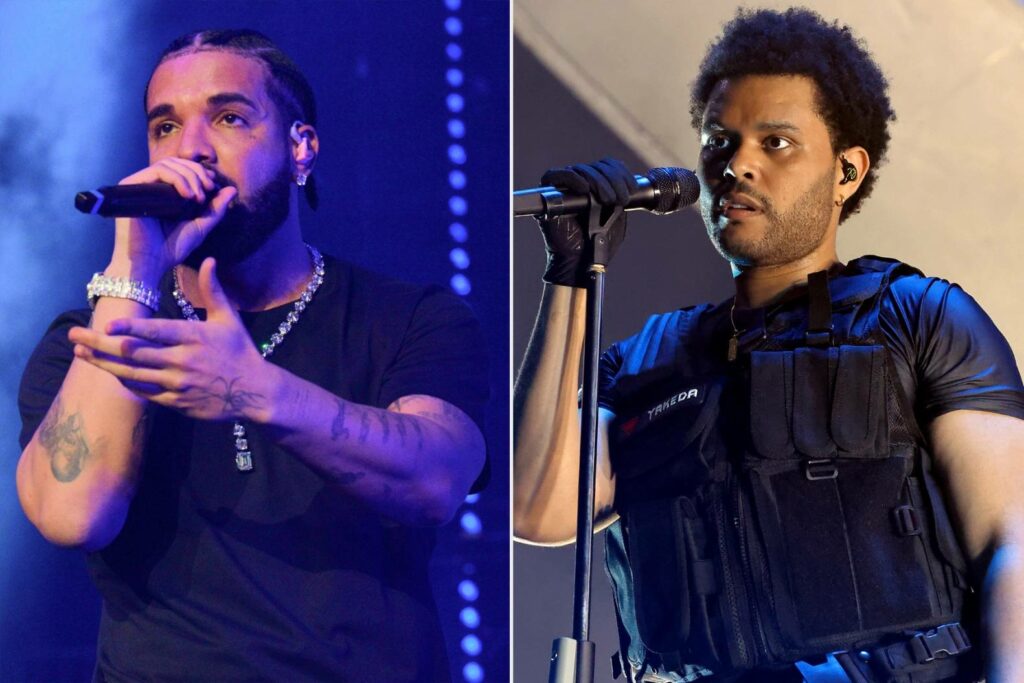 Metro Boomin's producer tag puts his signature stamp on 'Heart on My Sleeve,' the viral song featuring what sounds like vocals from Drake and The Weeknd. But he didn't have anything to do with creating it — and neither did they.
The record, which features line after line of lyrics fated to become Instagram captions, was created from scratch by the anonymous TikTok user Ghostwriter977 using artificial intelligence. Since being uploaded to the short-form video app on Saturday, April 15, "Heart on My Sleeve" has amassed over 11 million views across seven promotional videos.
For one video, Ghostwriter uploaded a screen recording of a Tweet describing the faux collaboration as "a modern Napster moment." As he's scrolling down the tweet thread, a conveniently-timed text message from "Rob (Attorney)" flashes across the top of the screen. It reads: "Offer in from Republic." Worth noting is that the three artists whose artistic likeness was lifted to create "Heart on My Sleeve" — The Weeknd, Drake, and Metro Boomin — all have licensing and marketing deals that distribute their music through Republic Records.
Representatives for Republic Records did not immediately respond to Rolling Stone's request for comment.
Before 'Heart on My Sleeve'"' reached TikTok, it had already settled in on streaming services. The track was first uploaded to Spotify and Apple Music on April 4. "I was a ghostwriter for years and got paid close to nothing just for major labels to profit," the creator wrote in the comments of both of his latest videos. "The future is here."
"I came in with my ex like Selena to flex/Bumpin' Justin Bieber, the fever ain't left/She know what she need, Anita, she blessed/Givin' you my best," Not-Drake raps on the song. In the other verses Ghostwriter penned to deliver through the rapper's voice, he namedrops 21 Savage and boasts about kicking women he doesn't need to the curb.
The Weeknd's (more like Weekday) verses don't capture his musical essence quite as accurately. There are a few lines about Toronto and fast cars, but it ultimately lands too far away from the actual artist's current position in the pop arena, miles away from his underground roots, to be believable. Even through Drake's frequent stagnation, Ghostwriter seems to capture both artists at a place that they couldn't, or more likely wouldn't, return to themselves.
For some fans, this is part of the appeal. If they suspend their disbelief just enough, it's almost like they're listening to the real thing. "Hardest Drake in a long time and it's AI," one user wrote in Ghostwriter's TikTok comments, receiving nearly 2,000 likes. Another added: "This is so unreasonably good. I just downloaded it on Apple Music. I really hope you don't get sued for this because I don't want this to go away."
These sentiments, along with the hundreds of comments putting in requests for other could-be collaborations, directly oppose the goals of the Human Artistry Campaign. Launched in early March, the organization issued a call against the AI music revolution as it pertains to replacing human creators with fast-growing tech advancements.
The campaign has been backed by a list of over 40 founding major music and entertainment organizations, including the Recording Industry Association of America (RIAA), the Recording Academy, the Music Artist Coalition, SAG-AFTRA, the Songwriters of North America and the National Music Publishers Association.
"Human artistry is irreplicable. Recent developments in AI are remarkable, but we have seen the costs before of rushing heedlessly forward without real thought or respect for law and rights," RIAA chairman and CEO Mitch Glazier shared in a statement. "Our principles are designed to chart a healthy path for AI innovation that enhances and rewards human artistry, creativity, and performance."

'Succession' Recap: Logan Roy Finally Names His Successor… Sort Of
Universal Music Group, the largest music company in the world and the parent company to Republic Records, recently requested that streaming services like Spotify and Apple Music block access from AI services that might be using the music on their platforms to train their algorithms, according to the Financial Times.
"We have a moral and commercial responsibility to our artists to work to prevent the unauthorized use of their music and to stop platforms from ingesting content that violates the rights of artists and other creators," a spokesperson for UMG told the Financial Times. "We expect our platform partners will want to prevent their services from being used in ways that harm artists."