Everything Everything: "You can use technology to cope"
As Everything Everything gear up to release their new album, frontman Jonathan Higgs tells Rolling Stone UK how he's used AI to create personal lyrics for the new offering
By Nick Reilly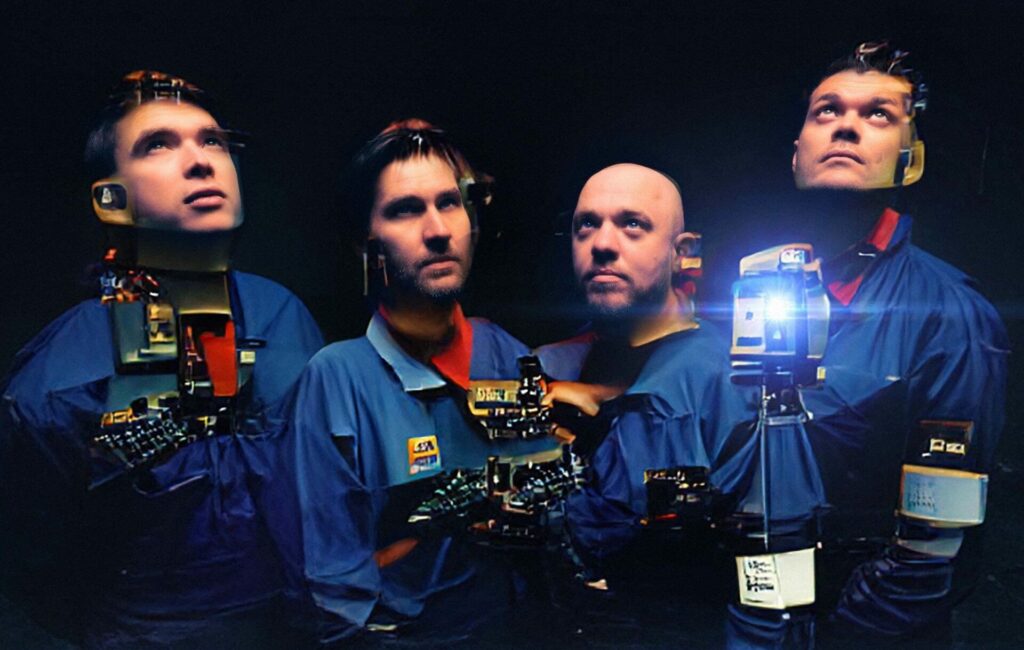 Everything Everything have never been ones to shy away from the grandest of concepts. Their last album, 2020's 'Re-Animator', saw the art-pop heroes pondering the very nature of the human mind, after digging deep into the pioneering work of late American psychological researcher Julian Jaynes.
Two years later, they've harnessed the growing role of artificial intelligence to literally deliver an album. On 'Raw Data Feel', frontman Jonathan Higgs has used AI software to create some of that record's lyrics, after feeding it with four eclectic sources of literature – including the terms and conditions of LinkedIn and 100,000 comments from the annals of contentious message-board site 4Chan.
But, as Higgs explains in an exclusive interview with Rolling Stone UK, the unorthodox concept can prove quite handy when it comes to mining your own trauma. You can our full interview with Everything Everything below.
So how has the sound of Everything Everything changed since 'Re-Animator?'
This album is the sound of us having fun and freedom. It's quite strange but also pretty catchy. The record, the sound of it is hopefully a refreshed band and a relaxed confident approach where we know what we're doing and we're trying to have fun. We don't have a big heavy thing dragging us down, it's more about experimentation and making the music we want to hear.
Tell us about the lead single 'Bad Friday', which captures that feeling of regret you get the morning after a big one.
A lot of the songs on this record are about trauma and violence, but I didn't want to directly talk about that because I found it a bit painful. So I found these different ways to get it out without bringing everyone down. When I started writing 'Bad Friday' it was about trying to get away from somebody who was going to do something bad to you and it was quite dark, but I found this way to put it into a new bracket of not remembering a night out because you were so pissed and it was fun. You listen to it and think it's about a crazy night out, and I do want you to feel that way, but that's only half of the meaning. There's an underbelly of bad stuff going on and you don't want to think about it.
That darkness seems to run through the album too…
There's a lot of songs about needing more time or trying to get away. There's a character called Kevin who comes up a lot, but it's never well defined. It's this feeling of 'this guy Kevin has people who want to do bad things to him and he wants to get away'. There's this idea too that you can use technology to cope and use someone else's brain because you're hurting when you use your own. That comes up a lot. Not looking at memories because they're too painful.
You've used artificial intelligence software to write some of the lyrics.
Yeah, I got this machine learning programme and taught it everything it knows, but all I gave it to read was the entire T&Cs of LinkedIn, the whole of Beowulf, 100,000 comments I'd collected from 4Chan and the sayings of Confucius. I chucked them all in and asked it questions. It spoke back to me and I used what it said in some of the songs. There's this feeling now and again that I didn't use myself for this. I used a proxy brain to deal with difficult things. When I didn't want to talk about my own problems I was like 'why don't you talk now, AI!'. We used the AI to design our artwork as well, it's a running theme.
Those difficult things you don't want to talk about. Are they personal experiences of trauma? What personal depths are you mining there?
It's my own experience but I also feel like it's an international trauma at the moment for obvious reasons. For some it's greater than others, but there is a collective feeling of having been through something, which is quite relatable. I know some people's pandemics were exceptionally awful, in so many different ways.
Are you not worried that the computers will come after you for the royalties when they eventually overtake us?
Not far off! There will come a time when a computer can write much better songs than I can and sing them better than me, although that wouldn't be hard! They'll write better songs than anyone on Earth and make better art. They just will.
On the surface these songs are still very much what fans have come to expect from Everything Everything.
Oh 100 percent. I don't enjoy sad music anymore, I don't enjoy listening to it and I don't enjoy making it. I can't do it right now in my life and I don't want to at the moment. I don't want to go round the world playing sad songs about woe is me, I've done enough of that. I've had some big changes since 2020 and I've got this new chapter and I'm not really the same person. If you want to listen to really sad songs by me I've done 200 of them! We wanted a party.
So you've created a record that rallies against the pain of the pandemic?
I was experiencing some personal problems and they came to a head during the pandemic. Since then I've thought I'm not going back to make sad music. I just want people to listen to a happy Everything Everything album.