Music industry speaks on potential impact of BBC cuts amid licence fee freeze
As the BBC faces mounting pressure on its future, the likes of Shaun Keaveny, The Anchoress and the Shadow Culture Secretary tell Rolling Stone why its loss could hugely impact UK music
By Nick Reilly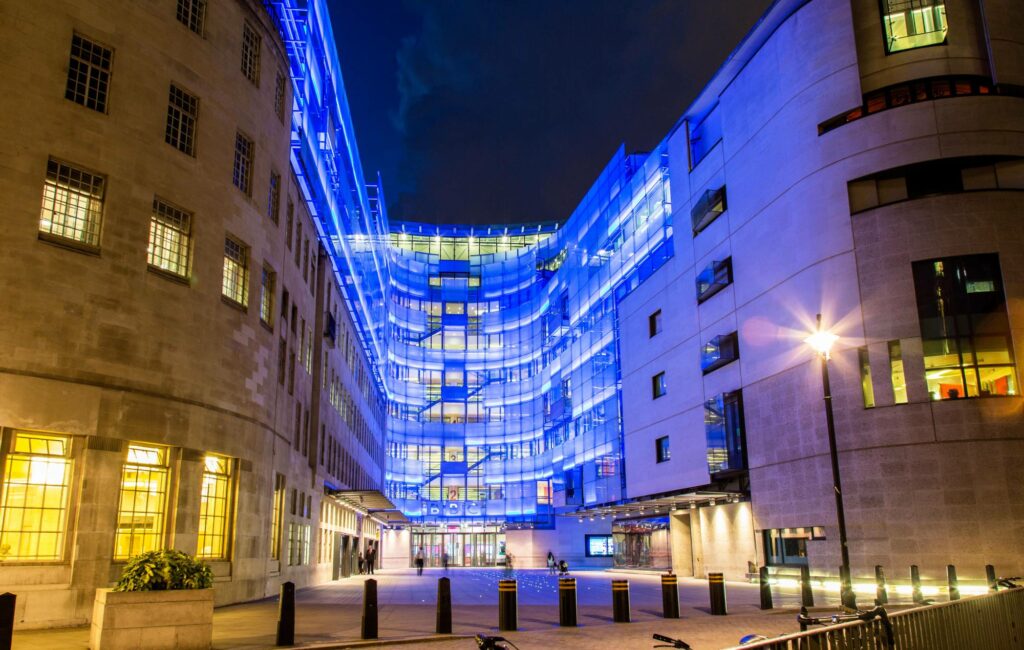 Leading figures from across British music have spoken of the huge impact that potential cuts to the BBC could have on the industry.
The stark outlook comes after culture secretary Nadine Dorries confirmed earlier this week that the TV licence fee will remain at £159 until April 2024. The corporation's director general Tim Davie subsequently confirmed that that significant cuts to the BBC's output could be on the horizon.
While the nature of those cuts is yet to be confirmed, leading figures within the music industry have told Rolling Stone UK that any slashes to radio and music services could have an enormous impact on the reputation and standing of British music.
A huge financial hit to the industry is considered to be among the main concerns, as well as fears that the absence of BBC stations will prevent a pipeline of new talent from getting heard and securing big breaks.
Shadow Culture Secretary Lucy Powell warned that cuts could turn out to be "false economies" and decrease the worth of the music industry, which has already fallen by nearly 50 per cent to £3.1 billion as a result of the pandemic.
"These things often turn out to be false economies. Music is a massive net beneficiary to our economy in all its forms, also in its promotion of British culture and its power to have our creative industries at the heart of our global brand," said Powell.
"You cut these things at your peril and essentially the government have announced this week that they're taking £285 billion out of the creative economy and it's short sighted. It's one of the most important parts of the British economy."
Asked about the reason for freezing the licence fee and apparent government hostility, Powell pointed towards a "long term vendetta" against the corporation.
"It feels very much ideological and a personal thing. That's how they briefed it – certain people in the cabinet and the PM himself don't like the way news is reported and they don't like the robust questioning they get from journalists in general," she said.
"They're using what is a non political role to try and get themselves more favourable media coverage and it's clearly part of a long term vendetta against the BBC."
Former BBC 6 Music presenter Shaun Keaveny, who now hosts The Line-Up podcast, also voiced fears that the corporation's reputation for championing and establishing new talent through programmes such as BBC Introducing could also be severely impacted if they face the chopping block.
"From a cultural perspective, it's a no-brainer that the BBC is a good thing and I don't think there's anything remotely controversial about that. It's a behemoth and not without faults, but to be politicised in the way it has been is horrific and it's horrible to watch," he said.
"People might roll their eyes, but what we're going to end up with is the Sheeran-ification of music which is already happening before our eyes and it's purely for profit, but programmes like BBC Introducing allow young bands to be given a helping hand and only the most cynical billionaire would think about stamping that out for the sake of a perceived bias in the news, which is complete horse shit.
"They just want to see the back of the BBC and they don't care what goes down the plughole with it."
"It's a no-brainer that the BBC is a good thing and I don't think there's anything remotely controversial about that"

Shaun Keaveny
One such artist who has been championed constantly by stations such as BBC 6 Music is Catherine Ann Davies aka The Anchoress, who warns that any cuts could severely impact the careers of independent artists who have found a home for their music within the corporation.
"Everything about my music has come from the BBC, even the name The Anchoress came from listening to a documentary on BBC Radio 4. But in the absence of a fair streaming model, radio is where you can try to seek income.
"Stations like 6 Music also have massive sway over festivals and influencing what gets booked at festivals and that's where you're getting decent PRS income. With Glastonbury coverage as well, no one has thought about the broader nexus that the BBC has culturally. It's not just a question of, 'Do you listen to 6 Music?' What about all the other things you grew up watching, which introduced you to the bands you still love. That's thanks to BBC coverage."
She added: "The people who want to abolish it will point towards all the bits of the BBC they don't use, but it's an integral part of music culture in this country."
Crispin Hunt, chair of the Ivors Academy and a member of the PRS council, pointed towards future talent that could fail to break through if BBC stations fail to provide them with a voice.
"So many new artists I've worked with that get signed attribute their initial success to BBC Introducing and it's astonishing the service they provide. But we're in the middle of the conversation about streaming payments and if you disable the biggest licence payer to PRS then you completely disable the entire creative sector of the music industry."
Hayley Codd is head of national radio and television promo for Public City PR, and points towards recent successes with breakthrough acts such as Nova Twins and Kid Kapichi as proof of the BBC's impact.
"We've had massive support from BBC Introducing for Kid Kapichi, but it is a bit of a worry that these platforms might not be there, because in the wider single campaigns for acts like them and Nova Twins, they rely on specialist radio support. But if those platforms aren't there, I do wonder how people will start to recognise their talent. Where will be able to build that momentum? Because let's be honest, Nova Twins are going nowhere near the Capital Radio playlist anytime soon.
"Most of their support has been from BBC Radio 1 and 6 Music, championed by DJs like Steve Lamacq. If specialist stations are reduced or cut, then obviously the competition for those bands will just get even harder."
But for Keaveny, who previously battled to save BBC Radio 6 Music when it was threatened in 2010, the bleak future of the corporation isn't set in stone just yet.
"I'm quite confident that the BBC won't go, but I've got to stay hubristically confident about it. Look at what happened to 6 Music in 2010, I was weirdly optimistic while other people were telling me to get a new job. I had a deep-seated belief that something would come up, and it did because the people that loved 6 Music saved it.
"I know everything seems divisive at the moment, but I'm of the possibly misguided belief that there's enough people out there who will rise up to protect the BBC."