Rishi Sunak under pressure over multi-millionaire wife's non-dom tax status
Chancellor told to "come clean" as popularity plummets
By Joe Goggins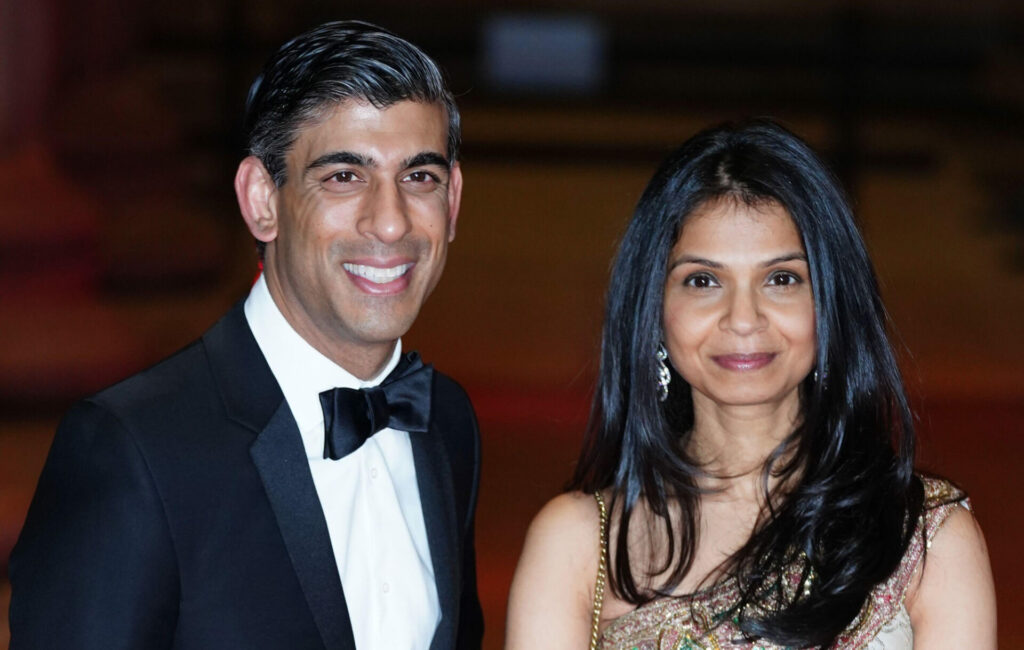 Rishi Sunak is under pressure to provide clarity on his family's financial affairs, after fresh reporting on his wife's tax arrangements.
The Chancellor of the Exchequer is married to Akshata Murty, a billionaire heiress. Owing to her non-dom status, she is not required to pay tax on income earned overseas.
Despite her spokeswoman confirming that she pays all legally required tax in the UK, Murty's status has come under fire from across the political spectrum today, with Labour accusing her of "sheltering" from tax.
Former Leader of the Opposition and current Shadow Secretary of State for Climate Change and Net Zero, Ed Miliband, demanded an "explanation" from Sunak as to why his wife, worth hundreds of millions in her own right thanks to a 0.9% stake in her father's company, Infosys, felt it necessary to seek non-dom status.
"I think it's legal, but is it right?" he said, per the BBC. Labour's shadow economic secretary to the Treasury, Tulip Siddiq, added: "The chancellor has imposed tax hike after tax hike on the British people. "It is staggering that – at the same time – his family may have been benefitting from tax reduction schemes. Rishi Sunak must now urgently explain how much he and his family have saved on their own tax bill at the same time he was putting taxes up for millions of working families."
Meanwhile, the Treasury spokesperson for the Liberal Democrats, Christine Jardine, said: "Sunak now needs to come clean about which country his family pays tax in abroad and if it is a tax haven." Murty holds non-dom status because her country of birth, India, does not allow dual citizenship. However, experts claim that she could relinquish the status if she saw fit.
"Domicile has nothing to do with a person's nationality," said Professor Richard Murphy, co-founder of left-wing campaign group the Tax Justice Network. "Just because a person has Indian citizenship will never automatically grant them non-dom status in the UK."
Business secretary Kwasi Kwarteng spoke out in support of Murty on Sky News this morning (April 7). "I'm totally comfortable with people having businesses, people operating what they do as private citizens, I'm completely comfortable about that," he said. "I'm not an expert on her financial arrangements but I think absolutely people have a right to pursue their own business arrangements. I've just come here to say very clearly that I think her tax affairs are a matter for her."
Murty's financial affairs have been subject to increased scrutiny in recent weeks due to the invasion of Ukraine by Russia. Infosys initially bucked the trend of many other multinational corporations by continuing its operations in Russia, before reversing its decision; it is now in the process of pulling out of the country.
Sunak responded to the initial round of criticism by bizarrely drawing comparison between himself and Will Smith, telling the BBC's Newscast that it was "very upsetting and … wrong for people to try and come at my wife". The latest revelation comes as his popularity continues to plummet in the wake of hiss spring statement, with a YouGov poll released today (April 7) finding that he is less popular with the British public than Labour leader Keir Starmer for the first time since taking up his post at 11 Downing Street.