The decade-long journey to bring 'Don't Hug Me I'm Scared' to television
After gaining a cult following as a YouTube web series, the psychedelic comedy-horror puppet show is now coming to Channel 4. Its creators break down why it took 10 years to happen
By Sab Astley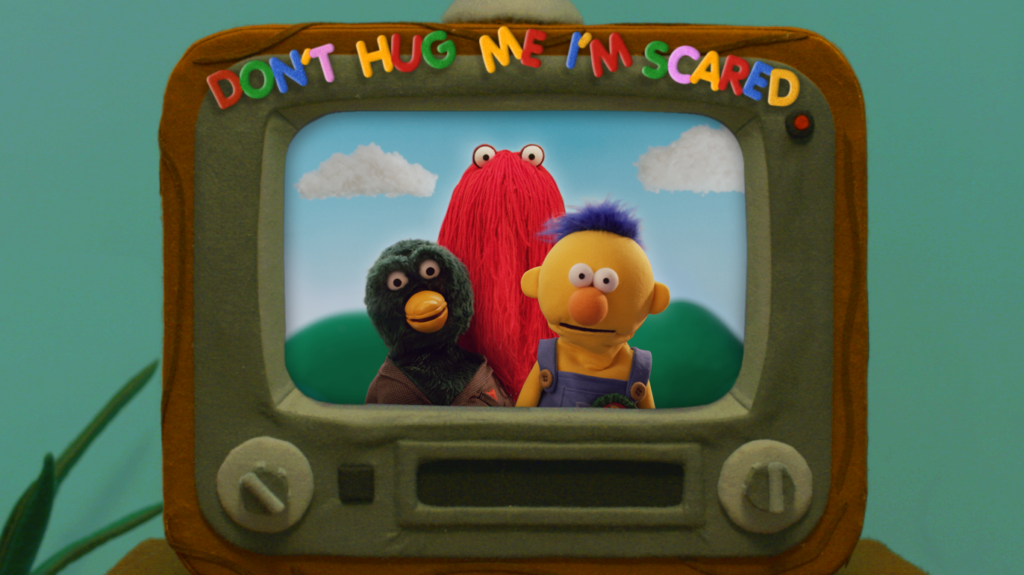 If you've never seen the YouTube series Don't Hug Me I'm Scared before, it's best described as watching CBeebies while in the midst of a fever dream. A demented take on Sesame Street, the show melds educational life lessons and a whimsical aesthetic (puppetry, animation, claymation, and so on) with a nihilistic philosophy and Carpenter-esque horror. Starting life as a YouTube short in 2011, it's now become a six-part, 30-minute television series for Channel 4. It took a decade to get there, and along the way, its creators have faced compromising commission offers, extraordinary collaborations, and perhaps the most unusual superfan they could've ever imagined.
"I think it was as simple as, 'Oh we've got to do something with puppets,'" co-creator Joseph Pelling says of the show's rather straightforward origin story, speaking over Zoom alongside fellow co-creator Baker Terry (the show's third creator, Becky Sloan, was on maternity and unavailable for interview).
Pelling, Terry, and Sloan all met while studying Fine Art & Animation at Kingston University, and they were quickly drawn to the aesthetic worlds of children's television. Don't Hug Me I'm Scared — like Jan Svankmajer's Alice, South Park, Wonder Showzen, and Moral Orel before it — uses mixed media to subvert colourful children's imagery. While most projects begin with a script and expand from there, for Don't Hug Me I'm Scared, the script was one of the last things the trio considered. "It was a strange way of creating something to just start by making loads of visuals without a script — pretty much the opposite of how things are done in show business," says Pelling.
The original 2011 Don't Hug Me I'm Scared short film featured a talking sketchbook's lessons on how to be creative (examples include glittering a human heart, and making a cake out of human organs), and was inspired by the friends' own playful commentary on how art schools teach individuals on how to be creative. The mock educational format continued from there. The shoot for their next video — the first short in their web series — was "mental", according to Pelling, shot under a railway arch posing as a studio and ending with a visit from the fire brigade, who burst in to discover a questionable amount of raw meat and blood splattered across a children's TV show set.
The show follows an unusual trio, known unofficially as Yellow Guy, Duck Guy, and Red Guy. Originally, the plan was to begin with generic stereotypes of children's TV characters and find their individuality from there. Pelling and Terry both have their own ways of describing th characters' personalities: "Yellow Guy is quite optimistic and idiotic, Duck is cynical and fussy, and Red Guy is just sort of thinking 'What am I even doing here?' He's the middleman," says Pelling. Terry, on the other hand, describes them simply as: "Kindly moron, fussy asshole, and the avatar of the audience."
All three creators lend their voices to the show, with Pelling voicing Red Guy, Terry voicing both Yellow and Duck guy, and Sloan across several characters. However, these names aren't necessarily official — Pelling and Terry believed that keeping the trio as mysterious as possible was the best approach. "Not knowing their names is kind of central to the idea of watching a show where you don't understand what it is, or where it is," Pelling says, while admitting not having clear names creates difficulty during the shoots. By leaning into the unknown, the show has amassed an insatiable cult following, with remarkable cosplay constructions as well as in-depth theories as to the wider world outside the trio's colourful clay walls. "It's kind of fun to keep people questioning everything – how do they know each other? Why do they live together?" he adds.
"There are rumours going around that [Elon Musk] dresses as Red Guy on his birthday"

— Joseph Pelling, Don't Hug Me I'm Scared co-creator
The original short released in July 2011, and people quickly took notice — a year later, Don't Hug Me I'm Scared appeared at Sundance Film Festival. "It just felt really nice to have this weird short, I think the shortest film Sundance has ever endorsed," Pelling says. (Baker jokes that the festival's original instigator, Robert Redford, wanted to play Duck Guy moving forward, but Pelling says that he just couldn't match Baker's vocal talents.)
A few years later, the trio began on a series of episodes after fundraising over £100,000 on Kickstarter, as well as partnering with production company Blink Industries, allowing them to push Don't Hug Me further than ever before. For Pelling, Blink helped in every aspect. "They were able to hook us up with proper DoPs [directors of photography] and studios. From there, we began to understand how to step up Don't Hug Me I'm Scared, developing ideas further, and even things as simple as putting a budget together." Blink's involvement also gave the creators a proper studio space in the form of Clapham Road Studios, where episodes two to six of the web series were created. "Me, Becky and Baker just couldn't do on our own what Blink were able to do for us," Pelling says.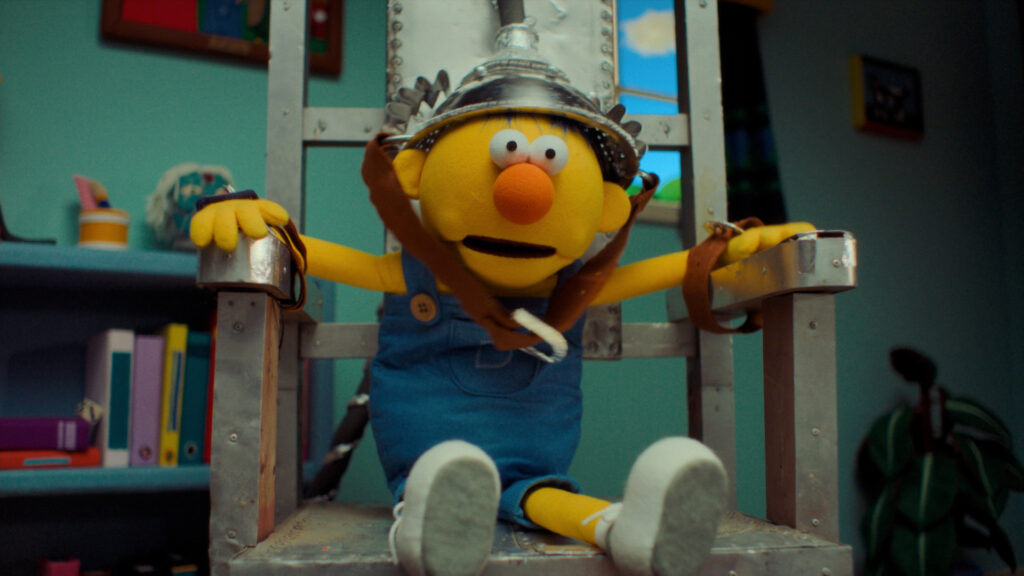 The creators have been involved in a lot of collaborations since then, including directing a Tame Impala music video, crossing over with The Amazing World of Gumball, and even creating their own line of Lazy Oaf clothing. With this increased profile, have they found any unexpected fans? "Elon Musk," says Pelling. Musk has tweeted about the show in the past, and even referenced one of the show's lessons on creativity in a 60 Seconds interview. "There are rumours going around that he dresses as Red Guy on his birthday," says Pelling.
With this explosion of popularity came a strong interest from broadcasters to adapt the show to television, but there always seemed to be a catch. "They'd say things like, 'This show's great! If you get a celebrity involved, we could commission it,' or 'If you adapt it to put in this other show, that could work for us.' So many different compromises big and small, so we just resisted it all." In the end, Channel 4 would eventually become the show's new home. The show had a history with the network — Channel 4's Random Acts division funded the second episode of their web series, 'Time'. "Channel 4 just seemed to get it — we pitched a way of expanding Don't Hug Me I'm Scared to them, which they completely understood," Terry says.
"Instead of making the show bigger and bigger [for television], we wanted to turn around and get intensely claustrophobic instead"

— Baker Terry, Don't Hug Me I'm Scared co-creator
The broadcaster's understanding of the show's philosophically expansive yet uncomfortably real closeness was what proved to Pelling that they were the right fit. "When someone gives you the opportunity to expand the show onto a medium like TV, you get the impulse to go big, big, big. But that's not what the show is about," he says. For Terry, there was a nice contradiction in the way they envisioned developing the show to the next level: "Instead of making the show bigger and bigger, we wanted to turn around and get intensely claustrophobic instead." It's certainly bigger in one way — each episode is a half-hour long, meaning that even one episode of the Channel 4 show runs longer than all of the previous shorts put together. This larger runtime and bigger budgets have allowed for some mesmerising mixed media creations, including an entirely claymation musical number.
Over the past few years, the trio have considered what they may move onto once Don't Hug Me I'm Scared concludes, which included the idea of a bigger musical. Now, those plans might include the show after all. "We'd love to do something live with the characters," says Joseph Pelling. "We've talked about the idea of staging it live, in a very real sense."
Don't Hug Me I'm Scared releases on All 4 on 23 September, and broadcasts on Channel 4 from September 30.