Louis Partridge on becoming Sid Vicious for new series 'Pistol'
Louis Partridge talks facing up to fame, his friendship with Millie Bobby Brown, and playing the Sex Pistols' infamous bassist Sid Vicious in Danny Boyle's new Disney+ drama 'Pistol'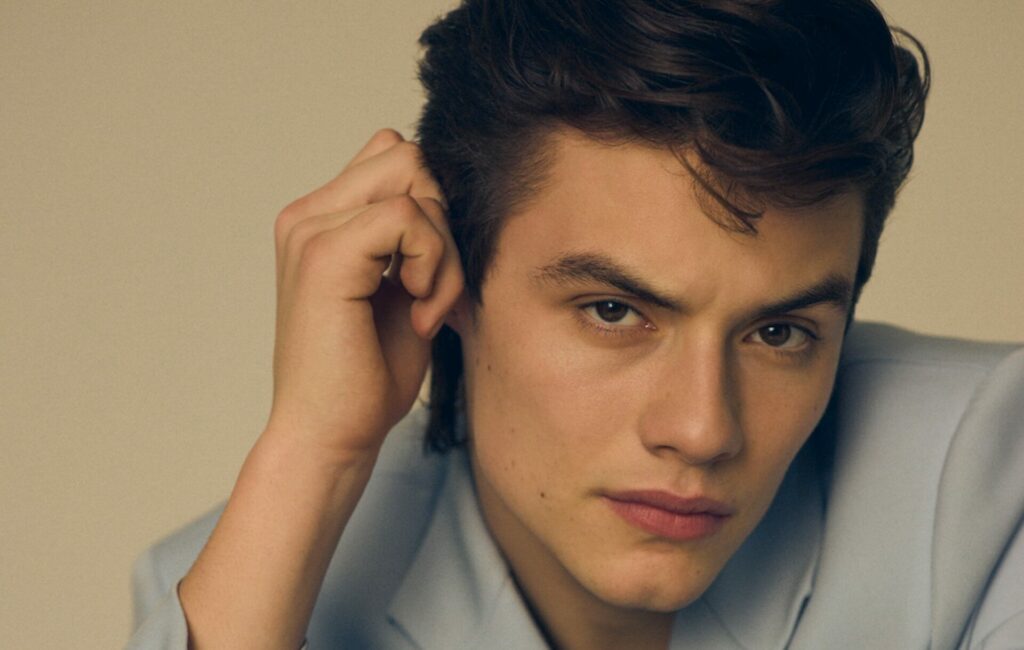 Louis Partridge is getting used to life's extremes. At the start of 2022, he hit Hollywood and found himself being wined and dined on £50 burgers at celeb haunt, The Beverly Hills Hotel. "Then, the very next day, I was slumming it in a £9-a-night Airbnb in Colombia," he laughs. "But I can appreciate both, they both have their advantages…"
Louis Partridge's two-and-a-half-month trip to Colombia and Brazil was part of a belated "gap year thing" with his best mate, and doubled as research for his next, as-yet-unannounced project. Their break took in the rainforest, the beaches and "a lot of lounging", but also "a few scrapes" ("Our friend got mugged quite badly, but I managed to avoid it, thank God," he explains).
You also suspect it might be his last chance to enjoy an anonymous holiday for a while. Because the thing that was keeping this 18-year-old busy throughout his A-levels and beyond was the new Sex Pistols biopic series, Pistol, directed by Danny Boyle. With a Disney+ premiere on 31 May, it is likely to make Partridge and the rest of the cast half as famous as the musicians they portray.
Partridge plays the infamous Sid Vicious, a man who knew the journey from the gutter to the stars (and back again) all too well. It's been a radical left turn for the actor's range — and his hair. After all, he was previously best known for his role as the sensitive, lavishly fringed Viscount Tewkesbury alongside Millie Bobby Brown in Netflix romp Enola Holmes — a part that saw his social media following soar to superstar levels.
Although Partridge may put the pretty into 'Pretty Vacant', he also brilliantly captures the little boy lost inside punk's most notorious junkie (and suspected murderer), giving Vicious a depth he was denied by his tabloid demonisation as the scourge of British society at the tail end of the 70s.
"It's very different to Enola," Partridge stresses as he Zooms from home in Battersea. "I was worried about getting typecast as the posh, floppy-haired kid — and here's me playing Sid Vicious…"
Partridge's true self, he says, lies "somewhere in between" the two characters. He fell into acting at Alleyn's School in Dulwich, south London, but has no formal drama training. Yet that hasn't stopped him lining up some big parts. As well as returning for Enola Holmes 2, he's set to play Peter Pan in The Lost Girls alongside Vanessa Redgrave and Joely Richardson, and is attached to Ferryman, the hotly anticipated adaptation of the hit young adult novels.
Those will have to wait, however. He may finally be free of Vicious' trademark bogbrush hairdo ("I'm still suffering the effects… I've still got a few straggles left") that he was sporting particularly incongruously at events like Glyndebourne last summer. But, for now, bringing the Notorious S.I.D. to life remains "all I've got on my mind".
"Playing a Sex Pistol!" he marvels. "How cool can it get?"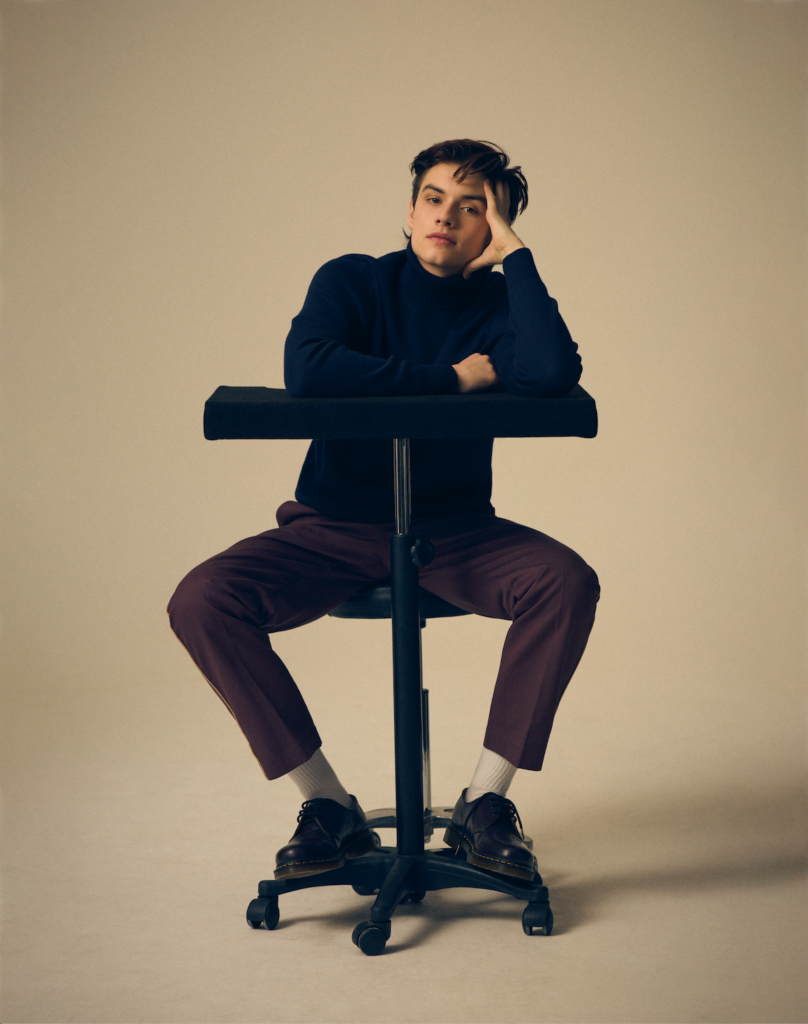 How much did you know about the Sex Pistols before you took on the role?
I knew about the cloud of infamy and ill repute that surrounded them. But other than that, pretty much nothing. I was programmed to associate them with being bad and evil, even though I knew nothing about them, which is something I've enjoyed about playing Sid. Because the same goes for him, but there's so much more to him than he's given credit for.
Sid was a notorious junkie. Do you have any experience with drugs?
No! I'm a good boy, a very good boy. And I didn't go method! It was interesting playing that having had no experience. It was a lot of acting and hopefully I'm a good enough actor — we'll see.
Luckily, your director knows a thing or two about portraying heroin use on screen…
Oh, yeah, he knows. There's one shot, I'm in the Chelsea Hotel on the bed and I do that typical 'yawning back' thing. And, when I watched the playback, I did have a 'pinch me' moment, because it looked like it could have been something out of Trainspotting. It was so cool. During our two months' prep, Danny got an expert in who was a user for 12 years. We had a fascinating conversation. Some of the stuff he had to say was eye-opening and really helped when playing Sid. Scoring is at the heart of a lot of Sid's motivations and a lot of scenes [involve] watching the decline of this bubbly kid who's full of energy into heroin addiction.
"I was worried about getting typecast as the posh, floppy-haired kid — and here's me playing Sid Vicious"

— Louis Partridge
Sid makes quite a low-key entrance in the series. Was that deliberate?
Yeah. Because he started as just one of Johnny Rotten's mates. You get to see him transform into this figure in a world that's a bit too big for him and he gets everything a bit too quickly. But you also see him as a pretty normal, average kid. And I like the fact that he's got slicked-back hair at the start, rather than the iconic trim.
It often seemed that 'Sid Vicious' was a character Simon John Ritchie played. How do you deal with that as an actor?
I just tried to understand him. It comes from a place of insecurity. He didn't have the best upbringing, he didn't get much attention, then he's suddenly getting attention for cutting himself, so he's going to chase that. He sees a crowd and acts up to them; he wants to get a reaction because he just wants some attention and love. I feel sorry for him in that respect but, as well as being the innocent Sid, he was also that other Sid at many points of his life.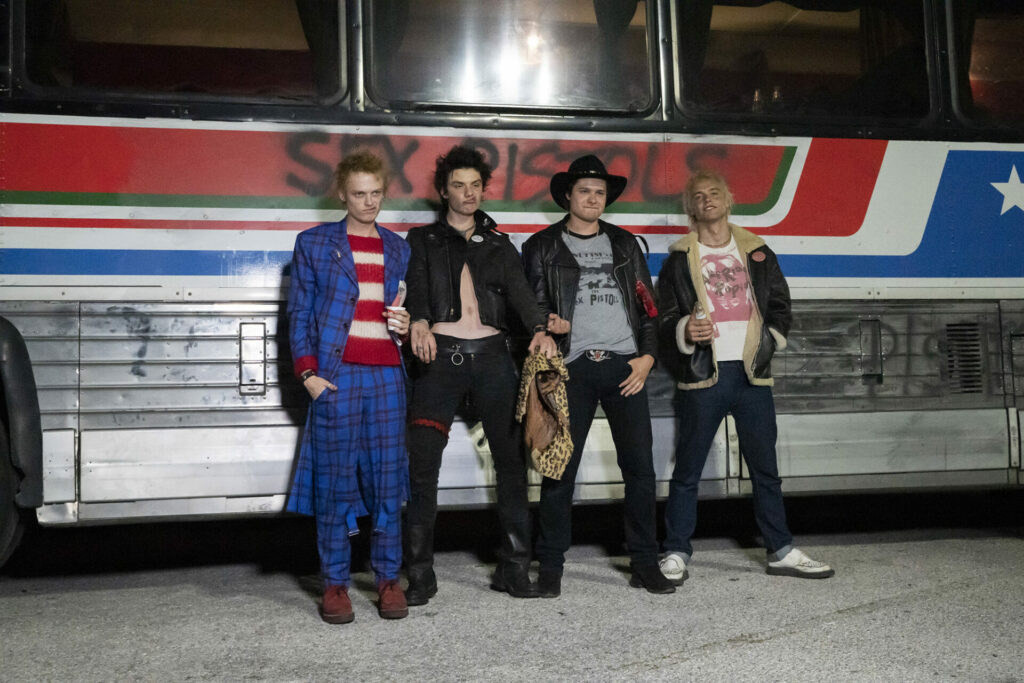 He was a divisive character, even within the band…
Yeah, a lot of people have a lot to say about him, and it's often very conflicting. Everyone knows something about Sid. It makes for interesting conversations in the back of a taxi. But it's hard playing that, you've got to take a mixture of it all and try and find some common ground. I'm expecting some criticism and I'm happy with that — but I think it's honest and I did my best, so don't come at me.
Above all, for me, it was about how young he was. He was my age when he joined the Sex Pistols, and 21 when he died. So he had about three years of being in the limelight. He didn't know what he was doing, he was in this world he didn't know, getting attention he'd never had before, so I think this shows him in quite a forgiving light. You see him at the start as well as the end, as opposed to just the end, which is how people often see him.
Same with [Vicious' girlfriend] Nancy Spungen; she was 20 when she died. She's been demonised as this horrible archetype of a woman bringing down a band and she was 20 years old — come on!
I found it fascinating, how their relationship worked, what it was fuelled by and how they got themselves into these situations. They were driven by heroin and competition. Emma Appleton, who plays Nancy, is a great actor, and really willing to throw something at you. It was about the most fun I had, working with her.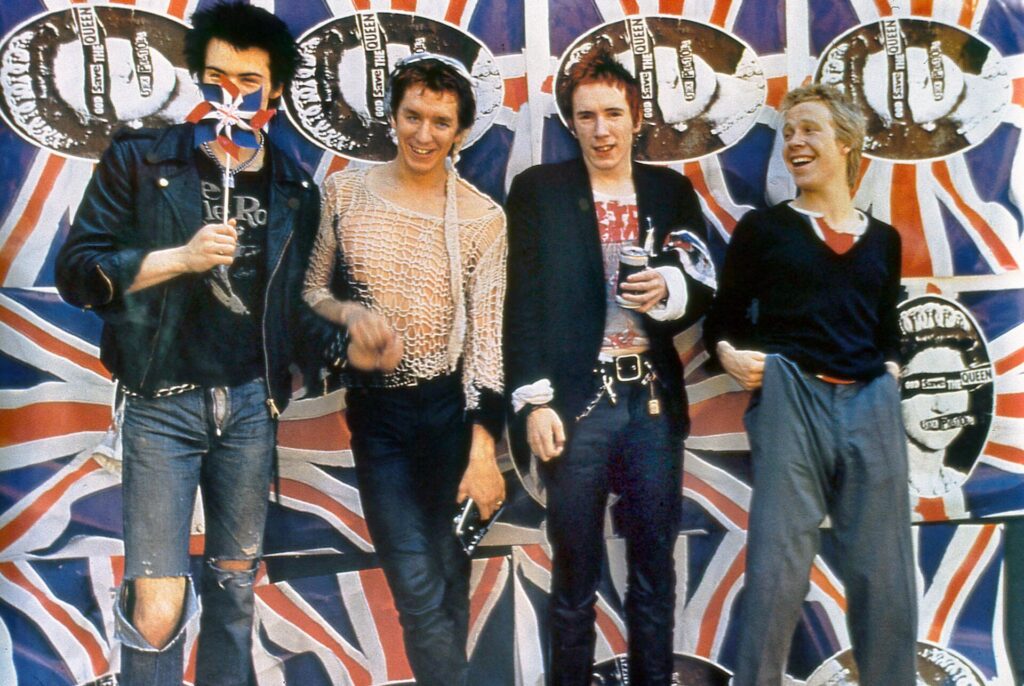 Did you watch Gary Oldman's portrayal of Sid in Sid and Nancy?
I looked at it during the audition stage, when I knew virtually nothing about them. And then I decided not to return to it, just because, while there are obvious overlaps, I was playing a different Sid. Gary was 27 when he did that and I was 17 when I got the part, so you do get the sense of his innocence and childishness. But I don't want to be held up against Gary Oldman!
The Pistols had their differences, but they were a real gang. How did you recreate that chemistry?
Danny was dedicated to making us a band. We rehearsed together for two months. It was during Covid, so we were in a bubble getting to know each other. By the time we came to film it, it was like doing it with your mates.
We all learned our instruments. I learned bass which was good fun — thankfully Sid's bass, not [original Pistols bassist] Glen Matlock's, because I know Glen did a lot more. It was invaluable because, when you're up there playing in front of people, you understand it a bit more.
Could the four of you do a real gig as the Pistols?
I reckon we could. We did many gigs, although obviously we had a fake crowd — but they seemed to love it. Occasionally, we would film in locations where people could hear — we recreated the gig on the Thames, so people on the bridges would look down, thinking 'What is going on?' We would hold our own. That's what Paul [Cook, Sex Pistols drummer] and Glen said, anyway, that we'd be a good tribute act.
"You've got one shot to play Sid Vicious, you don't want to muck it up by focusing on a French exam you're never going to use"

— Louis Partridge
You were doing your A-levels when you filmed Pistol. How did you cope with that?
If it hadn't been for Covid I'd have had to… Well, I was about to say I'd have had to give up Pistol, but I wouldn't have done that, I'd have had to give up school. Covid meant everything was virtual, so I could blag my way through it. But I didn't want to jeopardise Pistol — you've got one shot to play Sid Vicious, you don't want to muck it up by focusing on a French exam you're never going to use.
How did you do?
I got A*, A*, A — and funnily enough the A was in film studies! I thought I knew too much; maybe it's my teacher having a dig at me. I did well in the A-levels, we'll find out if I did well in the show in about a month's time.
So, you should be off to university…
That was part of my thinking, or drama school, but I got Pistol and there's Enola Holmes 2 coming out later this year and a few other jobs lined up, so I thought I'd run with it rather than going to uni and getting drunk for three years. I'm just going to say, "Fuck it", and try and make it work. Because I really love it, and I seem to be getting lucky so far, so maybe there's something there. Having never been to drama school, I haven't got that sense of security in my 'craft'. So, the thing I remind myself to know I have a place here is that Danny picked me. Every actor finds ways of putting themselves down, but you can't really argue with the fact that Danny Boyle picked you!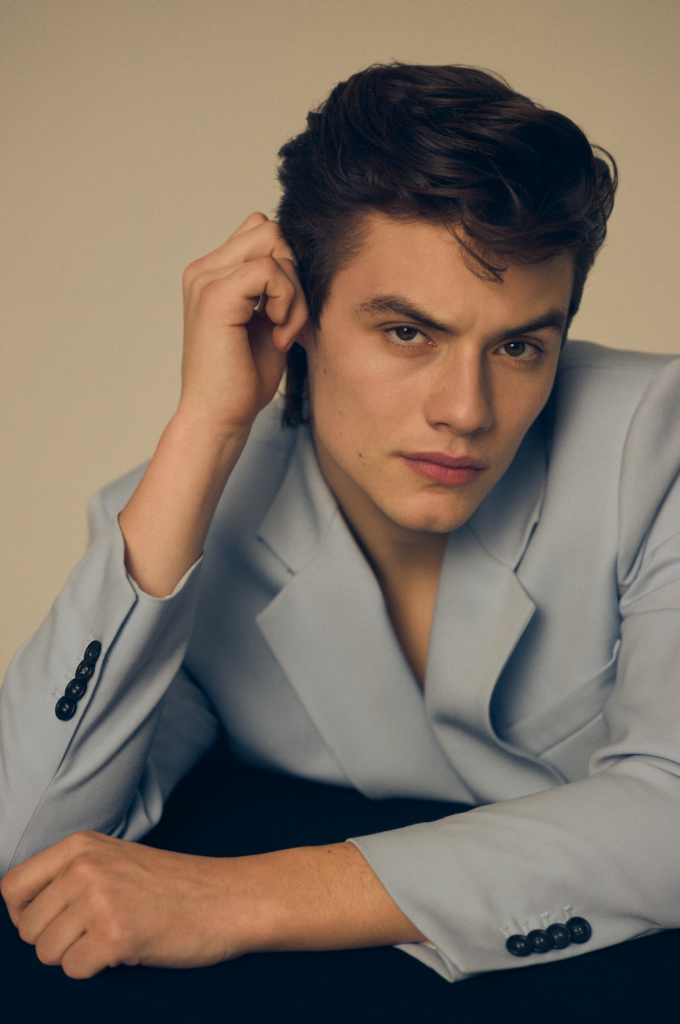 Has Millie Bobby Brown given you any tips on handling teenage fame?
I haven't really thought about that too much — I probably should have asked her, but I didn't see it coming. Enola was meant to be coming out in cinemas but, because of the pandemic, they put it on Netflix and for some reason that coordinated with the whole TikTok/Instagram thing, so my social media just blew up very quickly. It's so weird to me — I don't lean into it too much. I'm not the kind of person to put a photo of my lunch up there and I quite like that.
I'm actually going to hers on the weekend — we're good mates. She's busy so we don't keep in touch too much between jobs, but she makes that set so warm. Going back to Enola is awesome, because she's my age but she's also so professional and a real, real talent. She teaches me a load.
Is it part of your plan to become a big Hollywood star?
I don't know about that. I haven't really thought that far ahead, it's just job to job and hopefully taking the right ones. I'm figuring out what I want to do. To be honest, I just want to work with good people, but also nice people, and Danny is both of those things, times 100.
The Ferryman project could be a big deal, though…
I've got a few ideas but it's early stages still with that. I've got all the books and I'm reading them. For now, I'm just excited about Pistol. I would love it to inspire a punk revival and see some Sex Pistols tunes back in the charts — imagine that! It would still shake things up nearly 50 years on.
Taken from the June/July 2022 of Rolling Stone UK. Buy it here.