'Squid Game': 'Red Light, Green Light' doll appears at Manchester's Trafford Centre
Coming to a shopping centre near you...
By Tom Skinner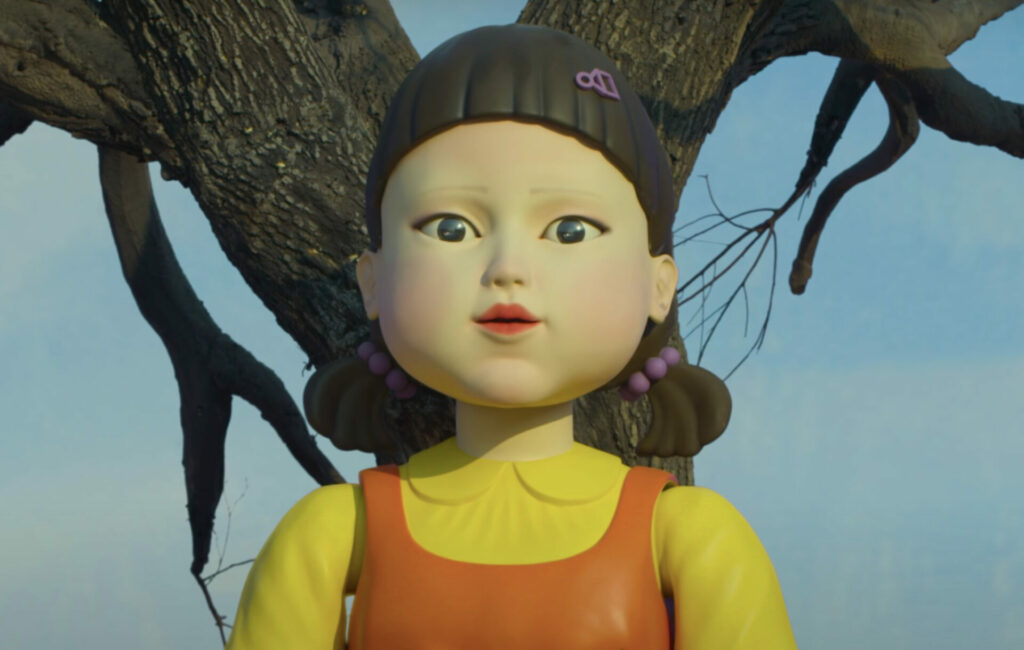 A replica of the 'Red Light, Green Light' doll from 'Squid Game' has appeared at The Trafford Centre in Manchester.

The creepy mechanical figure appears in the hit Netflix show's first episode, in which contestants compete in a life-or-death race. Players are only allowed to move when the doll says "Green light" and must stay still when it announces "Red light".

Able to detect even the slightest of movements, the robot eliminates the unsuccessful participants by turning its head and fatally shooting them in their tracks.

As Manchester Evening News reports, a three-metre animatronic replica of the doll appeared at The Trafford Centre over the weekend. 'Squid Game'-style guards were also present at the shopping complex, as footage on social media reveals.

The MEN notes that Trafford Centre bosses recently retired the shopping centre's singing Christmas tree after over a decade.

"They got rid of the talking Christmas tree because it was too scary and replaced it with this??" commented one person on the outlet's Facebook page. Another said: "This programme is violent and this should never have been allowed in a family environment."

Others, however, described the attraction as "harmless". "Is it really any different than a horror movie being advertised on TV and on posters? a third user said. "Not to mention kids probably have seen worse walking down [the] street than a doll moving its head to some music."

Another added: "Nothing wrong with this tbh, not sure why so many negative comments, kids shouldn't know what the characters represent."

It's said that the 'Red Light, Green Light' doll was present in The Trafford Centre for one day only last Saturday (November 6) as part of a wider tour of similar complexes.

You can see a selection of footage below.
It comes after a 'Red Light, Green Light' figure appeared in Sydney, Australia to mark Halloween.

Last month, headteachers across the UK reported a worrying trend of schoolchildren acting out scenes from 'Squid Game'. As a result, staff urged parents to check the content settings on their streaming platforms.

'Squid Game' has been a runaway success since it began streaming globally on September 17, becoming Netflix's biggest ever series launch.
The survival drama, in which individuals heavily-in-debt are tempted into deadly challenges, attracted more than 111million viewers within 28 days of its release, surpassing 'Bridgerton' as the service's most popular show.