Banksy claims Guess 'took artwork without asking' for use in new collection
The fashion brand is yet to respond to the street art icon's claims.
By Nick Reilly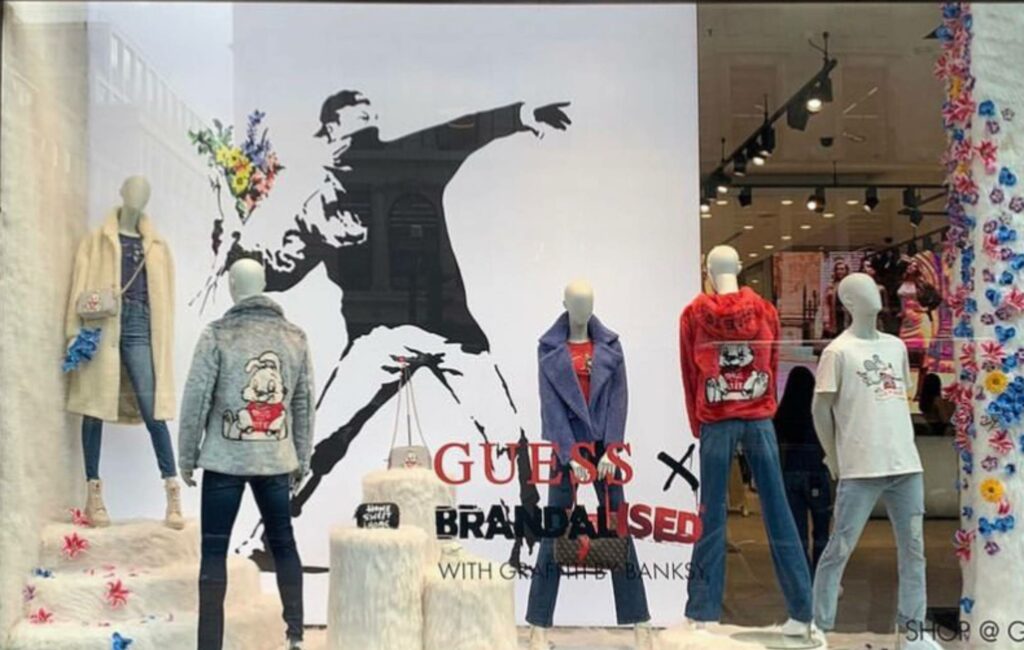 Banksy has hit out at American clothing brand Guess, claiming they have used the street art icon's work without seeking prior permission.
Posting on Instagram, the ever-anonymous artist shared a photo of the Guess shop window in London's Regent Street, which currently hosts a display of the collection.
T-shirts and jackets printed with recognisable motifs including Banksy's Thug for Life Bunny are seen in the window, while his iconic print of a man throwing flowers looms large in the background of the display.
Captioning the snap, he wrote: "Attention all shoplifters. Please go to Guess on Regents Street. They've helped themselves to my artwork without asking, how can it be wrong for you to do the same to their clothes?"
The street artist did not elaborate further, but the new collection is a partnership with the company Brandalised – which currently holds a license to offer Banksy fans graffiti collectables.
Announcing the collection earlier this month, Guess' chief creative officer Paul Marciano said: "The graffiti of Bansky has had a phenomenal influence that resonates throughout popular culture.
"This new capsule collection with Brandalised is a way for fashion to show its gratitude."
Guess is yet to respond to Banksy's comments, but Rolling Stone UK has contacted the company for comment. It is unclear if Brandalised's partnership has breached any terms of their deal with the artist.
Earlier this week, Banksy also confirmed he recently travelled to war-torn Ukraine to create seven new murals.
In a video shared on his Instagram, Banksy showed his journey to the city of Borodianka this month.
The first to be noticed showed a female gymnast balancing on a pile of rubble on the side of a building destroyed by Russian shelling.
Another depicted a man with a striking resemblance to Russian President Vladimir Putin being flipped during a judo match with a child.