Adele live at BST Hyde Park: dazzling big stage show that feels intimate
Despite the huge stage she occupied, Adele's first performance on home turf since 2017 felt like being in the presence of a close friend
By Brit Dawson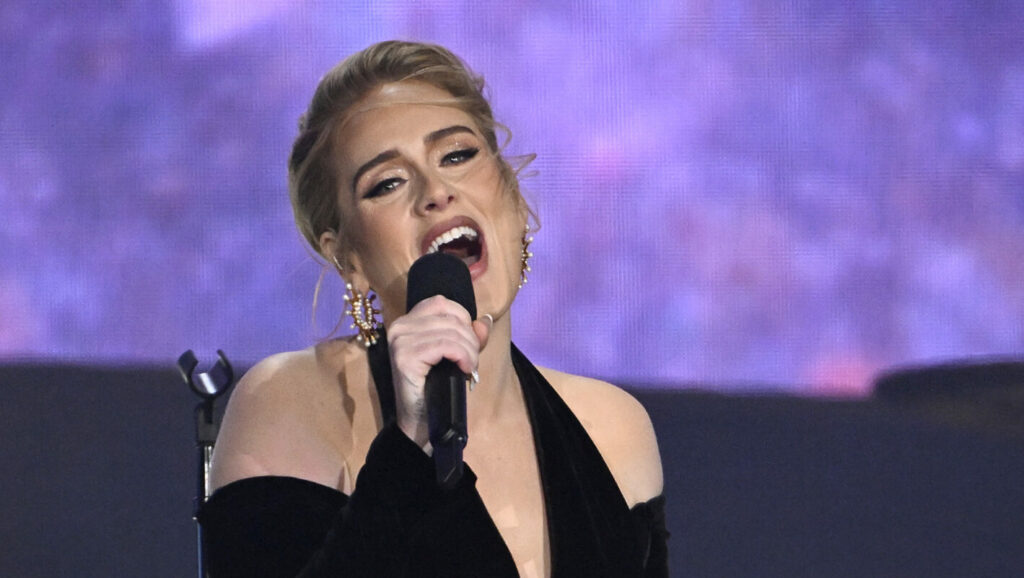 "You're at every show I do," exclaims Adele, pointing down to someone in the crowd. "Were you coming to the cancelled shows?" Presumably the responding fan nods because Adele quickly adds, "Oh shit." The cancelled shows in question — a residency meant to run for nearly three months at the start of this year — were set to take place in Las Vegas, over 5,000 miles away from where we are now. It's a classic Adele moment: the world's biggest solo artist — who people travel continents to see — making you feel like you're in the presence of a close friend.
And as ever with Adele, that's the central theme of the opening night of her two-date homecoming headline show at British Summer Time (BST) Hyde Park in London. The shows, which sold out in less than an hour back in October, mark not only her first live appearances since the release of her fourth album 30 last year, but also since 2017, when she questioned whether she'd ever tour again.
It makes sense, then, that when she walks onto the stage to raucous applause and sings the first lines of "Hello", her voice quivers and her eyes fill with tears. "I'm so happy to be here," she says with a nervous laugh, before she asks the crowd to help her sing. But, despite soon admitting that she's "shitting" herself (then launching into new track "I Drink Wine"), Adele, in her black, off-the-shoulder gown, sipping tea from a mug, is so serenely at home on the stage. In between songs old and new, she asks fans how they're doing and what they're celebrating (someone toasting their 18th birthday get a promise of money to buy themselves a drink after the show), recalls being "drunk off [her] face" singing along to previous BST headliners, and stops several times to alert security to fans in need of help. At one point, she even brings out a t-shirt gun and shoots shirts allegedly filled with £50 in cash out into the crowd.
Still, in between the buoyant chit chat and whimsical gimmicks, Adele also delivers banger after banger. After asking if there's "any divorced parties here tonight" — reminding us of the "divorce, babe, divorce" theme of her latest album — Adele propels into the thunderous "Rumour Has It", quickly followed by the equally rousing "Water Under the Bridge", the latter of which she says is "our favourite to play as a band", and "Send My Love (To Your New Lover)". 2012's James Bond theme "Skyfall" is performed against a blood red backdrop, while "Set Fire to the Rain" is accompanied by actual giant fireballs.
To get even closer to fans (who she says she's "scared" not to see when it gets dark), Adele performs, alongside her pianist, from a platform in the crowd. Here, we hear 30's lead single, "Easy on Me", "All I Ask", and her haunting 2008 cover of Bob Dylan's "Make You Feel My Love". The latter offers one of the most moving moments of the set, as Adele sits on the hood of the piano, and probably brings countless audience members to tears when she softly sings, "No, there's nothing that I wouldn't do / To make you feel my love."
Then, it's back to the main stage and into the closing hits. Adele credits "Someone Like You" with "changing [her] life". "I was so sad," she tells the spellbound crowd. "It was years and years ago, but I remember exactly how I felt. When you're in something and you feel so sad, you can't see how you'll come out of it — but you do." Then it's "Rolling in the Deep" and the formidable "When We Were Young", before Adele closes on a new track, "Love Is a Game". Notably missing from the set are "Chasing Pavements" and (surprisingly, given our location) "Hometown Glory". It's unclear if Adele ran out of time, or if the tracks are left out on purpose — maybe those at tonight's show will find out — but they were sorely pined after.
Still, no amount of overlooked hits can overshadow Adele — a dazzling force to be reckoned with and, truly, the best to ever do it.