Elton John live at Vicarage Road: Fond farewell from one of Watford's own
As Elton delivers his final performance at Vicarage Road, it proves to be a powerful love-in with the Watford faithful
By Nick Reilly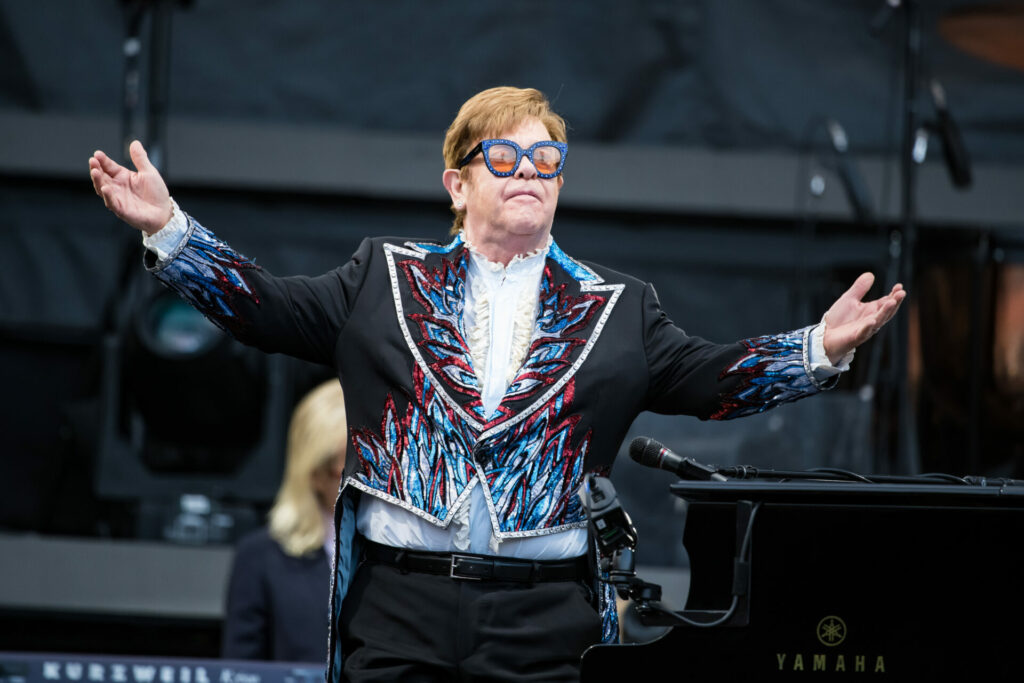 "This is one of the places that means most to me," comes Elton John's honest admission at the start of his second night at Vicarage Road.
It's no exaggeration. The Watford FC fanatic was responsible for some of the club's finest moments when he bought them back in 1976, famously reaching Europe and the FA Cup Final for the first time under the leadership of himself and manager Graham Taylor.
It's understandable, then, that the Watford faithful are hellbent on showing that the love-in is entirely mutual. A sea of yellow football shirts and cheers greets the local hero as he arrives on stage and kicks off with the glam-rock stomp of 'Bennie & The Jets', igniting the first singalong of the night from a crowd who have gathered to see the music icon on his last ever tour.
If this truly does prove to be the final chapter, then the rest of the show proves that Elton is clearly leaving on a high. Backed by a masterful band, the first section sees him mixing crowd-pleasing favourites ('Rocket Man', 'Tiny Dancer') with deeper cuts such as a rocking rendition of 1971's 'Levon' – which sees the artist and his group effortlessly turning back the clock.
It sets up things perfectly for the next part of the show, which sees Elton fully leaning into his biggest hits. A stunning run of 'Candle In The Wind' sees the Vicarage Road crowd switching on their phone lights to turn the stadium into a galaxy of stars, while 'Don't Let Get The Sun Go Down On Me' shows the remarkable strength of his voice after all these years.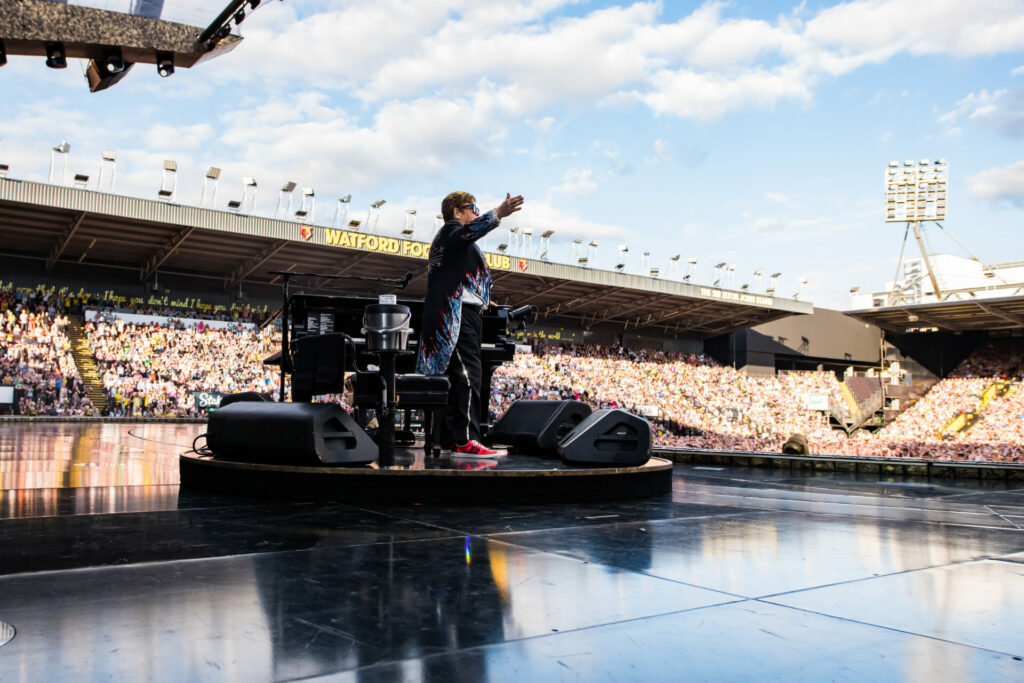 But as the ballads subside, a powerful run of 'The Bitch Is Back', 'I'm Still Standing', 'Crocodile Rock' sees the crowd at their very peak – led by a select group of Watford fans who have been beckoned to stand right in front of the stage for an up-close look at their hero. More impressive is the various couples who have decided to have their own moment of uninhibited dancing together. At risk of sounding trite, it's the perfect display of collective joy that few of us could have dreamed of just two years ago.
An encore sees him perform 'Cold Heart (PNAU remix) – last year's number one collab with Dua Lipa – a stadium-uniting run through 'Your Song' and 'Goodbye Yellow Brick Road', although an emotional address to the Watford fans might just prove to be the night's takeaway.
"Once I'm done touring, I want to get my hands dirty, get back involved in the club – we've got a great team, a great manager and I'm so hopeful for the future," he says to huge cheers.
Goodbye Yellow Brick Road and hello to more time at Vicarage Road, it seems. A perfect farewell from a man still performing at the near-peak of his powers after 50 years.