Kacey Musgraves live at Glastonbury: 'It's scary to be an American'
Kacey Musgraves performs her divorce album to a golden hour crowd at Glastonbury.
By Hannah Ewens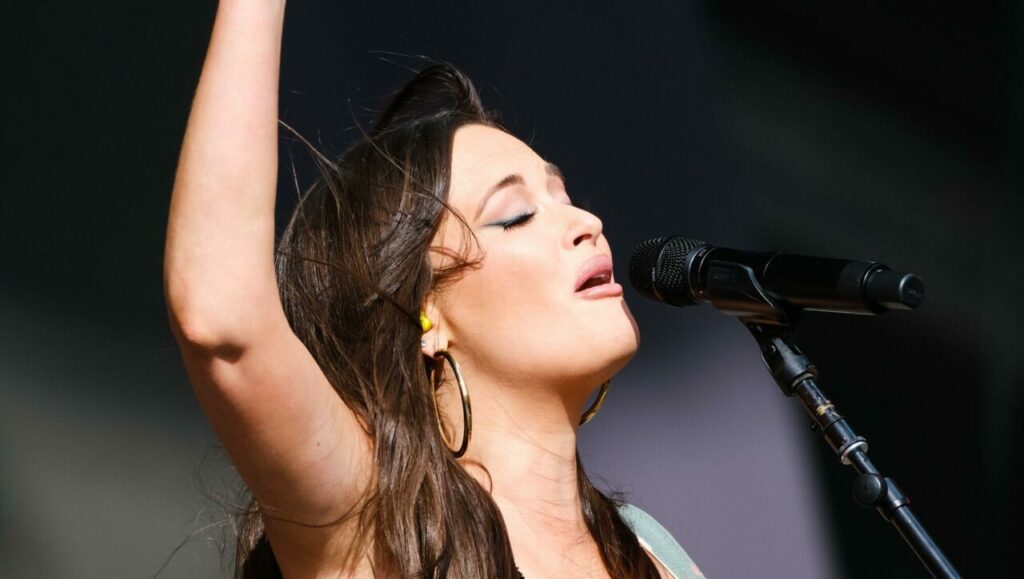 The glam women of country pop have always found a warm home at Glastonbury. When Dolly Parton took over as headliner in 2014, her silliness, glamour and charm was the highlight of the weekend. In 2019, Carrie Underwood found support after a difficult time in her personal life in a crowd of women and LGBTQ fans – and few present could forget the emotional range and celebration provided by Sheryl Crow? This year Kacey Musgraves pulls in one of the biggest crowds of the weekend for a show that somehow combines the joyous and moving qualities of all these acts.
Kacey Musgraves is currently touring her divorce album, Star-Crossed, the most straight-forwardly pop of her records to date. Next week she will support Adele in Hyde Park ("divorce, babes, divorce" Musgraves posted on Instagram, quoting Adele, whose most recent album 30 explores her own divorce).
The set opens on the Other stage with back-to-back tracks from Star-Crossed, the highlight of which was "Breadwinner", which took on a playful and powerful life of its own in a live setting. With big hoops, a sequin dress the singer said she had bought a few days prior, and the Glastonbury staple item of the 2010s, Hunter wellies, Musgraves looked every inch the country star dressed for the specific British occasion.
Before 'Simple Times', she told the audience, "we're far from the simple times y'all." Multiple other references to the overturning of Roe v. Wade, a decision from the Supreme Court that means there is no constitutional right to abortion in the US. "Honestly I'm thinking about never going back to America," she tells the audience, "anyone know anyone with positions for sheep farming? That sounds really good right now."
Later in the set she says, "I meant what I said, it's a scary time to be an American right now," adding that "it's been great to see you guys speaking up for us too."
But despite the darkness Musgraves references, her performance feels like a celebration of American music culture – the country pop that Brits are increasingly enamoured with. "I see your cowboy hats," she tells the front row of girls and women wearing them, and launches into a greatest hits of her biggest album Golden Hour. Whoever booked Musgraves for the Other stage – one that faces the sun – during actual golden hour deserves a medal.