Paul McCartney live at Glastonbury: A star-studded headline set for the ages
Icons unite as Macca brings star power to a phenomenal headline set at Glastonbury
By Nick Reilly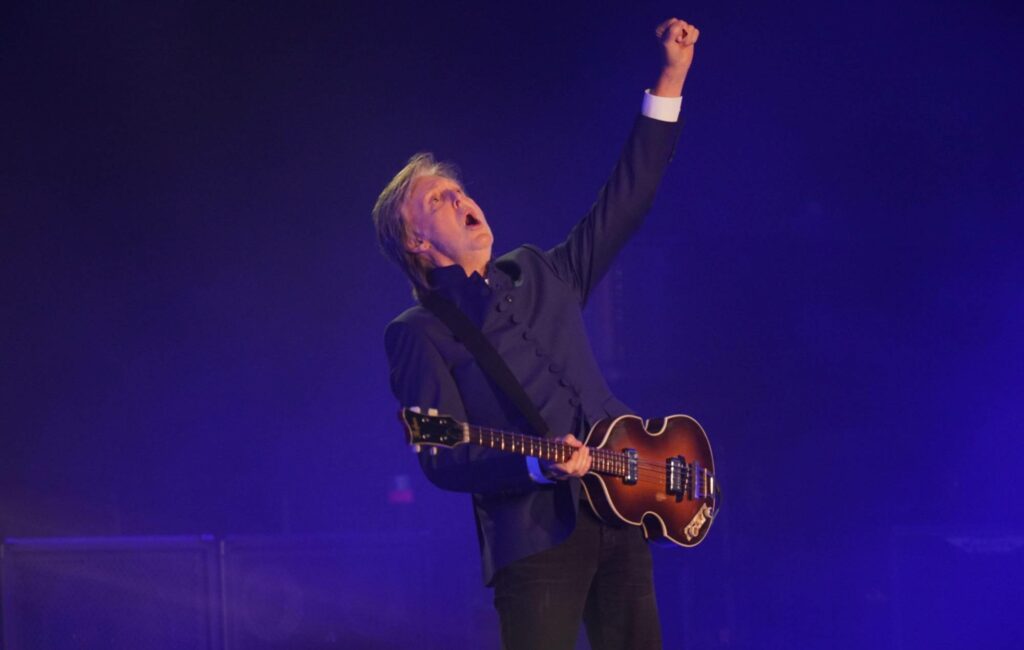 It will surely go down as one of the greatest moments in Glastonbury's storied fifty year history. Sir Paul McCartney, the most celebrated and influential living songwriter on Earth, brings out Dave Grohl and Bruce Springsteen to perform with him on the Pyramid Stage.
An incredible moment, undoubtedly, but it's nothing less than you would expect. Pulling power and calling in favours from mates is bound to be much easier when you're an actual Beatle.
Appropriate, then, that it's the music of that very band that opens McCartney's set. An explosive rendition of 'Can't Buy Me Love' ignites the Pyramid Stage crowd into a frenzy that rivals that of Beatlemania at its very peak.
It sets the tone for the first portion of the set, which sees McCartney delivering a flurry of hits from the Fab Four and follow-up band Wings to ensure that the party-starting vibe for a Saturday night at Glastonbury is firmly established. A tender moment comes in 'Blackbird' too, even if the track subtly exposes the undeniable fact that time has finally caught up with his voice.
It's followed by a brief foray into deeper cuts and new material, which results in something of a mid-set lull. To his credit, McCartney jokes of seeing a "galaxy of stars" from phone cameras in the crowd when he plays Beatles hits, but also notes that a "black hole" emerges when he dares to play those lesser known tracks.
These deeper cuts include 'My Valentine', which is accompanied by a bizarre projection of the track's music video starring Johnny Depp on the screen behind McCartney. It is one of the set's only misfires and you sense that the decision to omit it entirely would have been the far more sensible option.
Still, the carnival atmosphere returns when things move into a run of Beatles hits that includes the wonky charm of 'Ob-La-Di, Ob-La-Da', the thunderous groove of 'Get Back' and, eventually, the remarkable arrival of Dave Grohl for 'I Saw Her Standing There'.
It makes for one of the weekend's most emotional moments, with Grohl delivering his first major public appearance since the tragic death of Taylor Hawkins in March. He is understandably nervous, but sticks around for a rendition of Wings' 'Band On The Run', which sees him settling into the groove of performing once again. To see him back on stage once again is a truly brilliant thing.
And then, from the East Coast of America, arrives Bruce Springsteen. It is perhaps Glastonbury's most star-studded moment of all time, with The Boss rattling through his own 'Glory Days' with McCartney, before the pair rattle through the Fab Four's 'I Wanna Be Your Man'.
While inevitable renditions of 'Hey Jude', 'Let It Be' and a firework-primed run through 'Live And Let Die' close the main set, it is these guest stars that prove to be the set's defining moment. This is no mean feat when the encore sees McCartney taking advantage of some digital trickery from Get Back director Peter Jackson to give the impression he has been reunited with the late John Lennon to duet on 'I've Got A Feeling'.
And as things draw to a conclusion with customary closer 'The End', Springsteen and Grohl re-emerge to greet the crowd once more – with the latter proudly showing off a tattoo tribute to Taylor Hawkins that has been freshly inked on his hand. It is the perfect celebration of life, with three musical heavyweights coming together to end one of Glastonbury's greatest ever sets. What an honour it was to witness it.