Watch Dr Dre, Eminem and more link up for Super Bowl 2022 halftime show
Watch the highlights from last night's star studded event in LA.
By Jen Thomas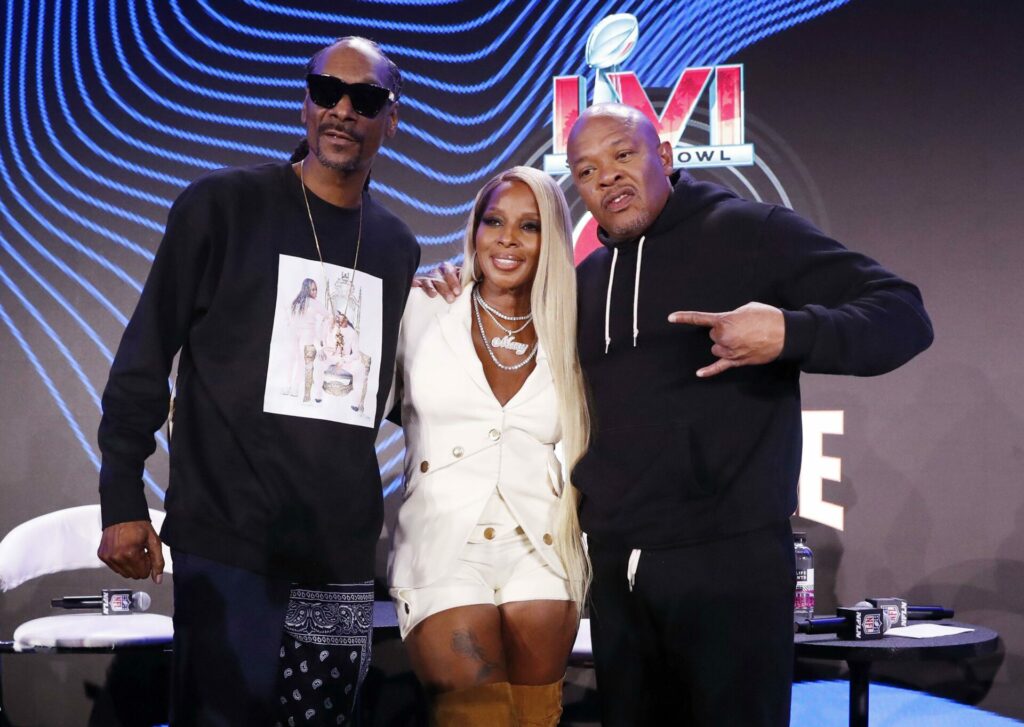 The Super Bowl halftime show for 2022 has received widespread praise, after it saw Eminem, Kendrick Lamar, Mary J Blige and Snoop Dogg appearing alongside Dr Dre.
It took place at the SoFi Stadium in LA, with the Los Angeles Rams emerging triumphant against the Cincinnati Bengals.

Previous high profile performers include Beyoncé, Madonna, Coldplay, Michael Jackson, Jennifer Lopez, Shakira, Katy Perry, U2, and Lady Gaga.
Highlights include a surprise appearance from 50 Cent, who arrived to perform 'In Da Club', suspended from the ceiling.
It had been reported that organisers warned Eminem not to kneel during his performance in solidarity with Colin Kaepernick. However, after performing 'Lose Yourself', he took the knee for almost a minute.
He was also joined by Anderson .Paak on drums for the energetic performance.
As well as discouraging Eminem from kneeling, the show organisers were reportedly keen for other major political statements to be avoided to prevent a "divisive culture war moment".
The New York Post said Dre felt "disgustingly censored" by the requests.
Lamar went on to perform 'Alright', a song that became an anti-police brutality anthem in 2015. It came to attention when activists from the Cleveland State University went viral for chanting it.
The event marked a return to LA for the Super Bowl, and Dr Dre celebrated by performing 'California Love', prompting many fans to wish that the late Tupac Shakur could see it.
Elsewhere, fans spotted Kanye West in the crowd with his daughter North. He was booed by fans after appearing on the Jumbotron screen.
Mary J Blige, meanwhile performed 'Family Affair' and 'No More Drama'.
The next Super Bowl will take place on February 12 2023 at the State Farm Stadium in Glendale, Arizona. It's yet to be confirmed who will perform the half time show.