Watch Drake and Kanye West perform hits for 'Free Larry Hoover' benefit concert
Drizzy and Ye rattled through classics, reuniting at the end for their 2009 collaboration 'Forever'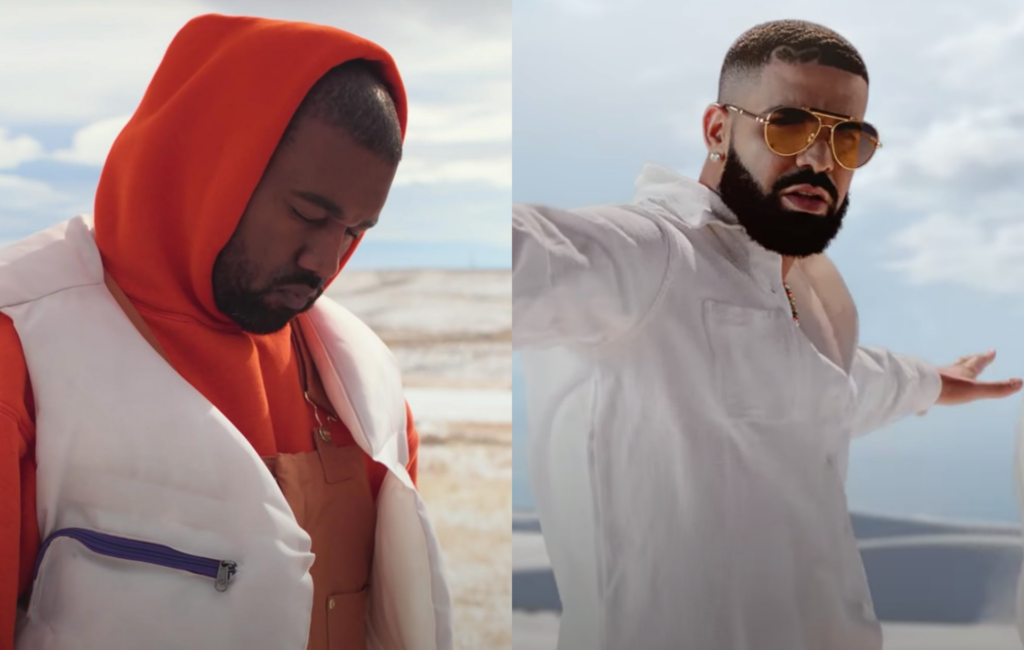 Drake and Kanye West performed a benefit concert last night (December 9) that saw the pair run through classics and recent hits at the LA Coliseum.
The pair, who recently ended a years-long feud for the show that advocated for the freedom of jailed ex-gang leader Larry Hoover, played separate sets, but also came together for joint performances, including their 2009 collaboration 'Forever'.
Footage shared on social media showed the giant, approximately 50ft-wide circular mound stage upon which Drizzy and Ye bounced about.
West, who's wife Kim Kardashian filed for divorce in February, made emotional statements during his set, such as changing some lyrics to: "I take the Grammy back / Just to have my family back."
As HipHopDX pointed out, during the performance of his 2010 'My Beautiful Dark Twisted Fantasy' single 'Runaway', he said Kim's name, suggesting that he hoped she ran away from her problems and back to him.
Among Ye's run-through of classics was: 'Jesus Walks', 'All of the Lights', 'Flashing Lights', 'Good Life', 'All Day', 'Touch the Sky', 'Stronger' and 'All Falls Down'.
Drake, meanwhile, performed more recent material including cuts from his latest album 'Certified Lover Boy'. 'Wants & Needs', 'Life is Good,' 'Girls Want Girls', 'Laugh Now Cry Later', 'Way 2 Sexy' and 'God's Plan' were among them.
The two rappers descended the Coliseum's grand steps side-by-side at the start of the concert. Drake later took a moment to pay tribute to Ye. "It's important that we make this happen," he said.
"When we were walking through the archway right there it felt surreal, it felt like a dream. It was something that I always wanted to do, you know, be on stage with one of my idols while he's running through one of the best catalogues of music – period."
Their benefit show was organised to raise awareness and push for the freedom of Hoover, who is currently serving six life sentences for charges relating to gang activity. Ye previously unsuccessfully lobbied former US president Donald Trump to pardon the incarcerated figure.
Hoover's son, Larry Hoover Jr., is also heard discussing the cracks in the US criminal justice system in a voice note on Ye's new album 'DONDA'. "Free Larry Hoover" has morphed into a movement advocating for an overhaul of outdated practices that have left countless black criminals stuck in legal chokeholds with disproportionately long or harsh prison sentences.
After performing before Drake, Ye later rejoined the stage to blast through songs including 'Father Stretch My Hands Pt. 1,' 'N*ggas in Paris', 'Bound 2' and 'Come to Life'.
J. Prince, the Rap-A-Lot Records CEO who was responsible for helping Drake and Ye make amends, revealed recently that Drake agreed to the reconciliation and concert because he saw the "bigger picture" of helping others.
"I painted the bigger picture to Drake," Prince told Billboard in an interview. "I let him know that this is a moment and movement ['Free Larry Hoover'] that can save lives. I believe by Drake and Kanye being an example, as two of hip-hop's top artists, that lives would be saved.
"I believe this is going to be imitated and it's important to be an example to those that look up to you and that meant something to Drake — just the life-saving event wrapped around putting the spotlight on injustice, prison reform, and my brother Larry Hoover. Everything is icing on the cake after that, because he never envisioned things like that. So I had to tap into a power greater than the anger or whatever these guys had for one another."
The 'Free Larry Hoover' benefit show is available to re-watch on Amazon Prime until the end of this week (December 12).