Boris Johnson and Rishi Sunak fined for attending lockdown parties during Covid
The Prime Minister and Chancellor have both been issued with Fixed Penalty Notices
By Nick Reilly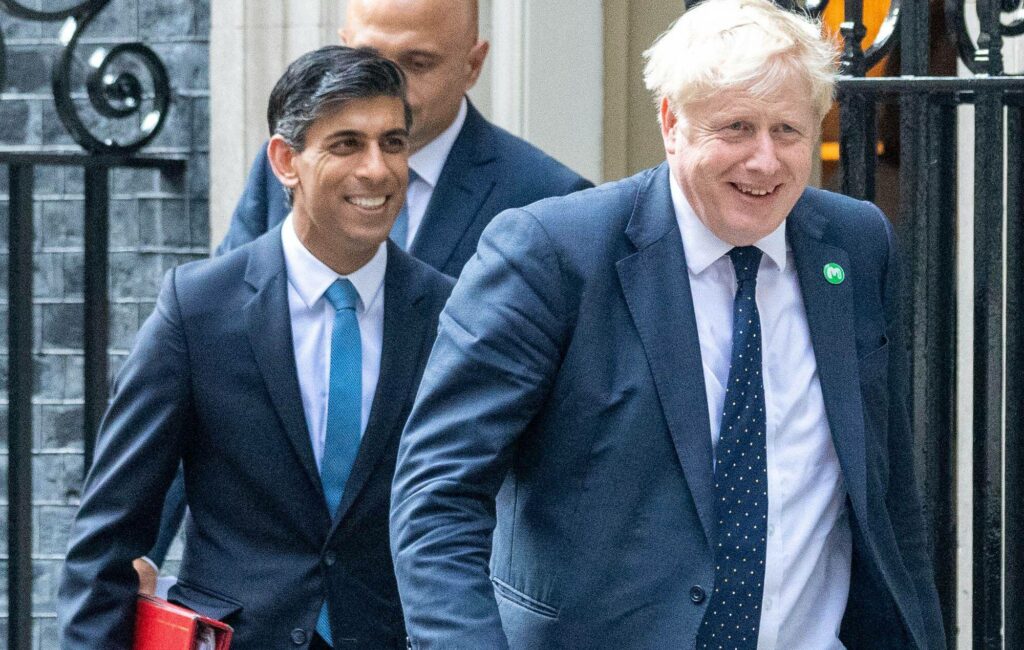 Boris Johnson and Rishi Sunak will be fined for attending parties held in Downing Street during lockdown, it has been confirmed.
The development comes after the Metropolitan Police revealed they had issued another 30 Fixed Penalty Notices for breaches of Covid regulations in Whitehall, bringing the overall total to 50.
While the Metropolitan Police has not named any individuals, Downing Street previously confirmed they would say if the Prime Minister was deemed to have broken the law.
No.10 has since confirmed that the fine arose from a birthday party held for Boris by his wife Carrie in a Cabinet room on June 19 2020, which was also attended by Rishi Sunak.
Carrie Johnson, the Prime Minister's wife, has also received a fine.
A spokesperson said: "The PM and Chancellor have today received notification that the Metropolitan Police intend to issue them with fixed penalty notices. We have no further details, but we will update you again when we do."
Both men faced immediate renewed calls for their resignation, with Labour leader Keir Starmer writing: "Boris Johnson and Rishi Sunak have broken the law and repeatedly lied to the British public. They must both resign. The Conservatives are totally unfit to govern. Britain deserves better."
He was backed by Mayor of London Sadiq Khan, who tweeted: "A Prime Minister who breaks the laws his Government makes and then lies about it isn't fit for office. Families made huge sacrifices and obeyed the law. Many said their last goodbyes to loved ones on the phone while the Prime Minister partied. Boris Johnson must resign."
A spokesperson for Carrie Johnson said: "In the interests of transparency, Mrs Johnson can confirm she has been notified that she will receive a Fixed Penalty Notice. She has not yet received any further details about the nature of the FPN."
The Metropolitan Police is investigating alleged Covid law-breaking at 12 gatherings in Whitehall and Downing Street. Johnson is believed to have attended six of those, but has always denied any wrongdoing.
Scotland's First Minister Nicola Sturgeon tweeted: "Boris Johnson must resign. He broke the law and repeatedly lied to parliament about it. The basic values of integrity and decency – essential to the proper working of any parliamentary democracy – demand that he go. And he should take his out of touch chancellor with him."
They were also condemned by the Covid-19 Bereaved Families for Justice UK campaign group, which has frequently led calls for an inquiry into the government's handling of the pandemic.
Lobby Akinnola, a spokesman for the group, said Johnson and Sunak "broke the law" and "took us all for mugs".
He said: "There is simply no way either the Prime Minister or Chancellor can continue. Their dishonesty has caused untold hurt to the bereaved.
"Not only that, but they have lost all credibility with the wider public, which could cost lives if new variants mean restrictions are needed in the future. If they had any decency they would be gone by tonight."
Reports of parties held in Downing Street during lockdowns in 2020 and 2021 first surfaced in December last year. They included an alleged BYOB party in the gardens of Downing Street in May 2020 and a birthday party for the Prime Minister which was held in the Cabinet Room in June 2020.
Johnson initially said that "guidelines were followed at all times", even after he admitted attending the BYOB event.
The Prime Minister subsequently ordered an inquiry into the parties, led by senior civil servant Sue Gray.
Ms Gray's report will not be published until the Met have concluded inquiries, but initial information she handed to the force prompted them to perform an embarassing U-turn on their initial decision not to investigate the claims.