Jimmy Carr: Britain's funniest man on the challenges of writing his first book
Britain's king of pitch-black puns on the struggle to find a snappy title for his memoir
By Jimmy Carr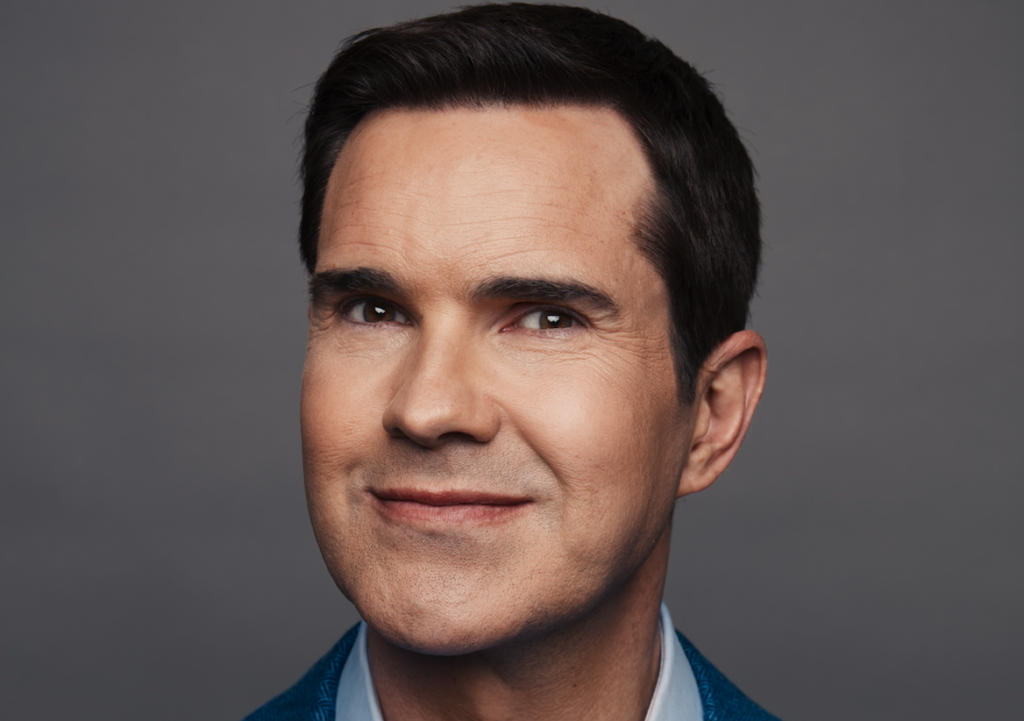 Once you've written a book, you're going to need a title.
Well, I've written a book, and it's a strange mix of autobiography and self-help.
It's about how I've lived my life, what I think and who I am. I now need a title.
Here are the parameters for a title: it's got to be funny – I'm a comic so that's a lock. And it should be a little edgy because I'm all about that clown life.
I have been stressing over the title and I'll tell you why: Alan Titchmarsh.
Alan Titchmarsh is a celebrity gardener, if you don't watch daytime TV he probably hasn't troubled you. The thing is, his memoir is called: Trowel and Error.
That's a pretty fucking good pun for a gardener. I've gotta beat that, right?
Wayne Sleep, a ballet dancer, called his book: Precious Little Sleep. Great title.
Alan Hansen, a footballing pundit, his book is called: Tall, Dark and Hansen. Funny.
All great puns. The pressure's on.
And don't get me started on the truly great book titles. Spike Milligan wrote a war time memoir called Hitler, My Part in His Downfall. God, that's good. So, I've gotta up my game.
Here's how I started off:
Laughter Therapy – not bad, I mean that's what the book is about, but it's only alright.
Life's a Joke: How to Tell It and Take It – pretty good, but dry.
Beyond a Joke or Reading Material – dry as toast.
Person of Interest – as dry as a nun's nasty.
We need a little bit of something.
Born to Fun, was gonna make it.
How about, Happy Ever Laughter… OK, so it's a pun, it's a joke, that's something.
Is it mild? You bet your mum's c**t it's mild.
What about: Just the Tip: Take It from Jimmy Carr
Well, that's more like it. That's joke-shaped, right?
Just the Tip – OK well, there's a lot of advice in the book, unsolicited I might add. Take it From Jimmy Carr – it would work better had I done a sex tape.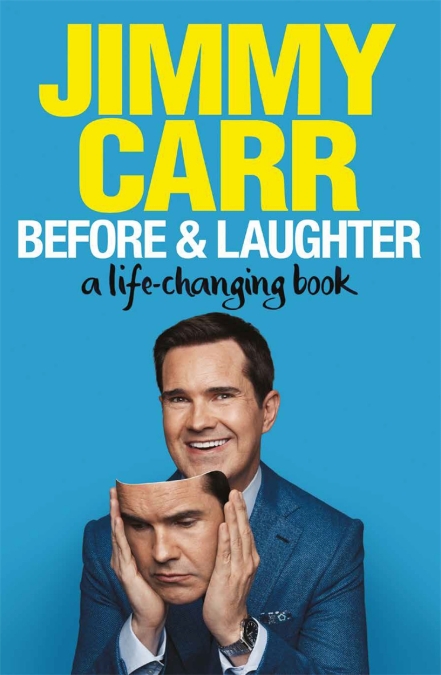 I briefly considered doing a sex tape so the title would work, but I think that might pull the focus away from the book.
I considered Read My Tips, as in read my lips, but obviously Just the Tip is much better. If you have a choice between doing a kissing joke or a fucking joke, you wanna do the fucking joke.
Go Fuck Your Self-Help. Go fuck yourself, with 'help' on the end, great. But I think 'fuck's been overused in titles for self-help books of late, there's a real trend for that and I'm no follower.
Laughter Life – I like it, but it's a pun on afterlife which is another comedian's show. If he ever writes an autobiography, he's welcome to it.
Laugh the Man I Used to Be – kinda fun but it doesn't mean much.
Mantelpiece, I thought would be a great title, but it only really works if you're Hilary Mantel. And I'm not.
Open Book and Other Life Changing Advice. It was the title briefly. Open Book is a great title for a book, it's like calling a DVD, Press Play. But a quick google search revealed Open Book by Jessica Simpson was released in 2019. I suspect she was just saying she's an open book, but let's give her the benefit of the doubt, maybe she was joking.
Take My Advice and Please Yourself – nice phrase, kind of a joke, tautological-ish. I kind of like it and it was a thing my mum used to say but, meh, I don't love it
Seriously Funny – I like contradictions in terms, putting a word with another word that doesn't quite go, very Malcom Gladwell. It's not a joke exactly but it's joke adjacent.
I also considered in a similar vein:
Clearly Misunderstood
Deceptively Honest
Open Secret
How about: I'm Jimmy Carr and So Can You. Well, I like that, there's a real self-help aspect to it, there's positivity to it. But Stephen Colbert got there first with I Am America And So Can You. Damn.
I briefly wanted to call it, I Can Make Me Rich. But it's too derivative.
The Mind Jim – pretty good, Alan Titchmarsh would be proud. But it's not quite right… And whenever I say, The Mind Gym, I hear William Shatner's voice.
One of the book's basic messages is about delayed gratification, so I considered calling it The Power of Later, but I don't think enough people would get the Eckhart Tolle reference.
Everyone Else Was Taken – a play on the Oscar Wilde quote.
You've Gotta Be Yourself Because Everyone Else is Taken, I thought that might be good, that's kinda what I'm saying in the book, but it feels a little clever clever.
I liked the title, The Long Walk to Freedom: The Much Anticipated Sequel to Nelson Mandela's Best Selling Autobiography. Or maybe just, Long Walk to Freedom 2.
The publisher did not.
And if we're going for random, how about Jesus vs Batman? Even though Jesus and Batman don't really appear much in the book, who's not buying that? It's certainly going to create a lot of searches on Amazon.
While we're at it, Harry Potter vs The DaVinci Code, that could be something people would buy by mistake.
Putting one piece of advice front and centre as the title was floated: Don't Stick Your Dick in Crazy. Floated, discussed and rejected. Nevertheless, solid advice.
A Brief History of Mine – a play on my old friend Stephen Hawking's book.
Half Wit/Half Advice – I don't think so, I'm not an idiot. That would work for a type of comedians that purport to be idiots, like Lee Evans. That's not my brand.
Then there are a million 'stand-up' themed titles:
The Stand Up-Side
How to Stand-up and Stay up
Stand Up for Something
Stand Up and Fight
Break Down Stand Up
Speaking of breaking down, here are some Carr puns:
Jimmy Carr – Breakdown and Recovery
Jimmy Carr – Owner's Manual
Jimmy Carr – One Careful Owner
Jimmy Carr's Life-Changing Book – it does exactly what it says on the tin. It's about my life changing but also, maybe, the reader's. It's a contender.
What I really wanted to call this book and what I sold it on was: Jim'll Fix It.
Now, in the pitch for the book that went down surprisingly well. But subsequent conversations involved a lot of people saying the same thing, 'You can't reference the most prolific paedophile of recent history in the title of your book.' I guess that's a good point.
The new issue of Rolling Stone UK is on sale now. Subscribe to Rolling Stone UK in print and receive free access to the digital edition. Follow us on @RollingStoneUK